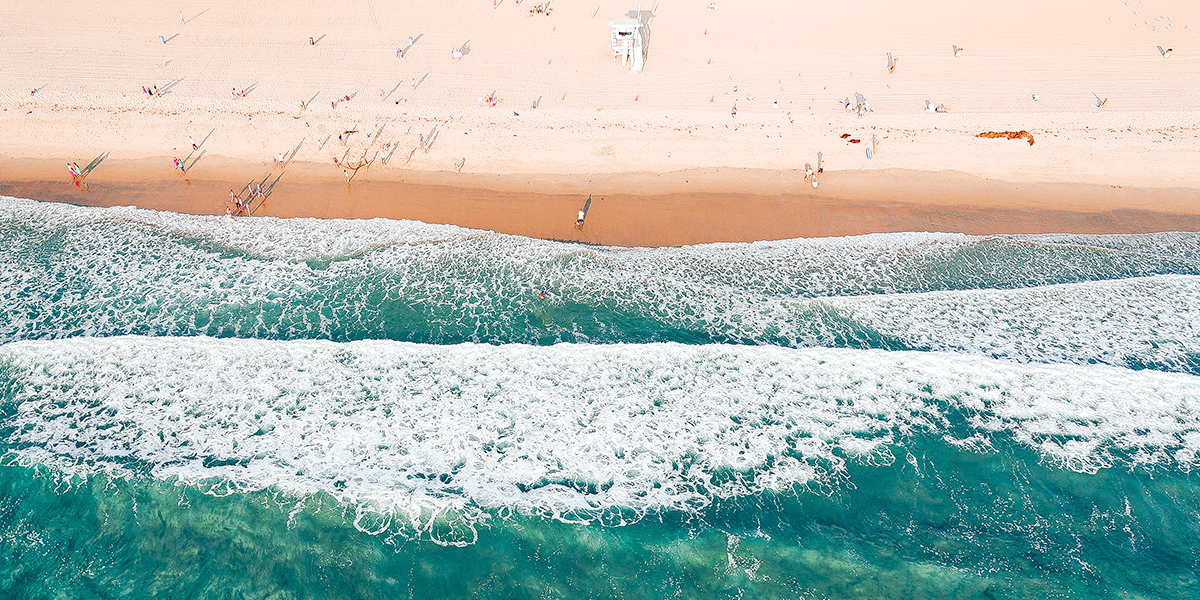 By Destination
The Ultimate Los Angeles Packing List
Los Angeles's picture-perfect weather is no lie. L.A. is among the top 20 sunniest cities in the U.S., so if you want an urban escape with a vitamin-D fix, this is your town. But there's a second act in Hollywood's sunny story that has nothing to do with the beach. Los Angeles style is heavily influenced by the latest streetwear. Trends come and go as fast as the paparazzi snap celebrity photos. In other words, there's way more to packing well for Los Angeles than throwing a couple of bathing suits and flip-flops in a designer handbag. Here's our best advice for help packing in L.A., including a shortlist of essentials, the best luggage, and answers to frequently asked packing questions. And don't forget your statement sunglasses!
THE LUGGAGE
When it comes to packing, it's all about the right bag for the right job. If you've been making do with a beat up old duffle or an ancient carry-on with a sticky wheel, you'll be amazed at how a new bag makes travel so effortless. Every smart traveler should have three key pieces of luggage: a weekender bag for quickie getaways, a carry-on suitcase for week-long trips, and a larger suitcase for longer stays or travelers that overdo it on souvenirs. (Guilty!) For a weekender, we're fans of the Away Everywhere bag. This little dynamo has separate pockets for your laptop, pens, reading materials, and phone, plus a waterproof umbrella compartment—genius when you visit a rainy destination. For a one-week trip, it's hard to beat Away's Carry-On—it changed the suitcase game with an ejectable battery for phone charging, smooth spinner wheels, and a lifetime warranty. And for any trips lasting two weeks or longer, go for the Travelpro Platinum Elite. There's a reason flight crews swear by this luggage brand. This checked bag has gliding spinner wheels, a telescoped handle, and two-inches of zippered expansion. Consider yourself packed.
THE PACKING GEAR
Every packing hurdle is made easier with this trio of travel gear. Got a hotel room with little counter space? This hanging toiletry bag will give you elbow room at the sink plus provide dedicated pockets for all your creams, gels, and sprays. Hang it on the bathroom door or over the towel rack to keep everything upright, protected, and in place. If you have an issue with overpacking—who doesn't?—then packing cubes are a game-changer. This four-piece set will keep all your things, from underpants to electronics, organized and condensed, saving you precious suitcase space. And rather than depend on the freebie toiletries at the hotel (that harsh hotel soap will zap all the moisture from your skin), bring your own tried-and-true toiletries in these TSA-approved squeeze bottles.
THE IN-FLIGHT ESSENTIALS
Only travel amateurs get on a flight without bringing the essentials. A sleep mask not only blocks out cabin lights—it provides the privacy you need to get some Zs. The Trtl travel pillow is a travel editors' favorite for keeping your neck and head comfortable as you nod off. And Comrad compression socks' moisture-wicking technology keeps feet comfy and protects you from deep vein thrombosis. (Yikes!) Fly like a pro with these packing essentials.
LOS ANGELES OUTFIT INSPIRATION
Angelenos have perfected the art of being ultra-casual yet always photo-ready. Celebs and influencers set the tone, dressed like they rolled out of bed, but looking perfect. But keep in mind that sporting laid-back clothes and still looking pulled together takes effort. You can never go wrong with athleisure wear to take you from a morning run to the Hollywood farmer's market to an afternoon of shopping at the Grove. Denim is definitely king in L.A.—ripped jeans, fitted skirts, and oversized jackets are everywhere. But otherwise, style can vary depending on where you are in the city. Walking down Abbott Kinney in Venice Beach or along the Third Street Promenade in Santa Monica, it's perfectly acceptable to wear a caftan and flip-flops. Echo Park and Silver Lake lean more towards hipster vibes (think upscale vintage), whereas the Westside—which encompasses Beverly Hills—is all glitz and glamour, with luxury brands on Rodeo Drive and trendy, up-and-coming designer boutiques on Robertson Boulevard.
Women's Outfits
Men's Outfits
THE 3 PAIRS OF SHOES YOU'LL NEED FOR EXPLORING LOS ANGELES
A pair of versatile flats is a vacation wardrobe staple. Go for a neutral color and choose a fabric that gives, such as leather or canvas. Another smart bet for L.A. is sneakers—a pair that puts cool first and comfy second. Sandals that are attractive enough to wear off the beach and out to dinner do double duty, and you'll get more mileage out of pairs with a hint of sparkle or shine. Guys can get away with stylish sneakers for active pursuits and a versatile pair of desert boots for dinner or hitting a club. Don't leave home without a decent pair of flip-flops for the beach or pool.

Women's Shoes
Men's Shoes
Your suitcase packing checklist
Click items to view travel editor-approved options
WHAT NOT TO PACK FOR LOS ANGELES
It's a bit of a myth that no one walks in L.A. People drive, then walk—and there are plenty of lovely spots for strolling, whether at the Art District downtown or at Venice Beach. It's always a good idea to bring comfortable shoes on vacation—ones that get a test-run before you take off. But you won't pound the pavement like you might in New York or Chicago, so feel free to skip the comfortable-but-not-cute flats. Sky-high heels aren't a must-have, although if your evening outfit requires extra glamour, it's also fine to bring them. There's no need to schlep a heavy coat and with very little precipitation, you can leave behind the umbrella and rubber boots.
THE *ONE THING* WTP EDITORS ALWAYS BRING
TO LOS ANGELES
Sunglasses are a must have in sunny Los Angeles. Not only do they protect your peepers from the blindingly bright sun, they also look extremely cool in all sorts of situations: strolling down the Santa Monica pier, sipping green juice in Silver Lake, or hanging pool side at the Freehand Los Angeles hotel. Another plus? Sunglasses let you privately scan Hollywood Boulevard for celebrities. Choose a bold pair of statement sunnies that are neutral enough to coordinate with everything you own and stylish enough to add bold interest to all your outfits. Karen Walker Super Duper Strength Sunglasses fit the bill thanks to the tortoiseshell frames and oversized circular lenses. You may even be mistaken for a celebrity yourself. —WTP Editors
LOS ANGELES' WEATHER AND SEASONS
Notorious June gloom fog aside, L.A.'s weather is fab. Year-round sun is the norm, so you can pretty much bet on catching rays poolside or at the beach. While there is a rainy season January through March, we aren't talking monsoons by any means, and precipitation drops off significantly in April. What's trickier to manage are widely swinging temperatures, thanks to microclimates across the region. Drive 10 minutes from Venice Beach to Santa Monica and watch moody, overcast skies give way to brilliant sunshine. The tank top you're wearing for lunch at an outdoor cafe on Rodeo Drive in Beverly Hills won't be warm enough if your next stop is hiking in Griffith Park. Set out for the day in layers and keep an extra jacket in the car. Another major weather factor to consider is wind. Strong gusts from the Santa Anas typically come in autumn, bringing hot, dry conditions that fan wildfires north of Los Angeles.
Note: Below is a packing forecast, not a traditional forecast. A packing forecast focuses on how cold it's likely to be in the early mornings and evenings based on historical data. We recommend using this together with a traditional forecast as you get closer to your departure date. This data comes from our friends at Weather Underground.
JANUARY
Plan for day temps between 50° F and 59° F
Temps will drop near 38° F at night and into the early mornings
Expect 0.2 inches of precipitation in January
What to Wear in Los Angeles in January: You may be escaping from someplace colder, but don't expect to sunbathe in a bikini. Make sure to pack warm clothes, including sweaters and a jacket.
FEBRUARY
Plan for day temps between 50°F and 60° F
Temps will drop near 40° F at night and into the early mornings
Expect 0.00 inches of precipitation in February
What to Wear in Los Angeles in February: It's still cold in February, so like in January a warm jacket is a must. Ditto for longer dresses and men's jeans.
March
Plan for day temps between 53° F and 60° F
Temps will drop near 43° F at night and into the early mornings
Expect 0.10 inches of precipitation in March
What to Wear in Los Angeles in March: L.A.'s version of winter sticks around through the end of March, and like the first two months of the year, cold-weather clothing is required. Pack items like a chunky sweater, jeans, and boots, or a long skirt to wear with tights.
April
Plan for day temps between 53° F and 60° F
Temps will drop near 43° F at night and into the early mornings
Expect 0.10 inches of precipitation in March
What to Wear in Los Angeles in April: Temps typically turn warm-ish in April, though you'll want to bring along a coat for evening dips. Unless you're wearing a heavy sweater underneath, a denim jacket might not be warm enough, so go something quilted or fleecey.
May
Plan for day temps between 58° F and 65° F
Temps will drop near 52° F at night and into the early mornings
Expect 0.00 inches of precipitation in May
What to Wear in Los Angeles in May: May is much like April, so think long sleeves and a lined jacket. You'll want to pack good walking shoes to make the most of the spring weather and stroll the Santa Monica pier. Sidewalk tables start to come out this month, but eating outside during the day isn't a sure thing.
June
Plan for day temps between 66° F and 70° F
Temps will drop near 58° F at night and into the early mornings
Expect 0.00 inches of precipitation in June
What to Wear in Los Angeles in June: June is reliably warm during the day, and it's when you'll start to see a hint of summer in outfit choices, like open-back shoes and flirty lightweight dresses.
July
Plan for day temps between 71° F and 79° F
Temps will drop near 63° F at night and into the early mornings
Expect 0.00 inches of precipitation in July
What to Wear in Los Angeles in July: Summer is in full swing in July. A wrap or light sweater for restaurants or theaters with blasting AC is a good idea, but otherwise get out there and bare some skin.
August
Plan for day temps between 73° F and 78° F
Temps will drop near 65° F at night and into the early mornings
Expect 0.00 inches of precipitation in August
What to Wear in Los Angeles in August: It can get pretty hot in August, but there's usually a cool breeze to balance it out (especially at the beach). Just like in July, it's feasible to spend the entire day outside in a bathing suit and cover-up.
September
Plan for day temps between 73° F and 78° F
Temps will drop near 65° F at night and into the early mornings
Expect 0.00 inches of precipitation in August
What to Wear in Los Angeles in September: It's still warm in September, but it might not feel that way because of the gusty Santa Ana wind blowing. Keep a cotton cardigan handy to throw over your shoulders or tie around your waist.
October
Plan for day temps between 66° F and 71° F
Temps will drop near 54° F at night and into the early mornings
Expect 0.02 inches of precipitation in October
What to Wear in Los Angeles in October: October is a tricky month, since you'll want something for warm days and slightly chilly nights. Long-sleeved tees and white jeans are a good combo.
November
Plan for day temps between 60° F and 65° F
Temps will drop near 47° F at night and into the early mornings
Expect 0.05 inches of precipitation in November
What to Wear in Los Angeles in November: L.A.'s 70-degree weather usually disappears by November. You might be warm sitting at an outdoor restaurant for lunch with a spot in the sun, but you'll want a jacket with you at all times. And sweaters are a good bet.
December
Plan for day temps between 51° F and 59° F
Temps will drop near 39° F at night and into the early mornings
Expect 0.07 inches of precipitation in December
What to Wear in Los Angeles in December: You won't have a white Christmas in L.A., but it gets pretty chilly during the holidays. Time to break out the thick wool knits, plus a warm coat and boots (go for white). And nothing is more Los Angeles than a beanie, trust us.
FREQUENTLY ASKED QUESTIONS ABOUT PACKING FOR LOS ANGELES
I'm planning to take a hike through Lake Hollywood Park to see the Hollywood Sign. Do I need to wear something comfortable?
Be aware: You won't be doing any hiking if you're viewing the Hollywood sign from Lake Hollywood Park. The park is a public space with well-maintained lawns and paths, and it's relatively flat with some rolling hills. (It's a great place to picnic, we might add.) Note that you can't hike close enough to the Hollywood sign to touch it—the only vantage points are on trails and off roads.
Whether you're going through the park or zigzagging on trails, by all means, wear something comfortable. This isn't serious hiking, but you'll be most comfortable in sneakers and athletic pants—sporty clothes are best. Think layers, because it can be chilly in the morning and evening but you'll want to peel down to a T-shirt or tank midday.
My family and I are going to La Brea Tar Pits Museum to see the Ice Age Excavation Site. Are we going to get dirty?
No. You won't get dirty because you can't get that close. A raised platform with safety railing is what you can expect on the tour. The tar pits bubble, but not high enough to splash onlookers.
I'm going to Universal Studios Hollywood in January. Do I need to bring warm clothes?
Yes. You won't need a heavy coat or a warm hat and gloves, but definitely a jacket with a light wool or cashmere sweater and a cami or tank underneath. Pair it with jeans or skirt and tights along with closed-toe shoes.
I'm attending a Lakers game while in LA. What colors should I rock?
The Lakers have donned purple and gold since 1967, when Jack Kent Cooke purchased the franchise. Fun fact: he also owned the Rams. Granted, it isn't the easiest combination to pull off style-wise, but if you're gung-ho on showing team spirit, colorful accessories might be the way to go—like a gold handbag and a purple neck scarf—rather than a full-on, head-to-toe outfit. If you don't have Lakers gear, you'll also be totally comfortable in casual sporty clothing.
Going to the Staples Center is a classic night out in downtown Los Angeles, and courtside seats are often packed with every celebrity from Kendall Jenner to Leonardo DiCaprio.
Any special considerations visiting the Griffith Observatory?
This romantic spot with a breathtaking skyline view can get windy, and it may be chilly inside the observatory. If it isn't the height of summer, bring along something warm to throw over your shoulders, especially if you visit at night.
How should I dress for a day at the museum (the Los Angeles County Museum or Art of the Getty)?
People dress sharp for a visit LACMA and the Getty. Opt for smart-casual clothing, like a fun skirt and cropped sweater. Guys should plan an outfit that's slicker than plain shorts and flip-flips, like a short-sleeved button-down worn underneath an open cardigan sweater, and neat (read: no rips) jeans.
Related Stories