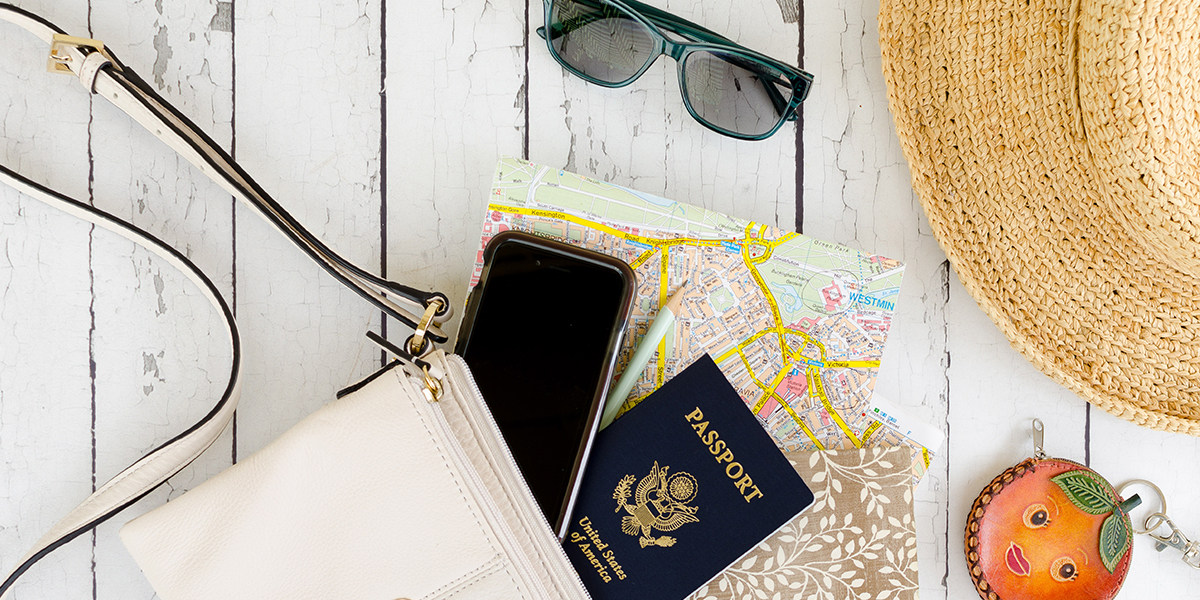 By Destination
The Ultimate Travel Packing Checklist
We all have baggage, but don't let packing anxiety turn you into a mess. Instead of frantically throwing mismatched outfits and an insane amount of toiletries and underwear into the suitcase you dragged out of the attic an hour before you need to leave for the airport, let this trip be the one where you're in control of your packing destiny. With our ultimate travel packing checklist, you'll be organized ahead of time with everything you need on a trip. Never again show up to a beach vacation without a swimming suit or drag too many pairs of shoes along on a business trip. Ready, set, pack!
Your Suitcase Packing Checklist
Click items to view travel editor-approved options
THE PERFECT LUGGAGE
If you're still using the same battered suitcase from your honeymoon two decades ago or a carry-on with wonky wheels, it's time for a luggage upgrade. In the last few years, the luggage industry rolled out high quality, fashion-forward materials; advanced technology; and even lifetime warranties. Every smart and organized traveler should have three key pieces of luggage: a weekender bag for a long weekend, a carry-on suitcase for week-long trips, and a larger suitcase for longer trips or times when you just need extra stuff. (We've been there.) Everlane's Twill Weekender bag fits the bill for a quick and stylish trip—it also fits into most overhead apartments and offers a spacious interior, plus an interior pocket. For a one-week trip, it's hard to beat Away's Carry-On—it changed the suitcase game with an ejectable battery for phone charging and a lifetime warranty. For any trips lasting two weeks or longer, go for Samsonite's Framelock 28″ Spinner. The scratch-resistant corrugated shell and aluminum frame keep it looking brand new, and its compartmentalized interior makes organizing easy. Packing a suit or special dress? Pick up a multi-functioning garment bag, like this one from Away. It has six interior pockets and a removable shoulder strap.
THE 3 PAIRS OF SHOES YOU'LL NEED FOR EXPLORING
A new pair of shoes (or three) is a step in the right direction for any trip. But packing too many pairs is a rookie mistake, since shoes take up a lot of suitcase space and can be heavy. Instead, go for three pairs of versatile shoes that are comfy and stylish for any occasion. A good rule of thumb is to go for three pairs: lightweight and breathable sneakers, polished boots, and something slightly more elegant, like cute flats or buttery loafers. Each of these shoe picks can be dressed up or down for day or night and withstand a full day on your feet. We'd walk a mile in these shoes any day.
Women's Shoes
Men's Shoes
How Not to Look Like a Tourist Wherever You Go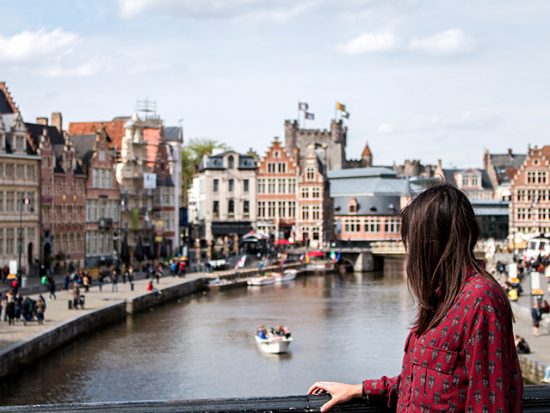 Being a tourist is a wonderful thing, but looking like a tourist is less appealing. To avoid giving off tourist vibes, dress up a little. Sure, you might just throw on shorts and an old college T-shirt for dinner in your favorite hometown restaurant, but when you're on the road, you're a visitor. It's only polite to put in a bit more effort than you usually would. Overall, you want your outfit to look like it has intention, and isn't just whichever wrinkled items you pulled from a suitcase. Instead of faded jeans, wear a sharp pair of chinos. Trade in a loose sun dress for an of-the-moment jumpsuit. Upgrade from worn sneakers to a brand new pair. And whatever you do, avoid wearing baseball hats and T-shirts emblazoned with the name of the last city you visited—that's the most obvious tourist tell. If you're confused about dress codes, check out our foolproof guide to dress codes.
Chic Travel Outfit for Women
Chic Travel Outfit for Men
FIVE FOOLPROOF OUTFITS FOR YOUR TRIP
1. WHAT TO WEAR ON A MUSEUM CRAWL
Museum dressing isn't quite as complicated as a Jackson Pollock painting, but it is an art. Visiting museums requires long stretches on your feet, so dress from the feet up with comfortable shoes. Feel free to add a layer to these outfits, as you may find yourself in a frigid gallery one minute and in a sunny outdoor sculpture garden the next. Since art museums are generally filled with chic and stylish people, you need to look good, too—elegant and tailored pieces will do the trick. Don't forget a small bag to hold your essentials without adding weight, and add a quality journal to jot down any artistic inspiration. We wouldn't be surprised if the other art patrons pay more attention to your look than the Van Gogh portraits.
Women's Museum Touring Outfit
Men's Museum Touring Outfit
2. WHAT TO WEAR TO DINNER AT A FINE RESTAURANT
A nice dinner out is meant to be festive and fun, not fussy and overly formal. To nail the look, go for a classic color palette like black or navy, and then spice things up with fun and unexpected accessories. Women can make a statement with blingy "lemon slice" earrings, while men should pop on a subtle polka-dot shirt under a relaxed cotton blazer (and skip the tie). Of course, you don't want to wear anything too restrictive around the middle, after all you're here to eat dinner and maybe the entire dessert menu.
3. WHAT TO WEAR SIGHTSEEING AROUND TOWN
A sightseeing wardrobe calls for an upgraded daytime casual look. Women will appreciate the classic look of jeans-and-a-T-shirt, where the jeans are secretly ultra-comfy jeggings and the T-shirt has just the right amount of draping. A handy scarf and easy carry-all tote are both useful and stylish additions. Men can wear flat-short khaki shorts that look just a bit dressier than the norm, along with a heathered T-shirt and a neutral cap. Easy slip-on shoes are a must for everyone, since sightseeing requires a lot of walking.
Easy Women's Sightseeing Outfit
Easy Men's Sightseeing Outfit
4. WHAT TO WEAR TO A SHOW OR PERFORMANCE
Whether you're going to a Broadway show, an Italian opera, or a smoky jazz club, if you sprang for tickets to a live performance, have fun and get a little dressy with it. Women can pair an understated sweater with an etherial pleated satin skirt. Bold red lipstick and curvy boots add the finishing touches. Men can opt for a classic mix, with a skinny blazer and a button-down shirt. Checked socks and wingtip shoes keep footwear elevated, too. Don't be shy about re-wearing these looks for multiple outings. After all, outfits like these deserve an encore.
Women's Performance Outfit
5. WHAT TO WEAR AT THE BEACH OR A WATER PARK
If the beach or a water park is on your schedule, you already nailed vacation fun. Now make the day even more perfect with the right pieces to wear. A simple black one-piece is a classic every woman can wear, even if you're catching waves or twisting down waterslides. Add a pair of sandals and a giant sun hat for extra sun protection—and extra glamor. Men can throw on a palm-print shirt together with some preppy swim trunks and a shrunken straw fedora to keep the sun off your eyes. And you don't need us to remind you about sunscreen.
WHAT NOT TO PACK FOR YOUR TRIP
Just about any toiletry or over the counter medicine you might have forgotten to pack can be picked up on the road, so don't fret too much. That said, do pack a pared down version of your fitness and grooming routines—you don't need every single night serum you own to come with you. Vacation also isn't the time to bring along fussy pieces in your wardrobe that only match with one other item in the suitcase. Instead, go for structured pieces in a neutral color that you can mix and match and wear more than once. Valuable jewelry should definitely be left at home, not only to deter thieves, but because it's just too easy to leave a pair of pricey diamond earrings on the hotel vanity. For a definitive guide on everything you aren't allowed to pack in a checked bag, check out our handy guide.
THE *ONE THING* WTP EDITORS ALWAYS PACK WHEN THEY TRAVEL
It's easy to overlook a hairbrush when packing, but good hair days are as good as gold. A versatile hairbrush is a lifesaver on the road. The Wet Brush's IntelliFlex bristles were designed to gently comb through all types of wet hair without damaging it, and it actually works like a dream for both thick and fine hair types. Seriously, you can brush your whole wet head and only have a few strands clinging to the brush. The bristles also work well on touchups for dry hair, making this styling tool a valuable twofer. Speaking of value, at under $12 for a full-size brush (for your carry-on) and a mini-brush (for your purse or shoulder bag), the Wet Brush is truly a bargain. Bad hair days, begone.
HOW TO PACK FOR THE WEATHER AND SEASONS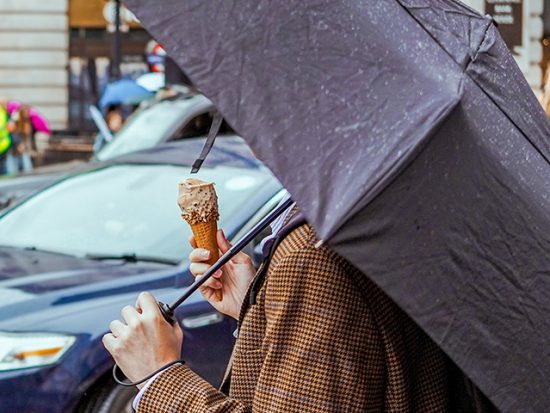 The one thing that's going to influence your packing choices more than anything else? The weather.
Below 20F
Brrr, this is truly cold—like Canada in the winter cold. Don't even think about stepping outside without a warm winter coat, cozy beanie, and gloves that let you text without removing them and exposing your digits to the frigid air.
Recommendations: Cozy beanie, women's parka, women's cashmere-lined texting gloves 
20-30F
When temperatures are below freezing, think warm. Reach for shearling boots to keep feet warm and dry, a thick scarf that could double as a blanket, and turtleneck sweaters.
Recommendations: Shearling waterproof boots, blanket scarf, women's turtleneck 
30-40F
While these temperatures are no longer dangerously cold, they're still quite chilly. Stay toasty with heat-tech leggings, a velvet blazer, and a cashmere sweater maxi dress that's sure to cure the winter blues.
Recommendations: Heat-tech leggings, velvet blazer, sweater maxi dress
40-50F
It's probably tempting to shed a layer, but we're not quite there yet. On these still brisk days, choose a fleece crew sweatshirt, sturdy water-resistant boots, and a long parka to stay dry, warm, and protected from the chilling wind.
Recommendations: Men's fleece crew sweatshirt, chukka boots, men's parka
50-60F
It's officially safe to shed a layer (but only one) as temperatures creep closer to the 60s. Long sleeves and jeans are still the safest bet to stay warm. You won't be sorry you packed a lightweight coat, like this springy lilac trench coat, for nighttime temperature dips.
Recommendations: Men's straight jeans, women's high rise straight jeans, women's trench coat 
60-70F
Warmer weather also calls for fun florals and breezier silhouettes, like this playful dress. Still, play it safe with lightweight booties and a cropped denim jacket you can shrug off in the sunshine and wrap around your shoulders at night.
Recommendations: Floral dress, ankle booties, women's cropped denim jacket
70-80F
Here we have the kind of pleasant weather that makes people book vacations in the first place. This is the sweet spot for packing—not too cold and not too warm—ideal for shorter sleeves, higher hemlines, and open-toed shoes like these adorable gold mini wedges.
Recommendations: Wide-leg jumpsuit, men's pique polo shirt, women's wedge sandals
80-90F
With temperatures this hot, it's more than likely you'll be in a bathing suit a good amount of the time. Don't forget a hat—both to keep the sun off your face and to look fabulous.
Recommendations: Men's board shorts, women's one-piece striped swimsuit, packable straw hat
Above 90F
Summer can get this hot just about everywhere. For extreme heat, sunglasses are a requirement and so are beach coverups to keep the rays off your bare skin. Bonus points for clothing with built-in UPF protection.
Recommendations: Tortoiseshell sunglasses, women's swim cover-up kaftan, rash guard with UPF 50
Related Stories