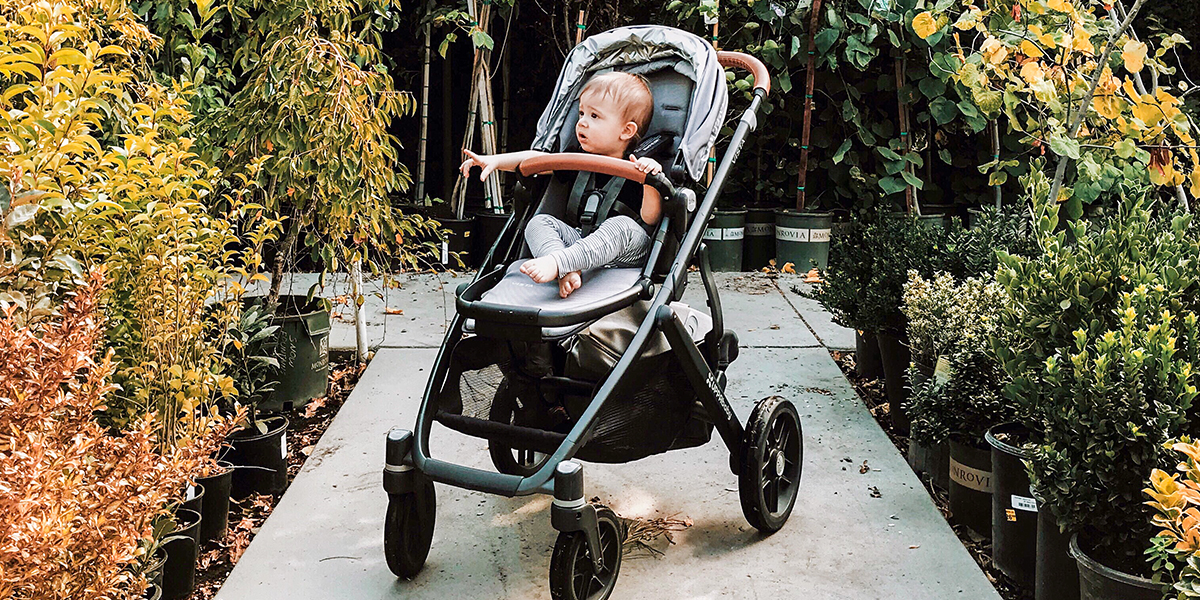 Strollers
How to Carry Strollers and Car Seats on Board an Airplane (Without Losing Your Mind)
Traveling with Strollers

Simply put, strollers make travel life easier for parents and children alike. Long lines, long waits, and the seemingly endless walk to the airport gate (on which you'll be confronted by colorful toys and assailed by candy in kiosk after kiosk) are more manageable with a stroller. Your child gets to relax, you get the comfort of knowing she can't get lost or hurt, and you both get a place to stash the Starbucks, gummy bears, and neck pillows. But deciding to travel with a stroller is only the first step; now you have to figure out how to travel with a stroller so that when you land, you're ready to roll.
Can I bring a stroller on a plane?
The short answer is maybe. Different airlines have different policies. The Transportation Security Administration (TSA) maintains a very helpful list of the stroller policies for 15 airlines. The easiest option is to take your stroller on the plane as a carry-on item. To do so, the stroller needs to be small enough to fit in the overhead bin or under the seat.
Ultimately, it's up to the flight's crew to determine whether you can bring the stroller on the plane or whether you'll need to gate-check it. For example, United Airlines allows flyers to gate-check a small, collapsible umbrella stroller for free. You deposit the tagged stroller to the side of the gangplank, and it will be there when you arrive at your destination.
Travel strollers tend to be smaller and lighter than regular strollers. They may have less storage space or lack convenience items like a tray table. But what you lose in accessories, you'll gain in portability and easy foldability.
However, if you're traveling with a larger stroller, such as a jogging stroller or double stroller, most airlines will require you to check it at the ticket counter as checked baggage, possibly incurring an additional fee. At the end of the flight, you'll collect your stroller at baggage claim, as you would with any checked luggage. Depending on its size, your stroller might be placed with oversized luggage, away from the regular baggage carousel. Southwest is one of the most family-friendly airlines. It lets you check one stroller (any size) for no additional fee at the curb, at the ticket counter, or at the gate.
What to expect when you bring a stroller to the airport
You'll need to remove your child from the stroller before going through airport security, and the stroller will have to go through the X-ray machine, just like a piece of luggage. Depending on your child's age, you might be able to carry him in your arms through the walk-through metal detector. If your child is capable of walking unassisted, he may be asked to go through the machine ahead of you. Note that kids 12 and under don't have to remove their shoes. Parents are not allowed to hold their baby while using the advanced imaging technology machine, so a further pat-down might be required for you instead. Regardless of how you get screened, you'll be with your child the entire time.
All strollers and baby carriers—as well as toys, books, sippy cups, baby blankets, and the other must-have baby miscellany—must be screened. If it folds, you'll need to fold it. If it collapses, you'll need to collapse it. If you have an attachment, such as a drink holder, you'll need to remove it. TSA agents will not offer assistance. In the unlikely event that your stroller doesn't fit through the X-ray machine—remember, really big strollers will need to be checked at the ticket counter—it will be manually inspected by a TSA agent. Note that breast milk, formula, and juice are allowed in quantities above 3.4 ounces, but these must be separated and will be tested by an agent.
Once at your gate, listen carefully for pre-boarding announcements. Some airlines let passengers traveling with small children board early, so take advantage of that time to gate-check your stroller or safely stow it on the plane.
Where to store a stroller on the plane
You have two options for where to store a stroller on the plane. Depending on the stroller's size, you can put it in the overhead bin or beneath the seat in front of you. Flight attendants will not usually assist with strollers, and they definitely will not allow passengers to store a stroller in the aisle or galley. Many travel strollers collapse into teensy packages, making it easy to stash it as you would any other carry-on item. You can also buy a special travel bag for your stroller to protect it from damage and make it easier to transport and store.
Cost of carrying a stroller on-board
Assuming your stroller is small enough to bring on board, there is no cost associated with doing so. Many airlines allow you to check a stroller without incurring an additional cost, but some may count it as one of your personal items. KLM lets you bring one stroller on board, as long as there's enough space in the cabin to store it—just remember that this Europe-based carrier calls strollers "buggies," a far more adorable term.
Backup plan: Gate-checking your stroller
Gate-checking means you'll take your stroller with you to the gate, where a crew member or agent will tag it, take it, and ensure it gets transported to your destination. Either you'll leave it at the gate before heading down the jet bridge, or you'll take it down the jet bridge and leave it immediately outside the entrance to the plane. A baggage handler will then pick it up and deposit the stroller in the plane's cargo hold. You'll be able to pick it up again upon landing, usually on the jet bridge, but sometimes at baggage claim. Remember to confirm the pick-up spot with the agent before getting on the plane. This is a free and (usually) fast option—though sometimes there's a delay in unloading the cargo hold and the jet bridge can be a cold or hot place to wait with a baby.
Best Strollers for Air Travel
When it comes to traveling with a stroller, you can buy a typical stroller for daily use that also travels well, or you can buy a dedicated travel stroller. Nearly every airline on the planet prohibits travelers from gate-checking large strollers, so keep size in mind if you don't want to check your stroller. You'll also want to consider your trip: uneven cobblestone European streets require different gear than meandering around family-friendly Disney World. Our picks below fold up neatly and compactly, so you'll likely be able to take them on board with you.
Not only is the gbPockit an awesome travel stroller, it's the only stroller on our list to also be included in the Guinness Book of World Records. In 2014, Guinness named it the world's most compact stroller. Seriously, you can fit it into a large handbag. Petite as the stroller is (fewer than 10 pounds) and tiny as it may fold, the Pockit nevertheless safely carries kids age 6 months to 55 pounds, so you won't need to replace it as baby gets bigger. Although the stroller back doesn't recline, it does have a nice angle—great for napping.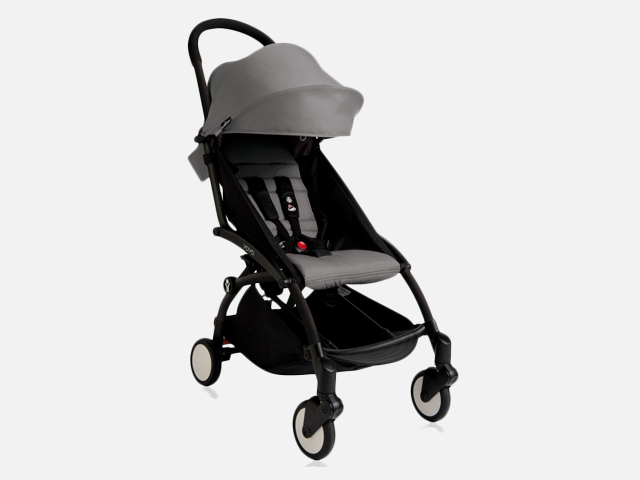 The BabyZen YOYO+ adjusts with your child's growth. A single frame takes them from newborn to infant to toddlers up to 40 pounds—and it collapses in a second (ideal for stressful TSA screenings). This lightweight stroller was designed for easy maneuverability, so you can steer with one hand while checking directions on your phone in the other. It comes with its own padded carry strap, which nestles into the basket when the stroller is expanded. Or you can purchase a separate carrying bag, which can be worn as a backpack or attached to your roller bag. Canopy seats, car seats, and seat pads are sold separately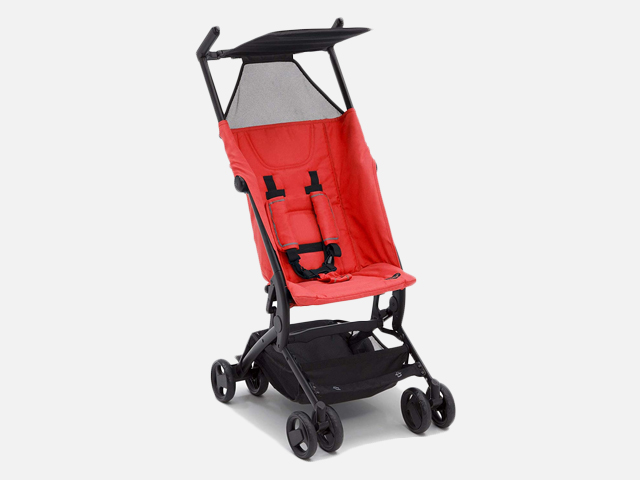 Brooklyn-based, family-run Delta Children believes that everyone should have access to safe, stylish, and affordable products. Its Clutch stroller comes with a five-point safety harness, reflective strips for nighttime use, a short sun shade, and a roomy storage basket. The Clutch also has its very own travel bag. Collapsed, it's about the size of a paper bag from the grocery store, which means you'll be able to stick it under the seat in front of you, and have enough room for your feet (!!!). The stroller is for children up to 50 pounds.
How to Protect a Stroller on the Plane
When it comes to your stuff, every airline offers up pretty much the same disclaimer: it's not responsible for any damage incurred during travel. Although some airlines, such as Southwest, offer reusable travel bags for purchase, most do not. A stroller that arrives broken or dinged won't be much good to you or your baby. So consider purchasing a travel bag that fits your stroller's model and make—in other words, don't forget to measure your stroller. Check out the lightweight Kango Kids' Stroller Bag, or opt for the more durable denim LuvdBaby's Foldable Stroller Bag, which protects against dirt and germs as well as tears and snags.
Traveling With Car Seats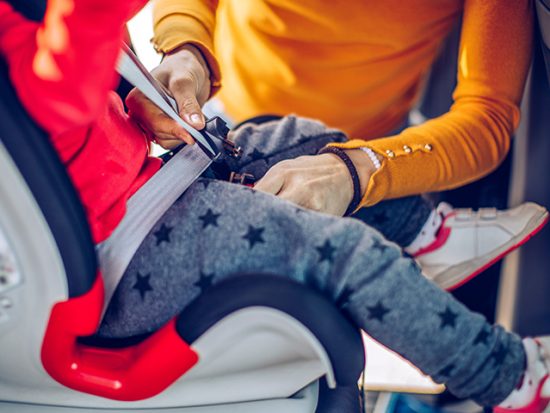 Ah, the car seat. So necessary for car travel, so awkward to lug around. Unlike strollers, car seats don't fold, so they tend to take up a ton of space. Of course, you absolutely need to use a car seat (it's the law) if you'll be traveling by car. Whether you use a car seat on the plane is entirely up to you. Current Federal Aviation Administration (FAA) guidelines recommend—but don't require—that little kids travel in a child restraint system (CRS), including government-approved car seats, on airplanes. Here's what you need to know.
Can I bring my car seat on a plane?
According to the latest guidance from the TSA, you may either check a child's car seat or carry it on the plane. If you wish to use (and not store) a car seat on the plane, you're in charge of ensuring three things: the car seat is FAA-approved, it will fit on the airline seat, and you have purchased a ticket for the child using a car seat, regardless of their age. To ensure the car seat will be allowed, break out the tape measure, then check a website like SeatGuru for info about seats on a specific airline. The typical rule of thumb is 16 inches for a car seat to slot into the average seat in coach, it should be no more than 16 inches across. But note that many car seats—as well as airline seats—are wider than 16 inches. At the ticket counter or the gate, an agent may ask to see proof that your car seat is FAA-approved. Be sure to buy car seat with some version of the following label: "This restraint is certified for use in motor vehicles and aircraft." If you get on board with a car seat that's not FAA-approved, be prepared for the flight attendant to insist you check it (usually as a courtesy gate check.)
If you want to store the car seat on the plane, it's your responsibility to determine whether the car seat's make and model can fit in the overhead bin or slide beneath the airline seat. Flight attendants will not provide an additional space on the plane for storing car seats.
Is a car seat required? Can my child fly without one?
Car seats are recommended but not required on airplanes. Children under the age of 2 can travel as a lap infant, which sounds much cuddlier and more fun than it actually is. Holding a baby for several hours in coach is a real chore, and it might be worth the cost of a separate seat so both you and your baby can be comfortable and have some space. If you choose to go the lap infant route, you may be given an extension for your seat belt to ensure that it fits around you and the baby.
Some airlines, such as Hawaiian Airlines, offer bassinets for babies, although you may be required to sit in the bulk head row, sometimes for an additional cost. These bassinets don't generally have much in the way of restraints, but they do give your baby a place to stretch out and roll around—and your arms a break. After purchasing your tickets online, call the airline to reserve a bassinet. Speaking of reservations, you need to purchase a separate ticket for children ages 2 and over, but whether kids actually sit in their seats is another story.
Regardless of a child's age, you'll have to purchase a ticket for them if you wish to use a car seat. Airlines must accommodate all approved car seats (and other CRS) for any purchased seats. Call it Murphy's Law, but you can have a car seat with the FAA label, measure it, and confirm the seating size on your flight—yet sometimes the seat won't fit for whatever unpredictable reason. If that's the case, the FAA requires airlines to accommodate your seat. Let's say the kid/car seat is seated in 12A, but the arm rest is broken. While a regular passenger could sit there, the arm rest issue might inhibit the car seat—in which case you and kid/the car seat must be moved somewhere else within the class you booked.
You'll also want to book an adjoining seat to ensure that you're seated next to your child in their car seat—and the airline may charge an additional fee for booking seats together.
What to expect when you bring a car seat to the airport
You'll need to send the car seat through the screening machine at security, as you would any other carry-on item. Friendly reminder: remove your child before doing so. If your child can walk, they will be asked to go through the metal detector unescorted. Otherwise, you'll be asked to carry your child through, and you may also be required to submit to a pat-down. You and your child will not be separated, even if one of you needs a special security check.
Other types of restraints, such as harness vests and booster seats, are not allowed to be used during the airplane's taxi, take-off, or landing. In fact, the FAA recommends that you put these items in your checked luggage. If you wish to bring such an item onboard, it must be screened, must be able to fit in the overhead bin or beneath your seat, and may count toward the number of carry-ons you're allowed to bring.
Most airlines (but not all) allow passengers traveling with little ones to pre-board ahead of the masses. Do not pass up the opportunity to get on the plane early and get settled before everyone else.
Cost of carrying a car seat onboard
As is the case with strollers, most airlines allow passengers to bring a car seat onboard without being subjected to additional fees, apart from the cost of the seat holding the car seat. In some instances, you might have to choose whether to gate-check your stroller and send your car seat as checked baggage, or vice versa. This makes for a particularly thorny dilemma in the event that your stroller includes a car seat attachment and you've decided not to use the car seat on the plane. As always, a little planning goes a long way.
Accessories to Help Lug a Car Seat Around the Airport
When traveling with an infant, parents can opt for a streamlined travel stroller system, which comes with a stroller frame and detachable car seat, such as the Babyzen YOYO Stroller Collection. Another option is a car seat carrier, such as the Britax Car Seat Travel Cart, which basically transforms a car seat into a stroller. Last but not least, you might also wish to invest in a car seat travel bag, such as J.L. Childress Ultimate Backpack Padded Car Seat Travel Bag. This is a particularly good option for protecting a car seat if you intend to check it.
How to use a car seat on a plane
Decided to use your car seat on the plane? Awesome! You'll need to buy a separate seat for your child and make sure you're using an FAA-approved car seat. Flight attendants are trained to look for a label, which reads, in part, "This restraint is certified for use in motor vehicles and aircraft." Note that not all car seats are certified for air travel. Some airlines mandate that car seats be placed in window seats, rather than in the middle or the aisle (as a safety measure in case of an emergency evacuation). Most airlines won't allow car seats, or kids, in emergency exit rows. Any car seat used on an airplane should be installed facing forward (toward the tray table), not toward the backrest.
Best Car Seats for Air Travel
Restraining your child in a car seat while traveling by plane is a good way to ensure that your kid stays put, rather than climbing over other passengers, inserting herself beneath the seat, and/or wandering the aisles. All kidding aside, using a car seat on the plane makes for a safer experience, with the added benefit that your little one might fall sleep in a familiar environment—letting you catch up on inflight entertainment.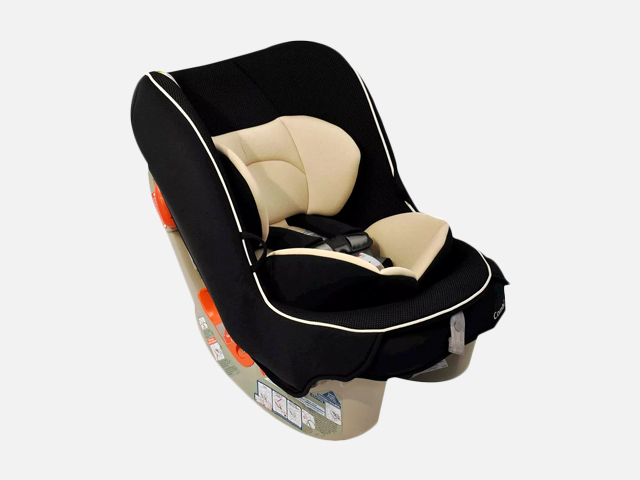 Measuring just 15.5 inches across, the Combi Coccoro is an excellent choice for the space-conscious since it fits even the narrowest airplane seats. This car seat works for tiny babies through toddlers, with recommended weights ranging from three to 33 pounds. Deep walls and insertable pads make it ideal for the littlest ones, offering lots of protection for their sensitive necks and spines, while a chunky layer of foam absorbs any potential impact. We also really like the way it uses colors—and audible clicks—to indicate that everything has been correctly latched and installed.
The name alone provides comfort: putting safety first is what every parent strives to do. Some 30 years ago, this company created the yellow Baby on Board signs, and its car seats offer the same kind of loving, passionate protection. The MultiFit Ex Air accommodates children from four to 50 pounds (even more when used as a booster seat), and comes with a patented QuickFit harness. Its instructions even explain how to insert it on an airplane, which is good news since this car seat is a bit on the wide side.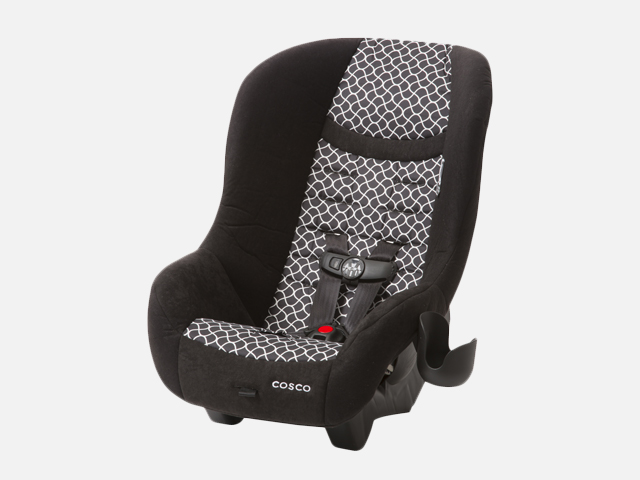 A super-simple, no-frills car seat that comes in lots of bright (read: stain-masking) colors, the Cosco Scenera NEXT was specially designed for airline travel. It only weighs about as much as a newborn (10 pounds), and its trim dimensions ensure that it will fit your assigned seat on the plane. But it still boasts all the safety features you want and need, among them an adjustable harness-and-buckle system. The Cosco Scenera NEXT accommodates children from five to 40 pounds and 19 to 43 inches long.
Related Stories
All products have been hand-picked by our writers and editors. Items purchased through links may earn us a commission.