Luggage Expertise
Travel Backpacks We Love
A good travel backpack is like a favorite pair of jeans—it never goes out of style, pairs with almost everything, and is comfortable when it matters most. It's versatile enough to handle your needs, and basic enough to take you anywhere and everywhere.
You don't need to trek through the wilderness or across entire continents to be a backpack person—maybe rolling a suitcase through a crowded terminal just isn't your forte. (Though if it is, there are wheeled backpacks for the best of both worlds.) From stylishly minimal options to packs with every imaginable bell and whistle, here are travel packs that any backpack person will fall head-over-heels for.
1
Patagonia Ironwood Pack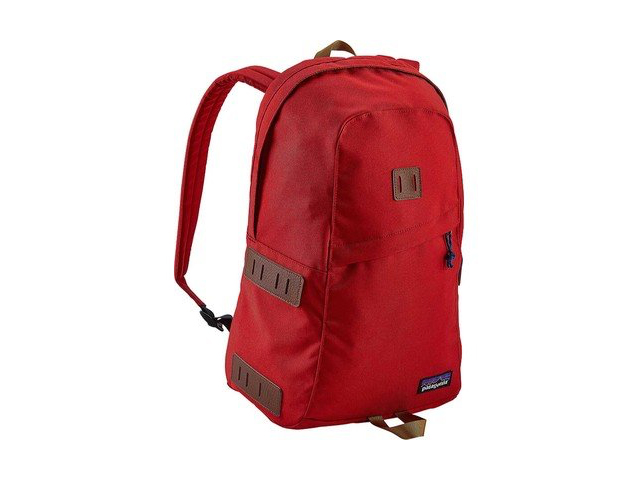 For stylish laptop-toting business travel and casual day trips, Patagonia's Toromiro pack can up your backpack game from broke trekker to chic utilitarian. Its simple design includes hidden pocket zippers and a laptop sleeve, and the square shape makes it look like a briefcase/backpack hybrid.
From $214.77 at Amazon
2
SwissGear Travel Gear ScanSmart Backpack
Your laptop, tablet, tiny travel gadgets, documents, and water bottle will each have its own compartment in this Swiss Gear organizer backpack. The laptop pocket fits up to a 17-inch screen and nearly detaches from the rest of the bag for easy TSA inspection. The tablet case is extra cushioned for protection, and attachments like an accordion document folder, a shoulder-strap sunglass compartment, accessory pockets, and a smartphone holder ensure you'll have your hands free whenever you need them.
$49.99 at Amazon
3
Eagle Creek Doubleback 22 Inch Carry-On Luggage
If you dabble in both rolling suitcases and backpacks, stop switching between travel bags—Eagle Creek's DoubleBack is both. This isn't just a backpack on wheels—the front opens on three sides to reveal a suitcase-like interior—complete with zippered toiletry compartments and packing straps—as well as a hydration pack and drinking spout that allow for quick water access. A removable exoskeleton even allows you to leave the wheels and metal handle behind on days you just want a lightweight backpack. It's carry-on friendly and packs a "No Matter What" warranty that includes repair and replacement. So yes, Eagle Creek has pretty much packed our entire travel-bag wish list into one item.
From $241.67 at Amazon
4
Fjallraven Maxi Kanken Backpack
Swedish outdoor retailer Fjallraven had us at "expandable travel backpack," but this basic backpack can also be carried as a tote bag. Moisture-resistant Vinylon and a light-reflective badge make it ideal for travel via bike; and its sleek, minimal style makes it a hugely popular pick. The Maxi Kanken is Fjallraven's most popular backpack, and includes a seat pad perfect for hiking breaks.
The main compartment can expand an extra three inches and the bag's huge, zippered opening makes it easy to stuff. Fill it with day-trip items or your work gadgets and laptop, and bring it on the plane—it's carry-on sized.
$79.95 at Amazon
5
Osprey Variant 52
If functional options for thru-hiking, mountaineering, or camping are more your thing, you've likely heard of Osprey. The retailer's technical backpacks are beloved by many, and feature attachments that will keep you comfortable on any adventure. Its high-alpine Variant packs 52 liters of space, and has the capability to carry skis, walking poles, ice gear, and a hydration reservoir. The bag weighs just three pounds empty, and has extra cushioning on its back panel and hip straps to help distribute the weight of your gear. Don't be afraid to wear it down—it's got a lifetime warranty.
$146.94 at Amazon
6
REI Flash 22 Pack
Day packs are often the most versatile backpacks, capable of getting the job done whether you're hiking, biking, flying, or just commuting to work. REI's Flash 22 Pack is a super simple, ultralight rucksack that makes up for its small size with huge, easily accessible front pockets. The outer water bottle compartments are big enough to hold two massive Nalgene bottles, and a third hidden-zipper compartment is big enough to fit any on-hand items you'd need to quickly reach for. The main drawstring compartment is lined with a removable pad that's perfect for a rest on the snowy or dewy ground, and the outer layer boasts walking pole loops, removable sternum and waist straps, and water-resistant material. The Flash 22 pack can easily fit a 15-inch laptop in addition to your other items, making it a perfect carry-on or personal item.
$54.95 at REI
7
Hyperlite 2400 Windrider
Thru-hikers on the Appalachian and Pacific Crest trails (or anyone who's seen the movie Wild) know how important it is to have a lightweight yet durable waterproof pack. And so does Hyperlite Mountain Gear in Maine.
The 2400 Windrider is a top-loading pack with a roll-close opening. Mesh outer pockets, removable aluminum framing, and a hydration port make it ideal for braving the elements on a long journey. The bare-bones bag was voted Backpacker's best ultralight pack. You won't want to use this backpack for plane or bus travel, however—its top-load opening keeps its contents dry, but not easily accessible.
From $310.00 at Backcountry
Related Stories
All products have been hand-picked by our writers and editors. Items purchased through links may earn us a commission.