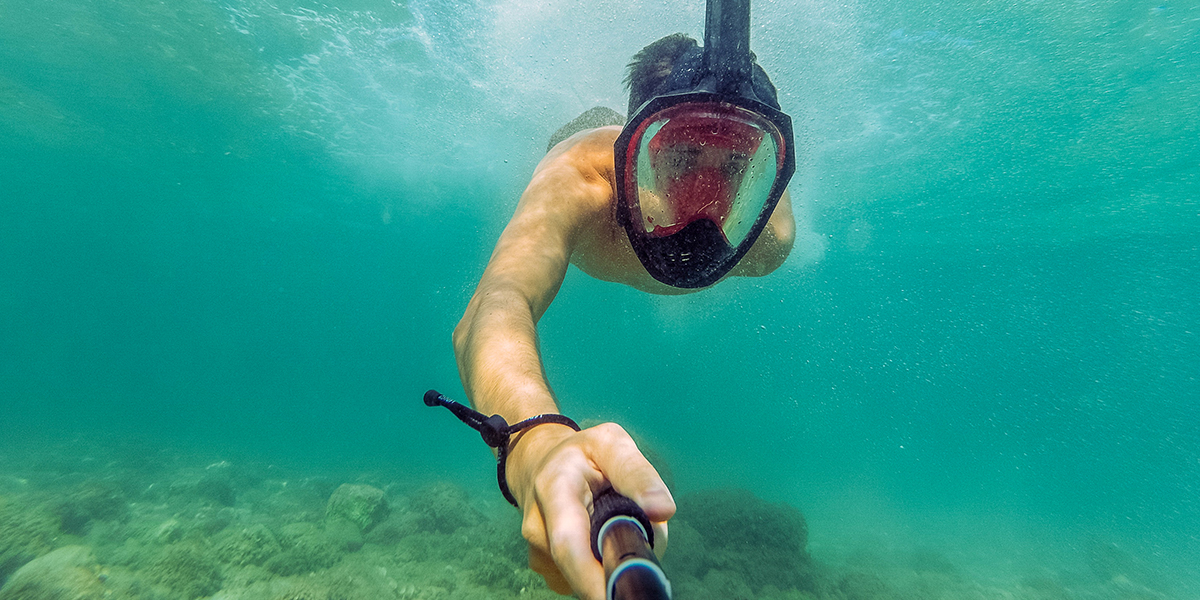 Shop
The Best Selfie Sticks of 2019 and How to Use Them
Love 'em or hate 'em, selfie sticks are here to stay. And even if you're not an avid selfie taker, the fact is a selfie stick is pretty useful when there are no fellow travelers around you to help you capture that moment. Plus, selfie sticks nowadays are pretty high tech, and with features such as built-in wireless remote controls and tripods, they can turn out to be a pretty useful addition to your travel gear. And since most selfie sticks come with a price tag of less than $30, they are an affordable and compact solution to common travel woes such as limited carry-on space. Read on for the best selfie sticks to take with you on your next adventure.
The Best Selfie Sticks of 2019
Best Overall Selfie Stick With Bluetooth: Yoozon Bluetooth Selfie Stick and Tripod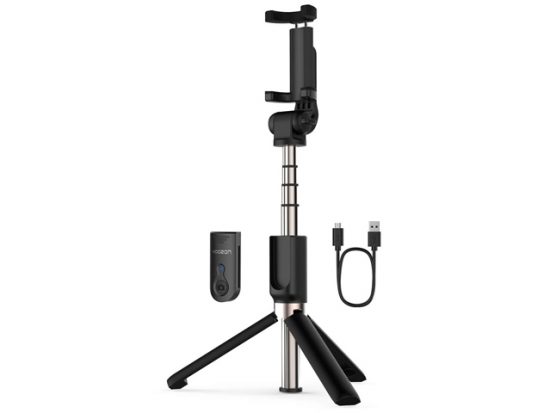 This all-in-one selfie stick has Amazon customers raving—77 percent have awarded it five-star reviews. Quite simply, it's one of the best-selling selfie sticks out there, with good reason: Its handle transforms into a tripod in seconds by simply sliding the wireless remote, which is conveniently attached to the handle but can be popped out as well. The cradle head rotates 360 degrees and the handle extends up to 26.6 inches. Thanks to a built-in lithium battery, the Bluteooth shutter lasts much longer and you can charge the shutter remotely via a micro USB card. Another great thing about this selfie stick is that it's compatible with most Apple and Android smart phones.
Best Overall Selfie Stick Without Bluetooth: JETech Battery Free Selfie Stick

Plug the selfie stick cable into your phone and immediately start taking pictures—using this selfie stick is truly as simple as that. The holder head is compatible with both Apple and Android devices and rotates 270 degrees making it easy to snap photos even from awkward angles.
Best Budget Selfie Stick: kungfuren Selfie Stick Bluetooth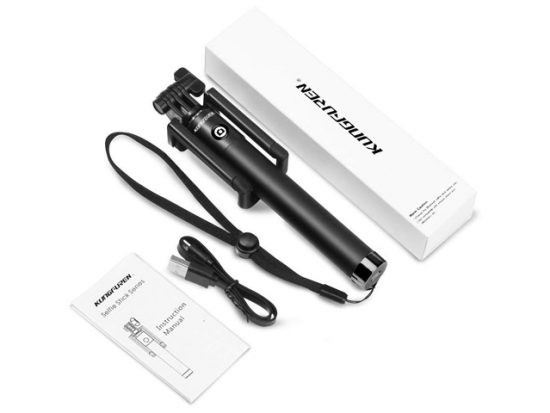 This selfie stick packs a lot of features and comes with a price tag of only $7. Its incredibly compact size makes it easy to store in your bag or even your pocket. Just pair it with your iPhone 7 Plus or Android device and start snapping. It has an impressive battery life for a selfie stick of that price range—up to 50 hours per battery charge for active shooting and up to a month in stand-by mode.
Best Compact Selfie Stick: Mpow Selfie Stick with Bluetooth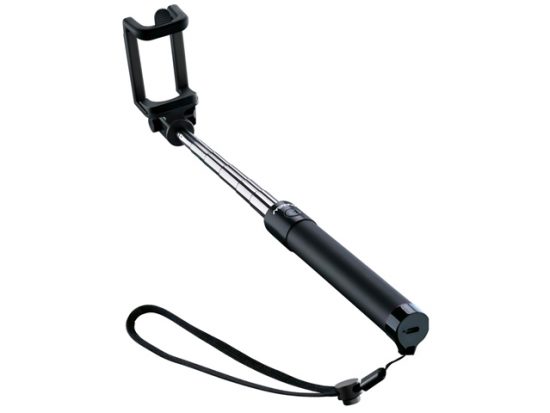 If packing space is an issue—hey, it's hard to resist bringing just one more pair of shoes—the Mpow selfie stick is the right choice for you. At just seven inches long when folded (but an impressive 31 at maximum extension), it's one of the most compact options on the market right now. Capture your best angle with the 270 degrees rotating head.
Best Selfie Stick to Pair With a Tripod: Wevon Selfie Stick Tripod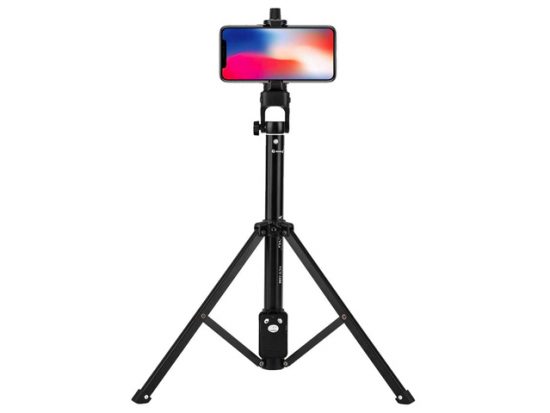 Ditch your bulky tripod and opt for this two-in-one tripod/selfie stick that is truly the best of both worlds. Compatible with pretty much any smart phone, it's made from sturdy aluminum alloy for maximum stability. The battery allows you to take up to 3,000 photos per charge. Its adjustable head rotates 360 degrees, and its body extends up to 40 inches so you can take the perfect selfie in any situation (just don't go dangling off a cliff!).
Best Selfie Stick for Android Users: Fugetek FT-568 Bluetooth Selfie Stick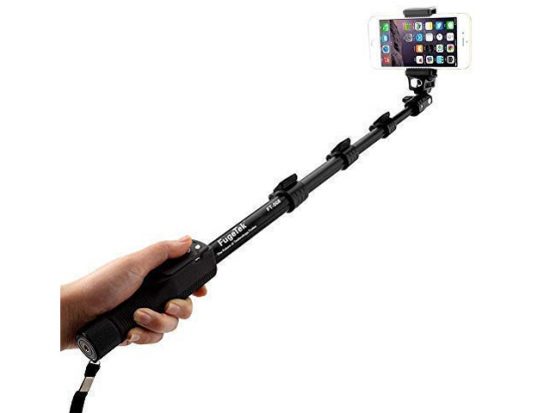 This selfie stick isn't just the ideal travel companion for Android users, it's also perfect for DSLR camera owners as well. Compatible with any smart phone running Android 4.3 or a newer version of it, the Fugetek also allows you to zoom in and out from a distance (a feature that isn't available to iPhone users) using the Bluetooth remote. It also has a rechargeable battery that'll hold up to 300 hours in stand-by mode.
How to Use a Selfie Stick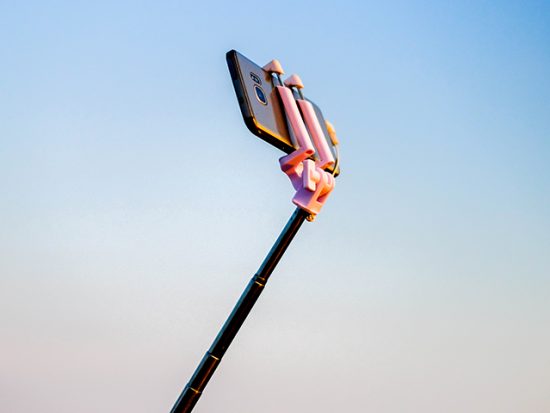 If you are new to selfie sticks, here are some easy to follow step-by-step instructions for setting yours up.
Using a Bluetooth-Enables Selfie Stick
Turn on your selfie stick Bluetooth shutter and enable the Bluetooth option on your smart phone.
Find the wireless remote in the list of Bluetooth devices on your phone and click on it to pair the two devices.
Test if the pairing was successful by clicking a few times on the button of the remote. If the devices were properly paired, you should have new photos in the camera roll folder on your phone.
Securely attach your phone to the head of the selfie stick, extend it, and start taking pictures.
Using a Wire/Aux Cable Selfie Stick
Download the Camera 360 app or another app that allows you to set a timer when using a selfie stick with no Bluetooth connection.
Adjust the screw mount of the selfie stick head to secure your phone in it.
Connect your phone to the selfie stick by plugging it in using the stick's cable.
Extend the selfie stick to your needs and start taking pictures.
3 Etiquette Tips for Using Your Selfie Stick

1. Don't ruin the view for other people.
One of the reasons why selfie sticks get a bad rap is because they can be quite intrusive. No one likes it when they have a monopod in front of their face while trying to take a photo, so be mindful of your fellow travelers. If you're at Rome's Trevi Fountain in a swarm of people, maybe don't try to extend your selfie stick here but instead just snap a photo of the site itself.
2. Safety always comes first.
Since selfies became "a thing" there have been thousands of people who have been injured (or worse) while trying to snap a picture of themselves. So not to state the obvious, but if you're in a situation that may threaten your life (or that of other people), just resist the urge and keep the selfie stick and your phone in your pocket. No photo is worth bodily harm. (And trust us, those photos of people hanging out on the edge of a cliff are 100 percent Photoshopped.)
3. Just because something's legal, that doesn't make it ethical.
Not to sound too stuffy, but common courtesy shouldn't be on break just because you're on vacation. For example, don't take photos of local kids without their parents' permission. Likewise, don't tiptoe onto someone's property to snap a photo of their home; respect the privacy of others. And always consider if a photo may be offensive to others. If you're at the famous Père Lachaise Cemetery in Paris and there's a funeral going on or someone is mourning in the background, keep your selfie stick and camera under wraps.
Related Stories
All products have been hand-picked by our writers and editors. Items purchased through links may earn us a commission.