Packing Tips
How to Pack a Cat (and Other Tricky Packing Tips)
It's not easy to pack a cat. But small, warm-blooded creatures aren't the only things that one shouldn't simply stuff into a suitcase. Certain items necessitate special attention and careful strategizing when it comes to packing.
1
How to Pack a Cat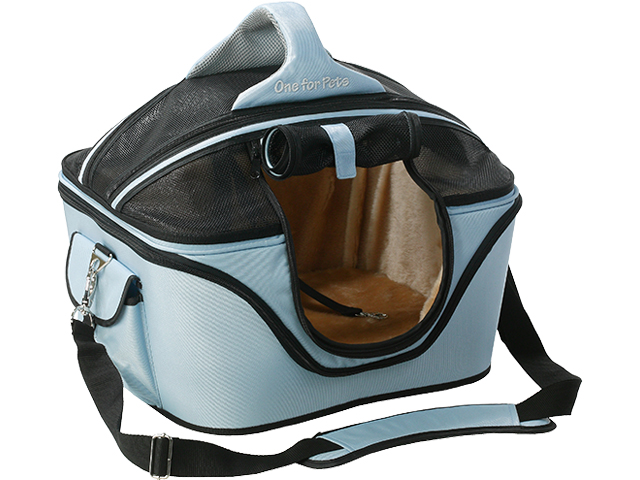 Remember what happened to Jack the Cat? The poor guy escaped from his carrier (it fell and broke) at JFK International Airport and was lost for 61 days. The lesson we can glean from this unfortunate incident is that a secure, high-quality cat carrier is an absolute must.
Many airlines allow travelers to carry a pet on a plane as long the animal's carrier fits within set size limits. When flying, you'll want an airplane-approved cat carrier, and you'll also want to check with your airline for its rules and regulations regarding flying felines. (Pay attention to breed restrictions, too. American Airlines, for example, prohibits brachycephalic, or "snub-nosed," cat breeds like Persian cats, since they may have trouble breathing on planes.)
According to Catster, "The best cat carriers for airplane travel are durably sewn with lots of air vents; a zippered top and side exit door; a soft, removable bottom pad; and several flat internal and external pockets." A carrier with detachable dishes for food and water is also a good bet, especially for longer trips. Put something familiar, like a favorite toy or blanket, in the carrier to comfort your furry friend. And be sure to include a label with your name and address, a copy of your itinerary, and your pet's medical records in the carrier's pocket.
Does your cat tend to have accidents in its carrier? Puppy pads, such as these ones, make excellent disposable and absorbent carrier liners when cut to fit.
Shop Now
2
How to Pack a Suit
You have two options: Put your suit in a garment bag, which will keep it mostly crisp, or fold it in your suitcase—very, very carefully. Lifehacker has a useful instructional video on folding a suit in a suitcase, using a method created by a professional dry cleaner.
Travelers have endlessly debated the geometry of the perfectly folded suit. Some say to roll it, since folds cause wrinkles; others argue it's best to fold strategically, being careful with collars and creasing. (USA Today, for example, recommends that travelers "fold dress shirts so that the horizontal fold sits closer to the bottom of shirt; doing so will place the crease below the waistband of your pants, where it won't be seen when you're dressed.") But overall, many experts agree that it's important to sandwich the suit with a plastic dry-cleaner bag or tissue paper. Accessories like the Eagle Creek Pack-It Specter Folder or packing cubes will work too.
Shop Now
3
How to Pack Frozen Foods
Whether you're packing frozen lobsters from Maine or farm-sourced ice cream from Vermont, it is possible to bring frozen foods on a flight without ending up with a puddle of lukewarm liquid. The solution: Pack your frozen items with dry ice. The Department of Transportation (DOT) permits dry ice onboard planes in quantities of 2.3 kilograms for checked luggage and 2 kilograms for carry-on luggage. The ice must be packed in a labeled, ventilated container that will allow carbon dioxide gas to pass through—don't put your dry ice in an airtight package.
Airlines have differing rules—and fees, unsurprisingly—regarding frozen foods. United, for example, issues a $100 service charge for checked baggage containing dry ice on flights within the U.S. or Canada and a $200 charge for flights in all other destinations. Contact your airline directly for information about transporting containers with dry ice on your flight.
Gel ice packs are an acceptable alternative to dry ice; but remember that liquids and gels aren't allowed on planes in quantities greater than 3.4 ounces.
4
How to Pack Wine
Suitcase-stashed wine bottles that break in transit will turn your crisp white shirts into soggy red ones. So keep your wine in its container with some protective packing strategies. Travel expert Chris Gray Faust, who has written about how to pack wine, gave us some advice about buying wine overseas and then getting it back home: "My main tip is to buy thoughtfully. Ask the winery for their distributor list to see if anyone in your city or state carries it (there's no sense buying wine overseas that you can buy down the street). And think about how you'll get the wine home before you go. If you're the type who is content with a bottle or two, pick up some bubble-wrap style WineSkins either before you go or while you are there. Serious aficionados might want to invest in a stainless-steel wine suitcase built to withstand the extreme temperatures of the airplane's cargo hold."
Shop Now
5
How to Pack Skis
First, know that packing skis, boots, and poles on a flight could be expensive. Your equipment could be subject to your airline's oversize (and possibly overweight) checked-bag charges. However, many major airlines will accept one piece of ski equipment (boots or skis) as a checked bag—but you'll have to pay those bag fees. As always, contact your airline for information pertaining to your flight.
If you've chosen to check your skis, invest in good-quality, heavily padded baggage. After all, if you're footing the bill for the baggage fees, as well as for the skis themselves, you might as well spend some money to safeguard your stuff from rough-and-tumble baggage handlers. Consider stuffing your bag with some clothes to provide extra padding. (But keep an eye on those airline baggage-weight limits.)
And—this is important—label your bag. Put a luggage tag on each bag of sports equipment, as well as a copy of your travel itinerary inside of each bag. (Luggage tags sometimes get ripped off in transit.)
Shop Now
6
How to Pack a Bike
Like skis and other sporting equipment, bicycles are subject to airline-specific rules and regulations. Take US Airways: The carrier levies a $200 fee, each way, for checked bicycles with total dimensions of more than 62 inches. (If the bike is smaller than 62 inches in total dimension, the airline's usual checked-bag fees apply.)
US Airways also issues detailed packing instructions for bikes: "Bicycles must be placed in a cardboard or hard-cased bike container. Bicycles not enclosed will still be accepted, however, the handlebars must be fixed sideways and pedals removed, or bicycle handlebars and pedals must be encased in plastic or foam or similar material for transport." So we'll say it again: Contact your airline to learn its specific rules for transporting bikes, so you'll know what to do when the time comes to pack. Get in touch with carriers before you buy your ticket, as a cheaper checked-bike fee could make up the difference for a more expensive plane ticket.
US Airways also notes that travelers will have to sign a release form when checking bikes. If the airline mangles your Fezzari, it's your loss. To minimize chances of damage, buy a hard, high-quality bicycle case. BikeRadar.com, which road tested a variety of bike boxes and bags, offers its recommendations here.
Shop Now
7
How to Pack Cakes and Pies
Yes, you can carry a cake on a plane—if it's icing-free. In the TSA's book, icing is a gel, so it's subject to the agency's 3-1-1 rules. (That means it has to be in a container no larger than 3.4 ounces.) According to the TSA's Blogger Bob, "The bottom line is that you can bring cakes, pies, and cupcakes through the security checkpoint, but you should expect that they might get some additional screening, and if something doesn't seem right, there is always the potential you won'€™t be able to take it through."
If your cake has icing, you'll need to check it. If not, prepare for additional screening. Either way, pack for the worst. Attempt to find a box as close to the size of the cake as possible, to avoid too much sliding. Seal your cake in an airtight wrap, then include soft layers of packaging to prevent it from getting smashed in its container; tinfoil, plastic wrap, tissue paper, or wax paper will work. SmarterTravel Executive Editor (and pastry chef) Anne Banas suggests saving the plastic pizza tables that are often used to protect pizzas delivered from restaurants, and reuse them (so long as they are not too tall) when packaging cakes and pies for travel.
Related Stories
All products have been hand-picked by our writers and editors. Items purchased through links may earn us a commission.