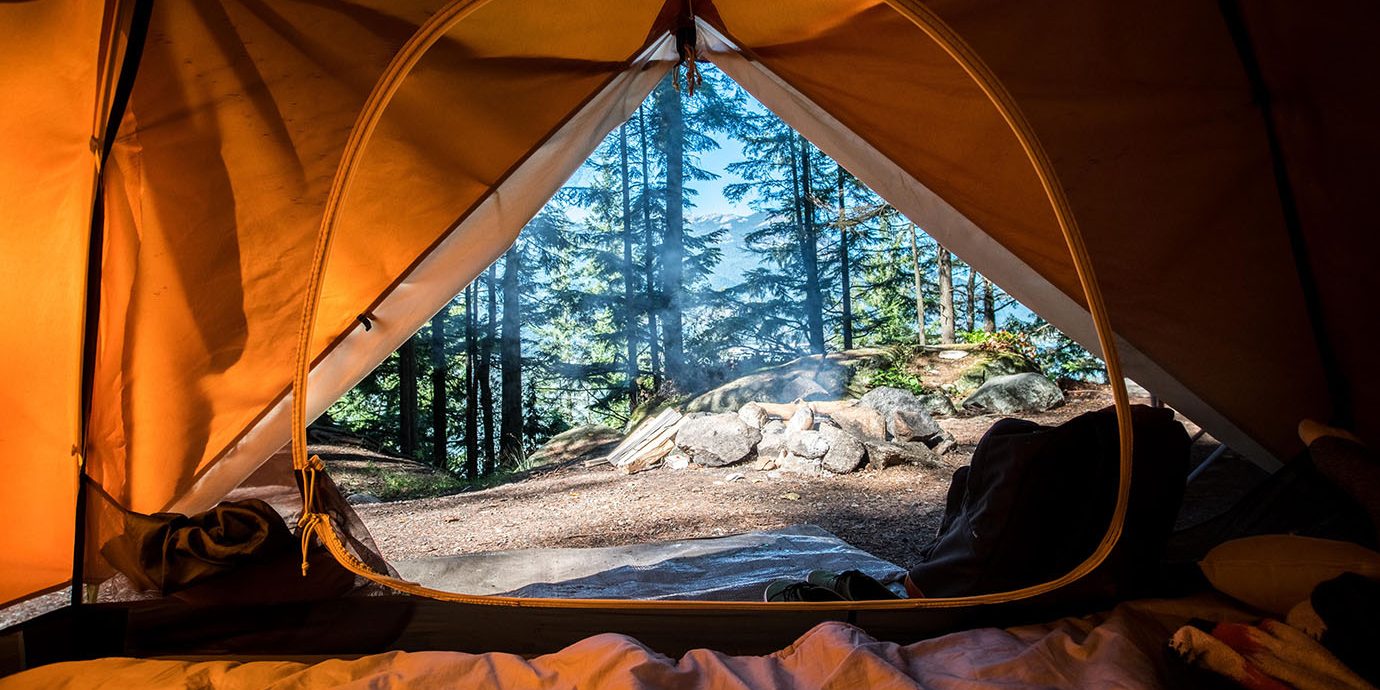 Packing Tips
What to Pack When You Won't Have Shower Access on Vacation
While traveling, there are many times when a long, hot shower (or even a quick cold rinse) just isn't an option. Whether you're camping in a national park, partying at Burning Man, or visiting a destination that's completely off the grid, there may come a time when you have to pack for a trip that won't include regular showering. But that doesn't mean you have to become a stinky, sweaty mess. Unpleasant odors start when dried sweat combines with bacteria on the skin, so the best preventative steps you can take prohibit sweat and bacteria in the first place. Read on for our packing list of items you'll need when you have no choice but to go without a shower.
1
Dry Shampoo
Dry shampoo is a no-brainer. Simply spritz it on roots, wait 30 seconds, and brush through your hair to distribute the product to the ends. Just like magic (or, um, regular shampoo), you'll have clean, glossy locks. Living Proof's Perfect Hair Day dry shampoo has a fresh scent and works on all hair textures, including color-treated hair. The easy-to-use spray comes in a full-size version or a smaller bottle for travel. 
$12 at Amazon
2
Deodorant
You likely wear deodorant every day, but on days when there's no shower in sight, it's time to bust out the strong stuff. SweatBlock antiperspirant comes in convenient, individually wrapped towelettes loaded with product that prevents sweating for up to seven days. Of course, it doesn't do anything to kill odor (though lack of sweat does mean lack of smell), so you can layer on your favorite scented deodorant if you prefer. 
$18 at Amazon
3
Facial Cleaning Wipes
When you can't get to a sink to wash the day's grime off your face, reach for Burt's Bees facial cleansing towelettes. They gently exfoliate and remove dirt, oil, sunscreen residue, and makeup. Special extracts leave skin soft, plus they're over 99-percent natural, without parabens, phthalates, or petrolatum. Choose between grapefruit, white tea, cucumber, and cotton extracts. 
$14 at Amazon
4
Hand Sanitizer
Hand sanitizer is essential for combatting germs, if you don't have access to hot water and soap. Honest Company's hand sanitizer spray is plant-based and hypoallergenic, yet strong enough to kill almost 100-percent of bacteria. It dries quickly and doesn't leave a sticky residue.
$11 at Amazon
5
A Versatile Hat
On shower-free days, when not even dry shampoo can save you, reach for a hat to hide dirty hair. This woven Panama hat comes in three neutral colors—mustard, black, and tan—making it a stylish choice for just about any outfit. It's lightweight and breathable, so it won't contribute to making your hair any dirtier with excessive sweat. 
$34 at Urban Outfitters
6
Body Wipes
In a pinch, use a body wipe to clean up your underarms, feet, and bottom. Honest Company makes unscented wipes enriched with botanical extracts to gently cleanse any area that needs some extra attention. Unlike baby wipes, they're extra large and hygiene-grade. Plus, you won't smell like a baby. 
$18 at Amazon
7
A Spray Bottle
To keep your temperature down when there's no shower in sight, simply fill a spray bottle with cold water and spritz yourself throughout the day. Focus on the face and pressure points, like the wrists, ankles, and feet, for instant cooling relief. Adding a drop of peppermint essential oil takes cooling to the next level and adds a touch of a pleasant scent.
$6 at Amazon
8
Breathable Fabrics
Cotton and linen are your best friends when it comes to packing clothes that will keep you cool. The breathable fabrics prevent you from sweating in the first place, which is key to stopping odors and keeping you comfortable for longer periods in between showers. You can also invest in specialty clothing made with moisture-wicking and antimicrobial technology to keep you dry and fresh. Vapor Apparel makes a quality long-sleeve tee in a variety of colors and fits for both men and women. 
$20 at Amazon
9
Extra Underwear
When you can't shower, change your underwear with even more frequency than you usually would. The ExOfficio underwear line is made with an antimicrobial treatment that reduces odor in fabric, and the mesh material is breathable and lightweight. It also dries quickly if you need to handwash your underwear and hang it to dry. 
$18 at Amazon
Related Stories
All products have been hand-picked by our writers and editors. Items purchased through links may earn us a commission.