Travel Accessories
Best Passport Holders and Covers to Buy in 2019
Travelers beware: when it comes to international travel, taking care of your passport should undisputedly be at the top of your priority list. There are two worst case passport scenarios. 1. Losing it. 2. Damaging it. Without your passport, you won't be able to travel out of the country or get home. A torn or ripped passport can be deemed invalid, ruining an entire trip. To prevent these worst-case passport scenarios, invest in either a passport holder or a passport cover. Below we break down the difference between the two, and round up some of the best passport holders and covers worth picking up before your next flight. Don't take any risks when it comes to your passport.
Holder Versus Cover

First thing's first: should you buy a passport holder or a passport cover? The answer really depends on your travel style. If you're already an organized packer, known for your almost super-human abilities to hone in on your travel documents and fly through security with ease, then you only need to worry about protecting your passport from wear and tear. A fitted cover will do just that.
But if you're among those who find themselves rifling through their bags multiple times en route in search of a missing passport, vanishing tickets, or credit cards gone AWOL, a holder is probably your best option. These neat one-stop-shop travel organizers have slots for everything, so you can rest easy in the knowledge that your documents are protected, secure, and easy to access.
What to Look For in a Passport Holder

Card slots? Check. Ticket pouches? Check. Passport holders are all about organization, so your number one priority should be choosing one that ticks all your boxes. If you only plan on having the essentials to hand, a simple holder with a few pouches for your boarding passes, passport, and local currency should do the trick. But if you'd rather have everything from your keys to your cell phone at the ready and in one place, opt for a full-on passport holder with enough compartments to make Marie Kondo nervous.
Top 5 Passport Holders
Best overall passport holder for women

If you're looking to upgrade without compromising on looks, then this timeless jet-black (also available in silver and blush pink) passport holder from Swedish brand kikki.K is the way to go. Its monochrome interior is packed with useful features, including a pen holder and smartly labelled dividers for your passport, cards, and currency. The clip-on wrist loop means it never has to leave your hands and you can easily find it in a tote bag or purse.
Best overall passport holder for men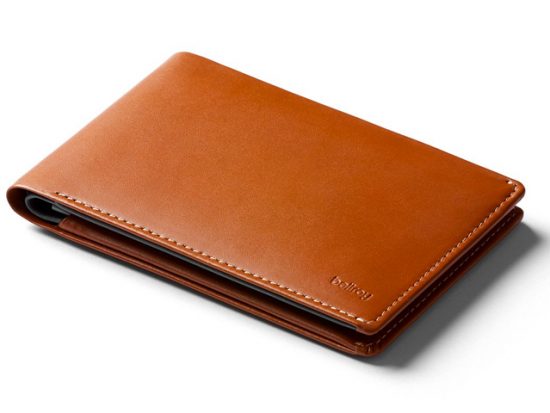 Equal parts stylish and functional, the Japanese Bellroy bi-fold leather travel wallet fits snugly into your back pocket and comes with an RFID lining to protect from identity theft. Alongside compartments for cards, cash, and a passport, you'll find a tiny pen for filling out those pesky customs cards. It comes with a three-year warranty.
Passport holder with best storage compartments

If you're looking for an almost limitless amount of storage, then this Zoppen passport holder is the best of the bunch. You'll have compartments for all your essentials, such as your keys, cell phone, passport, and pesky coins—and the holder's profile is slim. It comes in 34 colors, from black to coral to mint green, and opens flat for easy access. Another great thing about it? The affordable price.
Best passport holder for security

Like it or not, security is a common concern while traveling, and passports are valuable targets for thieves. A wearable holder like this one by Venture 4th will help keep your passport in the right hands (yours). It's thin and lightweight enough to wear under your clothes, plus it's made from water-resistant rip stop nylon and constructed from RFID-blocking material to shield you from identity theft.
Best passport holder for families

Traveling can be a logistical nightmare when you have stacks of your entire family's documents to juggle and a passport is too valuable to entrust to kids. Enter the Tumi Province Family Passport Case. Not only does the textured leather look chic, but it has space for FIVE passports and six card slots, plus a pen loop. You can teach your kids about responsibility in other ways—carrying their own passports is too big of a risk.
What to look for in a passport cover

Even if you don't want a passport holder, protecting your passport with a cover should be a priority—even a small tear or rip in your passport can result in being turned away at the border. That's why a good passport cover, which fits snugly and doesn't bend, is an essential piece of kit for the seasoned or rookie traveler.
Top 5 Passport Covers
Best overall passport cover for women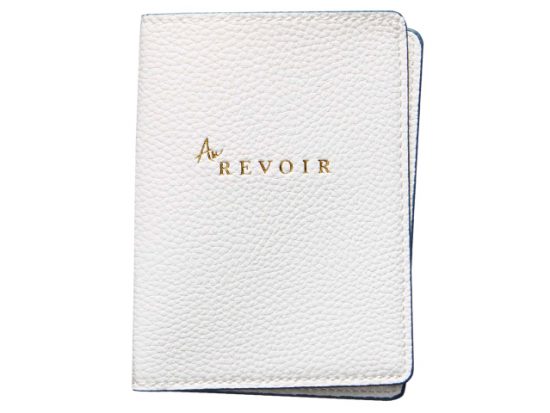 This is an easy price to pay for this fun and sophisticated pebbled leather passport cover, which fits snugly over your passport to protect it from wear on the road. Thanks to its bright white exterior with gold stamped French "au revoir," you'll never have trouble spotting it at the bottom of your carry-on. Prepare for compliments in multiple language.
Best overall passport cover for men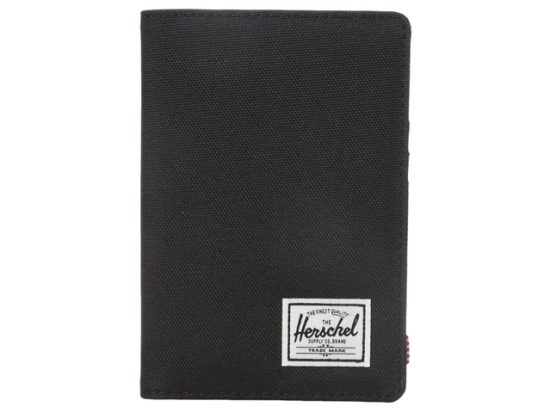 Based on Herschel Supply Co.'s instantly recognizable backpacks and duffle bags, the Raynor passport cover features the brand's signature durable striped fabric liner and a classic woven label. Inside, you'll find a bi-fold passport sleeve as well as a few slots to hold your credit cards.
Best personalized passport cover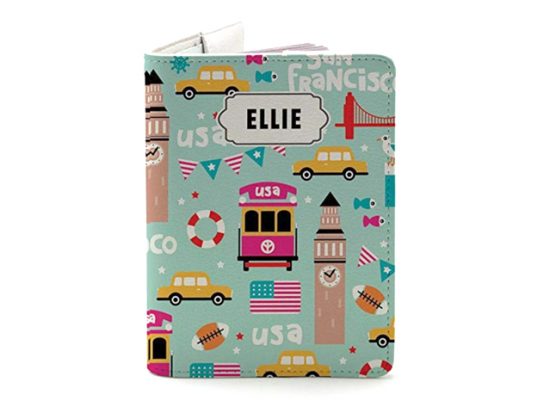 This fun faux-leather passport cover comes with two bank card slots and a choice of 30 travel-themed designs, featuring everything from paper airplanes and world maps to passport stamps and retro campervans. The cover is double stitched for durability. Once you've narrowed down your favorite option, you can truly make it your own by adding your name to the front.
Best passport cover that removes easily

If you're looking for easy access, it doesn't come much easier than a passport sleeve. This no-fuss black or red leather passport sleeve by Royce can be removed in seconds when you get to passport control, and features RFID-blocking material to help prevent identity theft. It's simple, yet effective.
Best bargain passport cover (that doesn't sacrifice style)

Add a splash of bright red or magenta pink to your passport with this chic faux-leather passport cover, designed by actress Shay Mitchell (from "Pretty Little Liars"). It comes with space for your bank cards and a pen. Bonus: you get a matching stylish luggage tag to help identify your bag on the carousel.
Related stories:
All products have been hand-picked by our writers and editors. Items purchased through links may earn us a commission.