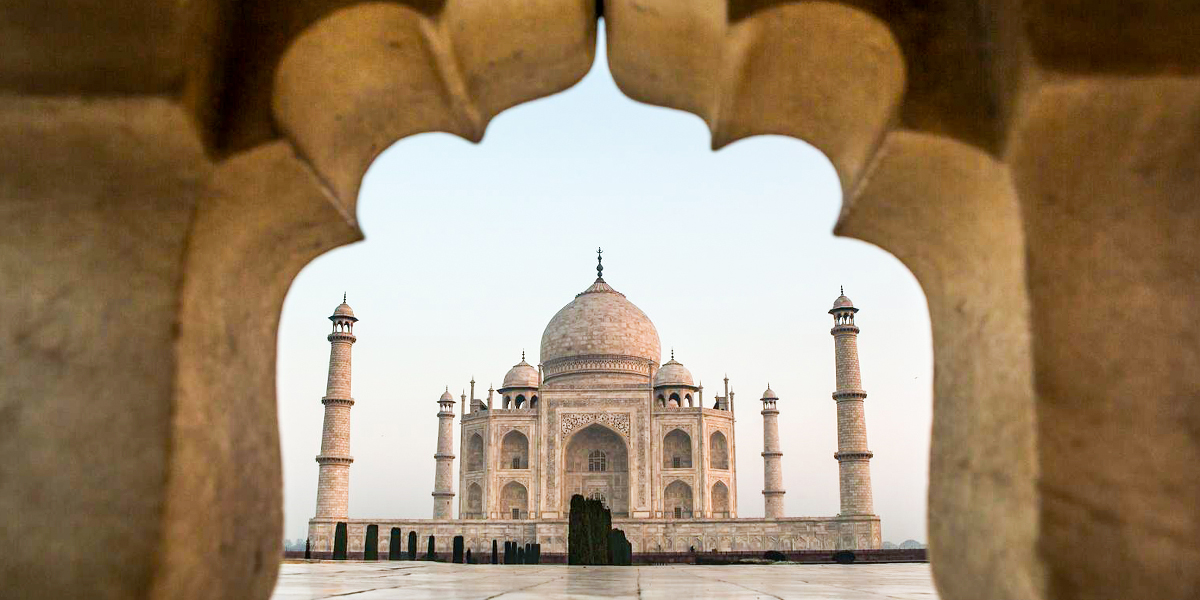 By Destination
What to Wear to Look Amazing (And Appropriate) in Taj Mahal Selfies
The Taj Mahal is the crown jewel of India. Literally. The name translates to "crown palace" and the stunning white marble mausoleum (built in the 1600s as a reminder to celebrate love) is widely known as the most famous landmark in India. The attention to architectural details—like inlaid jewels, decorative calligraphy done in onyx, and precision symmetry in the minarets—has never been replicated. A visit to India just isn't complete without a stop, and an Instagram-worthy selfie, at the Taj Mahal. But practical considerations, like weather and cultural norms, mean you can't wear just anything. Here's what to wear to look the best and be the most comfortable for a visit to the Taj Mahal.
Is There a Dress Code at the Taj Mahal?
There isn't an enforced dress code to visit the Taj Mahal, but like anywhere in India, you'll want to err on the side of modest clothing. To dress respectfully, you should cover your shoulders and knees—yes, even on the hottest days. Low-cut tops are an especial no-no. Look for breathable and loose-fitting fabrics to keep you cool.
What Kind of Shoes Should I Wear to the Taj Mahal?
Though there is some walking to be done, the Taj Mahal grounds are clean, paved, and well-maintained—you won't need hiking boots or even super-supportive footwear to enjoy the Taj Mahal. Note that to enter the mausoleum, you'll have to take off your shoes or wear provided disposable shoe covers. However, the mausoleum isn't required viewing and shoe covers aren't called for elsewhere.
What Kind of Clothes Photograph Best at the Taj Mahal?
Wear bright colors! They pop beautifully against the backdrop of the white marble and look gorgeous in photos. Blues, pinks, and patterns are all fair game (avoid black, it's way too hot). If you're not an Indian woman, think twice about donning a full sari for a Taj Mahal fashion shoot, which runs the line of cultural appropriation. If you're a Westerner, don't be surprised if Indian tourists ask to take selfies with you, regardless of what you're wearing.
Anything Else I Should Plan For When Visiting the Taj Mahal?
Before we dive into seasonal Taj Mahal outfit ideas, there are a few practical elements to consider. Visiting as the sun rises is truly breathtaking, but mosquitos are an early morning problem. Be sure to spray yourself with insect repellent. The weather in Agra is often quite hot or rainy. Slather on sunscreen at all times, but especially if you visit from mid-morning until late afternoon. Umbrellas, a necessity during monsoon season, are allowed inside the gates.
Pro tip: There are so many important architectural details and so much rich history at the Taj Mahal, a guide is truly a must. However, the monument is loaded with fake guides who pose as experts. Consider visiting the Taj Mahal as part of a small group, like G Adventures, to get the most out of your visit from a legitimate source (and an insider's guide on where to position yourself for the best photos).
What to Wear to the Taj Mahal October Through February
October through February brings the most comfortable temperatures, ranging from the 70s to the 80s. The pleasant temps also mean the biggest crowds, so expect longer wait times in ticket and security lines. These white linen pants will keep you cool, while a pink-patterned blouse and matching rosy sunglasses and shoes look vacation ready. Small backpacks are allowed inside the Taj Mahal, but be prepared to have them searched before you enter.
October Through February Taj Majal Outfit
For info on these editor-selected items, click to visit the seller's site. Things you buy may earn us a commission.
What to Wear to the Taj Mahal March Through June
Temperatures regularly hit the triple digits during Agra's early summer. Visit at sunrise or early evening for the most relief from the heat, and be sure to bring water. One bottle per visitor is allowed inside the gates. As for your outfit, this flowy caftan keeps you covered and looking cool. A straw hat and floral bandana look cute, and do double duty by keeping the sun off your face and soaking up sweat. The lovebird sandals are an appropriate homage to a landmark built for love.
March Through June Taj Majal Outfit
For info on these editor-selected items, click to visit the seller's site. Things you buy may earn us a commission.
What to Wear to the Taj Mahal July Through September
Welcome to monsoon season. July and August are usually the rainiest months, with precipitation hitting the nine-inch mark. Humidity is also something to contend with. The upsides? Fewer crowds, and green and blooming gardens. Be sure to choose a lightweight dress that hits above the ankles, and stash this adorable transparent rain jacket and dependable travel umbrella in your waterproof bag. Tevas make ideal monsoon footwear since they look good with any outfit and dry fast—and won't make your feet sweat.
July Through September Taj Majal Outfit
For info on these editor-selected items, click to visit the seller's site. Things you buy may earn us a commission.
Related Stories
All products have been hand-picked by our writers and editors. Items purchased through links may earn us a commission.