Shop
These Are the Only Sunscreens You'll Be Able to Buy in Hawaii
Here's the bad news about a new Hawaiian law: the state's legal sunscreen pickings just got slimmer. The good news? The sunscreens still available are way better for both your skin and for the environment. Hawaii is the first U.S. state to ban the sale of sunscreens that contain oxybenzone and octinoxate, two chemicals that many scientists believe can cause serious damage to underwater ecosystems, particularly coral reefs. One study shows that a singular drop of oxybenzone in 4.3 million gallons of water is enough to kill coral. In an effort to seem green, many sunscreen companies are slapping labels like "reef-safe" and "organic" on their products. But not all Hawaii-safe sunscreens are created the same.
Before we get into exactly which sunscreens to buy, here's a little primer. There are two types of sunscreens: mineral and chemical, and each work to prevent sun damage differently. In the chemical version (which are now illegal in Hawaii), a mixture of chemicals sink into your pores, creating a reaction that converts harmful UV rays to heat, and then releases that heat from your body. Mineral sunscreens (still legal in Hawaii) don't seep into your skin as deeply. Instead, a mineral, usually zinc oxide or titanium oxide, sits atop your skin and works to scatter harmful UVA and UVB rays away from your body. They're sometimes referred to as "physical" sunscreens, because they act like a physical wall barring any UV entry into your skin.
Thanks to the lack of chemicals, most reef-safe sun protection products are mineral-based. But mineral sunscreens can have their downsides. For one, the formulas tend to be thicker than chemical sunscreen and sit atop skin rather than blending in. They're guilty of creating white noses on lifeguards in '80s beach movies — likely a look you're trying to avoid on vacation. Older mineral sunscreens also rubbed off easily after contact with water and sweat, which is why many swimmers and surfers have opted for chemical sunscreens in the past. But new reef-safe sunscreens eliminate those issues and provide invisible coverage while keeping dangerous chemicals out of the oceans and away from the reefs. Keep reading to find the best sunscreen to save the planet and protect your skin in a variety of sunny situations.
1
Best Overall
Thinksport's creamy formula spreads on like a lotion, is water-resistant for up to 80 minutes, and at roughly $2 per ounce, it's about as good a deal as you can find on a reliable, reef-safe mineral sunscreen. As an added bonus, it's paraben-free and uses a non-nano zinc, the safest type of zinc for both your skin and for marine life. If you only pack one sunscreen for your sunny trip, this is your best all-around bet.
$12.25 at Amazon
.
2
Best for Battling the Elements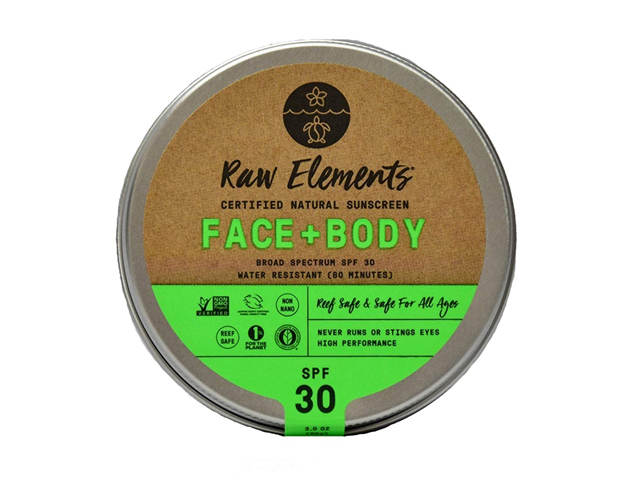 No judgment for anyone whose idea of a perfect Hawaiian getaway is only moving to signal the bartender for another piña colada. But if you plan on trying some water sports on the islands, you're going to want a sunscreen that can hold up against sweat and protect your skin from wind, sand, and salt. Raw Elements Eco Formula is thick with antioxidants and vitamins that add extra nourishment and protection for skin that's battling the elements. Most importantly, it's easy to re-apply even while wet or sweaty, so you don't have to slow down or dry off to keep your sporty skin safe.
$17.49 at Amazon
3
Best for the Face
Reef-safe sunscreens tend to be rich with oils that are calming for sensitive or dry skin, but aren't great for people prone to facial blemishes or acne. If that's you, avoid the pore-clogging ingredients of other sunscreens and pack a bottle of Avene. The lightweight, mattifying formula provides maximum protection with minimum oils, so you don't have to choose between unsightly zits and a dangerous sunburn.
$28 at Dermstore
4
Best for the Kids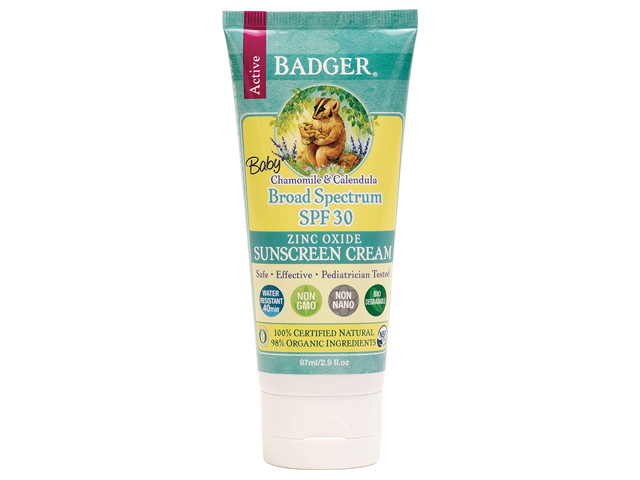 Badger went out of its way to make a formula that's extra gentle for the tiniest of sunbathers and most nervous of parents. In addition to being reef-safe, Baby Sunscreen Cream by Badger is also USDA-certified organic, hypoallergenic, water-resistant for 40 minutes, and made with oils that work to nourish sensitive baby skin. It's a formula so great that we won't tell anyone if you ditch the kids and keep it all for yourself.
$12.92 at Amazon
5
Best for Keeping it Simple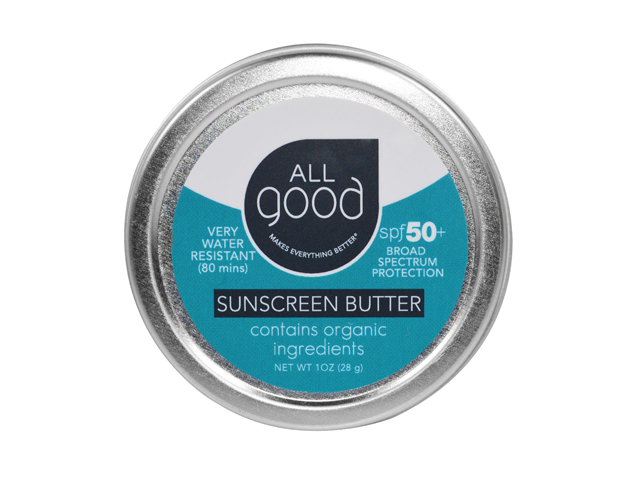 Hawaii-legal sunscreen is free of at least two harmful chemicals, but if you're trying to be even more careful about what you put on your skin, you might be looking for a sunscreen stripped of any extras. All Good Organic Sunscreen Butter has just six ingredients. The mix of coconut oil, beeswax, Vitamin E, and calendula-infused jojoba oil works with a non-nano zinc oxide to provide a super creamy, nourishing formula that's great for sensitive or dry skin. At about $10 per ounce, it's a splurge, but worth it if you're looking for a safe and luxurious sunscreen that contains only the essentials.
$19.94 for a Two-Pack at Amazon
6
Best for the Beach Party
Rather than shying away from a product that stands out on skin, Bare Republic is leaning into that thick mineral formula and offering sunscreen in a variety of fun, bold colors. If you're headed to a music festival and want your body paint to double as sun protection, or if you're a frustrated parent trying to trick your kids into loving sunscreen application, this sunscreen could be your neon answer.
$23.48 at Amazon
7
Best for Touch-Ups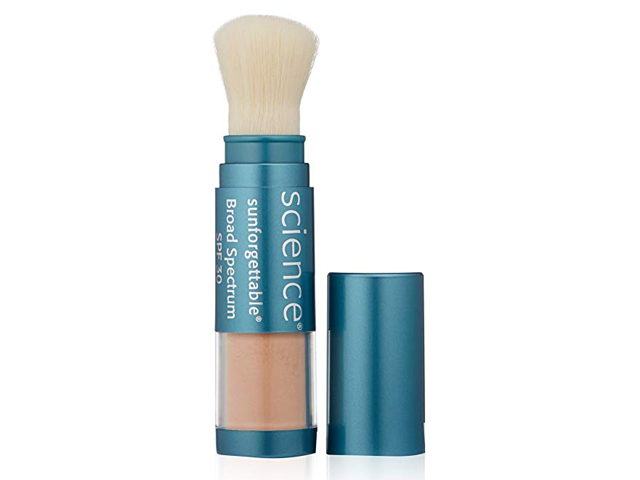 For quick sunscreen touch-ups on your face, hands, scalp, and chest, it doesn't get any better than Colorescience Sunforgettable. The dermatologist and cult-favorite powder product goes on invisibly with an applicator brush and provides sheer coverage over the top of makeup. It's available in SPF 30 and 50, plus it has a range of shades. The easy-to-carry bottle can be tucked in your carry-on or beach bag without worrying about spills and leaks. Flawless. 
$65 at Amazon
Related Stories
All products have been hand-picked by our writers and editors. Items purchased through links may earn us a commission.