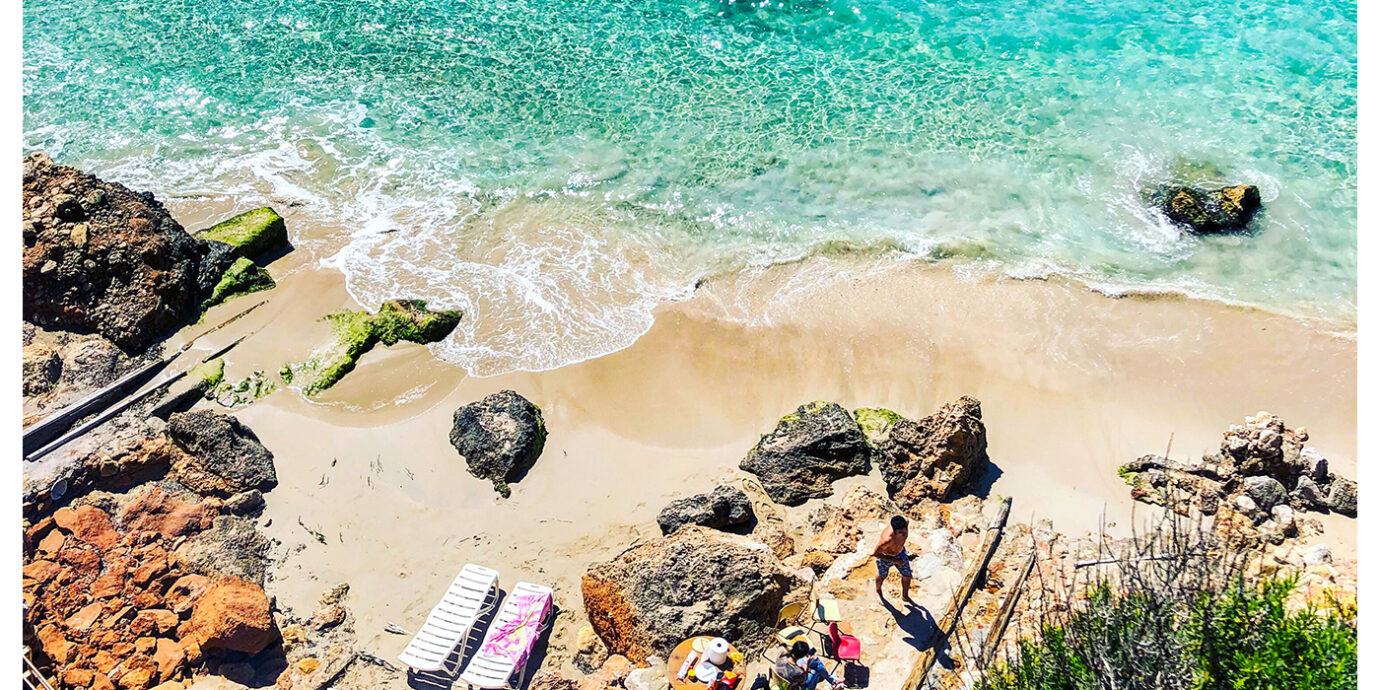 By Destination
The Ultimate Ibiza Packing List
"A haven for hedonists" is how most people picture Ibiza, which isn't wrong. This hotspot, one of Spain's four Balearic Islands, ranks among the world's premier party destinations. Each year, millions of vacationers and revelers descend on Ibiza (pronounced Ee-BEE-tha by those in the know) magnetically drawn by a soundtrack of pounding electronic music provided by top international DJs spinning at supersized clubs and poolside parties. That said, the island has other dreamy Mediterranean trappings, too: bewitching beaches, historic villages, and quiet clifftops away from the throngs and thongs. And thanks to the lingering legacy of a 1960s hippy invasion, this is a no-judgement kind of place where anything goes in terms of fashion. Still, it can help to get some guidance in terms of what to pack, and with that, we've got your back—and your front and your feet—covered.
By Sue Lee and Sophie Whitcomb
Your suitcase packing checklist
Click items to view travel editor-approved options
THE PERFECT LUGGAGE
If you're just joining the hordes of beach-bumming backpackers, any old duffel will do. But if you want to fit in with the jet-setters, opt for true European style instead. On an indulgent weekend, consider carrying Longchamp's Le Pilage travel bag: this expandable leather-trimmed number not only has a timeless look that's never out of fashion, it also boasts a water-resistant body that can easily stand up to a spilt cocktail or two. For longer trips, try one of Bric's Italian-made B|Y Ulisse spinners. The 21-inch version (which fits in the overhead bin on most major airlines) works well for a week-long vacay, while the 28-inch one is ideal if you're checking luggage for an extended stay. Both feature durable scratch-resistant polypropylene exteriors and well-designed dual-compartment interiors, plus welcome extras like zippered gussets, TSA-approved locks, 360-degree wheels, and—in the case of the carry-on model—a built-in USB port.
THE THREE PAIRS OF SHOES YOU'LL NEED FOR EXPLORING IBIZA
Time to put your best foot forward. Since Ibiza is primarily a fun-in-the-sun destination, flip-flops are an obvious choice for both men and women. They'll suffice even when you trade beaches and pool decks for cobbled village streets. But for serious sightseeing, you'll want something that provides a bit more coverage—so pack a pair of canvas espadrilles (or pick up the locally made version—alpargatas—on arrival). Comfort also counts when clubbing: fun yet functional flats work great for girls, while dressy sneakers are the go-to for guys.
Women's Shoes
Men's Shoes
STYLE FOR IBIZA
This buzz-worthy Balearic Island was first settled by the Phoenicians in 654 BC. But it was the en masse arrival of hippies—who created a European version of Haight-Ashbury here in the 1960s—that established Ibizan style. They embraced a do-as-you-please sensibility that celebrated even the oddest clothing choices; then passed it down to later generations. Now their modern-day descendants—blissed-out beach bums, rave-addled club kids, Zen-seeking yogis, bongo-beating backpackers—cross-pollinate with Euro-flash glamazons and avant-garde eccentrics. The result? An accepting fashion scene that accommodates every taste. That said, a relaxed boho look (which works particularly well in steamy summer weather) tends to dominate for both men and women. Similarly, natural fabrics that keep you covered and cool are preferred. When it comes to color, psychedelics stand out; however, all-white outfits (a nod to Ibiza's nickname, The White Isle) are perennially popular day or night.
Women's Local Style for Ibiza
Men's Local Style for Ibiza
FIVE FOOLPROOF OUTFITS FOR IBIZA
1. WHAT TO WEAR TO THE BEACH IN IBIZA
You're free to wear anything…or nothing at all. But most travelers will opt to spend most of their vacay in a swimsuit (versus nude), so picking the right one matters. Style-wise, bold prints and colors highlight the holiday mood. As for cut, keep versatility in mind because you'll want to seamlessly segue from sunbathing to boating to poolside parties. For men, slim swim shorts or board shorts make the transition better than baggy trunks. Women should look for clean lines that can be matched with a range of cover-ups.
Women's Beach Outfit for Ibiza
Men's Beach Outfit for Ibiza
2. WHAT TO WEAR TO HIT IBIZA'S NIGHTLIFE
Ladies take note: skin-tight LBDs and killer heels don't work well in Ibizan clubs. One reason is they lack that essential "shabby chic" element; the other is they just aren't practical for no-holds-barred dance marathons that last until dawn. So, pair a floaty mini dress with funky flats or low wedges (preferably closed-toe ones that can protect easily trampled feet); then accessorize with big earrings and an armful of bangles. Guys should stick to the tried-and-true combo of jeans, a bold button-down or graphic T, and on-trend sneakers.
Women's Nightlife Outfit for Ibiza
Men's Nightlife Outfit for Ibiza
3. WHAT TO WEAR TO HIKING IN IBIZA
This island scores high marks from hikers year-round. In winter you might find yourself surrounded by blossoming almond trees or fragrant pines; and in summer you can beat the sweltering heat by escaping to higher elevations (for panoramic views, try the marked trail from San José to the top of Sa Talaiassa, Ibiza's highest mountain). Take full advantage of the Instagramable landscape by lacing up a pair of sturdy, breathable boots that will let you nimbly negotiate everything from coastal cliffs to hidden coves.
Women's Ibiza Hiking Outfit
Men's Ibiza Hiking Outfit
4. WHAT TO WEAR TO DINING OUT IN IBIZA
When you're merely grabbing a bite at some toes-in-the-sand eatery, the island's "anything goes" policy applies; however, the finest local restaurants—Es Mirador, Es Tragon, and It Ibiza among them—deserve something dressier. A statement-making dress (complete with matching accessories, naturally) is the go-to for girls. Fellows can to stick to classic elements (like chinos, a button-down shirt and tasseled loafers); then add oomph to the outfit by topping them off with a colorful linen blazer.
Women's Dinner Outfit for Ibiza
Men's Dinner Outfit for Ibiza
5. WHAT TO WEAR TO EXPLORING AND SHOPPING IN IBIZA TOWN
Memorable sights like the Passeig Marítim (a pretty waterside promenade) and Dalt Vila (the island's moody medieval citadel) make Ibiza Town a must see for tourists. In keeping with the harbor-hugging capital's casual-chic vibe, men and women alike should choose breezy garments made from natural fabrics. If you plan on hitting the shops that line Vara de Rey or perusing the eclectic stalls at the seasonal street market in the old port quarter, be sure to add a tote so you can take your treasures home.
Women's Sightseeing Outfit for Ibiza
Men's Sightseeing Outfit for Ibiza
THE MOST FUN THING WTP EDITORS PUT IN THEIR SUITCASE FOR IBIZA
If you're Ibiza-bound, no doubt you're coming to play with a capital P—and maybe document your good times in a few eye-catching Instagram shots. That's why we delight in leaving a little extra room in our bag for a flashy pool floaty. This one adds the perfect final flourish to our vacation shots, its giant tropical leaf design screams "out of office," and it encourages lots of splashing about and cannonballs.—WTP Editors
IBIZA'S WEATHER AND SEASONS
As far as most visitors are concerned, there is only one season on Ibiza—summer, which in this case extends from the first opening parties in late May to the final closing ones staged about halfway through October. The rising mercury (as well as the ever-increasing crowds and hotel costs) reach their peak in July and August. These are the hottest months, both literally and figuratively, with average highs hitting the mid-80s before dipping into the low 70s at night. Clubs are crammed, beaches are packed, there's a full roster of raucous activities, and virtually no rain falls to dampen your enthusiasm. But off-season—when cooler, wetter weather kicks back in—the island basically goes into hibernation. Most clubs are shuttered: ditto for some eateries and accommodation options. Thanks to a coveted location in the western Mediterranean, however, Ibiza boasts 300 days of sunshine per year. So a Balearic break in winter can still be pretty idyllic… provided swimming in the now-chilly sea isn't on your itinerary. For instance, January (the island's coldest month) continues to see daytime highs hovering around the 60-degree mark and only 1.6 inches of precipitation.
Note: This data comes from our friends at Weather.com. We recommend using this together with a traditional forecast as you get closer to your departure date.
JANUARY
Plan for day temps between 47 and 59
What to Wear in Ibiza in January: Ibiza's chilliest month has daytime temps that hit the high 50s but dip into the 40s after dark. Luckily, a mid-weight jacket and layers will help you transition.
Women's Recommendations: Long-sleeve tee, cashmere crew, reversible trucker jacket
Men's Recommendations: Long-sleeve T, cashmere crew, sherpa trucker jacket
FEBRUARY
Plan for day temps between 48 and 60
What to Wear in Ibiza in February: Now's the ideal time to explore "Old Ibiza" enclaves like San Juan, where the tone is more traditional and the dress code a bit more conservative.
Women's Recommendations: Heirloom-inspired maxi dress, pointelle cardigan, sightseeing sandals
Men's Recommendations: Twill joggers, cashmere hoodie, linen rope soled shoes
MARCH
Plan for day temps between 49 and 65
What to Wear in Ibiza in March: Addicted to the show "Below Deck: Mediterranean"? Prep for a quick round-island cruise by donning a natty sweater, crisp white shorts, and classic deck shoes.
Women's Recommendations: Classic striped sweater, mariner denim shorts,
Men's Recommendations: Striped crew sweater, eight-inch shorts, Sperry boat shoes
APRIL
Plan for day temps between 52 and 65
What to Wear in Ibiza in April: Ibiza has memorable bike trails, and April—when temperatures remain moderate—is a fine time to try them. Opt for lightweight versions of standard cycle gear.
Women's Recommendations: Pima cotton T, training shorts, mini belt bag
Men's Recommendations: Go-dry mesh T, loose-fit bike shorts, fanny pack
MAY
Plan for day temps between 57 and 70
What to Wear in Ibiza in May: Break out the club wear—and bring sunglasses to hide your bleary eyes! Kick-off events late this month mark the start of Ibiza's raucous party season.
Women's Recommendations: Swinging mini dress, oversized hoops earrings, cat-eye sunglasses
Men's Recommendations: Tropical short-sleeve shirt, smiley necklace, round Ray-Bans
JUNE
Plan for day temps between 64 and 78
What to Wear in Ibiza in June: The onset of summer means swimsuits, cover-ups, and brimmed hats that bridge the gap between function and fashion are a must for men and women.
Women's Recommendations: Snake-print swimsuit, seamless cover-up, straw sun hat
Men's Recommendations: Boardie swim trunks, classic T-shirt, baseball cap
JULY
Plan for day temps between 70 and 84
What to Wear in Ibiza in July: Essentials for this scorching month include heat-beating items (like sunscreen and SPF lip balm) plus an insulated water bottle to help you stay hydrated.
Women's Recommendations: Super-light sunscreen, SPF lip balm, hydration spray
Men's Recommendations: Barely-there sunscreen, hydrating after-sun lotion, insulated water bottle
AUGUST
Plan for day temps between 71 and 85
What to Wear in Ibiza in August: Protect yourself from the blistering sun by choosing light, loosely structured clothes made from natural materials like linen, cotton, hemp, or bamboo.
Women's Recommendations: Woven cotton tank, cotton drawstring pants, linen shawl cardigan
Men's Recommendations: Short-sleeve linen shirt, relaxed-fit cotton and linen pants, scandi-style linen blazer
SEPTEMBER
Plan for day temps between 68 and 82
What to Wear in Ibiza in September: The party continues—which means that stylish but comfortable footwear, bum bags, paper fans, and even earplugs still count as wardrobe staples.
Women's Recommendations: Tiger-stripe flats, fanny pack, ear plugs
Men's Recommendations: Club sneakers, fanny pack, ear plugs
OCTOBER
Plan for day temps between 61 and 74
What to Wear in Ibiza in October: OK, it's finally time to detox. Bring along your Zen-y workout gear for Energy Week's holistic activities (think yoga classes, massages and meditation circles).
Women's Recommendations: High-rise yoga leggings, asymmetric yoga bra, travel yoga mat
Men's Recommendations: Four-way stretch pants, seamless short-sleeve T, lightweight microfiber towel
NOVEMBER
Plan for day temps between 54 and 66
What to Wear in Ibiza in November: You can expect some winter rain this month, so plan accordingly by packing a collapsible travel umbrella and waterproof shell or disposable poncho.
Women's Recommendations: Travel umbrella, waterproof shell, emergency poncho
Men's Recommendations: Travel umbrella, waterproof shell, emergency poncho
DECEMBER
Plan for day temps between 50 and 61
What to Wear in Ibiza in December: Planning to come in late December? Bring a jacket and, in keeping with local tradition, some red underthings to wear when ringing in the New Year.
Women's Recommendations: Unstructured coat, plunge underwire bra, lace-trim boybriefs
Men's Recommendations: Suede bomber jacket, cotton-stretch trunks, graphic socks
FREQUENTLY ASKED QUESTIONS ABOUT IBIZA

What are the best beaches on Ibiza?
Depends on what you're looking for! Many of the 50-odd beaches have a distinct personality. Home to the Jockey Club and Sa Trinxa, Las Salinas is party central; Cala Llonga (complete with kiddy amusements) is a family favorite; while Aguas Blancas and Es Cavallet are popular with the no-clothes crowd. Cala d'Hort wins the prize for most photogenic, whereas boho Benirràs scores points for sublime sunsets and hippie drumming. Though not a sandy strand, rocky Punta Galera earns an honorary mention for its snorkelling and cliff diving opportunities.
I want to hit the nightlife—what are the best clubs in Ibiza?
Pacha, the glamorous granddaddy of super clubs, typically tops the list followed by Amnesia, Ushuaïa, Hï Ibiza, and Privilege. But what qualifies as the "best" really depends on the month (Pacha, for example, is one of the rare options open off-season) and the day (recurring parties are hosted by different venues on different week nights, so check the club calendar carefully). Mega events—like August's BBC Radio 1 Weekend—add another level of crazy to the scene.
I'll be on Ibiza when it's out of season. What is there to do?
Although some clubs—most notably Pacha—remain open year round, die-hard partiers pretty much disappear by the end of October and don't start migrating back until May. Nevertheless, sunny days, still-pleasant weather, and lower prices make the off-season a fine time to visit. Top activities include hiking, biking and exploring Ibiza's off-the-track villages. You can get some legit facetime with the locals, too, by joining them at annual events like San Mateo's Wine Festival or island-wide Dia de Reyes celebrations, held in December and January respectively.
What should I buy in Ibiza?
Logo-emblazoned items that prove you've been there done that are very popular, but there are unique alternatives, too. Picture traditional crafts (including stunning ceramics) plus cool comestibles ranging from olive oils to fig compotes, all made with island ingredients. Prefer a booze-y memento? Buy a local wine or Hierbas Ibicencas, an herb-y anise-based liqueur. If you've fallen in love with Ibizan fashion, espadrilles (called alpargatas here) are another good bet. Ditto for white garments made of natural fabrics that reflect the island's laid-back lifestyle.
Related Stories