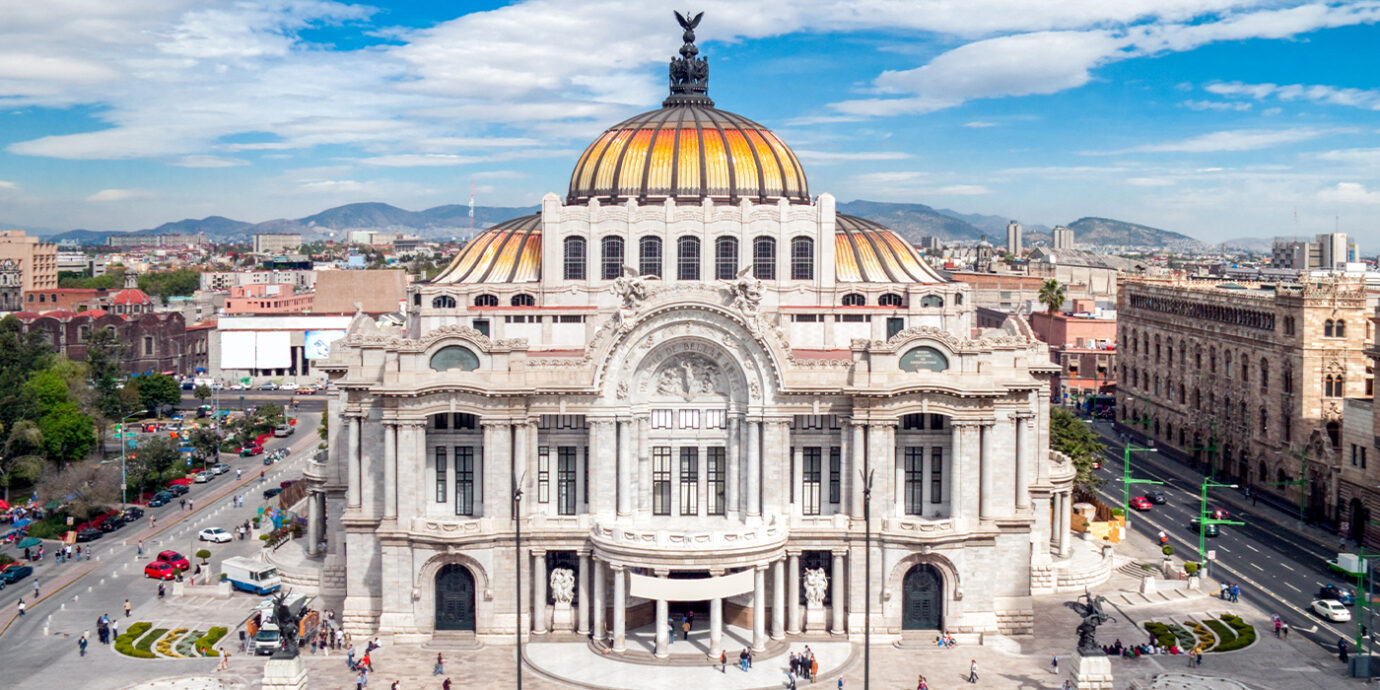 By Destination
The Ultimate Mexico City Packing List
Mexico City is one of the most stylish (and fun) cities in the world. With all Mexico City has to offer, getting the right outfits together for every must-see and do is una alta (tall) order. There are drinks at Condesa DF's rooftop terrace, small plates at Mercado Roma, antiquing at La Lagunilla Market, and shopping for handicrafts at Mercado De Artesanias La Ciudadela. Let's not forget touring the Frida Kahlo Museum and taking in Diego Rivera's murals at the Palacio Nacional. Capitalinos are masters at looking effortlessly cool in whatever they're wearing, wherever they're wearing it, which makes it that much harder to decide what to put in your suitcase. But don't stress. Our ultimate packing list will answer all your questions for how to dress well and be prepared for an unforgettable trip to Mexico City.
Your suitcase packing checklist
Click items to view travel editor-approved options
THE PERFECT LUGGAGE
Mexico City's chic, urban style demands sleek luggage to match. You'll also want something that'll wheel easily through the massive Aeropuerto Internacional Benito Juárez and along the city's bumpy sidewalks. Enter: The Polycarbonate Carry-On from Arlo Skye, which has a smooth ride and is roomy without being bulky. Two TSA-approved locks replace a zipper, plus there's a removable battery and USB ports. For a weeklong trip, check out the Crew 11 Hardside 25-inch Spinner from TravelPro, a reliable name in luggage. It's also polycarbonate, with corner bumpers for extra durability, and it has a well-designed interior, with two packing compartments and several zippered pockets. Bonus points for the built-in cup holder to easily transport your grapefruit Jarritos. An extended Mexico City vacation calls for an ultra-lightweight, streamlined bag, like the attractive Globetrotter from Roam. It's available in eight sophisticated shades, with the option of nine accent colors for the wheels, handle, and other details. Plus there's a leather patch on back for embossed monogramming. The telescoping handle has four stops, and inside, the clamshell design allows for two wide, flat packing surfaces. Mexico City, here you come!
THE THREE PAIRS OF SHOES YOU'LL NEED FOR EXPLORING MEXICO CITY
Men and women should pack versatile shoes for Mexico City that are both stylish and super comfy. For the ladies, leather huaraches are an all-purpose shoe that's a smart addition to any warm-weather wardrobe. Over time the leather takes on a rich patina, so the more you wear them, the better they look. Espadrille wedges are another pick that will never go out of style, and are equally versatile to dress up or down. Go for a pair that isn't too high so you can wear them as a backup walking shoe. For day-long sightseeing, you can never go wrong with a pair of cool-girl Vejas sneakers. For the gents, the same holds true for the iconic Onitsuka Tiger's Mexico 66 sneakers. Fun fact: the original shoe—white with a red and blue stripe—made its debut at the 1968 Summer Olympics, held in Mexico City. A pair of leather lace-ups with a thick sneaker sole, like this pair from Cole Haan, is a worthwhile investment, as they can go dressy or casual on vacation. Add in a pair of black leather sandals, which look great with jeans, shorts, or linen trousers. These are the shoes you need for your Mexico City packing list.
Women's Shoes
Men's Shoes
STYLE FOR MEXICO CITY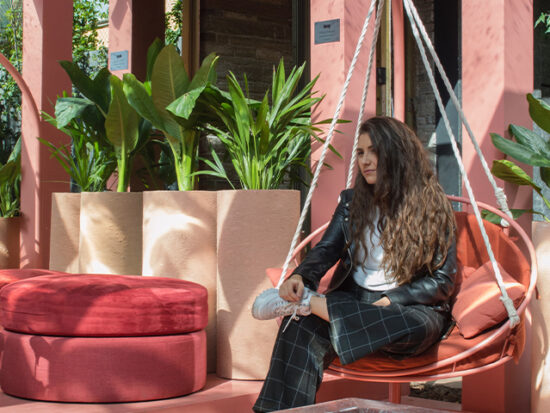 Trendy and boho-chic, with a touch of retro glam is the definition of Mexico City style. There's a buzzy creative energy—from the restaurant scene to the runways—that always feels fresh and cutting edge, yet local designers often look to the color and pattern of traditional textiles for inspiration to create their collections. Style in Mexico City isn't just about the clothes, but rather the confidence and energy exuded by the person wearing them. Whether it's a casual brunch outfit or a cocktail bar-ready ensemble, Capitalinos make a statement when they walk into a room. Ladies may throw on a simple, but elegant, tiered maxi dress with leather slides, or acid wash jeans with a bright oversized sweater, paired with even brighter heels. At night, you'll likely see jumpsuits, bodycon dresses, or wide-leg pants with cropped tops. Guys might wear jeans with a graphic tee and rad sneakers during the day, or even longboard shorts and a polo shirt. An evening out requires extra attention to details, like eye-catching cufflinks or a sharp fedora, and slim-cut trousers with a button-down or black jeans with a t-shirt and a blazer. Dress to impress.
Women's Street Style for Mexico City
Men's Street Style for Mexico City
FIVE FOOLPROOF OUTFITS FOR MEXICO CITY
1. WHAT TO WEAR TO GO MUSEUM-HOPPING IN MEXICO CITY
Mexico City has more art than it's possible to see in a four- or five-day trip—even if you do nothing else. Murals cover libraries and apartment buildings in neighborhoods throughout the city in addition to major sites, such as the Palace of Fine Arts or the Diego Rivera Museum. Other top-of-the-list institutions include the Frida Kahlo Museum (Casa Azul), the Museo Nacional de Antropologia, and the Museo Soumaya. Also, definitely consider taking a street art tour. Wear something stylish but comfortable, like a high-rise denim skirt with mules and a peasant blouse for women, or pants with a cotton sweater and derbys for men. Works of art, all around.
Women's Museum-Hopping Outfit
Men's Museum-Hopping Outfit
2. WHAT TO WEAR TO VISIT THE RELIGIOUS SITES IN MEXICO CITY
If visiting the Basilica of Our Lady of Guadalupe or Mexico City Metropolitan Cathedral (or as it's officially known: Metropolitan Cathedral of the Assumption of the Most Blessed Virgin Mary into Heaven), it's best to dress modestly. That means covering shoulders, no plunging necklines or ripped clothing, and skirts that fall below the knee. Think along the lines of neutral pants and a simple, long-sleeve button down or chinos with a long-sleeve t-shirt. These outfits hit the mark.
Women's Religious Sites Outfit
Men's Religious Sites Outfit
3. WHAT TO WEAR TO DINE OUT IN MEXICO CITY
Whether at a hip eatery like Mercado Roma or high-end restaurants like Pujol, you'll want to look your best to blend in with the good-looking crowd. Go for a black-and-white flowy dress, metallic silver pumps, and chandelier earrings. Guys can wear slim checkered pants, an oxford shirt, and sleek black leather sneakers. The bottom line is that people-watching in Mexico City is just as good as the food.
Women's Restaurant Outfit
4. WHAT TO WEAR TO SHOP THE MARKETS IN MEXICO CITY
Strolling through Mexico City's markets is an activity unto itself. La Merced is the city's main public food market, and Coyoacan market is one-stop shopping for everything from produce to clothing to housewares and other essentials. The best markets for antiques, artisan crafts and textiles, and vintage clothing are La Ciudadela, in Centro Historico, the arcades at Plaza del Angel's and La Lagunilla Market (more on those below). Wear something comfortable and with sneakers or rubber-sole shoes, and don't forget to bring a crossbody bag and a hat.
5. WHAT TO WEAR TO DAY OF THE DEAD IN MEXICO CITY
The Day of the Dead (Día de los Muertos) starts on October 31. Considering the date, the holiday is mistakenly thought to be similar to Halloween. But while death is the focus of the two-day festival, it's far from a morbid affair, as it celebrates and honors the lives of relatives and ancestors. Colorful, often elaborate costumes are worn along with face paint for parties, dancing, and parades. Join in the festivities by sampling the food and watching the days' events, but be respectful and skip wearing your own DIY getup. Keep it casual but neat with a pair of jeans and a sweater or nice sweatshirt. Celebrations last well into the evening, so don't forget a lightweight jacket.
Women's Day of the Dead Outfit
Men's Day of the Dead Outfit
THE *ONE THING* WTP EDITORS ALWAYS PACK FOR MEXICO CITY
Mexico City is a shopper's paradise. It's impossible to visit the city and not be charmed by the plethora of brightly embroidered dresses, original art and pottery, wooden handicrafts, and silver jewelry. Let's not forget bottles of flavorful mezcal, locally grown vanilla, and hand-dipped candles. Are you really going home without bringing all the kids in your life their very own Lucha Libre masks? Whether you're hitting up the international shopping malls or meandering through local markets, we promise—you're going to shop in Mexico City. Our tip? Tuck a foldable duffel bag (like this one from Eagle Creek) in your carry-on bag, which can be filled up with your Mexican treasures and souvenirs, and checked for the flight home. Bring us back some cacao, gracias!—WTP Editors
MEXICO CITY'S WEATHER AND SEASONS
Mexico City has pleasant subtropical weather year-round. Temps stay above 40 degrees on the coldest nights in winter, and above 70 degrees during the day throughout the year. June marks the beginning of the rainy season—it typically rains later in the day, so plan activities accordingly—and it runs through the end of September. October and November are lovely, with highs a comfortable 72 degrees—perfect weather for the city's huge Dia de Muertos (Day of the Dead) celebration, which starts on October 31. The Christmas holiday season is another festive time of year to visit. Celebrations kick off on December 16 with "Las Posadas," a nine-day period of religious processions that culminate on Christmas Eve, and end on January 6 on El Dia de los Reyes (Epiphany). Spring is actually the warmest season in Mexico City, with highs in April and May hovering around 80 degrees and lots of sunshine.
Note: This data comes from our friends at Weather.com. We recommend using this together with a traditional forecast as you get closer to your departure date.
JANUARY
Plan for day temps between 43.7 and 70.3
Expect 0.4 inches of precipitation
What to Wear in Mexico City in January: January is Mexico City's coldest month, but with highs reaching 70 degrees, a lightweight denim or knit jacket with layers underneath or a button-down with a pair of jeans and boots make an excellent choice.
Women's Recommendations: Black boots, Levi's bootcut jeans, twill moto jacket
Men's Recommendations: Performance jeans, long-sleeve shirt, desert boots
FEBRUARY
Plan for day temps between 45.3 and 73.2
Expect 0.4 inches of precipitation
What to Wear in Mexico City in February: The weather warms up slightly in February, but not enough to ditch items like lightweight faux-suede jackets, and cargo parts or a high-waisted skirt paired with a cropped sweater. Finish off the look with a pair of snakeskin-embossed booties or sneakers with a pop of color.
Women's Recommendations: Paperbag midi skirt, cropped sweater, snakeskin booties
Men's Recommendations: Bomber jacket, cargo pants, yellow sneakers
MARCH
Plan for day temps between 49.5 and 77.7
Expect 0.5 inches of precipitation
What to Wear in Mexico City in March: It's still quite cold at night in March, though temps don't dip much lower than the 50s, while daytime is very comfortable, in the high 70s. Pack a lightweight coat, like a bomber or denim jacket, for going out at night, but otherwise you'll be comfortable in jeans or cotton pants with long-sleeved t-shirts or button downs.
Women's Recommendations: Cropped jeans, striped t-shirt, blue Pumas
Men's Recommendations: Breathable bravo, slim-fit cargo pants, parrot-print shirt
APRIL
Plan for day temps between 52.3 and 79.7
Expect 1.1 inches of precipitation
What to Wear in Mexico City in April: Spring is the warmest season in Mexico City and it starts in April, when it can reach 80 degrees in the afternoon, but evenings are still quite cool. While bringing along a sweater or wrap at night is a smart move, there's no need to cover up that pretty floral print dress or cheeky Comme des Garcons t-shirt during the day. As for footwear, go ahead and slip on sandals, like a pair of Birks.
Women's Recommendations: Tiered maxi dress, silver Birkenstocks, blue straw hat
Men's Recommendations: Denim cut-offs, Comme des Garcons t-shirt, gold accented Nikes
MAY
Plan for day temps between 54 and 79.9
Expect 2.3 inches of precipitation
What to Wear in Mexico City in May: May temperatures are almost identical to April's, though the precipitation ticks up. Go for the same summery items as the month prior, like button-front skirts or shorts, polo shirts or t-shirts, and sandals or sneakers. Slip-ons or skimmers can be worn without socks.
Women's Recommendations: A-line midi skirt, wedge sandals, scoop neck top
Men's Recommendations: Sperry slip-on shoes, modern fit shorts, lightweight polo shirt
JUNE
Plan for day temps between 54.5 and 76.5
Expect 6.2 inches of precipitation
What to Wear in Mexico City in June: Rainy season begins in June, and temps shy away from the 80s during the day to a comfortable mid-70s. Night is just as cool as spring, typically in the mid 50s. Definitely plan on shoes that'll withstand the rain or dry quickly, like patent leather ballet flats or canvas sneakers. Opt for skirts or long cargo shorts if you hate dealing with soggy cuffs.
Women's Recommendations: V-neck top, plaid skirt, Karl Lagerfeld flats
Men's Recommendations: Camo shirts, crew neck t-shirt, Converse high-tops
JULY
Plan for day temps between 53.2 and 73.8
Expect 7.2 inches of precipitation
What to Wear in Mexico City in July: July is the wettest month, and just like June, smart shoes, like jelly flats or slip-on Vans are the way to go. But temps drop enough for it to feel chilly, and the rain only makes you feel damp and cold. Pants and jeans are best for keeping you warm, paired with a hooded sweater or sweatshirt.
Women's Recommendations: Gold jelly flats, ankle pants, striped sweater
Men's Recommendations: Acid-wash jeans, Champion hoodie, Vans checkered slip-on
AUGUST
Plan for day temps between 53.4 and 74.1
Expect 6.8 inches of precipitation
What to Wear in Mexico City in August: There isn't much difference in temperatures or rain in August from July. Jeans or joggers, denim vests or overalls, and long-sleeved shirts work well. Throw on sneakers or other shoes that'll dry quickly, and you'll be good to go.
Women's Recommendations: Leopard-print sneakers, boyfriend overalls, long-sleeved t-shirt
Men's Recommendations: Track pants, trucker vest, Reebok high-tops
SEPTEMBER
Plan for day temps between 53.4 and 73.2
Expect 5.7 inches of precipitation
What to Wear in Mexico City in September: Although temps stay roughly the same in September as in late summer, the rain starts to let up in September, making it a lovely time of year to visit Mexico City. No need to worry about footwear as much, so sport a pair of pretty wedges or snake print sneakers. Pair them with jeans and a blouse or a long-sleeve polo shirt.
Women's Recommendations: Woven blouse, wide leg jeans, wedge pumps
Men's Recommendations: Stylish polo, stretch jeans, Adidas Continental 80 shoes
OCTOBER
Plan for day temps between 50.7 and 72.7
Expect 2.4 inches of precipitation
What to Wear in Mexico City in October: There's even less rain in October, but it starts getting chilly. It's still a chance to show off your best looks without having to bundle up, so go for cute novelty shirts, cropped jeans, and pointy-toe flats. Guys can opt for jeans with boots and a tailored v-neck sweater.
Women's Recommendations: Skimmer flats, Levi's Wedgie jeans, ruched sleeve tee
Men's Recommendations: Chelsea boots, bootcut jeans, polo sweater
NOVEMBER
Plan for day temps between 47.1 and 72
Expect 0.2 inches of precipitation
What to Wear in Mexico City in November: November weather is more or less the same as October, though it's drier. Sweaters and denim button-downs and with pants or jeans will do the trick, paired with oxfords or fun sneakers.
Women's Recommendations: Rainbow sneakers, carpenter pants, balloon sleeve sweater
Men's Recommendations: Twill chinos, denim button-down shirt, lace-up oxfords
DECEMBER
Plan for day temps between 45 and 70.3
Expect 0.3 inches of precipitation
What to Wear in Mexico City in December: By the time the holiday season rolls around, it's cold at night but still sunny and relatively warm during the day, with highs around 70 degrees. Get festive with a novelty sweater worn with red pants and ruby shoes, or stick to understated neutrals, like a black and white button down, with wine-colored trousers and jet-black Chelsea boots.
Women's Recommendations: Mohair lips sweater, ruby brogues, red skinny pants
Men's Recommendations: Chelsea boots, geometric dress shirt, pleat front trousers
FREQUENTLY ASKED QUESTIONS ABOUT MEXICO CITY

Is Mexico City safe? How does it compare to other major cities?
Mexico City ranks 51 out of 60 cities for personal security, according to the Economist's 2019 Safe Cities index. While it's safer than Bogota and Caracas, it ranks below Rio de Janeiro, San Paulo, and Buenos Aires. That said, the number of visitors to Mexico City continues to trend upward. It's generally safe in the touristic areas, such as Condesa, Roma, Polanco, and Coyoacán, where you'll likely spend most of your time as a visitor. Centre Historico and Bella Artes are also safe by day, though because the areas are very touristic, they tend to attract pickpockets, so use caution, especially late at night. Use the same street smarts as you would in any major metropolis. That means keeping phones and money in zipped pockets, leaving expensive jewelry at home or in the hotel safe if you're out at night, and wearing a crossbody purse.
How do I get around Mexico City? Should I rent a car? Depend on public transportation? Taxis?
There's no reason to rent a car in Mexico City. Traffic can be torture and parking isn't easy. Mexico City's metro system is the second largest in North American (next to New York), and it's clean and relatively safe during the day and into the evening, and it runs to the airport. However, even short distances may require multiple line changes. A taxi or Uber are other options (rates are much cheaper than what you'll find in the United States), and they can be quicker than the metro. Be sure to use the same common sense you would anywhere for riding safe.
Where should I eat in Mexico City? And what are three typical Mexican foods I must try?
Mexico City's food scene is next level. People plan entire trips around restaurants and cuisine. Some of the best eats in Mexico City can be enjoyed on-the-cheap from one of the countless food trucks. Choose the ones with the longest lines, and saddle up next to locals. Must-try eats include tortas de chilaquiles (deep fried tortillas and meat or egg topped in salsa and cheese, stuffed inside a roll); tacos al pastor (tacos with spit-roasted pork); and tlacoyos (blue corn cakes stuffed with beans and cheese). Looking to try grasshoppers? You can in Mexico City—they're called chapulines and often served as an appetizer or crunch snack. For a memorable sit-down meal, reserve in advance at one of the boldface name restaurants, such as Pujol or Quintonil, or try some newcomers like Emilia or Maximo Bistro Local. If you're in Roma, a fun place to eat and people watch is at Mercado Roma, where you can sample mostly comfort foods (churros, burgers, tacos) and drink from dozens of local purveyors. Locals (and in the know tourists) hang out upstairs.
What are six can't-miss attractions in Mexico City?
Centro Historico and the area around the el Zocalo (officially Plaza de la Constitución) are the central touristic areas of the city, and encompass sites such as Palacio de Bellas Artes, Temple Mayor, Catedral Metropolitana, and Palacio Nacional, which has murals by Diego Rivera. More works from Rivera can be seen at the Museo Mural Diego Rivera. Out in Coyoacán, Casa Azul, the home of Frida Kahlo, which is now a museum (requires booking advance tickets, so jump on it well before your trip) is an absolute must to see how the iconic artist lived. The sites and attractions inside the Bosque de Chapultepec, and expansive park in the city center, are also not to be missed; they include the Museo Nacional de Historia, the Museo de Arte Moderno, and the Museo Nacional de Anthropologia. Just south of the city, the floating islands of Xochimilco are a UNESCO World Heritage Site, and on a weekend you can take one of the brightly colored trajineras (a river boat) to tour the waterways and see flowering gardens. Finally, located in Polanco is the unmistakable Museo Soumaya, a massive, irregular-shaped museum covered in hexigonal aluminum tile that glint in the sun. It's well worth the trip just to see the building, but equally for its impressive collection of Central and European art. There's so much good stuff to see and do in Mexico City, we could easily list another six can't miss attractions.
What's the shopping like in Mexico City? And where should I buy antiques?
The shopping in Mexico City can be summed up in one word: ideal. The city offers a blend of international brands, market finds, and local foodstuffs. For boutiques and lifestyle stores, hit the neighborhoods of Condesa, Roma, and Polanco. For antiques, vintage clothing, and handcrafted pottery and textiles, there are several markets to check out. A good place to start for an overview of crafts from different regions of Mexico is Mercado De Artesanias La Ciudadela, in Centro Historico. Plaza del Angel's arcaded market is a great place to browse, but tends to be overpriced unless you're after smaller items like vintage postcards and other knick-knacks. The La Lagunilla Market on Sunday in Colonia Guerrero is more of a flea market, but has better prices for everything from antiques to handicrafts—don't be afraid to barter. Pack your pesos.
Related Stories