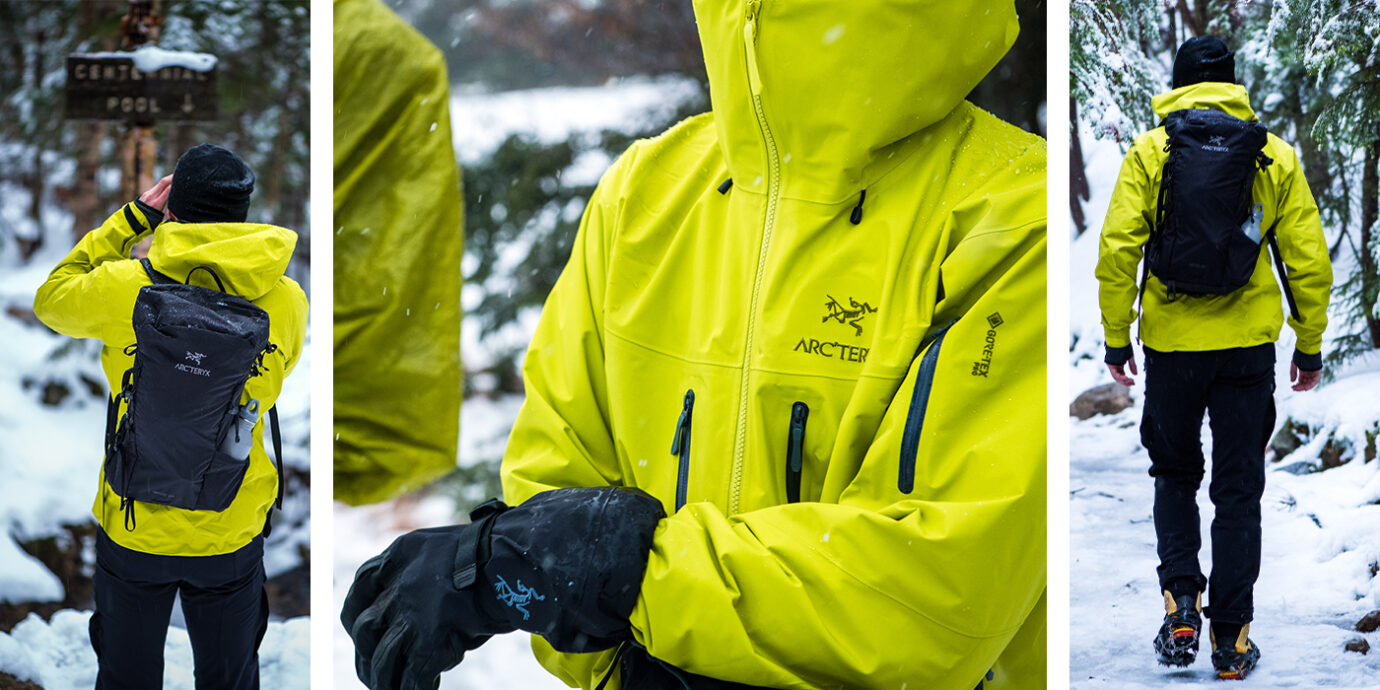 Winter
The Ultimate Arc'teryx Winter Gear Review
They say there's no such thing as bad weather, only bad clothing. But, as a person who is constantly cold—even while wearing a wool sweater in a heated office, I have to politely disagree. So last November, when Canadian clothing brand Arce'teryx invited me to brave the New Hampshire elements on the first test day of its updated Alpha SV hardshell jacket, I was nervous about hiking in teen digit temperatures and snow. My outdoor activities are usually saved for more pleasant spring and summer temps. Still, I couldn't miss out on the chance to try out professional and stylish winter gear in the unspoiled White Mountains. I did a search for hand warmers, and got on a flight with my new gear. Here's my Arc'teryx review. 
For the unfamiliar, Arc'teryx is a seriously rugged sporting goods brand, based near Vancouver's famous Coast Mountains. They design high-performance clothing, footwear, packs, and climbing accessories for hard-core skiers, climbers, alpinists, and outdoor enthusiasts of all stripes. Performance is key, but designers also keep a focused eye on sustainability and style. If you're going to gear up for an icy winter summit, or just take the dog for a walk in a snow storm, Arc'teryx has you covered. But for the purposes of this article, I'd be donning head-to-toe Arc'teryx for an icy trek.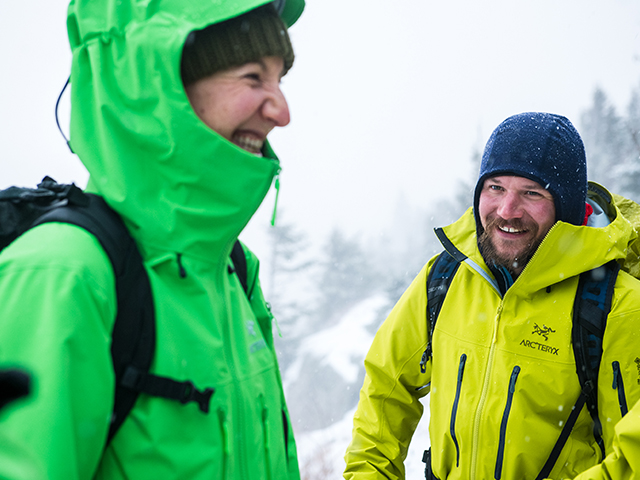 On gear testing hike day, the weather conditions were ideal for putting the newly launched Alpha SV hardshell jacket through its paces. Imagine a wintry mix of snow and rain in an alpine forest carpeted with about a foot of packed snow. We were headed up Mount Willard Trail, a 3.2-mile out-and-back path near the Bretton Woods in New Hampshire. The trail features a small waterfall and a handful of streams to cross. Along with the Arc'teryx gear below, I also had hiking poles for stability and traction cleats on my boots for ice patches and tackling the steady grade. With temps in the teens, our group started the trek up towards the clouds. Reader, I didn't need those hand warmers after all.
Winter Gear Arc'teryx Review
1
Alpha SV Arc'teryx Jacket
This show-stopping hardshell jacket is the main reason I hiked up a snow-covered mountain with crampons strapped to my feet. The jacket (Arc'teryx fan's might recognize it as the company's original apparel item: the 1998 Alpha SV) is the first Arc'teryx product to use the all-new GORE-TEX Pro 2.0 membrane (read: durable) fabric. It looks bold, and it is. The stormhood is comfy, the watertight zippers keep out any moisture, and water simply beads off the body. Waterproof, windproof, weightless. What surprised me the most was easy I could move in a hardshell. I could have done crow pose on the summit.
Before you side eye the price, please know that each jacket takes five hours to build and was designed to look good and perform well for years (and miles) to come. Oh, and the updated Alpha SV is the first alpine jacket by Arc'teryx to include a RECCO avalanche rescue reflector. This jacket could literally save your life.
Shop Now
2
Phase AR Bottoms
Confession: these long underwear-style bottoms aren't meant to be worn as pants, but I wore them to lunch before the hike. The Phase AR Bottom is made from Arc'teryx's Phasic™ AR fabric, engineered to provide insulation, dry fast, and stretch through all kinds of movement. I was warm and dry while eating a turkey sandwich, and summiting the mountain in snowy rain. The slim lines fit under jeans for the days I want to layer up off the mountain.
Shop Now
3
Venta Gloves
If you're skiing, winter hiking, or snowmobiling, you simply can't mess around with cheap gloves. One wet hand in cold temperatures, and you can find yourself in dangerous conditions—fast. Venta gloves kept my hands dry and warm. The pliable high-loft fleece fabric allowed for hand movement to hold hiking poles and sensors on the thumb and forefinger let me check my phone without taking off the gloves.
Shop Now
4
Chunky Knit Toque
I can never have enough winter hats. The Chunky Knit Toque kept my head warm, my hair dry, and looked cute enough to wear back in my real life. I also like that the Arc'teryx logo is subtle. 10 out of 10, a solid winter hat.
Shop Now
5
Phase SL Crew
Layers are all-important for winter dressing, especially while performing strenuous exercise—since you're going to warm up. The Phase SL Crew makes for good layering. Against the skin, it feels more like silk than performance gear, and the gusseted underarms didn't restrict my arm movements. The moisture-wicking fabric kept me dry when I started to sweat on the more vertical terrain. I'll wear this on a chilly bike ride day, too.
Shop Now
6
Gamma Women's Pants
As I pulled them on, I though the Gamma MX Pants might be overkill for a snowy hike. I could imagine wearing them while snowboarding or sledding, but did I need soft shell pants for a trek in the woods? Turns out, I did. They're lightly insulated, and super breathable so I felt cozy but never hot. Even better, the water-repellent treatment kept me dry in the icy rain.
Shop Now
7
Proton LT Hoody Women's
I don't love wearing winter coats. The bulk. The awkward length. The too warm feeling when you get out of the cold and in a car or on the subway. Ugh. But the Proton LT Hoody is a different story. I wore this lightweight baby under the Alpha SV jacket, and have been wearing the Proton on its own around New York since December. The breathable insulations means I don't overheat, and the slightly nipped waist and longer hem are as flattering as it gets. Oh, and the hood doesn't blow off my head in gusty conditions. I like wearing this winter coat.
Shop Now
8
Delta LT Hoody
The Delta LT Hoody provided the perfect cuddly and warm middle layer. It's light as air, has a relaxed fit, and allows for ergonomic freedom. Sweat and water dried fast, too, and the zipper didn't open unless I pulled it—especially important for skiers. Pull the hood up if you need more warmth, or a light layer under a helmet.
Shop Now
9
Brize 25 Backpack
I needed a backpack on the winter hike. It was an easy way to carry a water bottle, snack, and a place to stash my layers that I shed on the ascent but still wanted handy for the windy summit. The zippered top panel provided easy access and the waterproof fabric kept my phone (and Kind bars) dry. Padded shoulder straps stayed comfortable—and in place.
Shop Now
10
Acrux TR GTX Boots
Even though the Alpha SV jacket was the star of the Arc'teryx review show, these Acrux boots really stole the limelight. I can get a blister just from looking at a new pair of shoes, so I was more than hesitant about hiking up a mountain in a brand-new pair of boots. I needn't have worried. At 16 ounces each, these lightweight babies still manage to provide ankle and arch support, plus stability for trudging through snow (and through a few streams, thank you very much). The Vibram® Megagrip outsole and waterproof construction for the win. Blisters, begone.
Shop Now
Related Stories
All products have been hand-picked by our writers and editors. Items purchased through links may earn us a commission.