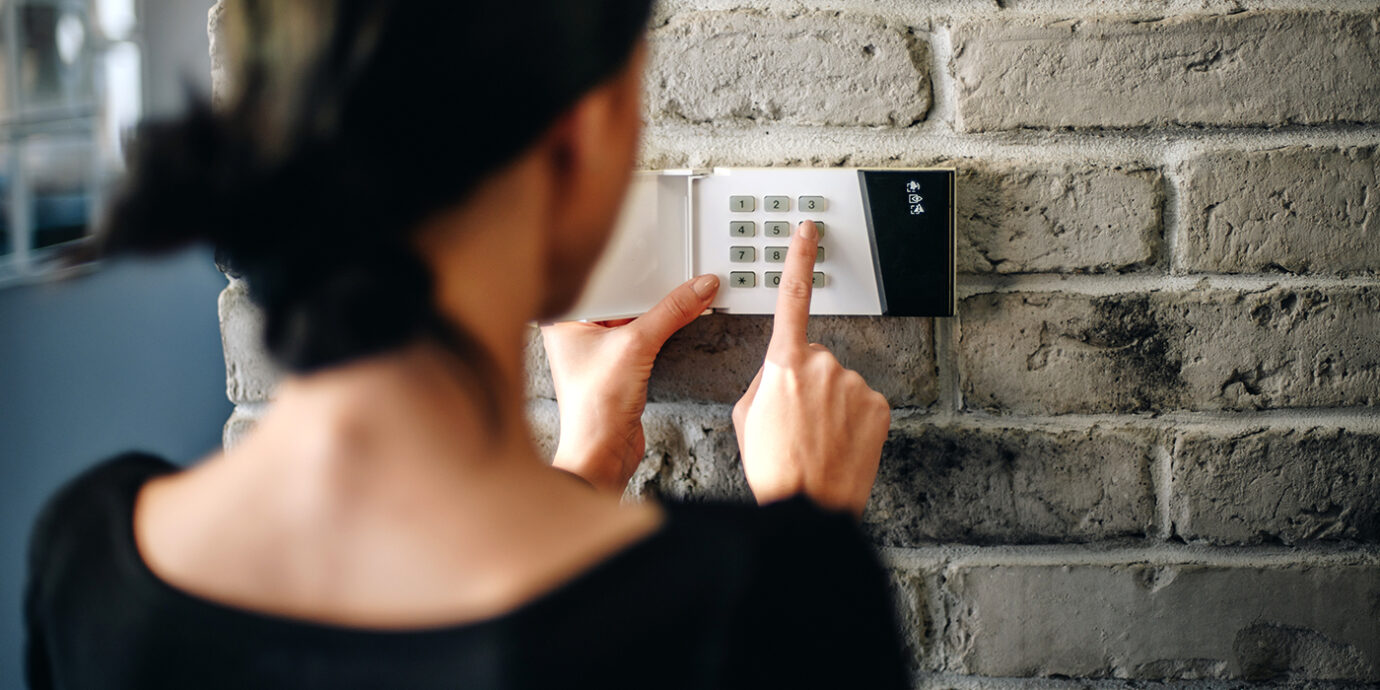 Shop
10 Clever Ways to Keep Your Home Safe
If your current home security system consists of an ancient deadbolt and your chihuahua Peanut, it might be time for an upgrade. But that doesn't mean ADT has to come out and install a million expensive cameras and alarms. These days, there are tons of innovative ways to secure your home, from smart devices you can monitor from afar to genius gadgets that ward off intruders. Here, we've rounded up the best products to keep your home—and your family—safe, whether you're sound asleep, in another part of the house, or on the other side of the world.
1
SimpliSafe Home Security System
Security systems used to cost a fortune, require hours of professional setup, and lock you into long-term contracts. Now there are DIY options like SimpliSafe. This affordable, intuitive system can easily be set up in about 30 minutes. And unlike the systems of yore, the whole thing looks sleek and modern and fits in with nearly any decor. But what we love most about it is its flexibility. In a small home or apartment? Go with the Foundation, which includes a base station, wireless keypad, and entry and motion sensors. Out of town a lot? Throw in some freeze and water sensors, which will let you know when temps start to fall or you've sprung a leak. You also have the option of adding on professional monitoring for $14.99/month—or not. You do you.
Buy It Here
2
Wyze Cam
If you aren't quite ready to invest in a full-blown security system, this super-affordable smart camera will keep an eye on your home when you're out of the country or just stepping out for groceries. The small, Pixar-looking gizmo packs in solid video quality, smoke and carbon monoxide alarm detection, motion detection, night vision, two-way audio, two-week cloud storage, and integration with Alexa, Google Assistant, and IFTTT. No wonder one reviewer said, "The bang for the buck is incredible." Another raved: "For the price, [the cameras] are a fantastic value—and in many cases they outperform other cameras that I own that cost 6-10 times as much." Not too shabby for $26.
Buy It Here
3
Addalock Portable Door Lock
It may not be high-tech, but that doesn't make this gizmo any less useful. This nifty device latches onto the metal plate of a regular lock, providing added security against unwanted visitors. Reviewers say while it's a little tricky to figure out at first, it's given them "peace of mind" in hotel rooms, Airbnbs, sketchy apartment buildings, shared houses, you name it. Though you can use it on any inward-opening door, it's especially great for renters, who can't necessarily install anything permanent but need a little extra protection due to a flimsy lock or multiple keyholders.
Buy It Here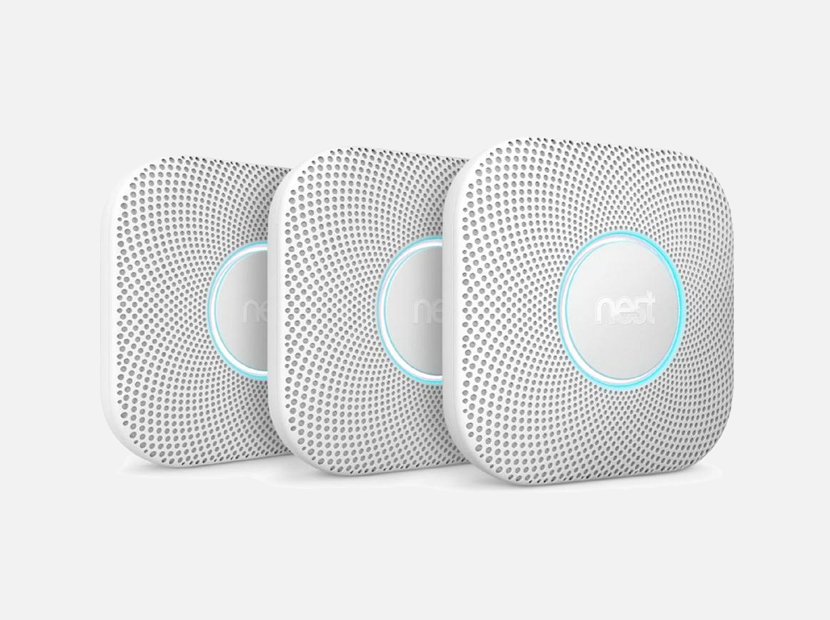 4
Google Nest Protect
Smoke detectors are usually more annoying than useful—they alert the whole neighborhood to the fact that you burnt dinner, wake you up in the middle of the night to let you know the battery is dying, and can't do much of anything if you're not home to hear it. Thankfully, some smoke detectors have gotten a lot smarter, and Google Nest Protect is a prime example. If it senses something's wrong, it lets you know by changing colors, calmly announcing the problem, and sending an alert to your phone. That way, even if you're 2,000 miles away, you can still see exactly what the issue is and where it's happening. False alarm? Mute it with one tap. Dying battery? It'll let you know well in advance—no annoying beeping necessary.
5
FakeTV FTV-11 Extra Bright Burglar Deterrent Television Simulator
Scaring off potential prowlers can be as simple as making them think someone's home (just ask Kevin McCallister). This ingenious machine uses LED lights to mimic the colors, fades, and motions of your TV. But unlike your TV, the simulator exaggerates the effects, uses very little power (about the amount of a nightlight), and can hold up to 20 years of daily use. Reviewers say it's so convincing, it even fooled their neighbors. Turn it on before you go to bed—or set it to switch on at dusk if you plan on being out late or are heading out of town for a few days.
Buy It Here
6
Eufy Security Wi-Fi Video Doorbell
Knock, knock. Who's there? With Eufy, you'll know the second someone gets to your front door. The smart video doorbell starts recording in high-def as soon as it senses human activity and sends you an alert letting you know who to expect, whether it's a friendly neighbor or a porch pirate. You can either respond back in real time ("Be right down!") or with a pre-recorded response ("Step away from the package"). And unlike with most smart doorbells, all the footage is encrypted and stored locally, ensuring you're the only person who has access to it and saving you a monthly subscription fee.
Buy It Here
7
Wyze Plug
Though not technically designed for home security, a smart plug can go a long way in warding off burglars and protecting your home. This one from Wyze is small but mighty. Switch it to vacation mode, and it'll randomly turn on lamps and other devices, making would-be intruders think someone's home. Getting back late at night? Tell it to switch on the living room lights beforehand. Or, if you're one of those people who constantly worries you left the iron on, plug it—or any other potentially hazardous appliances—into the Wyze, and you can shut it off from anywhere.
Buy It Here
8
MasterLock Door Security Bar
This security bar is a "must-have," according to Amazon reviewers, many of which say it "saved [their] life" or "prevented a break-in at [their] home." The sturdy steel bar fits snugly between your floor and the door handle, making it nearly impossible for an outside invader to force their way in. Not only is it inexpensive and easy to install, but it works on nearly any floor (carpet, hardwood, tile) or door (even sliding ones). While not as compact as the Addalock above, it's still pretty portable should you want to take it with you when you travel.
Buy It Here
9
Amazon Echo Dot
The Echo Dot isn't a security device in itself, but it's an inexpensive way to enable Alexa Guard, which will listen for smoke and carbon monoxide alarms and the sound of glass breaking when you're away or asleep. If it hears something suspicious, it'll send an alert to your phone—or to Ring or ADT if you have them. Alexa Guard can also auto-adjust any smart lights or plugs, so it looks like you're always home. And when you are home, you get the added bonus of being able to use it to play "Blinding Lights" or check the weather. Can your security system do that?
Buy It Here
10
GE Personal Security Window/Door Alarm
These little white contraptions may look basic, but they're actually pretty powerful. Just stick 'em on any door or window, and as soon as someone opens it, you'll hear an impossible-to-miss chime or alarm letting you know. One reviewer called them "a less expensive reliable alternative to a security system," while another said they "wouldn't go one night without these little babies." Of course, since they are so low-tech, they can't alert you to a break-in when you're not home, but they're also loud enough to potentially scare off an intruder or tip off the neighbors.
Buy It Here
Related Stories
All products have been hand-picked by our writers and editors. Items purchased through links may earn us a commission.