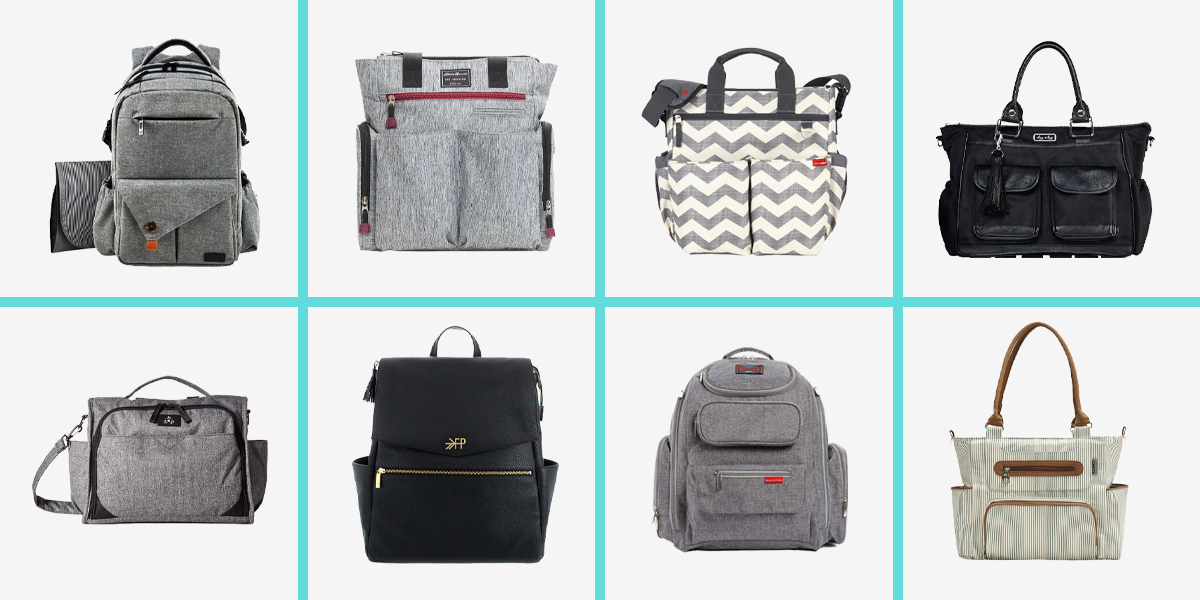 Luggage Expertise
The Best Diaper Bags With Ultra-Enthusiastic Reviews From Parents
Remember when you could fly out the door for a weekend jaunt toting just an overnight bag? Well, now that you're a parent, you'll need major reinforcements—including a sturdy, waterproof diaper bag that can handle every possible kid-related emergency, such as diaper blowouts and spilled milk, while stashing supplies to deal with it all. Because you'll be packing essentials like diapers, wipes, snacks, pacifiers, toys, blankets and extra clothing, you'll want pockets galore and insulated compartments for bottles. Plus, your bag has to be stylish and comfortable to wear while also holding a little one or chasing a toddler. Don't worry—we've compiled the best diaper bags that make traveling a tad easier.
1
Best Overall Diaper Bag

Looking for a diaper bag with superhero properties? This B.F.F. bag quickly converts from a backpack to a messenger bag to a tote, and it's tough enough for any adventure. Comfy memory-foam shoulder straps make it ideal for all-day exploring, plus its Teflon-treated surface fabric is anti-microbial, while the interior is coated with Agion to keep bacteria and mold away. With insulated bottle storage and transparent plastic pockets, this machine-washable bag gives easy-access. One mom reviewing the bag raved, "I love how wide the bag opens—it makes it so easy to find stuff." It's also customizable and available in 28 different colors and patterns.
Buy It Here
2
Most Stylish Diaper Bag

Hello, gorgeous! This sleek and stylish bag looks every bit like the structured leather backpacks taking over Instagram. A school-satchel silhouette and a golden arrow logo help it feel especially au courant, as do the available colors: a dove gray, rose gold, butterscotch, or classic black (our favorite). While you're out and about, this could be mistaken for the latest "it" bag—one mom even gushed that it looked perfectly chic and appropriate on her trip to Italy. But inside, there's plenty of utility, with 10 pockets; wipe-down, spill-resistant fabric; and a nylon changing pad. It's such a stellar bag, we can entirely understand why one mom-to-be wrote she's "using this backpack pre-kids and loving it."
Buy It Here
3
Best Amazon Diaper Bag

One of the top-selling and highest rated diaper bags on Amazon, HaloVa's Land series waterproof diaper bag backpack is lightweight, sturdy, stylish, and affordable. An insulated front zippered pocket is big enough for three bottles, and the bag also features a convenient exterior wipes pocket, a compartment for wet clothes and a zippered pocket for your smartphone. It also has many interior zippered and elasticized pockets for everything from pacifiers to stuffed animals. Rave reviews sing its praises including one that declares its love in all caps and goes on to say the bottom zipper gives easy access to items "without digging through the whole bag. Overall the bag is a huge lifesaver making traveling so much easier."
Buy It Here
4
Most Purse-Like Diaper Bag

Often while traveling, you'll need a diaper bag that can double as a purse. Enter the Itzy Ritzy, which looks like an oversized handbag. Or as one mom put it "I wanted a bag that did not scream 'diaper bag' and this fits the bill perfectly." Despite its looks, it still provides essential diaper bag features like two insulated compartments, 13 pockets, and a practical structured bottom that keeps it upright, plus handles that help it secure to a stroller. Bonus: It does triple duty by also working as a carry-on, and can transform into a backpack.
Buy It Here
5
Best Designer Diaper Bag

If you're looking for a posh, high-quality diaper bag to add to your baby shower wish list, the stunning Burberry baby-changing shoulder bag will make you feel like new-mom Meghan Markle at her most glamorous. Featuring that classic vintage check, leather trim, and polished metal hardware, this bag is every bit a Burberry status symbol. Yet multiple side, interior, and elastic pockets, a fold-out changing mat, and a foldover top with magnetic closure make it just as functional and chic. The adjustable shoulder strap is detachable, if it ever needs to be replaced. And when the kids are grown, you can keep using this as a chic work bag, as one enthusiastic mom reported.
Buy It Here
6
Best Diaper Bag for Dads

Need a streamlined bag that a dad would be happy to hoist? This highly rated diaper bag is simple and stylish, available in heather gray or black. Featuring top-quality zippers, this water-resistant backpack can also be carried with the top handle. It comes with a changing pad and has 14 pockets of varying sizes, including a very large exterior insulated compartment, so you can store everything from lotion bottles to your smartphone. Two genius features: a dedicated baby wipe dispenser on the side, and a separate grab-and-go diaper tote. That said, one practical dad appreciated its value the most, stating in his review: "I love that it's backed by a lifetime warranty."
Buy It Here
7
Best Skip Hop Diaper Bag

Known for its excellent diaper bags, Skip Hop has topped parents' must-have lists for 15 years. BPA- and phthalate-free, this fashionable over-the-shoulder Duo Signature tote offers modern styling and is available in many gender-neutral patterns and colors. It features 10 pockets, including a very deep main compartment and an easy-access cell phone pouch, plus it easily clips onto a stroller, which one mom raved in her review is "a really great feature." While it's smaller than some of the enormous diapers on the market, its functionality makes up for its size: A cushioned diaper changing pad, key ring clip, and breathable side pockets come in handy when you're on the go.
Buy It Here
8
Best Target Diaper Bag

This fashionable, tall, tote-style diaper bag in gray with burgundy trim has compartments in many sizes—or as one mom put it in her review "pockets and room galore"—including an insulated bottle pocket, plus a wipe storage compartment and matching changing pad. One deep interior pocket features a zip-top section lined with easy-clean polyester, plus there are five other inside compartments. Sturdy double top handles make this a go-to bag for park visits, sightseeing, or a day at port during a cruise. All of which make this a "perfect shower gift" according to one mom reviewer, and we agree.
Buy It Here
9
Best Diaper Bag that Doubles as a Backpack

Convertible diaper bags that can easily switch between a tote with shoulder straps and a diaper-bag backpack are essential for days at Disney or short hikes with toddlers. As one mom put it in a review, "once I had another baby, it was hard to carry my baby, the diaper bag, and hold my toddler's hand," which makes this hands-free solution a lifesaver. HapTim's backpack-style bag features modern, gender-neutral styling with leather accents, roomy divided compartments and a changing pad. It can also be carried as a tote or hung from a stroller. The side baby bottle exterior pockets are great for when baby is howling for milk, and we also love the hidden pocket that sits against your back, which protects valuables from pickpockets when you're touring a new city.
Buy It Here
10
Best Budget Diaper Bag

Budget-minded parents who love the purse-y Skip Hop Grand Central can try this SoHo tote diaper bag set, which offers similar features at a more affordable price. But don't be fooled by its budget status, this is still a quality product, or as one mom-reviewer put it, "I am SUPER impressed with how gorgeous and well-made it is." The set includes a separate zippered and insulated baby bottle bag, a diaper clutch, toiletries bag, changing pad, and small wallet, making it ideal for traveling families who are always on the go. Zippered front pockets and side exterior pockets store snacks and toys, and you can also hook this bag onto your stroller.
Buy It Here
Three Must-Have Items to Keep Handy in Your Diaper Bag
Nothing like a leaky juice cup to make road trips less fun, so stock up on the Re-Play No-Spill Sippy Cup, made from FDA-approved sustainable HDPE recycled plastic and featuring an easy-to-clean silicone valve that keeps liquids in the cup. And no matter where you trek, you'll want to keep wipes at the ready. These by The Honest Company check all the boxes: they're alcohol-, fragrance-, and paraben-free and hypoallergenic. Finally, there are the diapers themselves, and you can't go wrong with Pampers Swaddlers, which have the Good Housekeeping seal of approval, plus multiple parents raving online "out of all of the diapers, these are the best."
Related Stories
All products have been hand-picked by our writers and editors. Items purchased through links may earn us a commission.