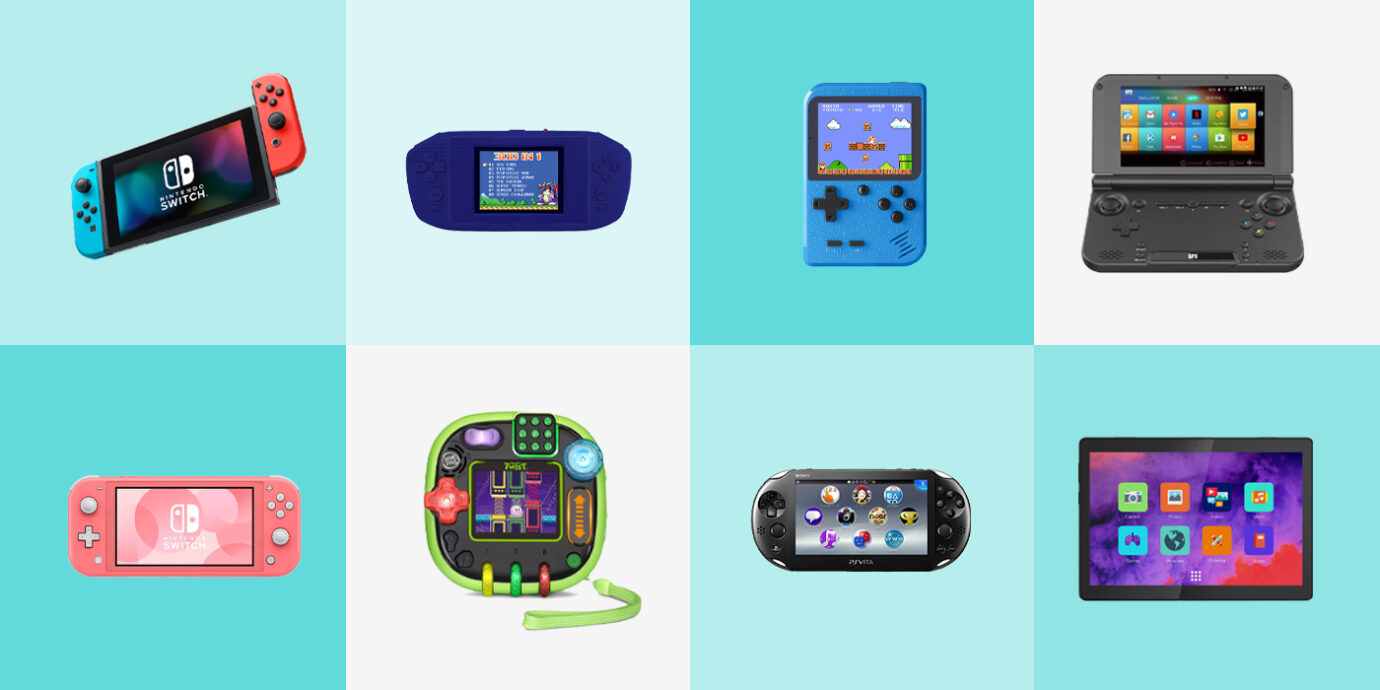 Shop
Best Handheld Game Consoles for Kids and Kids-at-Heart
PSA: Handheld game consoles aren't just for kids killing time on long car rides. They're also great for adults, whether you're looking to conquer a new world, test your hand-eye coordination, or pass the time on a flight. Obviously, you can play games on your phone (a lot of us do), but most smartphones aren't exactly built for gaming. The best handheld game consoles come with buttons, a solid battery life, and, of course, great games. Nostalgic for the beeps and boops of your youth? Or simply want to see the incredible things being done these days with ones and zeros? Level up your game with our top picks.
1
Best Overall Handheld Game Console

Nintendo revolutionized handheld gaming way back in 1989 with its Game Boy. So it comes as no surprise to see the Nintendo Switch get our nod for best overall. Its name comes from the ease with which you can switch from using it on your home gaming system to holding it in your hand to propping it up on its very own kickstand. The controllers not only pop off for easy manipulation but also add a 21st-century level of realism (instead of merely watching your onscreen avatar crack a safe, for example, you'll sense the pushes and pulls in your hand). Equal parts amazing and addictive.
Buy It Here
2
Best Old-School '90s Throwback Handheld Game Console

As you try to rescue Princess Toadstool on this retro game console, you'll feel as if you've been transported into the past. In addition to having classics like Super Mario Bros., Tetris, and Double Dragon, this fun little machine features some 400 games guaranteed to stoke your nostalgia. Its exterior even resembles a '90s-era console, with simple buttons and a boxy shape. But unlike systems of the past, this one comes with rechargeable batteries (boo-yah!).
Buy It Here
3
Best Handheld Game Console for Kids 3 to 5

No need to worry about too much screen time with LeapFrog's RockIt Twist. The handheld game console is specially designed to entertain and educate little ones, no Wi-Fi required. Kids can access different games depending on which way they turn the Twist, adding another layer of fun (and combatting any possibility of monotony). The big buttons and dials are easy for tiny hands to manipulate, while three virtual pets teach pint-size players responsibility and empathy. Grown-ups will appreciate the built-in headphone jack, which guarantees the kids get to enjoy all the whoops and whistles but the adults don't.
Buy It Here
4
Best Handheld Game Console for Kids 8 to 13

When it comes to electronics, today's tweens tend to be fairly knowledgeable (and maybe even know-it-all-able). After all, these kids have grown up with smartboards in the classroom, smartphones on their wrists, and Alexa answering their every question. For this savvy set, the 2DS XL is a great introduction to handheld gaming. It plays the full suite of Nintendo games in a lightweight package that's appropriate for still-growing paws. Plus, it has parental controls to protect developing hearts and minds. At around $149, it's not cheap, but it's not so crazy-expensive that you or your tween will freak out if it gets lost or broken. Bonus: You won't hate playing with it either.
Buy It Here
5
Most Portable Handheld Game Console

In theory, every game console on this list is designed to be packed up and toted about. However, some devices are more portable than others—lighter, thinner, and easier to stick in a purse or pocket. The Nintendo Switch Lite takes everything everyone loves about the Switch (so, everything) and condenses it into an ultra-slender package. Like its big brother, the Lite lets you spend hours playing The Legend of Zelda: Breath of the Wild (arguably the best game of all time) or zooming around on Mario Kart. You can even hook up with seven other Switch- and Lite-playing friends online. Unlike so many handheld game consoles, this one comes in cheerful colors like coral and turquoise.
6
Best Budget Handheld Game Console

At the risk of stating the obvious, the best game consoles tend to be pricey, thanks to the complicated technology and fancy processing equipment that makes them so very fun to play. But we fell hard for Sharper Image's affordable Handheld Console. Sure, other consoles are sleeker, with more bells and whistles and larger screens (this one's a little less than three inches). But this battery-operated handheld is a terrific option for no-frills, on-the-go gaming. Speaking of games, this model comes preloaded with 300 of 'em, ranging from brainteasers to arcade to action. Toss it in your bag and don't worry if it gets knocked about.
Buy It Here
7
Best Emulator Handheld Game Console

For the uninitiated, an emulator helps one device act like another. This tech is particularly beloved by DIY-ers, who use it to play whatever games they want. (Don't worry—there are tons of tutorials online.) The GPD XD can handle a huge range of systems, from PlayStation Portable to Sega Dreamcast to Nintendo. If you need a break from pushing buttons, there's even a touchscreen, which gets points for nice resolution. And when you need to head back into the real world, everything folds up into a perfect little package. It's the ideal marriage of portability and prowess.
Buy It Here
8
Best Smartphone Option for Handheld Gaming

Don't want to carry around multiple devices? We don't blame you. Apple's newest iPhone lets you tweet and text, binge-watch and buy now, play Fortnite and record Fortnite dances. The screen is big and beautiful, with an extraordinary resolution that's almost 3D in its sharpness (all the better to play games like LEGO Brawls and Sonic Racing). Yes, a subscription to Apple Arcade costs extra, but the games are as innovative and cutting-edge as you'd expect from the beloved brand—and everything loads super fast. As the cliché goes, you get what you pay for.
Buy It Here
9
Cult-Favorite Handheld Game Console

It wasn't long after its 2012 debut that Sony began to give up on its PlayStation Vita (sob!). While production officially ceased in 2019, the console continues to draw fans, who rave about its sizable, responsive screen; ergonomics; and ability to stream and play more than 1,000 PlayStation games like Minecraft and Gravity Rush from wherever. Seriously—with remote play, you can continue games from your standalone PS console as long as you have a Wi-Fi connection.
Buy It Here
10
Best Handheld Game for Seniors

A recent study by AARP found that senior citizens love their games (lest you forget, folks in the 50-plus demographic practically grew up in arcades). Plus, video games of all kinds help stimulate the brain, thereby reducing or delaying dementia and other degenerative neurological diseases, and help people stay connected across miles. The Lenovo Tab boasts a big screen and runs every Android game under the sun, from Beach Buggy Blitz to Robo5 to PAC-MAN. The tablet can be used as a touchscreen or with a stylus, thus accommodating people with different degrees of agility.
Buy It Here
Related Stories
All products have been hand-picked by our writers and editors. Items purchased through links may earn us a commission.