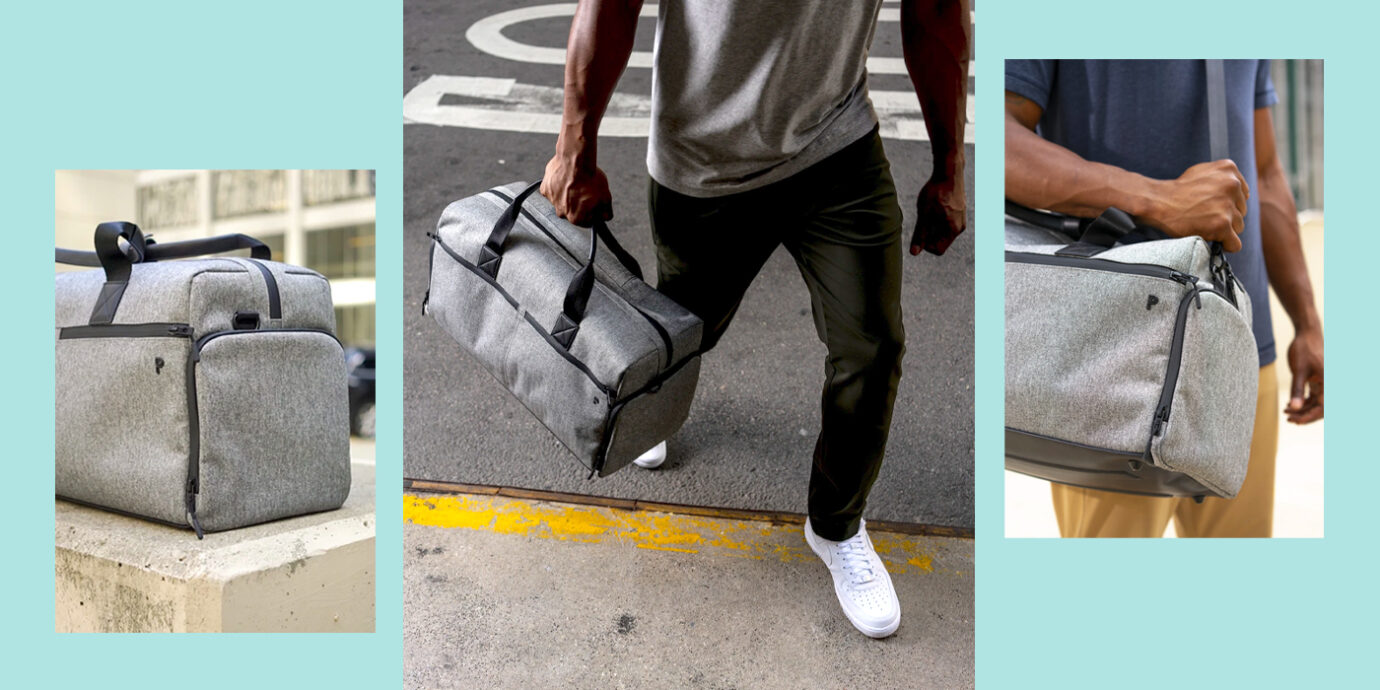 Luggage Expertise
The Weekender That Puts Other Bags to Shame
No matter the weather, this waterproof weekender keeps your stuff dry and you looking stylish.
First thing I should tell you: I'm a weekender kind of guy. When I'm headed out on any trip lasting four or five days—sometimes up to a week, depending on the destination—I pile everything into one of these all-purpose bags. I like something compact that I can throw over my shoulder and then toss into the trunk or the overhead. A larger wheelie slows me up, weighs me down, and wastes my time (not to mention money) at the check-in counter and the baggage carousel.
But along with the convenience, I require a lot of versatility. I need more than a single zippered pocket on the front (or even worse, tucked away inside where I can't reach it easily). I want a flat bottom, so it can stand up on its own. If possible, I could use an easy-to-grab handle that doesn't flop over to one side as soon as you let go. And is it too much to ask that it not look like a nylon gym bag from middle school? (Although I might actually want to take it to the gym.)
Truth be told, the Public Rec Pro Weekender looked like its style might win out over its substance. This one has a soft, heather gray exterior (there's a black one as well) that style-wise puts it on par with bags headed to fancier destinations than mine would usually see. The stitching and other detailing is crisp and clean. Even when it's completely empty it has enough structure to keep its shape. It looks great, but does it do the job?
Mine was about to endure a trial by fire—or more accurately, by water. A few raindrops had started to fall before I left the city for the weekend, but nothing to worry about. But two hours later, when I arrived in the mountains, it was close to a deluge. Still no problem, at least until I got to the door. I fumbled with the ring of similar-looking keys, and ended up dropping the bag on the waterlogged deck as I tried several before finding the right one.
I was pretty much soaked once I got inside the house, but the bag was dry. The waterproof exterior is impressive, and doesn't make the fabric feel stiff or look shiny. The polyurethane bottom has tiny feet that lift it just far enough above the ground, so moisture doesn't seep in from below. Best of all, the hefty zippers provide a perfect seal, so nothing inside was the least bit damp.
I'm picky about having enough pockets, and the Pro Weekender has all I could want and more, including a stealthy netted one tucked away inside. There are a pair of zippered pockets on one side, along with a smaller one on the other that closes with a magnet, making it perfect for a passport or other documents you need to retrieve quickly. (It's the one part of the bag that's not 100% watertight, however.) The squarish pockets on either end are incredibly useful—one has a pair of stretchy interior pockets, while the other provides easy access to a compartment that keeps a pair of shoes separate from the rest of your clothes. This is where I stashed my squishy sneakers on my trip back to the city.)
I like the sleek black handles, which have a handy snap that keeps them together. My one quibble is the detachable shoulder strap, which is extremely comfortable when worn across the body, kept falling off when I slung it over a single shoulder. That's the only time I felt the streamlined design didn't measure up. A shoulder pad with a little more substance would have gone a long way to solving that issue. But that won't keep me from reaching for this bag again and again, no matter what time of year or what the weather report predicts.
TLDR: Public Rec Pro Weekender Review
Compact size and sleek shape mean it fits easily in the overhead
Plenty of pockets hold everything from your passport to a pair of shoes
Versatile design takes it from the gym to the office to the airport
Water resistant finish, so it's never afraid of snow and rain
Comes in two handsome colors, heather gray and black
All products have been hand-picked by our writers and editors. Items purchased through links may earn us a commission.