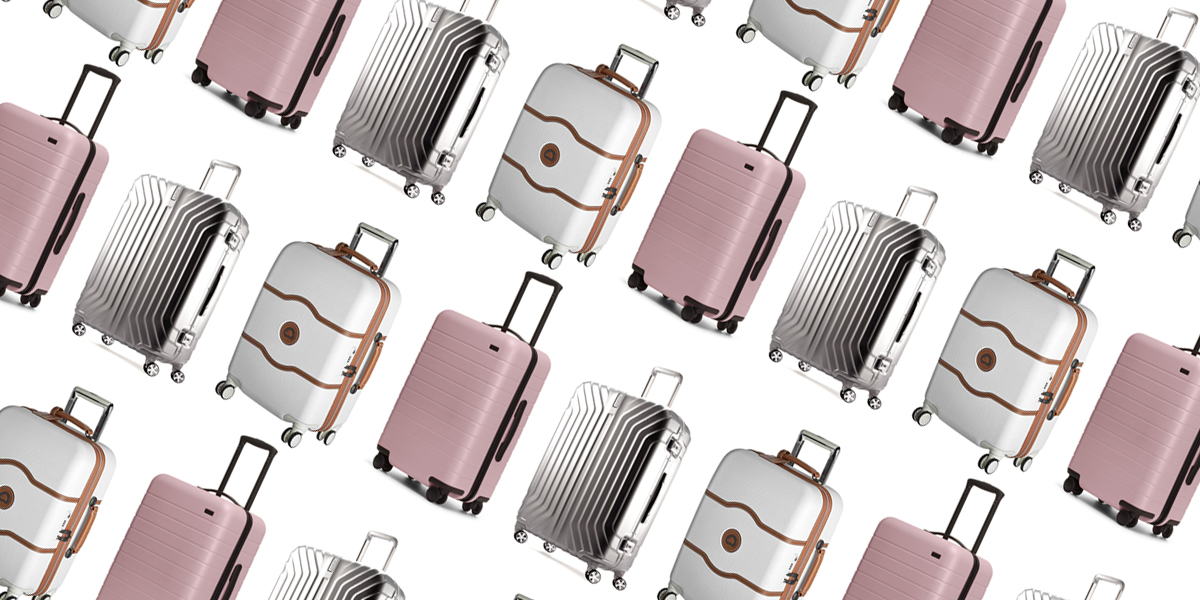 Luggage Expertise
The 13 Best Luggage Brands
We love luggage-shopping, but we won't pretend that it's not a tiny bit stressful. After all, finding the perfect new suitcase is like looking for a couch or mattress—it's a big purchase that you want to last for years and years. And there are so many factors to consider: soft-side luggage or rock-hard shell? Are the locks TSA approved? What's the pocket situation?
To help with your research process, we're highlighting the 13 luggage brands we love the most. They offer something for every type of traveler—from the jetsetter who wants something that looks good on the 'gram to the no-frills backpacker who needs compartments like no other.
1
Eagle Creek Luggage
Eagle Creek offers practical luggage that's built to last, with an especially great selection of carry-on bags. "I love Eagle Creek's carry-ons because they're well made, look good, and have all sorts of useful-but-not-flashy features like an exterior strap for stowing a jacket and plenty of interior organizational touches," says Christine Sarkis, executive editor at SmarterTravel. "And you can't beat Eagle Creek's No Matter What Lifetime Warranty."
Shop Eagle Creek
2
Samsonite Luggage
Samsonite is to luggage what Kitchen-Aid is to mixers: you don't question its capabilities, you just trust it. This tried-and-true brand offers bags for every occasion, from wheeled backpacks for business trips to five-piece luggage sets for the summer-long sabbatical you'll need following said business trips. The Spinner Luggage line is among the brand's most popular, with spinning wheels that allow you to quickly pivot and run when you realize your gate changed 20 minutes ago. Most bags come in a variety of colors so you don't have to do the baggage-claim boogie, either.
Shop Samsonite
3
TravelPro Luggage
TravelPro is the brainchild of Bob Plath, a pilot who traveled the globe and wanted luggage that didn't suck. He created the Rollaboard, a carry-on bag that's small enough to fit in the overheard storage bin (if others don't hog it all before you get to your seat, that is), yet large enough to hold all of your essentials. The Rollaboard bags offer plenty of pockets for organization, including the ever-important, hidden exterior pocket for quick access to your phone and passport. TravelPro also makes traditional check-in luggage, as well as garment bags (hello, destination wedding in the Caribbean), laptop bags, and backpacks.
Shop TravelPro
4
Bric's Luggage
Known for its hand-crafted, two-tone luggage, this Milanese maker's luxe pieces look straight out of the so-called golden age of air travel. Top-selling luggage lines include Bellagio (spinner trunks in cream, black, and matte silver and gold, with brown leather trim), Life Pelle (Tuscan-leather totes, bags, and spinners), and Firenze (soft-side leather cases in cream with tanned leather trim). "I love my Bric's X-Bag Carry-On Spinner," says Ashley Rossi, editor at SmarterTravel. "It's super-lightweight and the soft case can be stuffed almost endlessly. It's large enough to fit a week's worth of clothing, but also meets most carry-on restrictions. The sleek design, spinner wheels, and leather detailing give it a stylish look." And What to Pack editor Megan Wood's experience with her Bric's carry-on rolling duffle? "I've stopped counting how many strangers have asked me where I got it."
Shop Bric's
5
Away Luggage
Style-savvy travelers love the ultra-sleek look of Away, whose pieces come in both neutral and millennial-friendly colors (ooo, blush). Suitcases come with TSA-approved locks for securing your belongings, along with high-quality Hinomoto wheels that rotate 360 degrees. We especially love the Carry-On Bags, available in two sizes: The Carry-On and The Bigger Carry-On, with or without a pocket. (Get the pocket.) The best feature? An optional, ejectable battery for charging devices. No more awkward encounters around the (scarce) outlets at the airport! "I've had The Bigger Carry-On for about a year and I absolutely love it," says Lara Grant, editor at Oyster. "It's lightweight and stylish, and it neatly fit two weeks' worth of stuff for a trip to Italy. Plus, the bag has a lifetime warranty, which ultimately makes the price tag reasonable."
Shop Away
6
Genius Pack Luggage
Do you love labels and lists? Do you organize your belongings in boxes, baskets, drawers, and other compartments? If you answered yes to one or both of these questions, Genius Pack is your luggage match! These bags offer several compartments to help you stay organized when traveling—especially useful for those who aspire to pack less—and, get this, there's even a suggested packing list ON the luggage. We love the versatility of the High Altitude Flight Bags and Commuter Backpacks, both of which are perfect for everyday use.
Shop Genius Pack
7
Tumi Luggage
If only everything in life were as easy as shopping at Tumi. Their perfectly named products—the Short Trip Packing Case, Extended Trip Packing Case, International Carry-On, and so on—help you find the best luggage for your trip type. Clear labeling aside, the brand offers a nice selection of expandable bags, ensuring you can squeeze in all the clothes you won't wear (let's be honest). And most of the bags have a hard-shell exterior to guard your belongings against the perils of the baggage carousel, the racks on the train, and the already-stuffed trunk of your Uber Pool.
Shop Tumi
8
Amazon Basics Luggage
But are you really surprised? Of course Amazon offers its own travel line with carry-on bags, tablet and laptop cases, packing cubes, backpacks—even multi-piece sets. What's perhaps unexpected is that the pieces are kinda great. The best part? Stocking up doesn't require a second mortgage. Add to cart.
Shop Amazon Basics
9
Briggs & Riley Luggage
We're not sure what we love more: the incredibly sleek look of Briggs & Riley luggage, or the Compression-Expansion Technology found inside. The patented technology (available in the Baseline and Sympatico lines) allows you to expand your bag by more than a third while packing, then compress it (via mechanisms on the bag's sides) so everything is compact and ready for carrying onboard. If Briggs & Riley's higher price points are hard to swallow (that Wardrobe Spinner, gulp), check out one of the line's super-sharp totes, duffel bags, or weekenders.
Shop Briggs & Riley
10
Delsey Luggage
Delsey offers the perfect balance of durability, design, and affordability. "I love my Delsey carry-ons because they offer a bit of sophistication at a not-outrageous price point," says Sarkis. "They've stood up well to being dragged all over the world." The Aero Carry-On Expandable Rolling Luggage is a favorite, with a front pocket for easy access to your tablet or laptop (and it eliminates the need for an additional bag). And the Chatelet line screams, "Paris, anyone?" with an ultra-chic two-tone design, in either white or gray with tan faux-leather trim. Make it a set with the stylish shoulder bag and weekend duffel.
Shop Delsey
11
Heys Luggage
This popular luggage brand offers hard-shell cases with fun designs—think maps, floral prints, and marble. There's also an adorable line of luggage for kids, including animal-shaped carry-ons. Need easy access to your stuff at all times? The Smart Access line is a game-changer. "I love that my Heys Portal Smart Access opens two different ways," says Courtney Elko, editor at Family Vacation Critic. "It can open up like a standard hard-shell case where the center zips and the two halves open on either side, or it can open like a traditional suitcase where just the lid to the case unzips."
Shop Heys
12
Herschel Luggage
These days, it seems like you can't walk down the street without a Herschel bag catching your eye. The company has become ubiquitous for its compact, hipster-friendly backpacks, available in a variety of sizes (including small packs for kids), bold colors, and cool prints (we're looking at you, Desert Cheetah). Most styles are made to hold laptops, and also offer a secure media pocket with headphone port—perfect for long-haul flights or road trips. While the backpacks are perfectly acceptable carry-on bags, Herschel also offers traditional carry-on bags and checked rolling luggage, available with both hard and soft exteriors.
Shop Herschel
13
Olympia Luggage
You can't really go wrong with a piece of Olympia luggage. (Some travel editors might go so far as to say the Nema Three-Piece Set is as good as snagging the window seat in an empty aisle.) A few of our favorite details include the detachable mesh pocket—which can double as a hanging toiletry bag—on the 18-inch carry-on bag, a hidden pocket within the expandable portion of the 22-inch bag, and interior shoe pockets in the largest (30-inch) bag of the bunch. Like Heys, Olympia also offers luggage with exterior graphics to add some personality to your bags.
Shop Olympia
Luggage Accessories
Outfits to Pack in Your Luggage
For info on these editor-selected items, click to visit the seller's site. Things you buy may earn us a commission.
Related Stories
All products have been hand-picked by our writers and editors. Items purchased through links may earn us a commission.