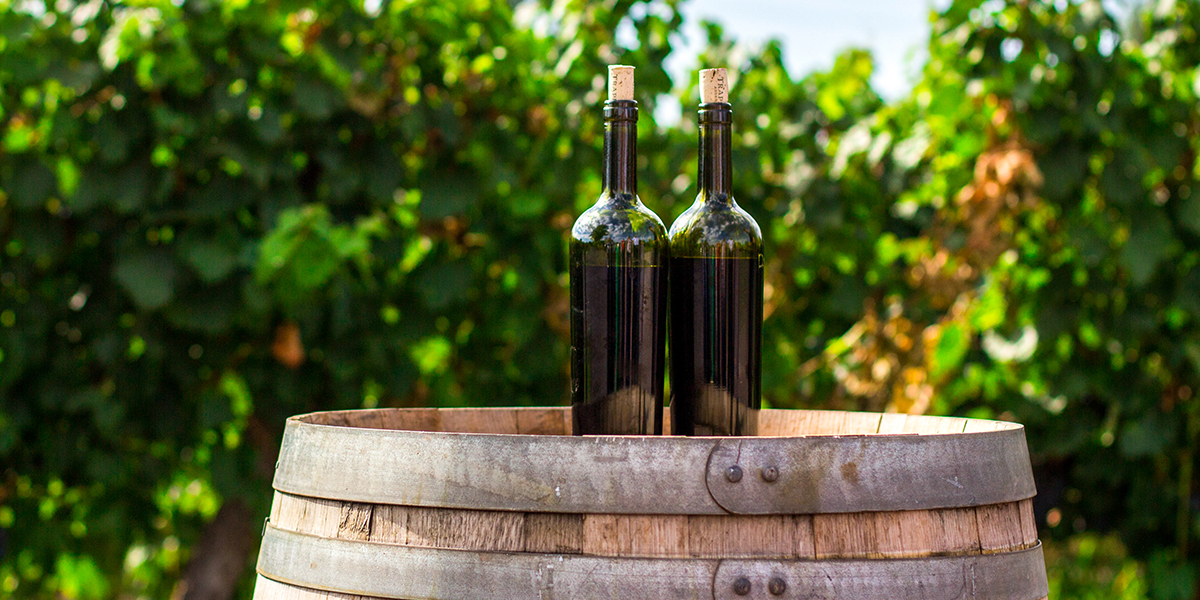 Packing Tips
The Best Wine Travel Bags That Let You Fly Safely With Wine
It happens so quickly: One minute you're road-tripping through Bordeaux, and the next le moment you're the proud owner of eight bottles of wine. Do you cram them in your suitcase between socks and tees, crossing your fingers everything isn't soaked in cabernet by the time you land? Or do you panic and leave the bottles as an extra-generous tip for housekeeping? There's a better way. Consider a wine travel bag. Whether you're departing an epic vacation with a case of vintage or just want a single vinho verde souvenir, these wine-friendly suitcases and wine sleeves are designed to help you pack your precious wine bottles safely and get them home in one piece. Cheers!
Packing Wine in Your Suitcase FAQs
Can you put a bottle of wine in your checked luggage?
The short answer: yes. The long answer: The TSA doesn't put any restrictions on checked booze with an alcohol content under 24 percent (for reference, most wines clock in at around 10 to 14 percent, and higher alcohol varietals cap out around 20), so go ahead and pack that Beaujolais. Just keep it out of your carry-on. The 3-1-1 rule still applies, and mini-wine bottles are usually over 3.4 ounces.
How many bottles of wine can you pack in a suitcase?
As many as you can fit in your checked luggage without going over the airline's weight limit. If you do go over the weight limit, you'll be charged for the extra bulk (but the airlines won't take away your wine). Unlike with higher-proof alcohol, the TSA doesn't restrict how much wine you can pack. However, if you're traveling internationally, you may want to check if your departure country has any restrictions—which may have more to do with paying duties than anything else.
How do you pack a bottle of wine in a suitcase?
The safest way to pack wine is to use a suitcase specifically designed to protect the bottles, usually through foam inserts that hold them in place, from breaking in transit. If you only need to tote a bottle or two, a wine sleeve is a really good option. These reusable protectors pack easily, and not only help prevent breaks but also contain the spill if the worst happens.
Want to go the DIY route? Use your clothing and shoes to create a barrier between the bottom and sides of your suitcase. Wrap each bottle in a few pieces of clothing—or, even better, a plastic bag, bubble wrap, or disposable diaper—paying special attention to the fragile neck, then place the wrapped bottle in the center of your luggage. If you have multiple bottles, separate them with clothing so they don't bump into each other. Throw the rest of your clothes on top, packing your suitcase as tightly as possible to keep the wine bottles from moving. While this technique isn't foolproof, it's helped many an oenophile avoid a merlot spill.
Do I have to declare wine at customs?
Yes, you do have to declare wine at customs. U.S. Customs allows you to bring in one liter of wine duty free. More than that and you'll have to pay duties and taxes. While there are no federal limitations on how much wine you can bring into the U.S., each state has its own limitations, so be sure to check yours. And heads-up: You might raise some red flags if you try to transport more than 12 bottles—it'll look like you're importing wine to sell, not reminisce with over dinner.
The Best Wine Travel Bags of 2019

VinGardeValise Grande 05
The VinGardeValise Grande 05 is the creme de la creme of wine bags. The ribbed, polycarbonate-shell suitcase looks like standard rolling luggage, but inside there are high-density foam-lined cutouts for carting up to 12 bottles of vino. If a case seems like a bit much (or you don't want to lug an extra bag just for wine), you can remove one side of inserts and pack clothes, shoes, whatever there instead. Pro tip: Users also love this bag for taking wine on vacation to destinations where it's expensive to purchase.

Vino-Voyage TSA-Approved Wine Suitcase
$299 at Wine Enthusiast Catalog
Much like the VinGardeValise, the Vino-Voyage has a polycarbonate exterior and removable foam inserts that fit up to a dozen bottles. But, it's slightly cheaper and has a sleek, silver shell. The TSA-approved wine bag suitcase was created for the experts at Wine Enthusiast to ensure that bottle of zinfandel makes it to wine o'clock. And with a two-year warranty, you can travel easy.

T.Z. 7-Bottle Wheeled Wine Case
You might get some looks when you wheel this heavy-duty case (it looks like you might be carrying stacks of cash) through the airport, but its tough exterior will help you get your fragile and precious wine home safely. In fact, some Amazon reviewers claim its serious appearance causes baggage handlers to treat it with extra care. We can't guarantee that, but it does have a waterproof polypropylene shell and foam padding inside. Bonus: It carries only seven bottles of wine, it's unlikely to go over the airline's weight limits.

Wine Check Complete Set
A lower-commitment and more affordable option, Wine Check is a reusable nylon wine bag with wheels and a pull strap that fits over a standard wine shipping box. Unlike some of the picks on this list, Wine Check is super lightweight, so even when it's stocked with a dozen bottles of your favorite pinot noir, it's guaranteed to weigh in under the 50-pound limit. The complete set comes with a cardboard box and plastic foam case—or you can buy just the bag, pack it in your luggage, and pick up packaging on your trip home. Aren't you clever?

Wine Wings Reusable Wine Bottle Protector Sleeves
Wine Wings are an Amazon customer fave (92% five-star reviews!). And for good reason: The sturdy, bottle-shaped plastic bags have bubble wrap on the inside, three seals to prevent spillage, and pack flat, so they're easy to store flat in a suitcase when you just want the option to bring back a bottle or two of Italian prosecco. Plus, the wine bags are about $5 a pop and completely reusable, so wine not pack a bunch?

JetBag Reusable and Protective Bottle Bags
Another popular Amazon buy, JetBags are also foldable, reusable, and inexpensive. They're not quite as padded as Wine Wings (though they claim to help prevent breakage), but they have incredibly absorbent liners that can soak up a full bottle of wine—sad for that super-rare chianti, and good for your favorite white sweater. We love the idea of these bottle wine bags for fun stocking stuffers, too.
Related Stories
All products have been hand-picked by our writers and editors. Items purchased through links may earn us a commission.