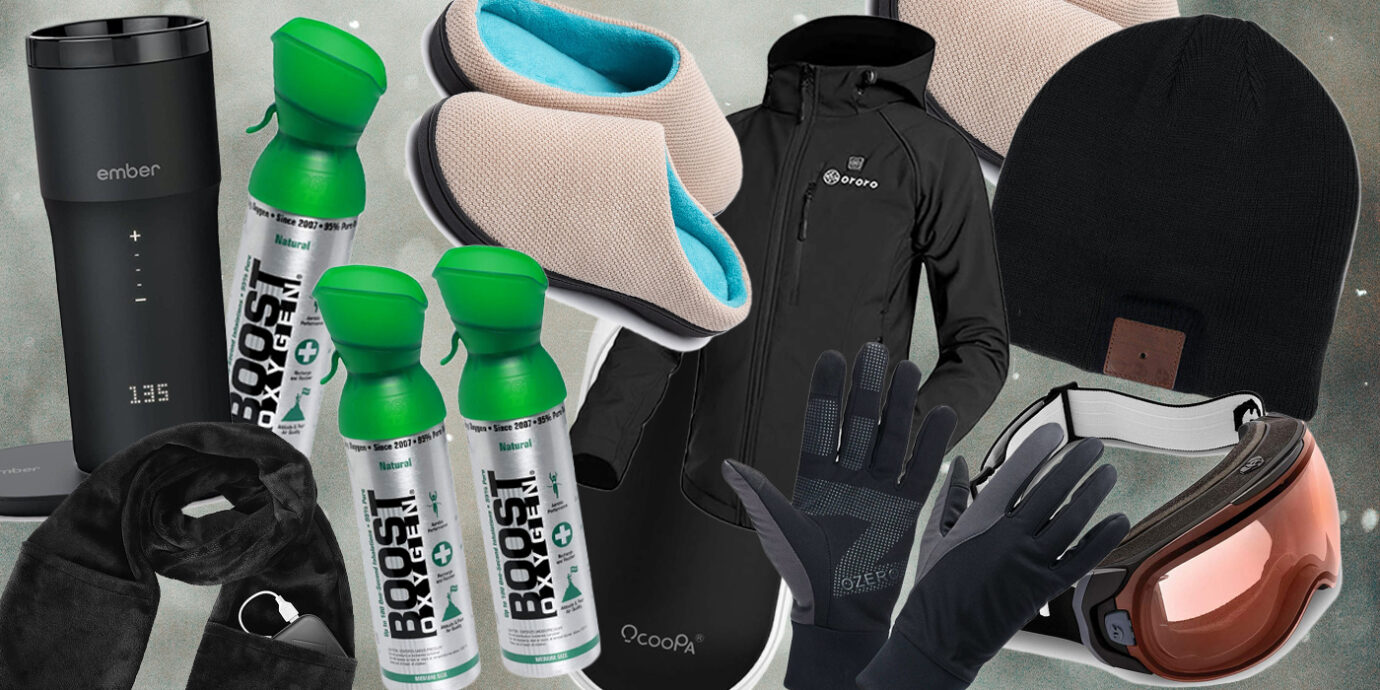 Shop
Innovative Amazon Gear to Keep You Comfy During Winter Travel
Come winter, it's tempting to become shut-ins who never leave the house, parked in front of the fire or huddled by the radiator. But we've got lives to lead and places to go beyond the four walls of our warm home. Luckily, we've discovered some genius products to help us get through the winter. From our head to our toes to even our windshield, we're covered when it comes to seeing the world and staying comfy in winter weather.
1
Ocoopa Rechargeable Hand Warmers
With two sides that heat evenly, this rechargeable hand warmer gets your digits toasty in a snap. Even on the highest of the three heat-level settings, the battery lasts all day. Extra perk: its power bank can also be used to juice up electronics.
Shop Now
2
Ozero Touchscreen Gloves
Ozero's medium-weight touchscreen gloves are water-resistant and windproof, so your hands will stay dry and warm even as the snow falls and the wind blows. The touchscreen-sensitive fingertips let you stay connected without actually removing the gloves, yet silica grips on the palms and fingers will also ensure your phone doesn't slip out of your hand and onto the icy asphalt.
Shop Now
3
Moretek Bluetooth Beanie
Though it looks like your run-of-the-mill beanie, this knit cap hides Bluetooth headphones into its soft and warm fabric. Pop it on to stay warm and tuned in to your music and podcasts while you jog, run errands, or even hit the slopes. With a one-hour charge, you'll be set to go with eight hours of playback time.
Shop Now
4
Warming Scarf with Pockets
If your winter travel plans involve chasing Northern Lights in Northern Europe, stargazing in Utah, or anything in between, you want this heated scarf with pockets on hand. The scarf uses a USB portable charger to keep you warm on the go (it's just the right length for tucking your hands in the pockets), and the soft velvet fabric feels wonderful to the touch.
Shop Now
5
Ember Travel Mug
Trying to cut down on your disposable coffee cup use? Same. That's why we're all about this high-tech travel mug. The thermos has a three-hour battery life on a single charge, and you can set your ideal temperature via an app that keep mug contents at up to 145 degrees Fahrenheit. Cheers!
Shop Now
6
Defrosting Ski Goggles
If you'd rather spend your ski days skiing than defogging your goggles, then Abom's One goggles are a sound investment. They look sleek, but what really sets them apart is their anti-fog system that keeps the lenses clear on days full of long runs. The defrosting component has two modes, active and boost, that either clear frost continuously or as needed.
Shop Now
7
Snow and Ice Windshield Cover
Yes, some new cars have built-in technology to heat windshields or remote car-starts to warm up the interior and melt away snow and ice. But wouldn't it be easier to keep the car from frosting over to begin with? This three-layer cover removes the need for de-icing your car—old or new—on a road trip. It even comes with covers that will fit most side mirrors, too. The cover won't scratch your glass or paint, as it uses elastic straps (rather than magnetic force) that attach to the wheel for a secure hold even in strong winds.
Shop Now
8
Ororo Heated Jacket
Ororo's heated jacket with a removable hood is a hit for a reason. The sleek and simple design incorporates heating packs into the lining of the soft-shell jacket so you can keep your core warm wherever you go. And don't worry about tossing it in the laundry: the jacket can withstand more than 50 washes thanks to the carbon fiber battery packs.
Shop Now
9
Anti-Slip Slippers
Have you ever wondered the age-old question, "what are the most comfortable slippers in the world?" According to thousands of Amazon reviewers, the answer is RockDove's slip-ons with pillowy memory foam and waterproof rubber soles for slip-free and outdoor wear. In fact, more than 11,000 customers have bestowed five stars on the versions for men and women, respectively.
Shop Now
10
Traction Cleats
Who doesn't want a little extra security in life? Yaktrax traction cleats add stability when walking or jogging—especially appreciated on slushy or icy surfaces. Made with abrasion-resistant steel coils with zinc coating to prevent rusting, the cleats easily slip on and off shoes or boots.
Shop Now
11
Boost Oxygen
Hiking or skiing at altitude is no place to become weak or dizzy due to lack of oxygen. Boost Oxygen's portable canisters of 95 percent pure oxygen is easy to pack and carry with you for when you need help catching your breath. Note that canned oxygen isn't totally backed by science, but we believe that the placebo effect is very real.
Shop Now
Related Stories
All products have been hand-picked by our writers and editors. Items purchased through links may earn us a commission.