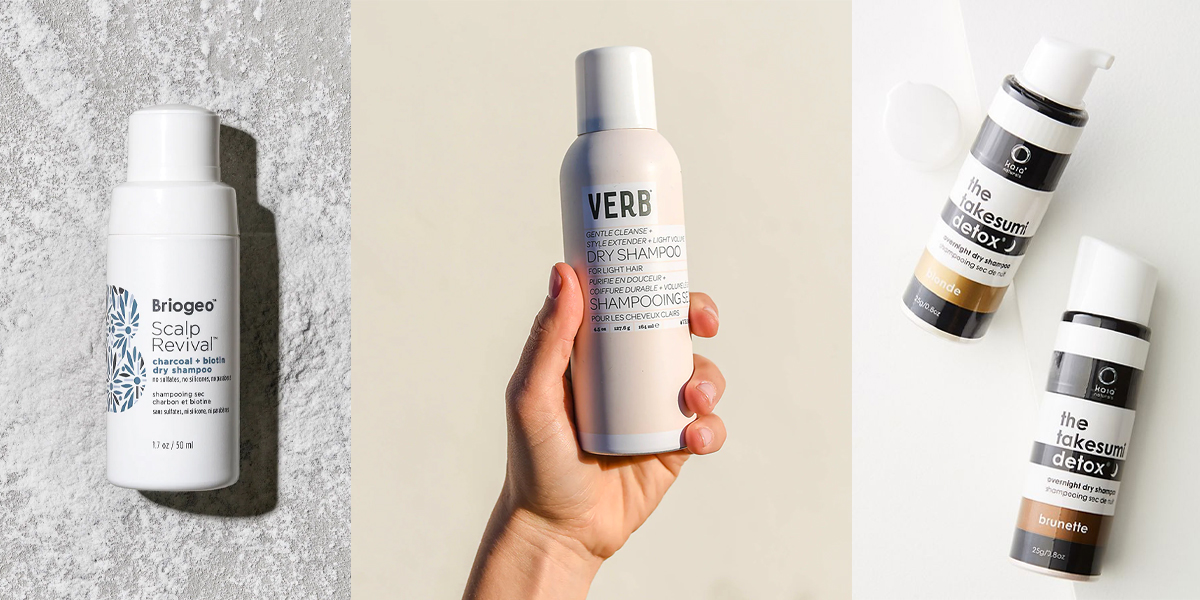 Shop
14 Best Dry Shampoos for Fresh and Clean Vacation Hair Without a Wash
Aside from face cleanser and sunscreen, there's no vacation beauty bag item more worthy of space in your toiletry bag than dry shampoo. Just one travel-size bottle can significantly cut down on shower time (not to mention drying and styling)—which is better spent exploring your destination city! Dry shampoo will extend Friday's blowout well into Sunday, to stay Insta-ready with minimum effort. Dry shampoo also doubles as the perfect texturizer and volumizer to help hold your updo in place or add lift to a breezy, loose curled style. Whatever hair type you have, we found the perfect dry shampoo for you. It's going to make your life so much easier.
How to Correctly Use Dry Shampoo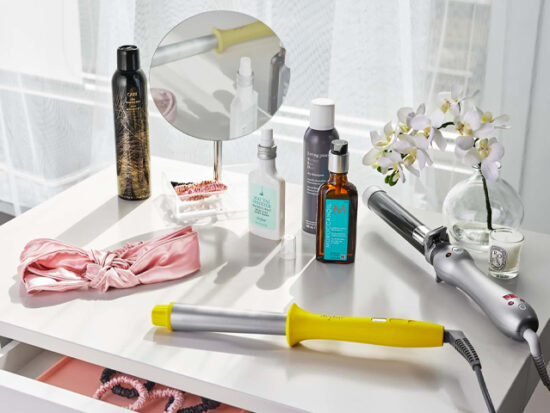 Applying dry shampoo correctly is a lot like blow drying your hair—without the damaging heat and sore arms. Start by sectioning off your locks the same way you would for a blowout. For ultimate ease, clip up your hair with Drybar's Hold Me Hair Clips. Sectioning the hair ensures the dry shampoo will reach your roots from multiple angles beyond your hairline and part.
Once your hair is divided, shake your dry shampoo—an important step whether it's a powder or spray—then hold the bottle six to eight inches from your scalp. Start with a light application of the product (you can always add more, if needed), covering each line you created when sectioning your hair. Remove the clips, and massage the product thoroughly with your fingertips. For powder dry shampoos, finish off your look by brushing any excess product from your roots through to the tips of your hair with a boar bristle brush (try Drybar's Texas Tease brush, especially if you're looking for extra lift).
Dry shampoo is truly a miracle haircare product, but it's not excused from potentially being too much of a good thing. Frequent use of dry shampoo can lead to product buildup and dry, dull strands. Refresh your roots one to two times a month with a detox product, like Christophe Robin's Cleansing Purifying Scrub with Sea Salt or dpHUE's Apple Cider Vinegar Scalp Scrub.
And remember, different hair types and colors have different dry shampoo needs. Find the best fit for you from our favorites below. Life is going to get a whole lot easier.
1
Best Overall Dry Shampoo: Bumble and Bumble Prêt-à-Powder Très Invisible
For a salon-quality dry shampoo that covers all the bases, no product gets it done quite like Bumble and Bumble's ultimate multi-tasker. Its magic ingredient is French Pink Clay, which quickly absorbs oil and sweat without leaving behind any white residue—even on dark hair. The clay also boosts at the roots for voluminous styling. It's lightly scented, so it will keep your hair smelling fresh without a shower, but won't overpower your perfume of choice. To top it off, added UV filters help protect against sun damage (a feature still missing from most dry shampoos on the market).  
$15 at Nordstrom
2
Best Budget Dry Shampoo: Not Your Mother's Clean Freak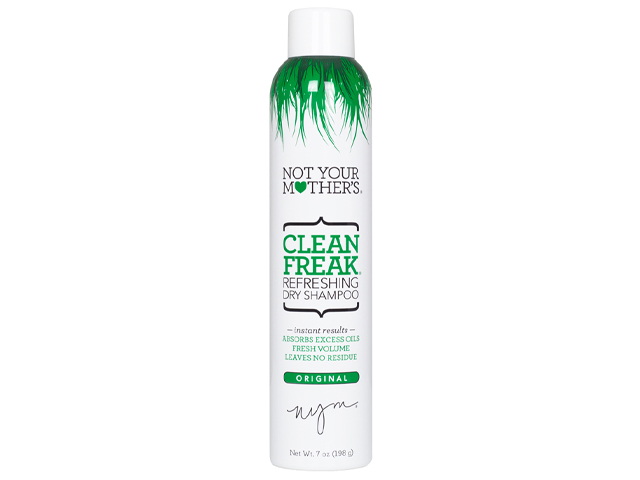 Priced at $5.99 for a full seven ounces, there's no better deal out there for a solid bottle of dry shampoo. Clean Freak is a new unscented take on Not Your Mother's popular dry shampoo formula, making it a perfect choice for sensitive noses—but don't worry, it still deodorizes though it's fragrance-free. And if you're in a hurry, you can pick up a can at your nearest Walgreens or CVS (or order it on Amazon Prime). This is bang-for-your-buck dry shampoo. 
$5.99 at Ulta
3
Best Celebrity Favorite Dry Shampoo: Oribe Dry Texturizing Spray
This Teen Vogue Beauty Award Winner, Martha Stewart Weddings Big Day Beauty Product, Glamour Beauty Award Winner, and InStyle Beauty Best Buy Award is a consistent favorite among celebs (and their stylists) year after year for cleansing, texturizing, and adding volume. Don't let its name fool you—this "dry spray" handles full dry shampoo duties, thanks to Oribe's patented polymers, which quickly absorb oil at the roots. While pricier than other products, its color-safe formula for Keratin treated hair and added UV protection make it clear why this is Hollywood's preferred dry shampoo. Hey, if it's good enough for Duchess Meghan Markle, it's good enough for us. 
$22 at Dermstore
4
Best Dry Shampoo for Black Hair: Klorane with Oat Milk
For locks that range from deep brown to black (or even a dark maroon or teal hue), not all dry shampoos will work. Some products can leave a white residue on darker locks. If you have darker hair, always look for a dry shampoo made with a tint, like this fan-favorite from Klorane. The "natural tint" labeling (which can be confusing, since "natural "doesn't necessarily sound dark) indicates the product will blend well with darker hair colors. We also love Klorane's line for their use of oat milk, which softens strands and won't irritate sensitive scalps.
$20 at Ulta
5
Best Dry Shampoo for Blond Hair: Verb Light
As with darker hair shades, lighter colors (like platinums and pastels), need a purple-hued dry shampoo to avoid looking chalky and discolored. Verb's Dry Shampoo Light is designed not only to cleanse blond strands, but also to enhance color, so you still look salon-fresh between visits. Grapefruit and oatmeal add a light scent to keep your hair smelling sweet between washes, too. If you have unicorn hair, this is your dry shampoo.     
$16 at Sephora
6
Best Dry Shampoo For Curly Hair: Living Proof Perfect Hair Day
Dry shampoo users with naturally curly hair can have a hard time finding a product that distributes evenly enough to cover every swooping curve and curl. One of the most popular dry shampoos on the market, Living Proof's Perfect Hair Day, is our preferred pick for freshening curls between washes. To properly apply, shake, spray, and wait a full 30 seconds. Then flip your hair over, and gently massage your fingers over your scalp to evenly distribute the product without causing curls to frizz. Curly hair, don't care. 
$14 at Nordstrom
7
Best Dry Shampoo for Added Shine: Batiste Strength and Shine
If glossy locks are your main dry shampoo objective, Batiste's Strength and Shine spray is the right product to try from their (very) extensive line. For a simple layer of sheen, Batiste has added L-Arginine (an amino acid) to their popular dry shampoo formula. Regularly using this product will ultimately strengthen your hair, as L-Arginine helps build out its overall structure over time, while keeping it gorgeous on the daily. Hello, shine! 
$6.99 at Target
8
Best Dry Shampoo for Braid Extensions: Taliah Waajid Refresh
To keep your braids fresh for a solid six to eight weeks, and avoid an itchy scalp and dandruff, try Taliah Waajid's Refresh dry shampoo gel, made especially for protective styling. To quickly clean your scalp and hair, apply the gel directly to the scalp at the base of your braids in sections, and massage into roots with a damp washcloth. For a deeper clean, wrap your hair in a hot towel to steam your scalp and open the pores. Made with bamboo, avocado, and peppermint, this dry shampoo gel works wonders on locs, starter locs, braids, and two-strand twists.
$7.99 at Target
9
Best Smelling Dry Shampoo: UnWined Rosé Wine Inspired
Dry shampoo isn't just for cleaning locks, it also makes them smell good. If you want your hair to smell really great, turn to beloved European brand Hask, and their wine-inspired hair products for delicious dry shampoo aromas. Choose from red, white, or rosé—which is our favorite, for its notes of peach, strawberry, and sparkling rose. Each scent is also offered as a shampoo, conditioner, and hair mask, all offering the same antioxidant benefits found in wine itself. Bonus: skipping a hair wash will give you more time to actually enjoy a bottle of wine on vacation. 
$5.39 at Ulta
10
Best Dry Shampoo with UV-Protection: Bare Republic UV Protecting
Bare Republic is our choice for a UV-protecting dry shampoo because…well… they're actually a sunscreen company! There's no one we'd more trust with sun protection, especially since the company's mission statement is to protect the environment, too. All their products are made with clean ingredients, so you can feel good about wearing it out in the ocean. Bonus: The dry shampoo is tinted, so it works on dark hair shades just as well as light. For absolute sun coverage, pair it with their UV-protecting shampoo and conditioner. And did we mention that it smells like mangos? 
$15 at Free People
11
Best Dry Shampoo for Volume: The One By Frederic Fekkai
Most dry shampoos successfully add a boost of volume to your blowout, but if you really want to kick it up a notch, Frederic Fekkai has created a dry shampoo texturizing paste using oceanic clay and blue seaweed extract for volume that will last all day. The clay is the active ingredient for absorbing unwanted oils, while the seaweed helps keep hair fresh and matte. If your style falls a little flat after a few hours on the go, simply reactivate the product with your fingertips for the perfect lift. A two-for-one type of deal. 
$26 at Ulta
12
Best Dry Shampoo for Sensitive Scalps: Briogeo Scalp Revival Charcoal + Biotin
Harsh chemicals can do a number on sensitive scalps, which is why Briogeo has built their dry shampoo around Binchotan charcoal, which detoxifies impurities as it supports the hair at its roots. Tapioca and rice starches are used to gently absorb excess oil, and witch hazel extract is added to rebalance the scalp's oil production, so less product is needed over time. As a bonus, Briogeo has included biotin, which is known to increase hair growth. You can't put a price on that. 
$24 at Sephora
13
Best Drugstore Dry Shampoo: Dove Refresh + Care Volume & Fullness
If all the dry shampoo options have left you overwhelmed (we get it, there are SO many dry shampoos!) don't fret. You can walk into your nearest Target (or Walgreens or Walmart) right now and leave with a solid option—in fact, it's one of our overall favorites! Just like with their beloved soaps, deodorants, and moisturizers, Dove has made a lightweight dry shampoo that nourishes strands from roots to ends. Just a few sprays fully cleanse and add lift to fine, flat hair in need of a little TLC between washes. 
$4.89 at Target
14
Best Heavy-Duty Dry Shampoo for Camping: Kaia Naturals The Takesumi Detox Overnight
Imagine waking up after a night sleeping outdoors and feeling like you didn't just sleep outdoors. It can happen with Kaia Natura's Overnight Dry Shampoo, ideal for any camping (or music festival) trip. It works while you stargaze, and you start your new day as if you actually got a chance to shower! Time-activated deodorizers and ultra-micronized powders are the secret weapon for being the freshest camper at your site. This dry shampoo's hint of Japanese Camellia is a sweet smelling bonus. Choose between blond and brunette formulas. 
$32 at Anthropologie
Related Stories
All products have been hand-picked by our writers and editors. Items purchased through links may earn us a commission.