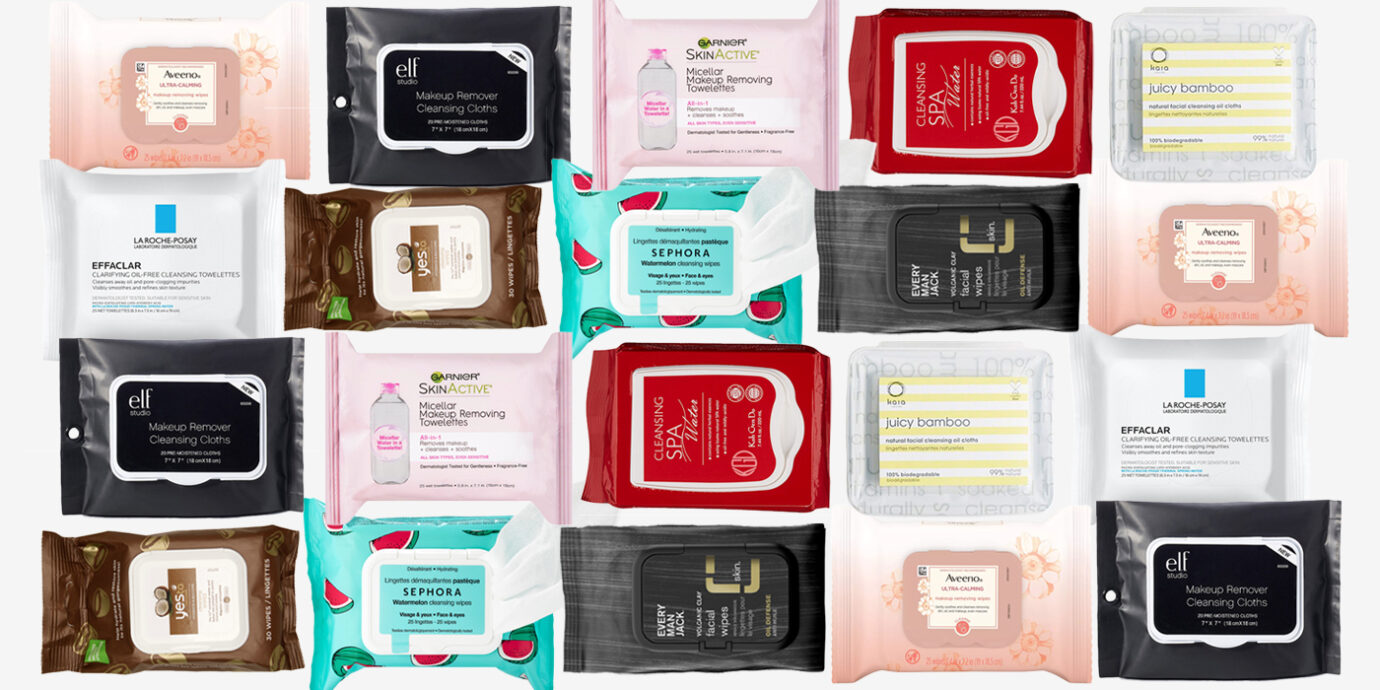 Shop
The Best Face Wipes for Clean Skin on Travel Days and Beyond
Traveling leaves little room for 10-step skin-care routines (literally and figuratively). When you're falling into a hotel bed after a long day of travel, you want a single product that just gets the job done. Enter: face wipes. These compact towelettes are one of the best ways to cleanse and refresh tired skin when you're on the road—or 36,000 feet in the air. Whether you're in the market for a clean, eco-friendly face wipe or looking for something super gentle, we've got you covered. Here are the best face wipes to add to your packing list.
1
Best Face Wipe Overall

Beloved drugstore brand Neutrogena has done it again. Over 5,000 reviewers have sung the praises of these budget-friendly wipes, raving about their ability to whisk away dirt, sweat, foundation, eye makeup, and even waterproof mascara. (No easy feat!) Lest you think they must be super harsh to work this well, think again: Like many of Neutrogena's products, the sheets are alcohol-free, so they won't dry or irritate.
Buy It Here
2
Best Face Wipe for Sensitive Skin
If you have sensitive skin, you probably already know—and love—Aveeno. Much like the brand's oatmeal baths and ultra-gentle cleansers, these face wipes are really excellent for people with persnickety skin. Made with feverfew, a flower in the chamomile family known for its anti-inflammatory properties, they soothe redness and ease irritation as they cleanse. But don't just take our word for it—they have more than 500 glowing reviews online.
Buy It Here
3
Best Face Wipe With Natural Ingredients

Just because these biodegradable wipes are formulated with natural ingredients (aloe vera, chamomile, cucumber) doesn't make them any less effective. Reviewers say they remove even "the most stubborn of makeup" while keeping skin happy. Another perk? A portion of each sale goes to the Natural Resources Defense Council's Polar Bear SOS initiative. Good for your face, good for the planet.
Buy It Here
4
Best Face Wipe You Can Use on Your Body

When space is at a premium, single-use beauty products just won't cut it. These double-duty Yes to Coconut wipes pull their weight and then some. Gentle enough to use on your face but strong enough to clean your entire body (hands, feet, pits, and all), they're great for freshening up when showering isn't an option.
Buy It Here
5
Best Face Wipe for Oily Skin

The chicest Parisians swear by La Roche-Posay to maintain their skin, so it's no surprise the brand's face wipes made this list. The oil-free formula easily sweeps away makeup and grime and hydrates skin without leaving it greasy. In other words, they're a lifesaver for shiny, breakout-prone skin or anyone headed to a humid climate.
Buy It Here
6
Best Moisturizing Face Wipe

You have better things to do than spend hours in the hotel bathroom. These K-beauty face wipes contain ultra-moisturizing jojoba oil, protective argan oil, and balancing green tea seed to give you a full-blown treatment in half the time. They're the wipes to pack if you want to streamline your vacation skin-care routine and stay as glowy as ever.
Buy It Here
7
Best Scentless Face Wipe

There's a reason Cetaphil is constantly recommended by derms: Its products are gentle, simple, and affordable. Fans of the brand's iconic cleansers will love these wipes, which take off makeup without irritating. So will glasses- and contact-wearers—the ophthalmologist-tested sheets are perfectly safe for delicate peepers.
Buy It Here
8
Best Splurge Face Wipe

A little luxury goes a long way when you're traveling. These Koh Gen Do cleansing cloths will transport you to a spa in one swipe. Each sheet is made from organic Japanese cotton, soaked in thermal water, and infused with skin-nourishing herbs and extracts (lavender, rosemary, sage, ginger). Don't let their price tag scare you off—reviews say it's "worth every penny."
Buy It Here
9
Best Budget Face Wipe

No wonder e.l.f. is a makeup artist fave. Not only are its products (and packaging) super sleek and high quality, but the price points are virtually unbeatable. Take these aloe vera face wipes, for example: At $4 for 20, they're as gentle on your wallet as they are on your skin. We're sold!
Buy It Here
10
Best Smelling Face Wipe

Whether you're looking at a flight delay or a long commute home, these sweet-smelling towelettes will put a smile back on your face. The hydrating formula instantly refreshes tired, worn-out skin, and the light watermelon scent is an olfactory vacation in itself. If you're traveling somewhere warm, store a pack in the hotel mini fridge for a cooling pick-me-up.
Buy It Here
11
Best Face Wipe for Men

Formulated with volcanic clay and activated charcoal (two ingredients you usually see in deep-cleansing face masks), these wipes go to town on dirt and oil. They're especially great for beach vacations, when you need to strip away a day's worth of sweat, saltwater, and sunscreen, but they're also gentle enough to use every day.
Buy It Here
12
Best Micellar Face Wipe

Garnier was one of the first brands to bring micellar water to the U.S., so it makes sense that its micellar wipes are some of the best in the game. These take off a full face of makeup without leaving any residue behind. We love throwing them in our carry-on for weddings and other big events.
Buy It Here
13
Best Eco-Friendly Face Wipe

Clean-beauty fanatics, these are the wipes for you. The 100 percent vegan towelettes are chock-full of the good stuff (honey, jojoba oil, vitamin C) and none of the bad (drying alcohols, parabens). But it gets even better: Each wipe is made from unbleached bamboo, which means it's biodegradable and compostable—perfect for day hikes and camping trips.
Buy It Here
Related Stories
All products have been hand-picked by our writers and editors. Items purchased through links may earn us a commission.