Shop
The Best Hair Accessories to Keep Handy
Miniature toiletries and hotel hair dryers can only go so far in keeping vacay hair on-point. Sure, travel-size straighteners and curling irons can help, but they also take up precious room in our bag—especially when we're jetting off with just a carry-on. Luckily, there's another hair solution: hair accessories. The tiny, travel-friendly items can make a world of a difference; rather than hide your hair under a baseball cap (again), why not craft a chic, barrette-punctuated braid or bun that's ready for every stop on your agenda? Of course, the best hair accessories don't stop there—keep reading for the trendy headbands, hair scarves, and glam bobby pins we're packing on our next trip.
1
The Best Headband

Headbands are having a go big or go home moment. Padded varieties, in particular, have popped up on the glamorous heads of royals like Kate Middleton, celebs like Chrissy Teigen, and runway models around the world. Urban Outfitters' take on the trend allows wearers to channel Blair Waldorf with a 1.5-inch-wide headband that's available in rose, black, and cheetah print. While you can certainly craft an entire outfit around the bold accessory, you can also use it in a pinch—say, like when you step off a long haul flight—to zhuzh up greasy or tangled locks. A headband is truly the best hair accessory. 
$16 at Urban Outfitters
2
The Best Hair Clips

For days when you just can't choose between a neutral, animal-print, or glitter hair accessory, Loeffler Randal has your back. The brand's Lola Resin Clip Set comes with three barrettes in glossy marble and tortoiseshell finishes. Use one to sweep a few strands of hair back behind your ear or use all three to create a half-up, half-down look. The clips are super lightweight, so if you think you might need them later, toss them in your purse (or even your pocket) and you'll be good (and gorgeous) to go.
$35 at Shopbop
3
The Best Barrettes for Thick Hair

Thick hair can be both a blessing and a curse. Sure, your coif can likely hold a curl, but can a barette hold it? If your locks are too lush to be held by most clips, bobby pins, and elastics, you may be wary of all hair accessories, but hear us out here. L. Erikson's Volume Brushed Metal Barrette traps even the thickest hair with a tight, curved clasp. With a sleek gold or rose gold finish (both metallics are surprisingly excellent neutrals), the clip is ideal for fancy dinners, theater outings, and gallery openings, but paired with jeans and a tee, it works just as well for airport days. 
$42 at Nordstrom
4
The Best Barrettes for Fine Hair

Fine hair can be especially hard to style. If you've tried every bobby pin and barrette out there only to find them slipping away mere minutes after you've strategically placed them, give Conair's Stay Tight barrettes a go. The set of six gets rave reviews for their ability to keep hair locked in place. Plus, with a thin and thick version of each barrette in tortoiseshell, gold, and black, they'll pair with every outfit in your travel wardrobe.
$4.29 at Target
5
The Best Scrunchies

If you haven't noticed, '90s fashion is back, baby! A number of trends have been resurrected, but none have been as front and center as the scrunchie. Embrace the revival full force, and try out Urban Outfitters' Days of the Week Scrunchie Set which comes in terry cloth, satin, and waffle-knit varieties. Each set includes five scrunchies in a handful of colors so you can match them to your look. Take an entire set on your next getaway and you won't need to pack any other hair accessories.
$12 at Urban Outfitters
6
The Best Functional Bobby Pins
Bobby pins are one of the best hair accessories out there, yet so many of them do a miserable job of securing our strands. If you're tired of using 20+ bobby pins for one bun or getting poked in the scalp, it's time to try a new brand. Conair Scunci No-Slip Grip Bobby Pins are suitable for all types of hair and with a five-star review across the board, it's safe to say they work. Pro tip: to ensure your bobby pins are doing their absolute best, make sure you're using them correctly. The wavy side should be down, guys!
$3.99 at Target
7
The Best Glamorous Bobby Pins
Most bobby pins are finished with a neutral hue that's meant to blend in with your hair color, but this glamorous bobby pin set serves an entirely different purpose. Anthropologie's Carissa Pearl Bobby Pin Set is an elegant way to style updos and braids. Tuck the pearl-topped gold pins into a loose, romantic chignon or use them to conceal flyaways in a highly textured fishtail braid. The chic accessory makes a perfect destination wedding companion, but they wouldn't be out of place in the office, either.
$20 at Anthropologie
8
The Best No-Nonsense Elastics
If you're looking for a reliable elastic that won't rip out your hair or snap as you tighten it, Goody is the brand to beat. Their Ouchless hair elastics come in a variety of sizes and shades to best suit the needs of those with thin, regular, thick, brown, blond, and black hair. If you're the type of person who leaves a few hair ties in every purse, tote, and backpack you own, you'll also be happy to hear that the metal-free elastics come in packs of 32—and for less than $12! Tuck a few into your carry-on and personal item and you'll be set your whole trip. Pro tip: wrap a few around the handle of your travel brush for easy access.
$11.04 (96-pack) at Amazon
9
The Best Hair Ties
We've tried a lot of hair ties in our day and every one of them has had a fatal flaw. Some are too stretchy, some won't even fit on our wrist, and others fail to hold our hair in place, leaving us with sagging buns and ponytails. After much research and a visit to a new stylist, we discovered "telephone cord" ties and since then, we've never looked back. The hair ties are so secure, we've even been able to sleep for a full eight hours without our bun so much as moving. If you're sick of adjusting your ponytail (and readjusting again) then reach for Invisibobbles. They come in a wide variety of colors, but we like the clear version for blending in with any hair color. 
$8 at Sephora
10
The Best Hair Scarf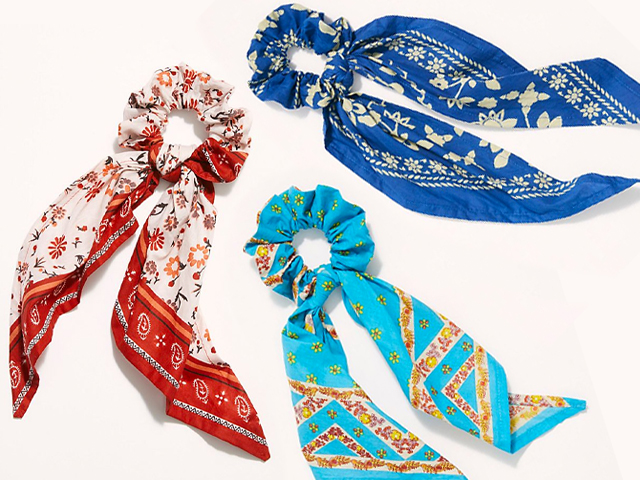 If glammed up bobby pins and tortoiseshell barrettes aren't statement-making enough, let us introduce you to another one of the best hair accessories: the hair scarf. The sleek accessory can be styled a number of ways; wrap it around a topknot, weave it into a loose plait, or use it to dress up a low ponytail. Free People's Beau Bandana Scarf works well with thick curly hair, long straight hair, and everything in the middle. Pick one up in turquoise, peach, burgundy, blue, or red and you'll have no trouble styling at home or abroad. Very Parisian vibes. 
$12 at Free People
11
The Best Hair Bow
No matter the season, destination, or occasion, you can never go wrong with a hair bow. The ultra-feminine accessory instantly upgrades a simple ponytail and takes even the most basic look to the next level. Free People's Bow Scrunchie comes in a variety of colors and patterns, so you can pick one that suits your personal style. The solid black bow gives us major sophisticated NYC vibes while the glam mustard stripe has us longing for a trip to the French Riviera. Tres chic and tres easy—an unbeatable combination for the best hair accessories. 
$6 at Free People
Related Stories
All products have been hand-picked by our writers and editors. Items purchased through links may earn us a commission.