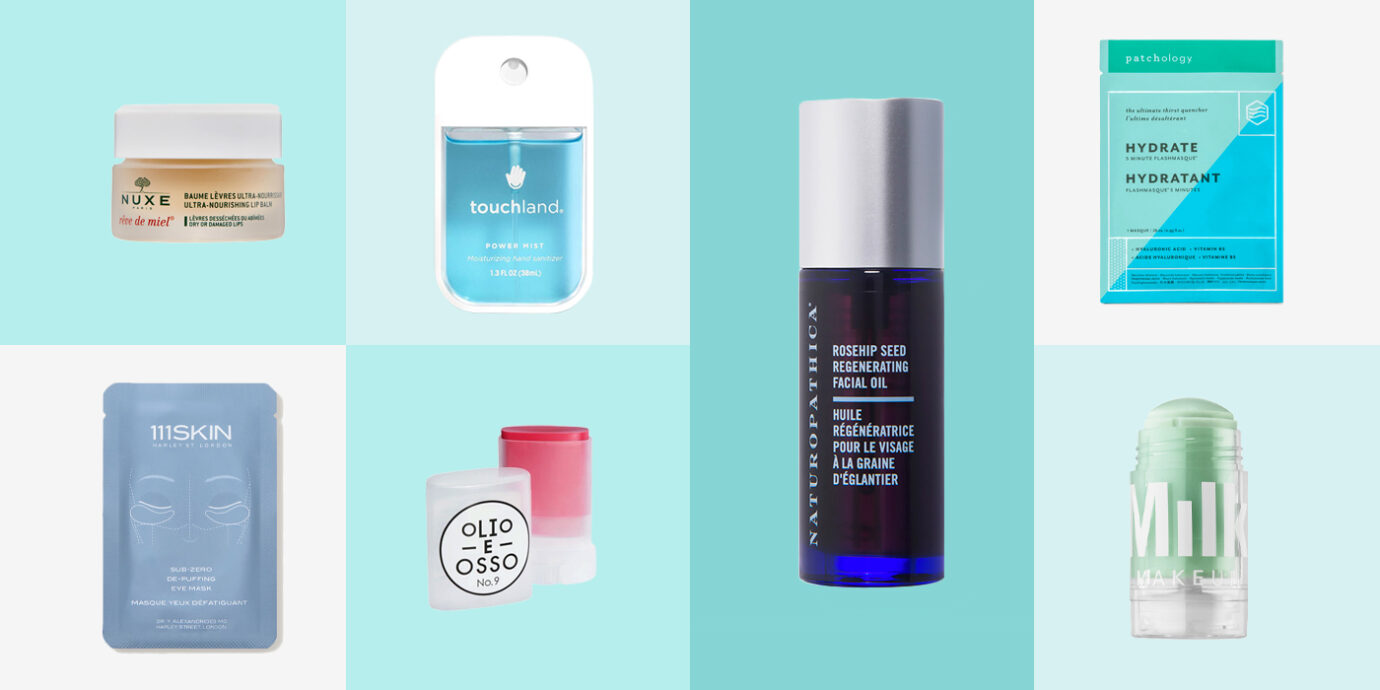 Shop
The Products You Need to Keep Your Skin Happy In-Flight
No shame in an in-flight skincare game. Sure, donning a face mask just inches away from a fellow airline passenger might make you feel a little goofy, but that's a far better way to go than walking around with the tired, puffy, and super-dry skin that long-haul air travel inevitably causes. As you've got better things to do on vacation than nurse jet-lagged skin, we've got the skincare products that will make a long flight less of a slog and more like a spa.
1
Lip Balm

The makers of a certain French all-in-one miracle oil have upped the balm game with this indulgent little lippie. Filled with velvety beeswax, shea butter, citrus peel oils, and calendula extract, the balm heals and protects even the most chapped of lips with a richness that you deserve during a long-hauler.
Shop Now
2
Hand Sanitizer

Planes have a reputation for being giant flying germ canisters, but this handy little spray can spritz away 99.9% of those germs without any of the irritating smells of some traditional sanitizers. Plus, the cool packaging is spill-free and slim enough to slip in a small pocket. It's available in variety of straight-up yummy scents like lavender, citrus, and vanilla cinnamon, but there's also an unscented option if you're wary about bringing any kind of fragrance on a flight.
Shop Now
RELATED: 10 Items for Healthy, Germ-Free Travel
3
Hand Cream

On or off a flight, O'Keeffe's cult-favorite hand cream is your best bet for extra-dry hands. But unlike some heavy-duty hand creams, this one doesn't have a medicinal smell or an ultra-thick, goopy feel. That means no bothering your fellow passengers, no sticking to your tray table, and absolutely no cracked hands when you land.
Shop Now
RELATED: The Best Hand Creams on Amazon, According to Gushing Reviews
4
Face Wipes

Many face wipes seriously strip skin—counterintuitive when you're trying to keep your skin hydrated on a long flight. But Ursa Major's gentle-yet-effective wipes use ingredients like aloe, green tea, birch sap, and willow bark to exfoliate and moisturize without any irritation, redness, or greasiness. A bonus? They're individually wrapped (in recyclable packaging). Stick one in your carry-on and a few more in your clutch as a little refresher after a day of sightseeing once you hit your destination.
Shop Now
5
Facial Cleanser

If a face wipe just isn't going to do the trick, throw this cleansing stick in your carry-on. Swipe the soothing green tea balm over your face, then head to the bathroom for a full-on cleanse. Extra bonus points to this solid cleanser that won't take up space in your liquids bag.
Shop Now
6
Face Mist

A little cooling spritz can go a long way in a stuffy plane cabin. Reviewers love that the mist mechanism for this COSRX spritz is super light and contained, which makes it great for a plane where you're trying to avoid blasting your neighbors. After they see your refreshed glow, though, they might just ask for a splash themselves.
Shop Now
RELATED: The Best Face Mists That Aren't B.S.
7
Face Oil

Swap makeup for rosehip seed oil on your long flight, especially if you've got acne-prone skin that's craving rich hydration. This simple face oil (just eight ingredients) naturally evens skin tones, calms redness, and minimizes the appearance of fine lines while simultaneously serving your face with a jolt of hydration.
Shop Now
8
Sheet Mask

If you're down to devote five minutes to in-flight skincare and not a second more, this is the one item you need. Designed to dish out instant moisture, Patchology's super-moisturizing sheet mask makes a giant difference in hardly no time, but a kick of hyaluronic acid keeps skin feeling light and rejuvenated long after you've slipped it off.
Shop Now
9
Eye Mask

Trying to sleep on an uncomfortable flight requires pulling out all the stops. This silk eye mask is weighted down with flax seeds to apply a gentle pressure and filled with a light lavender scent. The calming combo helps you actually relax.
Shop Now
10
Under-Eye Mask

You're simply not going to find an eye mask better at perking and cooling heavy, puffy lids. A peptide solution works to prevent the bloaty build-up of liquid under your eyes throughout the journey, and coenzymes prevent against the plane's airborne gunk after you've de-masked.
Shop Now
11
Multitasking Balm

Olio E Osso makes a handy little multitasker for when you need moisture but also want a little something extra. The super-portable balms deliver hydration, plus a hint of color in shades ranging from currant to melon. A dab to lips and cheeks during your descent can help give your face a rosy complexion on the outside that belies the jet lag you're already feeling on the inside.
Shop Now
Related Stories
All products have been hand-picked by our writers and editors. Items purchased through links may earn us a commission.