Shop
The Best Snorkel Gear Worthy of Your Next Underwater Adventure
You've got your swimsuit, your sandals, your sunscreen—but have you packed your snorkel? If you're lucky enough to be swimming in some of the most gorgeous places on the planet—Hawaii, Belize, the Philippines, and the Maldives come to mind—the last thing you want is faulty, dinged-up rental gear covered in yesterday's saltwater and tourist saliva. Our take? Skip the leaky masks and floppy flippers and bring your own snorkel gear. We've done a deep dive (see what we did there?) for the best snorkel equipment—masks, fins, and snorkels—on the market today. Add them to your cart, throw them in your bag, and we'll meet you in the water.
FAQs for Snorkel Gear

Question 1: Is it better to buy or rent snorkel gear?
If you want reliable, quality snorkeling gear that fits comfortably and doesn't leak, buying is the way to go. When you rent gear, you've got several things working against you. First, if your flippers don't fit right, you can get blisters while you're trying to glide alongside fish and explore coral reefs. You could be miles from the rental shop by then, and out of luck for exchanging your gear. Renting snorkel gear also comes with a time limit, so you'll have to be careful to return it all in a matter of hours or before the shop closes at the end of the day. And this is your vacation! The last thing you want to do is worry about meeting a deadline.
You also run the risk of being given a leaky face mask. Spotting a school of colorful reef fish is wonderful until your mask fills up with seawater or the edge starts jamming into your cheekbone. Not to mention, you're sharing your snorkel mouthpiece with whoever came before you. We're not going to say you're sucking their dried spit, exactly, but it's not the farthest from Frenching a stranger you'll ever be. Rental outfitters are supposed to disinfect between customers, but that may consist of an alcohol wipe or a quick dunk into a bucket of water and chlorine. All this said, if you only snorkel on vacation once every few years, it may be more convenient to rent.
Question 2: How do I choose the correct size mask and flippers?
There's no way to size a mask ahead of time (we all have such unique faces!), so you'll have to make a best guess based on your face shape and then try it on. To test if a mask fits you correctly, place the mask against your face and press it gently to create a light vacuum seal. If the mask stays in place when you let go, you've got a winner. The goal is to not have to use the straps of the mask to cinch it onto your face, since that will quickly get uncomfortable.
Full-fin flippers are sized the same as street shoes and should be snug, but not too tight. If your fins are too loose, they could cause blisters. Open-heel flippers come in more general sizes (small, medium, large) and have an adjustable strap at the back of the heel. Check the size chart on the fins you're purchasing in order to get your best estimate.
Question 3: How do I clean my snorkel gear?
When you're regularly using your snorkel, wash it with warm water and dish soap and let it air dry. If it's been a while since your last outing, it's worth soaking it in bleach water. A solution of one part bleach to nine parts cold water should be more than enough. Let it soak for a few minutes, then rinse with warm water. Like snorkels, flippers can be rinsed in warm water and dish soap.
Masks are the most delicate snorkeling gear to clean. Most come with cleaning advice, and it's best to follow the manufacturer's recommendations. Warm water and dish soap will often suffice. At a minimum, treat snorkeling masks as carefully as prescription glasses. Use gentle cleaning cloths, and be careful to avoid scratching the lenses.

Question 4: How do I choose a snorkel?
Snorkels are mainly based on your personal preference and their quality. You can tell if it's quality by whether or not it's doing what it says it'll do—does it keep water out like it claims? Can you breathe easily on the surface? When it comes to preference, there are three main groups of snorkel that are popular right now. Here's what you should know about their benefits and drawbacks.
J-Style Snorkel (Classic)
Pros
Affordable
Good for novices
Familiar shape for most people
Cons
Rigid material can be uncomfortable
Water can get inside from both ends
Forcefully exhaling is necessary for clearing water
Dry Snorkel
Pros
Blocks water from entering at the top
Has a purge valve at the bottom for easy water clearing
Ideal for diving while snorkeling
Cons
Top valve can get blocked
More buoyant in the water
Full-Face Snorkel
Pros
More comfortable for beginners
No need to grip a mouthpiece with your jaw
No learning curve
Cons
Not good for diving
Can be difficult to remove
Some tour companies have banned their use due to safety concerns
Question 5: How do I transport my snorkel gear?
If your snorkel comes with a case—problem solved—pack it inside that. If not, you can purchase a case to protect the mask, or you can wrap it in a soft, non-scratching cloth. You can also save room and safeguard the mask by stuffing socks and other small clothing items inside of it. Some snorkels bend, meaning you can roll them up small. Otherwise, lay it in your suitcase where it won't get damaged if it were hit forcefully in transit, like sandwiched between your clothes. Your fins are hardy and can be a final layer in your suitcase, protecting the rest of your items.
The Best Snorkel Masks
1
Best Overall Snorkel Mask: Scubapro Spectra Low Volume 2 Window Dive Mask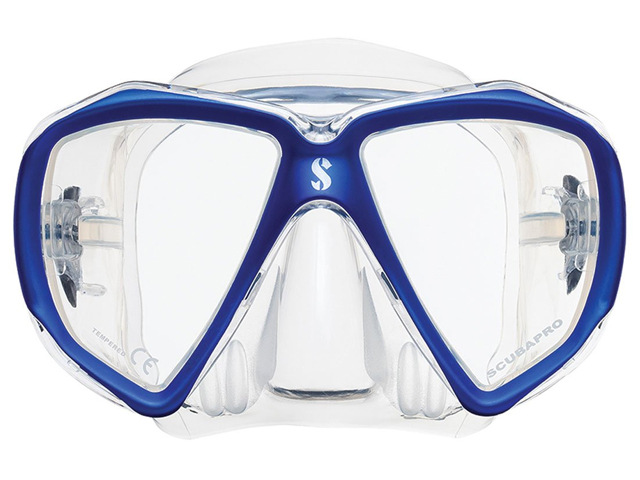 Rated as the best hobbyist snorkel mask by Dive In magazine, this easily adjustable snorkel is considered one of the most comfortable masks for the price and intended audience. The mask has two separate lenses, which makes cleaning and defogging easier. Made from durable tempered glass, the lenses are low-profile (i.e. they don't bug out) so provide an even greater field of view. Do keep face shape in mind: Reviewers say it fits narrow faces best.
$96 at Amazon
2
Best Budget Snorkel Mask: Copozz Scuba Mask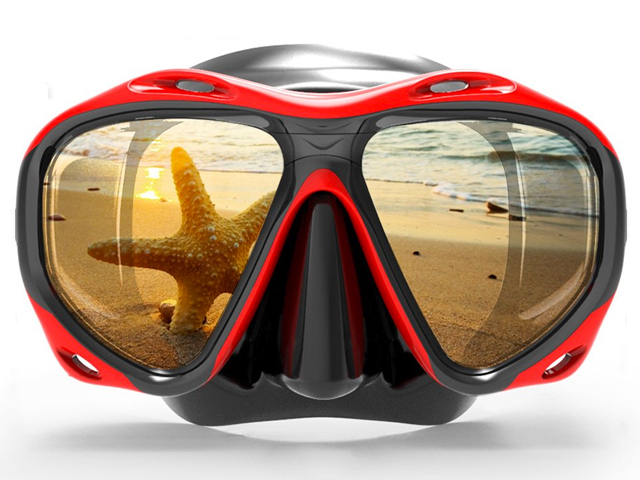 More than 150 reviews on Amazon, and this $19 snorkel mask still has more than a four-star average. Even professional scuba divers praise the quick-adjust straps and soft, double-sealed silicone skirt that prevents leaks. You'll want to be careful to follow the manufacturer's instructions for defogging the mask before first use as, like many high-quality masks, there is a film that has to be removed before use for best performance. The mask can reach depths of 98 feet, and you can add on a dry snorkel if you want to kill two birds with one stone.
$18.99 at Amazon
3
Best Amazon Snorkel Mask: OUSPT Full Face Snorkel Mask
This foldable mask's five-star Amazon rating is the shopping equivalent of a 100% score on Rotten Tomatoes—near impossible to do unless you've got a genre-defining blockbuster. You'll notice this mask is a full-face version, and that does come with some caveats. Namely, it's best used for relatively mellow swimming, and you should definitely be aware that there are safety concerns about this style of mask. There is a one-way valve so that you can do mild dives and avoid water in your mask. Reviewers love that it has a detachable mount for a GoPro, doesn't fog up, and that the mask's medical-grade silicone sealant is supple against the face (it also seals around beards just fine).
From $33.99 at Amazon
4
Best Snorkel Mask for Kids: Cressi Frameless Masks
Because kids have smaller faces, finding a mask designed especially for them is important. This frameless, 100% silicone mask works best for kids ages seven and up, according to reviewers; younger kids may struggle to get a good seal. A single layer of tempered glass gives children an excellent view of everything from sea creatures to the bottom of the pool. The silicone nose pocket makes it easy for kids to equalize their ears underwater, and the straps are extra easy to adjust. If you're an adult with a small face, there's no reason this wouldn't work well for you, too.
From $24.95 at Amazon
The Best Snorkel Fins
5
Best Overall Snorkel Fins: Aqua Lung Express Full Foot Diving Fin
If what you want out of your fins is power, the Aqua Lung Express full-length flippers will get you there. The secret sauce here is that the fins are made from two different materials to increase your ability to cut through the water. There's also a joint in the mid-foot that reduces the pressure on ankles when kicking. When you're out of the water, you'll be grateful for the non-slip material on the bottom of the flippers that will keep you from wiping out on a ship deck. Plus, these fins come in six different colors.
From $64.95 at Amazon
6
Best Budget Snorkel Fins: CAPAS Snorkel Fins
Size does matter—when it comes to traveling with fins, that is. Because these fins by CAPAS are shorter than most styles, they'll take up less room in your luggage; reviewers report they fit in carry-ons and aren't especially heavy. This fin is flexible enough to be worn barefoot or with diving boots if you're going deep in cold water. Choosing a pair with an adjustable back like these will also give you the flexibility of loaning them to friends or family.
From $18.95 at Amazon
7
Best Amazon Snorkel Fins: Cressi Everlasting Family Fins
This is a classic fin style by heritage brand Cressi. As this is a closed-heel fin, it's extra-important that you're sized correctly, but beyond that, the fin will help you do the rest. Reviews are glowing from customers who've done everything from casual snorkels to 80-foot dives in these fins. They do seem to be stiffer than some other brands, so if you prefer a floppier fin, you might want to consider another one on the list.
From $17.95 at Amazon
8
Best Snorkel Fins for Kids: U.S. Divers Sea Lion Junior Floating Fins
Another closed-heel option, this kid version is made of rubber so that the fins float. If your kid has a habit of kicking off their flippers and going barefooted or doesn't like the feeling of being dragged down by big fins, these will be a hit. They're also relatively compact and can be fit into smaller kiddie luggage. Reviewers especially love that the heel cup is soft and somewhat stretchy, so there's room for kids to grow before they need to be replaced. (As far as how quickly they grow out of their clothes, well…there's not much these fins can do about that.)
From $16.75 at Amazon
The Best Snorkels
9
Best Overall Snorkel: Aqua Lung Sport Nautilus Roll Up Snorkel
This is your basic, classic J-shaped snorkel, with one difference: It's bendy as heck. This model can be rolled up into a small circle, which means more room in your bag for vacation clothes. Despite its bendiness, it still hold its shape even in choppy waters, according to owners. Folks also really love the built-in clip that can easily attach and detach the snorkel from your mask. In addition to its comfy flexibility, perks include a compact size and inexpensive price. 
$24.69 at Amazon
10
Best Budget Snorkel: Promate Dry Whistle Purge Snorkel
Unlike traditional J-style snorkels, this dry snorkel can go totally under without letting water in. If some does happen to sneak in, a purge valve helps drain it back out. There's also an emergency whistle in case you ever need to get someone's attention in the water—you know, in case there's a sea turtle or a school of beautiful rainbow fish to point out. Reviewers say the mouthpiece is comfortable and that the snorkel doesn't leak. In case you're particular about your color themes, this snorkel comes in twelve different colors, from all-black to all-clear, and each of them is under $25.
From $19.95 at Amazon
11
Best Amazon Snorkel: Cressi Adult Diving Dry Snorkel with Splash Guard
Cressi's dry snorkel is actually priced similarly to our budget pick, but with more bells and whistles. For example, in addition to being totally submergible, there's also a handy splash guard on the top of the snorkel to keep waves (or frothy kicks from an overeager swimmer) from getting inside, too. Reviewers especially like that the lower half of the snorkel is flexible, which makes it more comfortable than totally stiff snorkels. Like the other dry model on the list, it also has a purge valve for easy clearing should some water get in.
$21.93 at Amazon
12
Best Snorkel for Kids: Cressi Mini Dry
Again, smaller faces mean smaller gear. This is Cressi's kid version of the previous dry snorkel and has the same splash protection, flexible mouth guard area, and purge valve. Because the snorkel is bendy at the bottom, it's easy to position away from it away from the face when your kids aren't using it—meaning they're less likely to rip it off the second they're not underwater and that there's (hopefully) a smaller chance of getting lost or left behind on the beach. Reviewers praised it for kids as young as three years old to as old as 12.
$19.96 at Amazon
The Best Snorkel Sets
13
Best Snorkel Set for Adults: Cressi Palau Mask Fin Snorkel Set
We praised Cressi's individual pieces above, so of course we're going to give you the thumbs up for the all-in-one version. The gear geniuses over at The Wirecutter praised the set's no-fuss, leak-free mask; its portability; and even the bag that comes with it. 
From $55.89 at Amazon
15
Best Snorkel Set on Amazon: IST Orbit Snorkeling Gear Set
If we're going based on Amazon reviews alone, this is the snorkel set that blows the others out of the water (see what we did there?). The open-heeled fins are easy to share, a cinch to pack, and more than enough to power the casual swimmer through the water. Reviewers suggest positioning the mask straps high on your head for the best seal. Bonus: The bag that comes as part of this kit is big enough to store your snorkel gear as well as a few other items like a water bottle or sunscreen, so no need to lug around a big beach bag.
From $49.95 at Amazon
All products have been hand-picked by our writers and editors. Items purchased through links may earn us a commission.