Shop
The 12 Best Travel Candles for Relaxing and Banishing Hotel Room Odors
Whether you're in a five-star hotel or a no-nonsense Airbnb, travel candles are a great way to set the mood for fun, romance, or relaxation—and candle-producing brands are getting hip to the demand. From votive-style versions of a scent you already love to pocket-sized tins designed specifically for hitting the road, there's a travel candle you'll love. PSA: You'll want to follow TSA's matches and lighters policies if you're flying. We've gathered the best travel candles for your total scent satisfaction. Bad smells, begone!
1
Diptyque Roses Small Candle
Beyonce. J. Lo. Meghan Markle. All superstars, all Diptyque superfans—Meghan even burned the iconic candles before and after her wedding! We love the mini version in Roses, a super-fresh variation on the classic floral scent that will make even the most boring business trip feel totally royal. And psst: the elegant jars make perfect cotton buds holders when you've burned all the wax. Upcycle!
$36 at Diptyque
2
Yankee Candle Sage & Citrus Mini Candle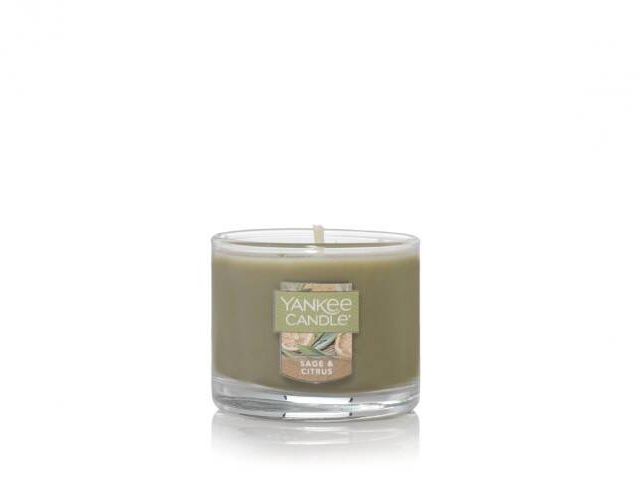 Of course The Yankee Candle Company would make the perfect candle for a weekend away—the company has been the biggest player in the candle game for decades. We love their travel candle (they call it a mini) in Sage & Citrus, which gets a bit of earthiness from the sage and a dose of zing from the citrus. Pro tip: Always burn your candles long enough for the wax to evenly melt all the way across, this prevents the dreaded tunnel effect and lengthens the life of your candle.
$5 at Yankee Candles
3
Archipelago Black Forest Travel Candle Tin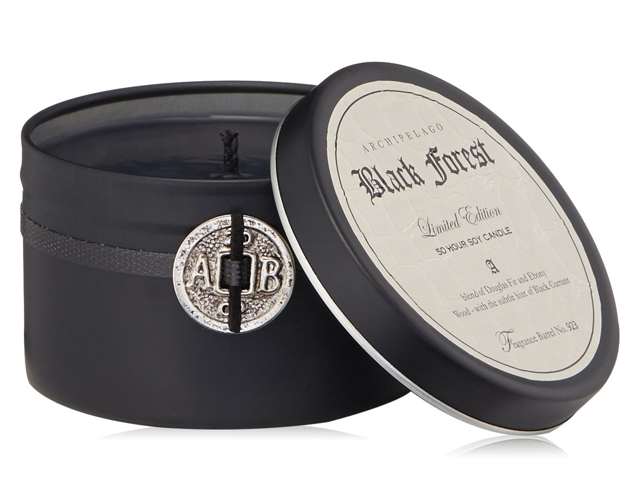 With its black tin and black wax, this Archipelago candle brings the drama! Scented with Douglas fur and black currant, it's wintry, romantic, and a little witchy—perfect for when you want your hotel room to feel like a cozy cabin in a snowy forest. BYO chilling novel.
$15 at Amazon
4
World Market Copper Tin Travel Candle in Rosewood Vanilla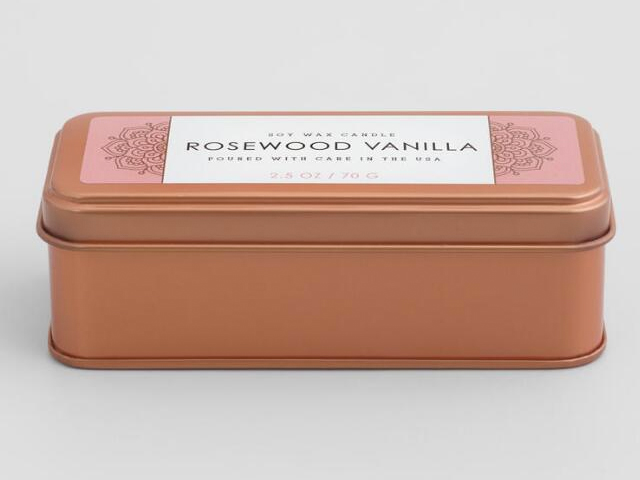 Tin can candles are great for trips—they're light, easy to pack, and super durable. This copper version, in a warm and just-the-right-amount-of-sweet-vanilla scent, is a great piece of decor all on its own—perfect for when you want your Airbnb to feel (and smell) more like home.
$7.99 at Cost Plus World Market
5
Threshold Apple Pumpkin Cider Travel Candle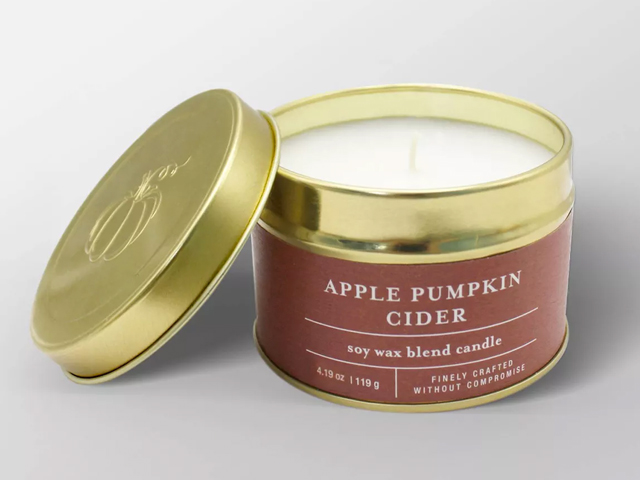 Maple syrup, pumpkin pie, satisfyingly crunchy leaves—the ultimate in autumn vibes. If you can't get to an apple orchard, this candle is the next best thing. It's a little bigger than a standard travel candle, but the lightweight tin makes it a snap to pack for any adventure. And at only $5, you'll have plenty of cash leftover to spend on other fall must haves—like cozy sweaters.
$5 at Target
6
Boy Smells Votive in Lanai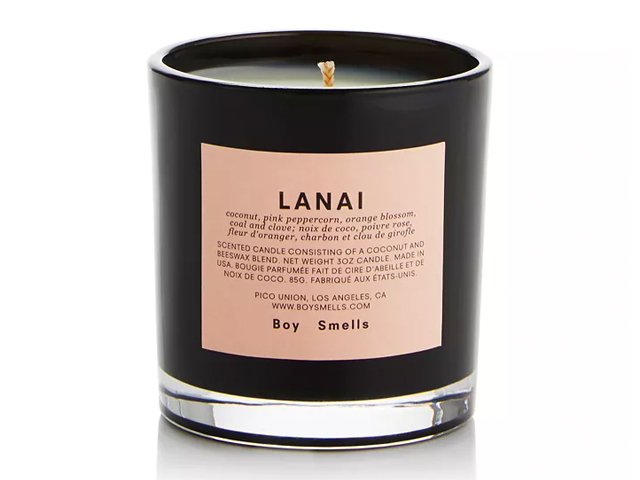 Boy Smells, the name pokes fun at gender norms, is the coolest candle company on the block—catch then in fashion magazines and boutique hotel lobbies around the U.S. The pint-sized Lanai is a tropical vacation in a jar, with notes of coconut and orange blossom for sweetness and a hint of pink peppercorn for spice. This candle is the next best thing to a vacation in Hawaii.
$16 at Bloomingdale's
7
WoodWick Mini Hourglass Candle in Palo Santo
Made of wood from a sacred tree indigenous to South America, Palo Santo has become hugely popular as a scent-setting ingredient in cool households—it's woodsy and earthy without being overpowering. Not only does this pint-sized WoodWick candle add hints of clove and musk to the mix, it's a great way to capture an incredible smell without burning any of the increasingly-rare wood. Set your intention, and enjoy.
$9.99 at Walmart
8
Homesick Mini Candle in Beach Cottage
Homesick Candles are cleverly designed to smell like your hometown, but wherever you're from (or wherever you're going), the brand's Beach Cottage candle is sure to be a hit as you turn any vacation—or business trip—into a beach vacation with marine and plumeria notes. The mini version has an impressive burn time of 12 hours—longer than most beach days.
$15.94 at Amazon
9
Urban Outfitters Artist Print Tin Candle in Honeysuckle
Leave it to Urban Outfitters to turn a humble travel candle into an eye-catching work of art! Not only is each of their 15(!) scents illustrated in a bright and cheerful print, these candles are made from soy. Not only are they better for the environment, they offer a cleaner (and longer-lasting) burn, too. At 2 for $20, you can try every scent to find your favorite—the Honeysuckle version is as sweet as a dewy spring morning.
$12 at Urban Outfitters
10
Jo Malone Travel Candle in Lime Basil & Mandarin
Jo Malone's fragrances are the definition of British elegance—the brand is headquartered in a historic townhouse in a chic London neighborhood, and their candles smell even better than you'd imagine—which is saying something. With hints of tart orange and complex basil, this candle evokes clean, simple luxury and the fragrance quickly fills a room. No wonder it's Jo Malone's signature fragrance, make it yours too.
$36 at Jo Malone
11
Byredo Travel Candle in Burning Rose
Byredo is a relatively new player in the luxury candle marketplace, but since launching in 2006 the Swedish brand has quickly become a favorite of candle aficionados. We love the travel-size version of their signature Burning Rose scent, which turns the classic floral upside down by adding notes of warm birch and sultry leather. Warning: this is a gateway drug to becoming a luxury candle addict.
$43 at Nordstrom
12
Catbird Travel Candle in Summer In Italy
OK, so you might not actually be spending your summer vacation in a Tuscan villa, wandering through olive groves and swimming in a jewel-blue sea, but with this candle (from Brooklyn's uber-trendy Catbird boutique), you might feel like you are! And at only $14, it's definitely the cheapest way to get into the 'ciao!' state of mind.
$14 at Catbird
Three Other Ways to Make Your Hotel Room Smell Nice and Feel Relaxing
Turning a hotel room into a relaxing sanctuary is as simple as lighting your favorite travel candle and getting cozy with a few other easy-to-pack spa-like accessories. Who can relax in a hotel room that's not completely clean? Use EO sanitizing wipes to freshen up the remote control and your nightstand, with the added benefit of a relaxing lavender scent. Put the bathtub to good use with a sprinkle of French Girl Calming Bath Salts. Four organic salt varieties four salt were hand-picked to soothe achy muscles and calm the mind—very important after a day of travel. Finally, spritz your pillowcase and linens with Victoria's Lavender Spray. It's made in Oregon, with 100% lavender oil. Sweet dreams are basically guaranteed. Just don't forget to blow out your candle first.
Related Stories
All products have been hand-picked by our writers and editors. Items purchased through links may earn us a commission.