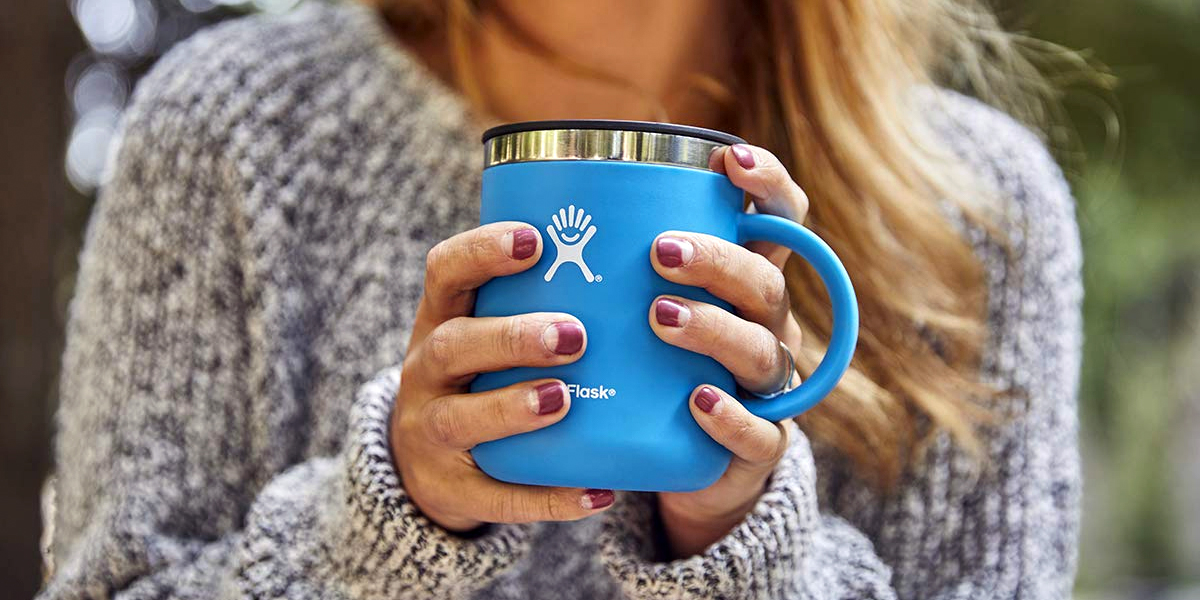 Shop
The 11 Best Travel Mugs That Are Insulated and Leak-Proof
In a perfect world, you'd spend every morning leisurely sipping a delicious espresso in the middle of some fabulous, Italian palazzo. The reality? You're downing a cup of joe on your morning commute or rush to the airport. But just because you're constantly on the go and don't have time to linger at a cafe, doesn't mean you have to skimp on a travel mug. Give your caffeine the first-class treatment with these 11 travel mugs. And when you do get to Italy, be sure to savor that espresso.
What to Look for in a Travel Mug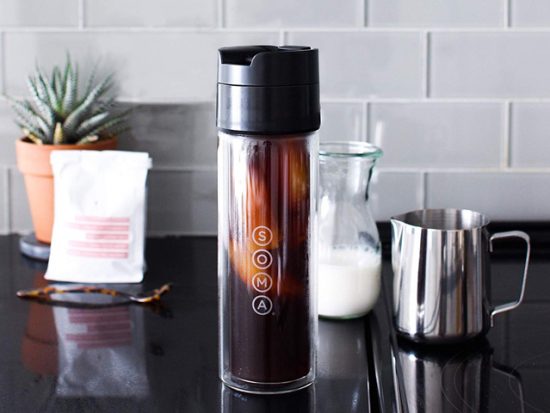 They say that beauty is in the eye of the beholder—and travel mugs are no different. But while everyone may have varying opinions on grips, handles, and materials, it's important to focus on two things: insulation and closure. Whether your drink of choice is a pipin' hot coffee or an overly iced iced tea, it's important to keep your hot beverages hot and your cold beverages cold. An insulated double wall will keep any beverage the right temperature without scorching (or freezing!) your hands. And since nobody wants their travel mug to leak, it's important to select a mug with a tight closure. Check out our top travel mug picks below, so all you have to worry about is which beverage of choice to fill it with.
1
White Marble Traveler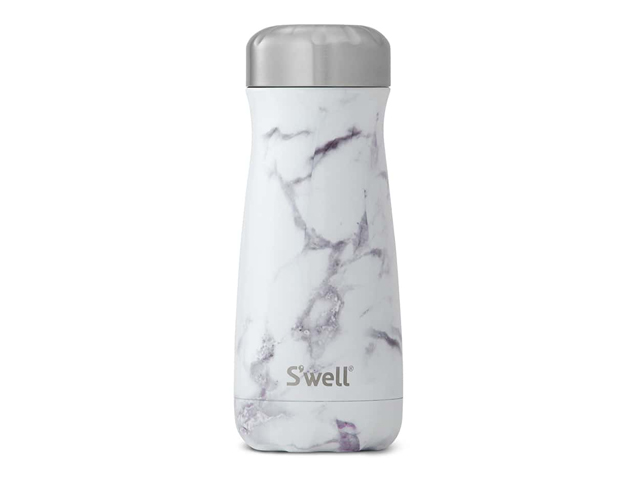 S'well has been the gold standard of water bottles for years, so it comes as no surprise that its line of travel mugs are just as impressive. Not only is the mouth wide enough on the White Marble Traveler to fit large ice cubes (rejoice, iced coffee lovers!), but the copper wall layer creates a condensation-free exterior that won't sweat. Hot beverages stay hot for 12 hours, and icy drinks retain their coldness for a full 24 hours. The marble exterior is indisputably stylish and the ergonomic grip is easy to hold. 
2
Hydro Flask Coffee Mug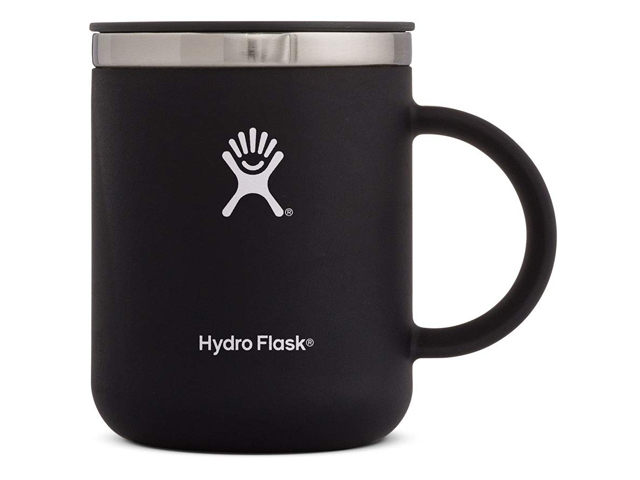 Heading to the great outdoors? You're going to need a camping mug. Made of stainless steel, this Hydro Flask option is sturdy enough to withstand dents and drops that may occur during your big adventure. The spill-resistant lid nests within the rim of the cup, leak-free sipping. And, like the rest of Hydro Flask's inventory, this mug features a double-walled insulation that keeps hot beverages toasty for up to six hours and iced ones cold for an entire day—making it a sound option for chilly nights by the campfire and grueling hikes alike. As a bonus, this compact style can easily fit inside your backpack without weighing down your cargo. 
$29.50 at Amazon
3
Simple Modern Travel Mug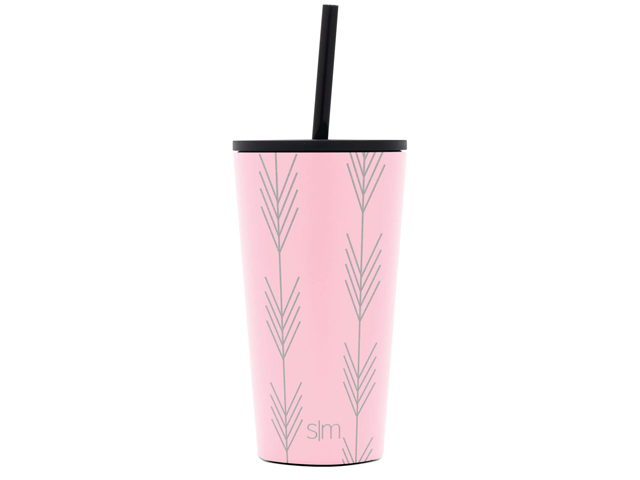 Sometimes, you want options. If you switch back and forth between iced and hot beverages, you should buy a travel mug that does double duty. Simple Modern comes with two lids: an internally threaded straw lid and an insulated flip lid, so you can choose between sipping iced tea through a straw or taking gulps of hot tea via a flip lid. Oh, and if you like to choose colors and patterns, there are 42 fun options ranging from ombre to rainbow and wood grain.
$15.99 at Amazon
4
Zojirushi SM-KC48 Stainless Mug
Consider Zojirushi's mug as the Fort Knox of travel mugs. With a safety lock, tight flip-open lid, and a two-step lid release process, this option is designed to keep your beverage inside your mug. Zojirushi promises its stainless steel vacuum insulation will keep your beverages hot or cold for hours. You can always take advantage of its five-year heat retention warranty if your mug doesn't live up to your standards. It's available in sophisticated black or trendy rose gold.  
$26.49 at Amazon
5
YETI Rambler
YETI is the go-to brand for coolers, and it has its fair share of travel mugs, too. Made with 18/8 stainless steel that promises to keep your iced latte cold, the YETI Rambler has a MagSlider lid, which uses magnets to close your mug. Plus, its condensation-resistant, "no-sweat design" will keep your hands dry even on the hottest and most humid days. With an "Amazon's Choice" badge, 4.5/5 rating, and over 700 positive reviews on the site, this pick is clearly a fan favorite.
$29.99 at Amazon
6
Soma Brew Bottle
Calling all freshly brewed coffee and tea lovers! Soma's double-walled bottle is an on-the-go barista in a bottle. It's perfect for anyone who craves a cold brew or iced tea, but doesn't have the time (or patience) to wait in line. Simply place your leaves or grounds in the stainless steel filter, pour hot water, and enjoy your hot beverage immediately or place it in the refrigerator the cold brew. The result? Some of the freshest coffee and tea you can get to-go. 
$34 at Amazon
7
Ello Jane Travel Mug

Need a mug for your morning commute or cross-country road trip? Try this ribbed ceramic option from Ello Jane on for size. The slim silhouette will slide nicely into your car's cup holder, and the splash-resistant lid will come in handy if you experience any rocky terrain. And though we don't support drinking while driving, the circular handle is perfect for sneaking a sip at the stop light.
$14.99 at Amazon
8
Thermos Travel Mug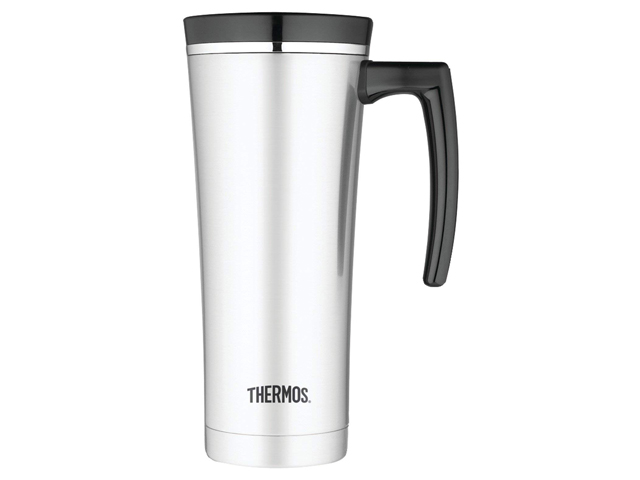 Sometimes, you just need to stick with the classics. Thermos has been keeping soups, leftovers, and hot chocolate toasty ever since the iconic brand started in the early 1900s, so it's certainly a brand to trust when it comes to your coffee. The vacuum-insulated style features a convenient handle and a leak-proof lid you can open and close with the push of a button. Best of all, there's a convenient tea hook at the base of the lid, so you won't have to worry about your tea bag falling into the brew. 
$29 at Amazon
9
JOCO Glass Coffee Cup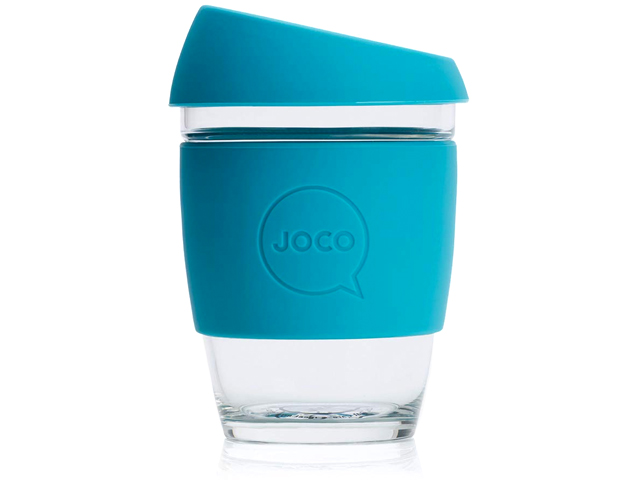 Nobody needs a huge travel mug for an itty-bitty espresso. Featuring standard barista sizing, JOCO's 12oz glass coffee cup option is a great option for small shots of caffeine. Plus, it's microwave and dishwasher safe so it's easy to brew (and inevitably) clean a cup of tea. The six bold colors are a fun addition to any cupboard or car holder. 
$22 at Amazon
10
RTIC Insulated Tumbler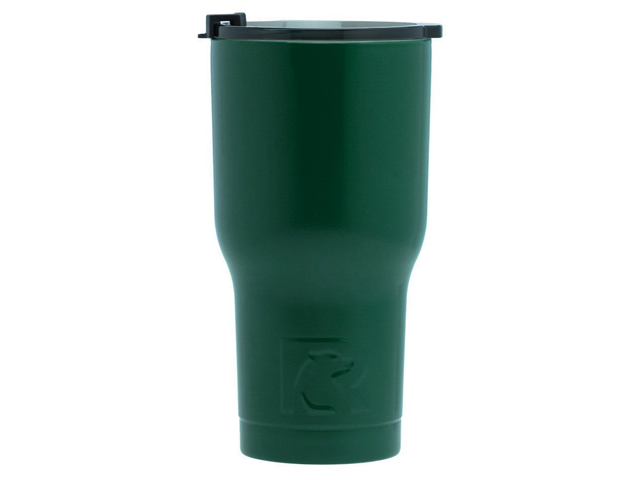 Clocking in at 20oz, RTIC's insulated tumbler is perfect for those days when just one cup of coffee won't suffice. In addition to its totally covetable size, this mug features a double wall vacuum insulation for temperature retention and an easy-to-grip base. It doesn't have a traditional handle, allowing for easy cup holder capability. This option is basically begging us to pour a giant cup of iced coffee, get in the car, and crank up our playlist.
$34.99 at Amazon
11
Contigo Autoseal Travel Mug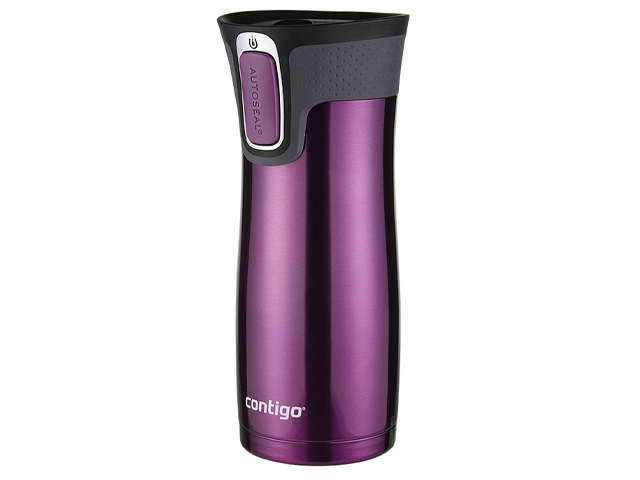 Spills happen, even to the most graceful commuters. Enter Contigo's travel mug, which features a patented design that makes it leak and spill-proof. Simply press the side button, take a sip, and enjoy a spill-free coffee break to-go. And the lid is dishwasher safe, so you can keep it sanitary. 
$13.97 at Walmart
Related Stories
All products have been hand-picked by our writers and editors. Items purchased through links may earn us a commission.