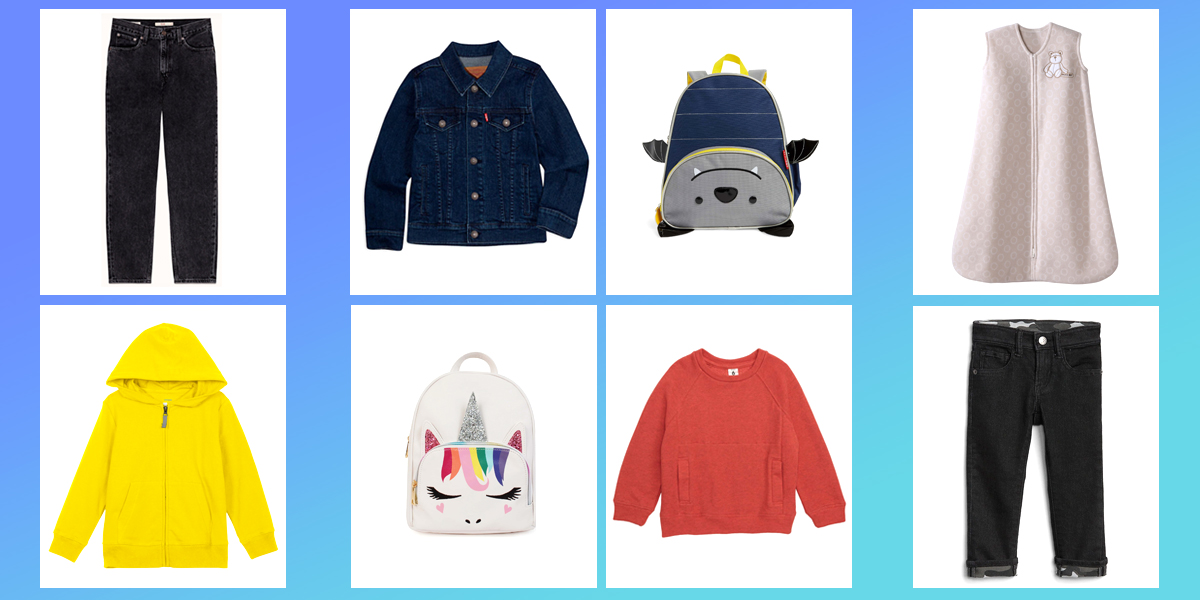 Shop
Best Travel Outfit for Kids of All Ages
Traveling with kids in tow can be stressful. Keeping track of their suitcases, snacks, and energy levels can feel like a full-time job instead of a vacation. One smart way to ensure smooth sailing (or flying) is to lay out the perfect travel outfit for each child the day before your trip—one that's comfy, cute, and built for on-the-go young travelers. We've taken the guesswork out of what your kids, from infants to teens, will want to wear on travel day so you have one less thing to worry about. You're welcome!
The Best Travel Outfit for Infants
Some parents swear that traveling with infants is easier than with big kids: No extra airplane seat to buy, no chasing them around the departure lounge when it's time to board, and most of the time (if you're lucky!), they'll sleep the entire flight. However, being over-prepared for infant adventures (think spit-up and crying jags) makes sense. Dress your baby in cute onesies and pull-on joggers that come in sets, and tuck the spares into the diaper bag. Having several burp cloths and bibs within reach is a smart idea, too. Savvy parents know that a cozy baby is a sleepy one, so warm slippers and a wearable blanket work wonders to ease them into napping bliss (well, one has to have hope, right?).
For Boys and Girls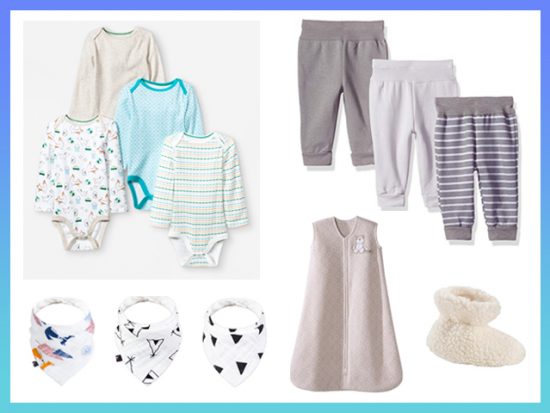 Long-Sleeved Onesie Pack | Fleece Joggers Pack | Bib and Burp Cloth Set | Soft Booties | Wearable Blanket
The Best Travel Outfit for Toddlers
They don't call them the "terrible twos" for nothing, you know. Your energetic toddler will probably not sit Zen-like throughout the entire journey from your house to the resort. That means providing your little one with sturdy sneakers for endless runs up and down the airport gate. Pull-on jeans can be a lifesaver so that potty-training trips don't end in disaster. Pair the jeans with a long-sleeved T-shirt and a super-cute zippered hoodie, since the changing climate inside an airplane varies from boiling hot to icy fresh. And you'll definitely want to roll up a plush blanket into your toddler's carry-on—all that zipping around just might result in some well-earned quiet time snuggling with a picture book or cartoons on your tablet. Yeah, we didn't think they'd nap, either.
For Boys and Girls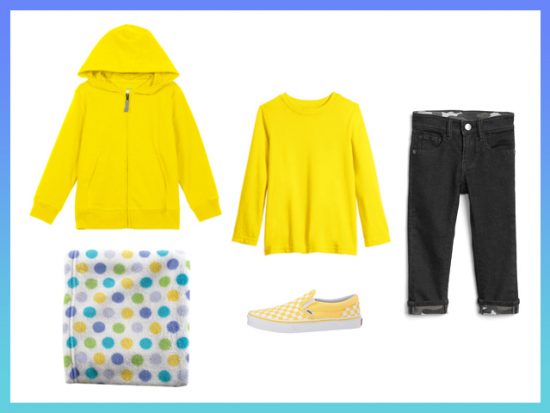 Stretchy Black Jeans | Long-Sleeved Cheery T-Shirt | Cozy Zip Hoodie | Slip On Sneakers | Travel Blanket
The Best Travel Outfit for School Age Kids
Whether your school-age child happily does crafts non-stop on travel days, buries their nose in a chapter book, or asks endless questions about your vacation destination, you can be sure they want to be comfortable while doing it. Printed leggings or joggers that can be matched with various tops are a versatile must-have, perfect for chilly plane rides. A lightweight sweatshirt can easily be layered with a denim jacket, making it a go-to combo for any kind of trip. Water-resistant booties work perfectly for trips during rainy or cooler months, and are sturdy enough for long walks at your destination. Completing the look, kids in this age bracket can carry a backpack with their own snacks and toys.
For Girls


Water-Resistant Uggs | Star-Print Leggings | Ruffled Sweatshirt | Denim Jacket | Unicorn Backpack
For Boys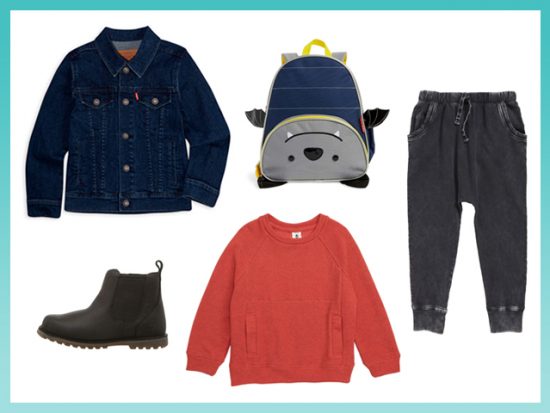 Water-Resistant Uggs | Washed Joggers | Cozy Sweatshirt | Levi's Denim Jacket | Bat Backpack
The Best Travel Outfit for Tweens
Tweens are starting to develop their own style. So let them decide what travel look they're going for. Chances are, it will incorporate their interests, such as a long-sleeved shirt that showcases a passion for skateboarding or dance. Paired with a padded vest to ward off colder temperatures and zip-off pants that transform into shorts when you land in your sunny destination, your tween will feel comfy and look cool at the same time. Sneakers that work for any vacation activity are a great pick, and a roomy backpack (that can be monogrammed with their initials) is a fun way to haul all the electronics you wish they'd leave behind.
For Girls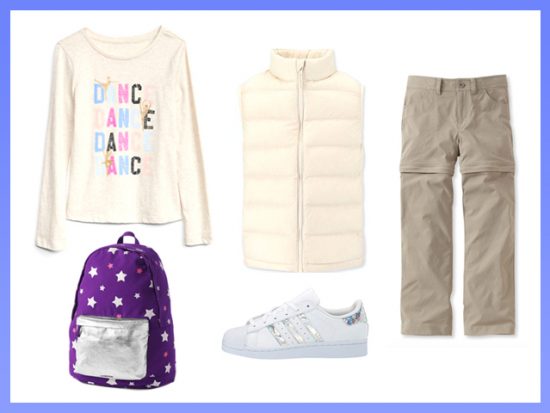 Trekking Zip-Off Pants | Dance Long-Sleeved Shirt | Padded Vest | Sparkly Adidas Sneakers | Star Print Backpack
For Boys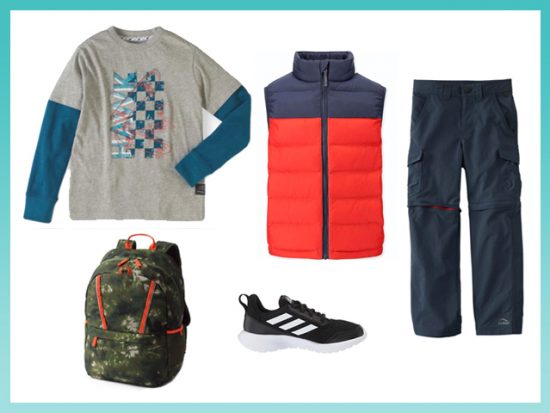 Trekking Zip-Off Pants | Tony Hawk Long-Sleeved Shirt | Padded Vest | Adidas Sneakers | Map Print Backpack
The Best Travel Outfit for Teens
Although it may seem like your teenager covets nothing but smaller, and more expensive, versions of adult clothing, they're travel savvy enough to know that long road trips or endless hours spent in an airport departure lounge calls for something more specific. A pair of dark wash jeans should have enough give to sit comfortably for long periods and they can be dressed up or down. For girls, a scoop-neck sweater is comfortable, pretty, and practical. For boys, a flannel shirt keeps them cool and warm. Since you probably dragged them out of bed for an early-morning flight, they'll be relieved to have an oversized scarf or hoodie for a catnap on the plane between Instagram posts. Chic slides or patterned slip-ons work with just about any look and are easy to slip on and off at TSA. And belt bags (you know them as fanny packs) are a stylish and hands-free travel companion for a teen on the go.
For Girls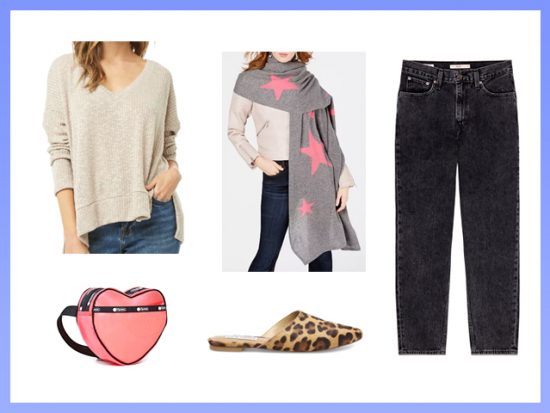 Mom Jeans | Blanket Scarf | Scoop-Neck Sweater | Leopard-Print Slides | Belt Bag
For Boys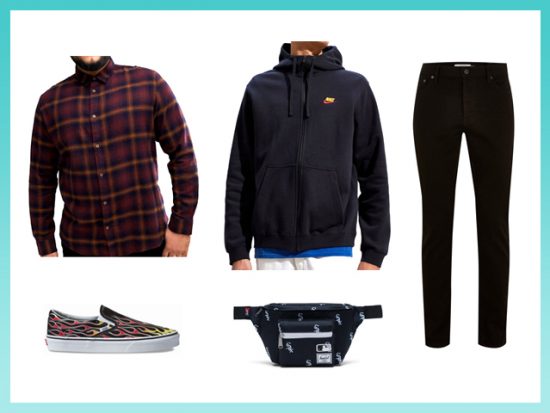 Black Jeans | Flannel Shirt | Nike Hoodie | Slip-On Vans | MLB Hip Bag
Related Stories
All products have been hand-picked by our writers and editors. Items purchased through links may earn us a commission.