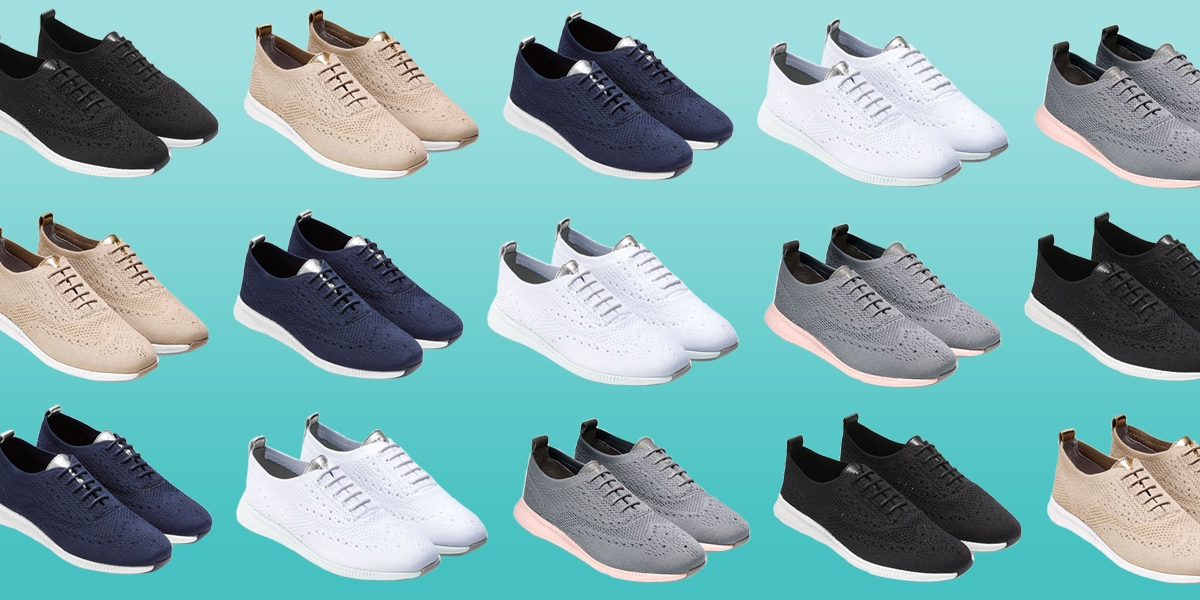 Shop
The Best Travel Shoes For Men and Women on Zappos
When it comes to travel items that can make or break your on-the-go comfort, it's hard to outdo a good pair of shoes. After all, who can make the most of travel days with pinched toes, aching arches, or schlubby-looking footwear? Not to worry, we've combed online shoe star Zappos to find the most comfortable, stylish, five-star-review-worthy shoes for men and women on the go. Consider unbecoming, blister-inducing travel shoes officially a thing of the past.
Women's
1
Best Do-It-All Travel Shoe
When you're trading snow for the sun (or vice versa), a transitional shoe is a travel must. These featherweight oxford-style sneakers with breathable uppers and grippy, slip-resistant soles are ideal for a range of climates, plus their sleek shape and metallic accents make them much more stylish than your standby gym shoes. Best of all, they're flexible and pack almost completely flat, so they won't take up valuable space in your luggage.
$150 at Zappos
2
Best Multitasker
As anyone who's ever tried to puzzle multiple pairs of shoes into a weekend bag can attest, a multifunctional shoe is vital. Sofft's neutral suede Innis sandals fit the bill with flirty straps and a petite wedge heel that give subtle boost to a dinner dress, but also looks right at home with jeans. The padded footbed/low heel combo spells endless walkability.
$99.95 at Zappos
3
Best for Comfort
For those who crave a touch of that hygge lifestyle—even at 35,000 feet—these classic shearling boots are as close as you can get to curling up by a crackling fireplace in the air. Ultra-soft and cushy, these pull-on sheepskin boots have textured treads that will keep you on your feet no matter how slippery the conditions get (don't worry, the suede is pre-treated to resist water spots)—no wonder they've earned more than 6,000 glowing reviews.
$109.95 at Zappos
4
Best Ballet Flat
Ballet flats are a go-to travel style, and these five-star-rated round-toed ones stand above the rest. The sophisticated leather body and Tory Burch "T" logo fit right in for a meeting with the board or a walk on the boardwalk, while the padded footbed and rubber sole seriously up the comfort quotient. But the cute style and comfortable fit aren't even the best part. We love the elastic back and split sole, which help with quick changes and allow the shoe to fold neatly in two—perfect for tucking away in a shoulder bag to save suitcase space.
$228 at Zappos
RELATED: The Best Ballet Flats for Travel
5
Best Fashion Statement
Traveling as a fashionista can be tricky. You want to stay stylish, but also comfortable (and below the airline's luggage weight limit), which means finding versatile, easy-to-wear shoes that will still catch the eye of many a passerby. Enter these square-toe loafers that slip on and off with no trouble, perfect for speeding through security lines and look effortlessly chic while doing so.
$570 at Zappos
Men's
6
Best Skate-Style Sneakers
Sneakerheads and guys who live for comfort agree—a stylish pair of sneaks is the way to go when you're on the road. Fans love this five-star-rated pair of thick-soled, famously comfortable shoes. The iconic canvas kicks come in 10 color options, including cool camo print and black denim.
$64.95 at Zappos
7
Best Classic Style
There's a reason Sperry's classic boat shoes have earned more than 2,000 positive reviews—they blend ageless style and durability in a way that makes them an ideal go-everywhere shoe. The hand-sewn leather uppers look casual and elegant, the wave-patterned rubber outsoles provide tons of traction, and the cushioned heels offer ample support for exploring feet.
$94.95 at Zappos
8
Best Boots
Chelsea boots are a no-brainer for both city trips—from Lisbon or Amsterdam to Chicago or San Francisco—and epic jaunts in the countryside. This handsome pair by Blundstone adds some rock 'n' roll to slacks or a suit, but they're also relaxed enough to match jeans and a tee. The elastic sides and pull-on tabs make getting them on and off a breeze (not always the case with heavy-duty boots), and a specially designed footbed helps distribute the force of your steps so no matter how far your travels take you, your feet won't be throbbing when you arrive.
$184.95 at Zappos
9
Best for Business Travel
Running from your flight straight to a meeting? These airport-friendly leather slip-ons look as slick and sophisticated as a pair of traditional lace-up oxfords, but feel more like your favorite pair of sneakers thanks to their moisture-wicking, foam-cushion insoles.
$180 at Zappos
10
Best Sandals
Get yourself geared up for the shore with a pair of good-looking and practical sandals like these rugged OluKai flip-flops. The whip stitching and sturdy (but soft) leather add a hint of edge to the casual style, while excellent arch support means you won't have to depend on the saltwater's healing properties to wash away your foot pain.
$109.95 at Zappos
Related Stories
All products have been hand-picked by our writers and editors. Items purchased through links may earn us a commission.