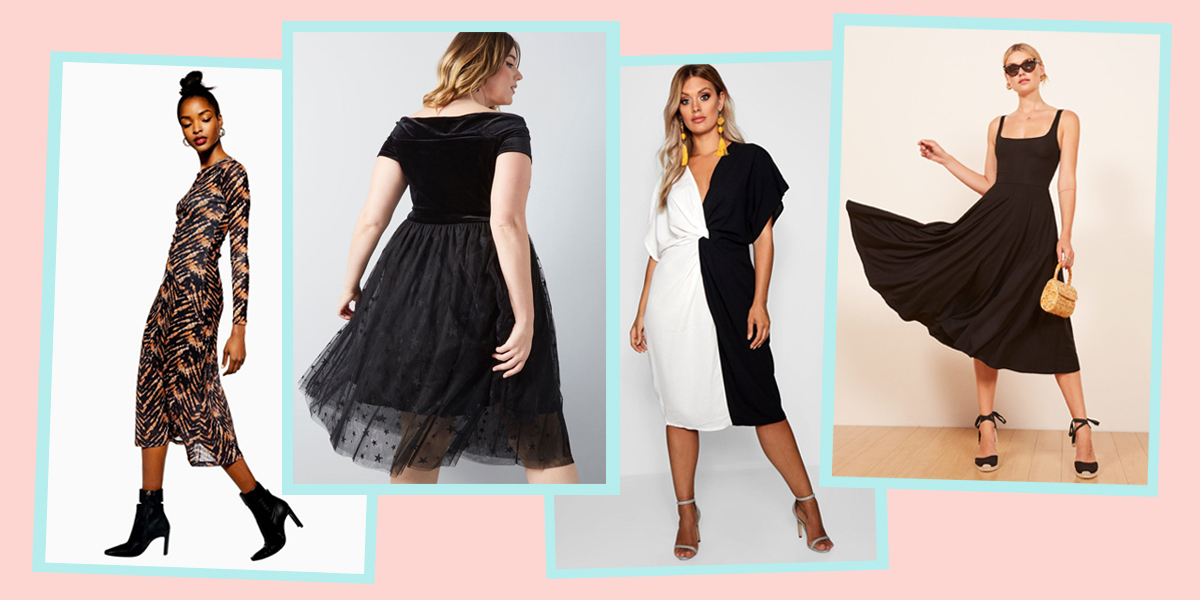 Shop
Packable Cocktail Dresses That Won't Wrinkle in Your Suitcase
Heading to an out-of-town event? Want a cocktail dress that won't wrinkle on your way there? Since you probably already have an engagement party, 10 birthday blowouts, and about a bajillion weddings on the books for this year, you're going to need a party dress (or five) that isn't prone to crumpling. Since we're basically professional wedding guests-slash-partygoers at this point, we thought we'd share our secrets on how to prep in style. Take a look at our favorite packable (i.e. wrinkle-resistant) party dresses.
1
Tie Dye Mesh Midi Dress by Topshop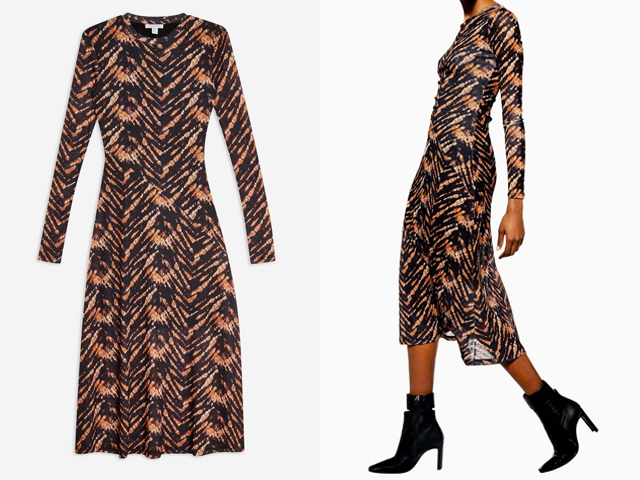 The demure silhouette combined with a statement-making print equals a dress that's easy, eye-catching, and elegant. What's more: The tie-dye pattern is very kind to wrinkles. Pair with strappy sandals and some oversized studs and you've got the perfect look for a night out on the town (or in an industrial warehouse turned wedding venue).
2
Uplifting Aura Off-Shoulder Dress by ModCloth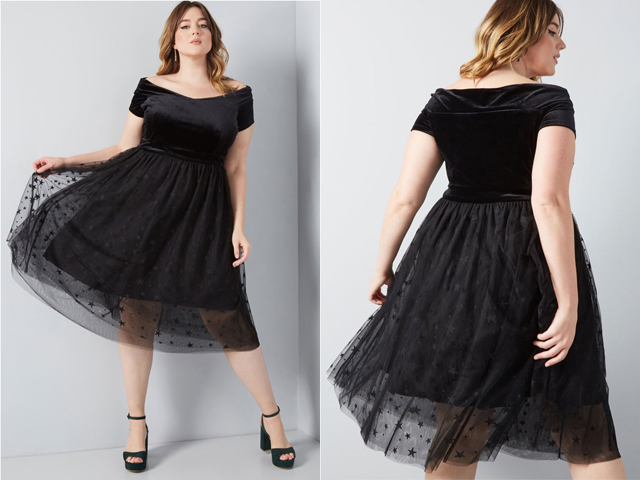 This off-the-shoulder number is a triple threat: luxe velvet bodice, whimsical star-print tulle skirt, and rich black hue. The tulle adds texture, and also stays fairly intact within your suitcase if stored the right way (turned inside out, loosely folded, and cushioned with tissue paper to avoid outside crushing). In case you do get some creases, hang the dress up in the bathroom while taking a shower and let the steam do its thing. In the words of the great Ina Garten, "How easy is that?"
$119 at ModCloth
3
Ray Dress by Sabina Musayev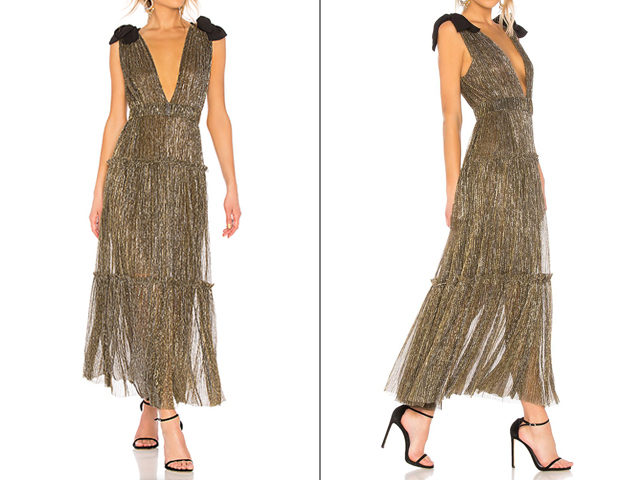 All that glitters is most definitely gold in the case of this sheer metallic dress. Not only is the glam quotient worthy of a Gatsby-level bash, the soft pleats and tiered construction mean you don't have to worry about avoiding the odd packing crease here or there. With this dress, no one will notice, trust!
$411 at Revolve
4
Plus Plunge Colour Block Twist Front Midi Dress by Boohoo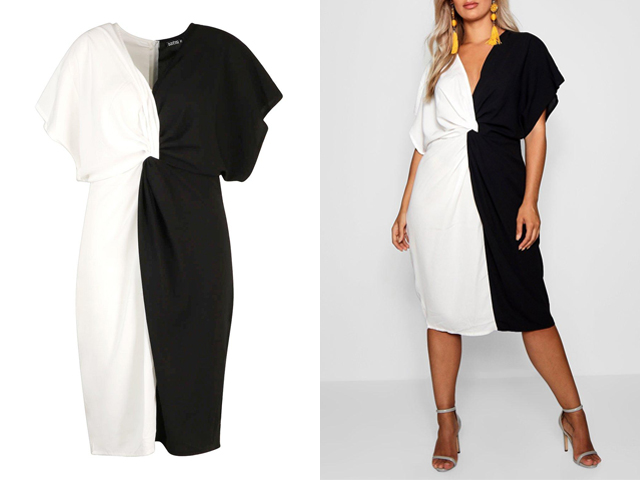 Chic black and white color-blocking? Check. Figure-flattering bodice and sleeves? Check. One-hundred percent polyester material that's resistant to wrinkling? Check. And if a crease does pop up, it will simply look like part of the design thanks to the twisting front.
$25 at Boohoo
5
Strapless Sequin Midi Dress by ML Monique Lhuillier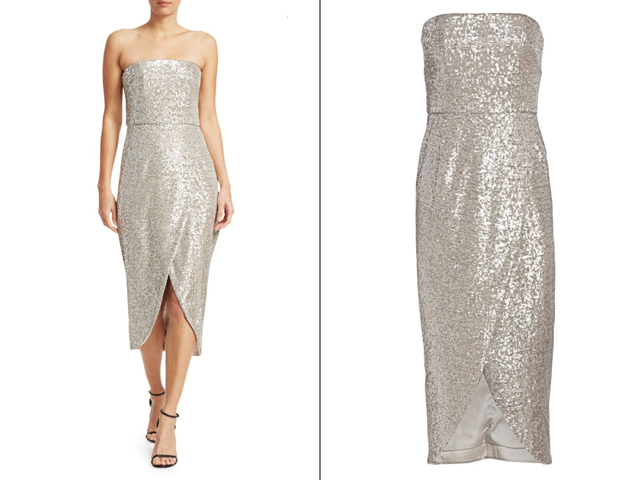 Can you ever really have too much of a good thing? When it comes to sequins, we say no. Which is why we also say this strapless midi from ML Monique Lhuillier is a no-brainer. The all-over sequins mean you can pack it without worrying about crushing or creasing, while the fitted bodice and tulip skirt signal a flattering fit. Pair with a low ponytail and neutral shoes.
$495 at Saks Fifth Avenue
6
Rou Dress by Reformation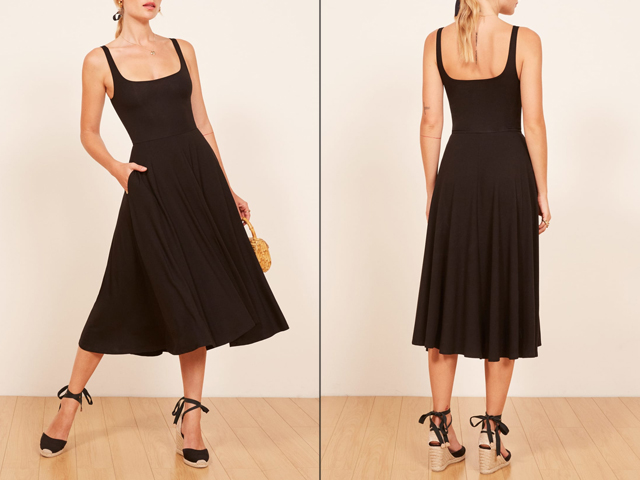 In addition to being wonderfully comfy, knit fabrics are number-one when it comes to packability. Reformation's Rou Dress combines soft knit with a deep scoop neckline and a fit-and-flare shape, forming a real winner of a travel-friendly dress. Wear, love, dance, repeat.
$98 at Reformation
7
Strapless Sweetheart Neck Jumpsuit by Express
Sometimes the best cocktail dress is a jumpsuit. We love this style from Express for its sweetheart bodice and cropped length. Oh, and it has pockets which means you can stash whatever extras you need on hand. Fold and store like a pair of pants so you can just grab and go upon arrival.
8
Lace Handkerchief Hem Dress by Banana Republic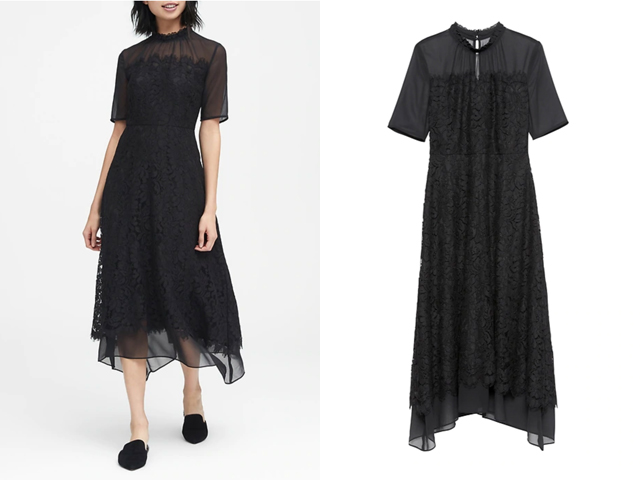 When in doubt…wear textured lace. This ladylike dress from Banana Republic's exclusive Japan collection is modern and romantic, with a sheer bodice and ruffled neckline. The texture of the piece will also help it keep its shape while in transit. If wrinkles show up on the sheer portion, try the old steam-in-shower trick.
9
Floral-Print Mock-Neck Dress by BCBGeneration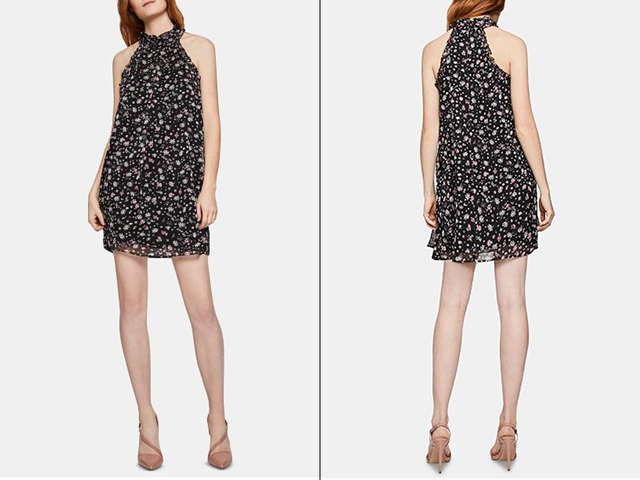 Great news: georgette is naturally crinkled and lightweight, so it's a great travel buddy for out-of-town occasions. BCBGeneration's georgette mini features a delicate floral print on black—perfect for camouflaging any wrinkles that do come about—and even has a ruffled neckline (see, the crinkles are literally built in to the design).
$88 at Macy's
And Don't Forget the Shoes
Related Stories
All products have been hand-picked by our writers and editors. Items purchased through links may earn us a commission.