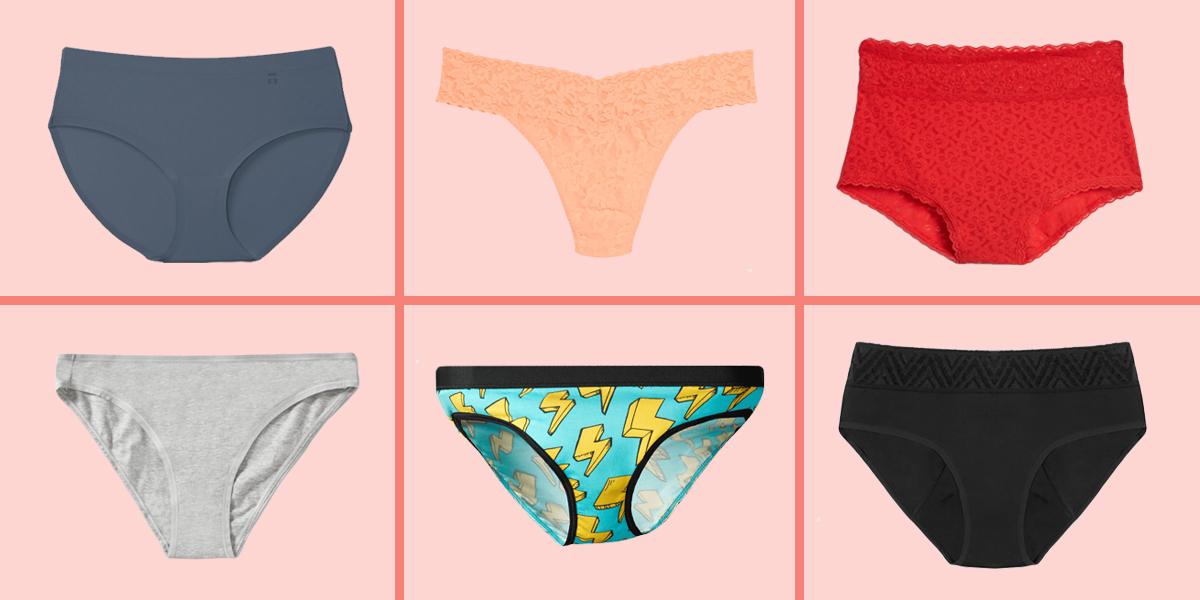 Shop
The 10 Comfiest Pairs of Women's Underwear for Travel
It's a real bummer when your bum ain't happy. There's nothing quite so uncomfortable as needing to adjust your drawers in public. If you've ever lagged behind on a tour just to pull up saggy underwear or spent an entire flight thinking about how to discreetly deal with a wedgie, you know exactly what we're talking about. That's why we believe the very best vacation begins with a dependably comfortable pair of underwear—the kind that's so soft, smooth, and breathable, that you'll almost wonder if you're wearing any at all.
1
No-Show All-Star
A panty without panty lines? Yes, please. Whoever Tommy John is, he's a dude that understands underwear. "Amazing," "Perfect panties," "feels like air," and "Best. Underwear. Ever!" claim a random smattering of Air Brief underwear reviewers. These undies are pricey, but they solve many a major panty problem: They're breathable, moisture wicking, non-pilling, look seamless under clothes, and the edges don't even roll! Plus, they can air dry in four hours flat—which is pretty darn convenient when you're traveling. Sizes range from XS to 2XL.
$28 at Tommy John
2
Classic Cotton
Everlane's classic cotton Bikini underwear are an affordable upgrade from the standard department store six-pack. Made from super soft and breathable supima cotton, these understated undies earn solid reviews from customers who say they're comfy (no bunching or rolling), look great under skinny jeans, and are durable through multiple washes and wears. 'Nuff said. Available in bikini, hipster, and high-rise cuts; sizes XXS to XL.
$12 at Everlane
3
Good-Looking Granny Panty
Practical + pretty = perfect for packing. Gap underwear of all styles receives consistently good customer reviews, but these Lace High-Rise Bikinis get brownie points for transforming the comfy and classic "granny panty" into something sexy. The high-rise cut is having a moment, but it's also a boon for women with proportionally wider hips or bigger bums who find the cut offers better coverage. Customers claim these won't sag or ride up and that they're soft, stretchy, and feel and look seamless—but it's the pretty all-over lace that takes them to the next level. They're available in five colors, including a bold lipstick red. 
$6 at Gap
4
Wedgie-Free Boyshorts
Boyshorts can be a tricky cut. They have a tendency to either sag or give wearers front and back wedgies—ouch! But that's not the case with Maidenform's Dream Cotton Lace Boyshorts. All you have to do is check the reviews to see that wearers of all shapes and sizes give them a thumbs up, citing the comfy, breathable, and stay-put fit. Plus, they're totally cute. They feature a stylish wide lace waistband and a slew of colors and playful prints. Sizes from small to 2XL are available. 
$11.50 at Amazon
5
Athletic
For trips with lots of walking, hiking, or adventuring, these Athletic Bikinis from Knix have you covered. What makes them "athletic?" This fabric is moisture-wicking, breathable, quick-drying, and stretchy enough for any workout. They're also astoundingly seamless under even your tightest yoga pants and leggings. The proof? Equestrians are said to wear them under their so-tight-they-look-like-second-skin white pants. Not sure which size to choose? Knix built a custom, step-by-step fit finder to ensure the perfect fit. 
$18 at Knix
6
Super Soft
Are you looking for the sweatpants of underwear? Perfect for that 10-million-hour travel day, MeUndies are branded as "the world's most comfortable underwear." Astoundingly, they actually seems deliver with almost a 100-percent customer satisfaction rating for comfort. They're made from insanely soft micro-modal (a type of rayon), but unlike some other silky brands, these undies don't slouch or sag, thanks in part to a touch of elastane and bands at the waist and leg holes. The downside? Some customers say they eventually start to pill, but your first piece is backed by a 90-day return policy. Available in tons of colors and—added bonus—playful seasonal patterns and prints like foxes, lightning bolts, and wine glasses. 
$18 at MeUndies
7
High-Cut Waist and Legs
Few undies have seen five-star ratings across multiple department store websites, but the B-Smooth Hi Cut Briefs from Wacoal are the exception. What makes them so special? They're made from a soft, stretchy, smooth nylon/Lycra blend and feature a ribbed (rather than an elastic) waist. A little ruching in the bum keeps them from riding up or, uh, wedging in. For wearers worried about breathability, the gusset (i.e. the crotch area) is a cotton-blend. Brand aficionados rave about how comfortable they are, how seamless they look under clothes, and how well they hold up in the wash—some customers have been buying them for years. The hi-cut waist offers great coverage, too, and the higher leg opening looks sexy on just about everyone.
$9 to $15 at Macy's
8
Sexy Thong
Comfortable can be sexy, and if you're searching for a lingerie-style thong that feels great and stays put, this is the winner. Hanky Panky's Original Rise Thongs are the darling of magazine editors everywhere, and customers rave about them, too. They're somehow crafted from lace that's (1) not itchy, (2) doesn't show through clothes. They are also, astoundingly, one-size fits all (4-14) and come in 20 vibrant colors and patterns. So basically, they're magic.
$22 at Nordstrom
9
Period-Proof
Have period, will travel! It can be a real bummer to bring sanitary products along on a trip, and even more of a bummer when you should've packed 'em but didn't. Enter Thinx: undies that are comfy, durable, and hold up to two tampons' worth of blood. Most women wear them for spotting back-up along with their regularly scheduled menstrual supplies during the main flow, then fly solo with them during light days or spotting. The Hiphugger cut is the brand's best seller and has been redesigned with a durable (and comfy) waistband. Here's to spotless sheets, seats, and skirts! Available in sizes XS to 3XL.
$34 at Thinx
10
Secret Pocket
Money-belt meet girdle. We're not kidding—these panties exist and people like them, with a four-and-a-half out of five stars rating from over 150 Amazon users. While Barbra's Women's Travel Pocket Underwear Girdle Brief Panties aren't the sexiest pair of underwear you'll ever wear, they are super-functional for international travel. The ultra-high-rise undies are made from cotton and have a slight Spanx-style slimming effect. But the piece de resistance is the front and center zippered pocket, which is big enough to hold cash, credit cards, and even a passport. Just check the pocket before you toss it in the wash.
$15.09 at Amazon
Related Stories
All products have been hand-picked by our writers and editors. Items purchased through links may earn us a commission.