By Destination
The 12 Key Items to Pack for Mexico
Sunny skies, tasty food, unbelievably blue water…there are so many reasons why Mexico is a favorite getaway. (It certainly doesn't hurt that the warm-weather destination is just a quick flight from almost anywhere in the U.S.) But before you can throw up that OOO and stake out your Bali bed, you have to pack. Packing can always present a challenge, and for Mexico you'll probably want to bring beach necessities, adventure gear (hola, cenote snorkeling), and perhaps a proper party outfit. You're covered with our checklist of Mexico must-haves.
1
White Off-The-Shoulder Dress
You cannot—we repeat, cannot—go wrong with a white linen dress in Mexico. This particular style takes the sweet-yet-sexy theme and runs with it, adding a smocked neckline, off-the-shoulder sleeves, an above-the-knee slit, and an adorable tassel belt that cinches at the waist. Plan on wearing it for sunset cocktails or an oceanside dinner under a palapa.
$63 at Revolve
RELATED: The Best Dresses for Travel
2
Cover-Up Romper
This slinky-weave, lace-up romper has "M-e-x-i-c-o" written all over it. Multi-use clothing items are a must when traveling, so wear this one-piece as a cover-up for the beach and when you're shopping for souvenirs in town.
$285 at Shopbop
3
Vibrant Top
If you're not wearing a swimsuit in Mexico, you'll most likely be wearing a cute flowing top like this one. (We recommend pairing with jean shorts and fun tassel earrings.) Mexico is known for its gorgeous textiles and vibrant colors, so you'll fit right in with this number.
$97 at Revolve
4
Classic Bikini
Outfit for day one, check! This bikini is made from Hunza G's signature sturdy seersucker, which stays in place whether you're swinging in a hammock chair by the pool or exploring a hidden cenote. Pro tip: Throw your bikini in your purse on the plane, so you can hop in the pool or ocean as soon as you arrive to your destination. (We once awkwardly roamed a Playa del Carmen resort in full N.Y.C. attire for hours while waiting for our room to be ready.)
$135 at Saks Fifth Avenue
5
Sunscreen for Face and Body
Any (day) time, any place: applying SPF is imperative. This feather-light sunscreen blends into skin easily without a greasy after-feel, so that you won't be caught with any streak marks left on your face. It can be used on face and body and is strong enough to resist water for up to 40 minutes. Just don't forget to reapply to skin after swimming! 
$33 at Amazon
RELATED: The Perfect Packing List for the Beach
6
Mini Dry Purse
The beauty of vacay is that your responsibilities go out the window. Except for the one about keeping your essentials—phone, wallet, lip gloss, hotel key card—safe and dry. Enter: this tiny water- and sand-resistant bag, which has a handy wrist strap so you can easily tote it anywhere. Did we mention that it comes in the cutest pineapple, cactus flower, and citrus-fruit prints?
$20 at Havaianas
7
Sun Hat
Say hello to your perfect tropical sun hat. This woven raffia topper looks cute, but more importantly, deflects the strong, skin-damaging rays of the sun. It's finished with detailed stitching on the brim and top of the hat, so you're shaded in style.
$55 at Nordstrom
8
Polarized Sunglasses
Mexico is hot as heck and during daylight hours, the sun is almost always shining. These dreamy blue sunnies have polarized lenses that provide 100 percent UV protection. Equally as impressive, the lenses are plant-based and eco-friendly, and the biodegradable frames are made from a material procured from caster plants—not plastic.
$169 at Zappos
9
Underwater Camera
If you're an adventure junkie, try snorkeling—in Mexico, you'll probably spot a parrotfish or angelfish, and maybe even a sea turtle or two. Capture some of those incredible under-the-sea views with GoPro's waterproof camera, which has an easy-to-use touchscreen for HD shooting pics and videos.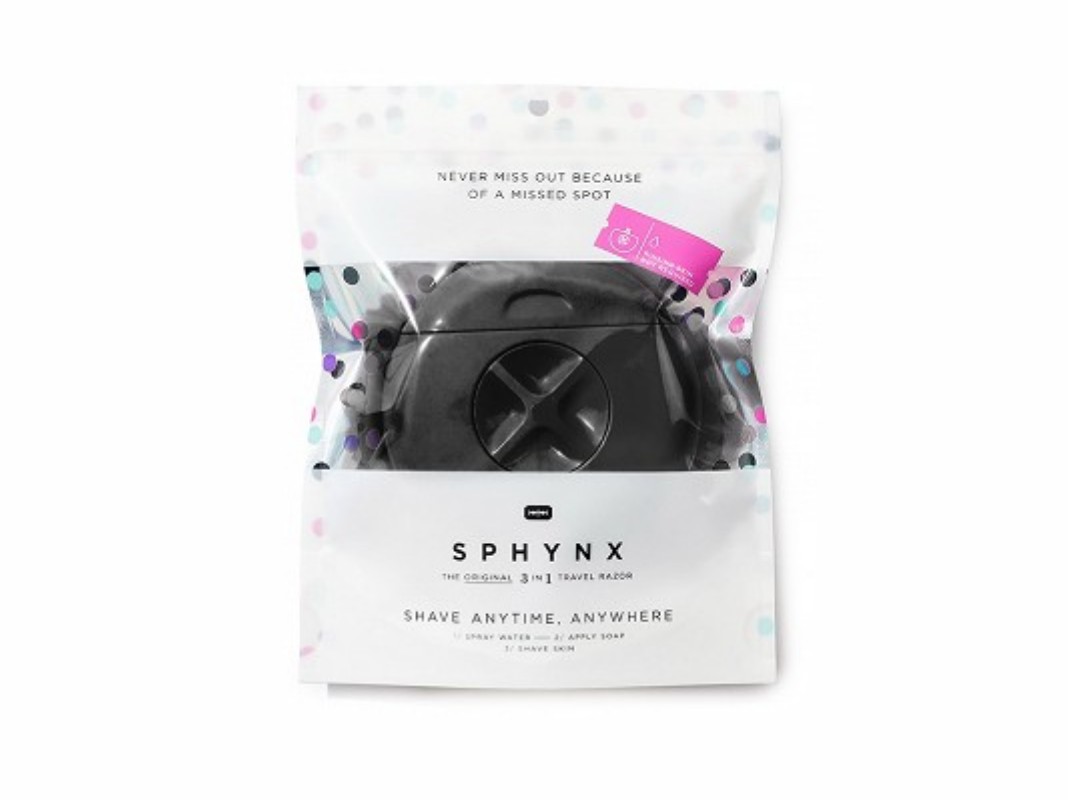 10
Portable Razor
There are travel razors, then there is the Sphynx 3-in-1 Portable Razor. This compact gadget contains two razors, a shea-butter shave bar, and a tiny refillable water spray bottle, which makes it perfect for touch-ups on the go.
$12 at The Grommet
11
Camera Strap
Colorful streets, rugged backcountry, and postcard-perfect beaches make Mexico one endless photo op. Your DSLR will probably spend the whole trip out of its bag and around your neck. These colorful knitted straps are padded with neoprene, so they fit comfortably and wick and dry well. Oh, and go ahead and memorize "iMo"—the strap's maker. You'll probably get questions about it from strangers-slash-fellow photography enthusiasts.
$29 at The Grommet
12
Hair Sunscreen
You already know to pack high-numbered SPFs for your face and body. But don't forget to protect your scalp and hair! This TSA-friendly mist will help you keep your color and not burn your scalp (ouch!) Just don't forget to reapply after about an hour.
$26 at Sephora
Related Stories
All products have been hand-picked by our writers and editors. Items purchased through links may earn us a commission.