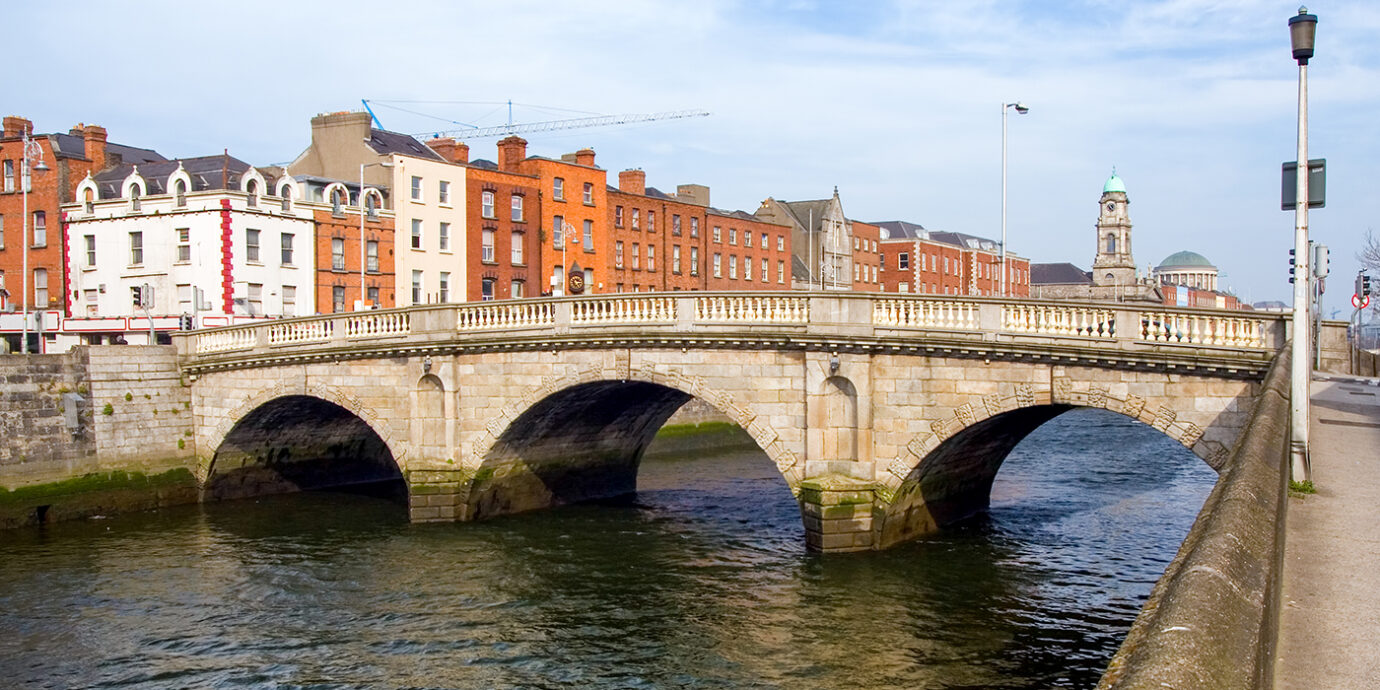 By Destination
The Ultimate Dublin Packing List
Whether you're dropping by Dublin to explore your ancestral roots or you're more of a "Kiss me, I'm Irish" type of tourist, charismatic Dubliners welcome visitors of all types to their lucky charm of a city. From medieval castles and Georgian mansions to traditional pubs and literary haunts, the Irish capital's wealth of attractions can quickly fill up any itinerary. If you've peeked at a forecast, you're probably aware of Dublin's wonderfully mild year-round weather and it's less pleasant pervasive rain, but that's nothing an umbrella, a solid pair of waterproof boots, and a Guinness (yes, it really tastes better in Dublin) can't fix. Keep reading for our comprehensive Dublin packing list and month-by-month guide to the weather forecast. Sláinte!
Your suitcase packing checklist
Click items to view travel editor-approved options
THE PERFECT LUGGAGE
With chilly, rainy weather dominating Dublin's year-round forecast, packing light is particularly tough. That said, if you pack just the essentials, you can still get away with a weekender or small carry-on for trips that don't exceed a few days. Lipault Paris' 20-inch spinner offers ample room for layers, four 360-degree wheels for easy maneuverability, and water-resistant nylon construction (a necessity in Dublin). Plus, it's available in a handful of eye-catching colors, from mustard to light plum. If a small bag just won't cut it, give yourself a few extra inches of packing space with Samsonite's Freeform 24-inch Spinner. The midsize, lightweight suitcase will have to be checked at the airport, but it comes equipped with a TSA-compliant lock and built-in ID tag for extra peace of mind. Inside, ribbon dividers and multiple pockets make it easy to organize your belongings. If your trip calls for a multi-week wardrobe, you'll want to upgrade to a 30-inch model like the Traveler's Choice Solon Checked Spinner. This is a behemoth of a suitcase—so just make sure you really assess your needs before committing. To avoid any baggage claim blunders, the spinner features durable polycarbonate and aluminum construction as well as multiple carry handles and 360-degree wheels. The clamshell design of the interior—along with zippered panels on both sides—allows you to split your items in two sections. A dedicated laptop pocket and two additional zippered pouches also allow you to stow smaller items like toiletries, jewelry, and charging cables.
THE THREE PAIRS OF SHOES YOU'LL NEED FOR EXPLORING DUBLIN
If you plan to partake in Dublin's thriving pub culture—the neighborhood watering holes are where Dubliners go on dates, celebrate birthdays, catch football matches, and sling day-to-day craic (a Gaelic term for banter and gossip), after all—it's important you pack comfortable shoes that can handle a little…overindulgence. Rather than stumble to your cab in heels—no match for cobblestone alleys—start with a dependable, yet fashionable, sneaker. Both the Superga Cotu and Reebok Club C Revenge Sneakers offer comfort without sacrificing style. Next on the list: supportive boots. Dublin is a particularly drizzly locale, so it's best to go with a style that's not only comfortable, but weather-resistant. Blondo's Elvina Bootie and Red Wing's Heritage Blacksmith boot check both boxes. The last shoe you pack will likely depend on the season, but men can never go wrong with an iconic pair of Dr. Martens Oxfords. The shoe's air-cushioned sole will offer all-day comfort while its grunge-inspired look will fit right in on Dublin's streets. Ladies would do well with a slip-on mule like the pointy-toe Flavor loafer mule by Steve Madden. The versatile footwear pairs nicely with jeans, skirts, and dresses and can be dressed up or down to fit the needs of your itinerary and Dublin packing list.
Women's Shoes
Men's Shoes
STYLE FOR DUBLIN
Like many western European hubs, Dublin's style is relaxed but polished. You won't see many Dubliners hitting the streets in cargo shorts or Daisy dukes—and that's a consideration that's both weather and fashion conscious. Pack your travel wardrobe full of neutral tops, dark jeans, trendy trainers, and leather boots, and you'll be ready for potential run ins with celeb locals like Saoirse Ronan, Cillian Murphy, and Colin Farrell (I mean fingers crossed, right?)… Don't forget your rain attire. Dublin gets an average of two to three inches of precipitation each month, so you won't regret having a waterproof coat and boots on hand. Even if the forecast looks clear, it's best to keep a compact umbrella in your purse for surprise showers. Add these outfits to your Dublin packing list.
FIVE FOOLPROOF OUTFITS FOR DUBLIN
1. WHAT TO WEAR TO GO OUT DRINKING IN DUBLIN
Whether you're pouring your first thick and creamy draft at the Guinness Storehouse or sampling Ireland's finest whiskey at iconic—albeit kitschy—Temple Bar, chances are, you're going to be grabbing drinks at some point during your Dublin stay. Casual outfits—think jeans, tees, and sneakers for both the ladies and lads—are totally acceptable, but you may want to make a few upgrades to dress up your outfit. Women can add a layered necklace or an outfit-boosting moto jacket, while men can wear super fresh white Converse and a black bomber jacket.
2. WHAT TO WEAR TO TOUR DUBLIN'S MUSEUMS AND TRINITY COLLEGE
From 16th-century Trinity College and the medieval Book of Kells to Kilmainham Gaol (a former prison) and the National Museum of Ireland (a former army barracks), Dublin has a wealth of cultural institutions. With so many sights to see, you'll want to wear a comfortable outfit that's up for lots of walking and still looks good in all the selfies you'll take. Both men and women would do well with jeans, sneakers or boots, and a light layer that can be added or subtracted as needed for weather.
Dublin Museum Outfit for Women
Dublin Museum Outfit for Men
3. WHAT TO WEAR TO VISIT DUBLIN CASTLE
Dublin Castle doesn't have a dress code, per se, but in the presence of presidential apartments, Gothic Revival chapels, and works by Jack B. Yeats, Sean Keating, and other iconic Irish artists, we bet you'd feel quite under dressed in a crop top. Our suggestion? A polished overcoat and loafers for the ladies, and a field coat and leather boots for men.
Women's Dublin Castle Outfit
Men's Dublin Castle Outfit
4. WHAT TO WEAR TO DINE OUT IN DUBLIN
What to wear out to dinner in Dublin largely depends on your venue of choice. Do you have a romantic reservation at one of Dublin's Michelin-starred restaurants or are you more in the mood for pub grub (fish-and-chips and coddle are local favorites) with a pint? If you're up for the former, ladies can dress the part with an LBD (AKA little black dress), heeled booties, and sleek crossbody bag, while men can opt for chinos, a tucked in button down, slick belt, and suede desert boots. If you're simply swap your heels for flats, untuck your button down, and switch your boots for sneakers.
Women's Restaurant Outfit
5. WHAT TO WEAR TO GO SHOPPING IN DUBLIN
Dublin is a great place to shop. Whether you hit Grafton Street's eclectic boutiques (check out The Harlequin for vintage Irish duds) or posh department store Brown Thomas—AKA Ireland's version of Harrods—you'll have plenty of opportunity to spend. Credit card points = cash or travel rewards = another vacation, after all! Simple equation aside, a day of shopping calls for a comfortable outfit. A midi skirt, fun graphic tee, and trendy sneakers fit the bill for lasses, as does a posh sweatshirt and classic pair of Chelsea boots for the lads.
THE *ONE THING* WTP EDITORS ALWAYS PACK FOR DUBLIN
You need more socks than sandals on your Dublin packing list. Long and leisurely days of walking, cooler temperatures, and rainy days usually call for sneakers and boots over toe-baring shoes and sandals. You're going to need extra socks. When it comes to traveling tootsies, no one takes better care of your feet than SmartWool. Our pick to pack is a pair or two of the Non-Binding Pressure Free Triangle Crew socks, which feature a non-binding top welt that's designed to alleviate pressure. Arch support and the Virtually Seamless toe let you forget about your feet and focus on the fun at hand—or foot.—WTP Editors
DUBLIN'S WEATHER AND SEASONS
With a maritime climate similar to much of northwestern Europe, Dublin enjoys mild weather year-round. In fact, the city's lack of extremes—winter months don't drop below 35 and summer months top out at 65—is a major calling card. Of course, no matter the season, visitors should be prepared for rain when packing for Dublin. Despite the fact that Dublin experiences less than half the total rainfall of its western Irish neighbors, the city still sees two to three inches of precipitation—and near-constant cloud cover—each month. As for winter, snow isn't common here, but hail could make an appearance alongside typical rain. To stay one step ahead of the city's unpredictable weather, Dubliners know to dress in layers and always have a dependable umbrella close at hand. Below, we take a closer look at each month's forecast so you'll land prepared. And if you do get caught in a downpour? As a smart Irishman supposedly once said, "It never rains in a pub."
Note: This data comes from our friends at Weather.com. We recommend using this together with a traditional forecast as you get closer to your departure date.
JANUARY
Plan for day temps between 37 and 46
Expect 2.7 inches of precipitation
What to Wear in Dublin in January: Dublin is no stranger to chilly, rainy weather—especially come January. To combat cold, wet days, pack a midweight, waterproof parka and suite of winter accessories like scarves, gloves, beanies, and lined boots.
Women's Recommendations: Waterproof boots, winter coat, beanie
Men's Recommendations: Waterproof boots, Patagonia insulated jacket, ribbed beanie
FEBRUARY
Plan for day temps between 37 and 46
Expect 2 inches of precipitation
What to Wear in Dublin in February: Much like January, February is a cold, rainy, windy month. Pack your essential winter gear—knit sweaters, lined coats, waterproof gloves, and rugged boots—and enjoy the sights without freezing your fingers and toes off.
Women's Recommendations: V-neck sweater, wool winter socks, Etip gloves
Men's Recommendations: Fair Isle sweater, merino socks, SmartWool gloves
MARCH
Plan for day temps between 38 and 49
Expect 2 inches of precipitation
What to Wear in Dublin in March: Temperatures slowly start to rise in March but don't go breaking out your spring clothes quite yet. Stick with layers—at least one of which is waterproof—and pack an umbrella to tackle inevitable rain.
Women's Recommendations: Windproof umbrella, cashmere sweater, hooded trench
Men's Recommendations: Windproof umbrella, crewneck sweatshirt, waterproof rain jacket
APRIL
Plan for day temps between 40 and 53
Expect 2 inches of precipitation
What to Wear in Dublin in April: The sun begins to peek its head out in April, warming up the city a few degrees at a time. With temperatures climbing their way into the 50s, jeans, a t-shirt, and a midweight jacket will do just fine. If you'll be out at night when things take a turn for the chilly, just make sure you have extra layers to add to your outfit.
Women's Recommendations: Stretch jeans, waterproof booties, hooded raincoat
Men's Recommendations: Stretch jeans, Harrington jacket, jersey T-shirt
MAY
Plan for day temps between 44 and 58
Expect 2.2 inches of precipitation
What to Wear in Dublin in May: Much like April, daily temperatures increase by just a degree here and there in May. Between the beginning and end of the month, low 40s make way for high 50s. Pack layers—jeans, t-shirts, light sweaters, and a midweight jacket that preferably doubles as a raincoat—and you'll be ready to explore.
Women's Recommendations: Knit sweater, mid-rise jeans, Western booties
Men's Recommendations: Skinny jeans, crewneck sweatshirt, windbreaker
JUNE
Plan for day temps between 49 and 63
Expect 2.2 inches of precipitation
What to Wear in Dublin in June: Until the end of the month, when temperatures make their way into the low 60s, June's weather looks pretty similar to May's. Don't be fooled by the mild forecast, though; June is one of the most pleasant times to visit Dublin. Opt for typical spring (rather than summer) attire—midi skirts, light sweaters, jeans—and make sure you have a coat for evenings out.
Women's Recommendations: Ruffle midi skirt, denim jacket, cotton sweater
Men's Recommendations: Trucker jacket, henley shirt, skate sneakers
JULY
Plan for day temps between 53 and 66
Expect 2 inches of precipitation
What to Wear in Dublin in July: On average, July is Dublin's warmest month—but don't expect temperatures to exceed the high 60s. Pack a spring wardrobe of breathable t-shirts, midi skirts and dresses, and cropped jeans. Don't forget your umbrella, either—rain showers are fair game no matter the month.
Women's Recommendations: High-rise jeans, slip-on sneakers, pocket T-shirt
Men's Recommendations: Jogger pants, crewneck T-shirt, curved brim baseball hat
AUGUST
Plan for day temps between 52 and 66
Expect 2.8 inches of precipitation
What to Wear in Dublin in August: August is a pleasant month in Dublin—one where temperatures rarely leave the 60s. Pack breathable cotton layers, a light coat for nighttime, and an umbrella as the month experiences near-constant cloud cover.
Women's Recommendations: V-neck midi dress, compact umbrella, leather mules
Men's Recommendations: Super-soft T-shirt, compact umbrella, Chuck Taylors
SEPTEMBER
Plan for day temps between 49 and 62
Expect 2.6 inches of precipitation
What to Wear in Dublin in September: Temperatures gradually begin to fall in September, with the end of the month clocking in around 50. For early-August trips, pack typical fall attire—jeans, boots, and midweight coats. For late-August trips, it's best to add in a couple of winter pieces like a beanie and light scarf.
Women's Recommendations: Printed scarf, wool-blend coat, Chelsea boots
Men's Recommendations: Recycled scarf, beanie, fishtail parka
OCTOBER
Plan for day temps between 46 and 57
Expect 2.8 inches of precipitation
What to Wear in Dublin in October: Temperatures continue to drop in October, with daily averages in the mid 40s to low 50s. Though winter proper is still on the horizon, it's a good time to break out cold-weather essentials like hats, gloves, and waterproof parkas. Rain boots will also do you well as October dumps 2.8 inches of rain.
Women's Recommendations: Fluffy knit beanie, Chelsea rain boots, Pendleton raincoat
Men's Recommendations: Rain parka, Carhartt beanie, weatherproof boots
NOVEMBER
Plan for day temps between 40 and 50
Expect 2.5 inches of precipitation
What to Wear in Dublin in November: With daylight hours diminishing and temperatures quickly dropping over the course of the month, November calls for winter apparel. Save room in your bags by wearing your parka and scarf on the plane and be sure to pack away gloves and beanies.
Women's Recommendations: Cashmere sweater, waterproof booties, hooded down parka
Men's Recommendations: Lambswool scarf, puffer jacket, flannel shirt
DECEMBER
Plan for day temps between 38 and 47
Expect 3 inches of precipitation
What to Wear in Dublin in December: Dublin's winter months are quite mild compared to many U.S. destinations, but you'll still want to break out your finest cold-weather threads in the face of 30- and 40-degree days. Bring a parka, gloves, hat, and scarf to top off layer-heavy outfits.
Women's Recommendations: Long puffer coat, wool socks, blanket scarf
Men's Recommendations: Short puffer coat, fisherman sweater, twill pants
FREQUENTLY ASKED QUESTIONS ABOUT DUBLIN
Is Dublin walkable?
Ireland's capital is rather compact, so you can cover a lot of main sights on foot. Plus, with cafes and pubs on nearly every corner, you'll have plenty of places to stop for a break. If you do plan on visiting sites outside of the city center, Dublin has buses, trams, trains, and bikes to make your commute easier. See above for the most comfortable shoes you need to add to your Dublin packing list.
Is Dublin expensive?
Sorry to be the bearer of bad news, but Dublin is *technically* one of the most expensive capitals in the world. According to the Economist Intelligence Unit's Worldwide Cost of Living 2019 report, hotel room rates, cost of entry to local attractions, and even basic cups of coffee far exceed averages. If you're looking to stick to a budget, be sure to invest ample time in your itinerary pre-touchdown. If you can snag a hotel deal, have a list of affordable restaurants at the ready, and prioritize free attractions, you'll still have an amazing time in the city.
What are some free things to do in Dublin?
Not to piggyback off of our answer above, but Dublin does have its fair share of free—and worthwhile—things to do. Among other things, you can wander the halls of the National Gallery of Ireland, visit open-to-the-public parts of historic Dublin Castle, stroll around the grounds of Trinity College, and admire the Georgian mansions along Henrietta Street.
What are the best pubs in Dublin for food?
Whisk away fears of soggy fish and stale chips because Dublin's pub-grub game is strong. At spots like The Brazen Head, The Old Storehouse, Bull & Castle, and L. Mulligan Grocer, you can pair pints with dishes of pan-fried mackerel, crispy aubergine, roasted bone marrow, and beef and oxtail pie. Some require a reservation—so just make sure you call ahead of time.
What are some unusual things to do in Dublin?
If you're after unconventional attractions, Dublin has much to offer. Visit Marsh's Library, Ireland's first—and now reputedly haunted—public library; learn about all-things Irish folklore at the National Leprechaun Museum; see mummies in the vaults below St. Michan's Church; take photos of the Hungry Tree—a plane tree which has slowly enveloped a public bench on the grounds of King's Inn. Ask around and you'll find plenty of unusual things to do. Real talk: Nobody likes looking through a slideshow of their friend's vacation photos but hit them with some of Dublin's more eccentric spots, and you'll have a willing audience.
Related Stories