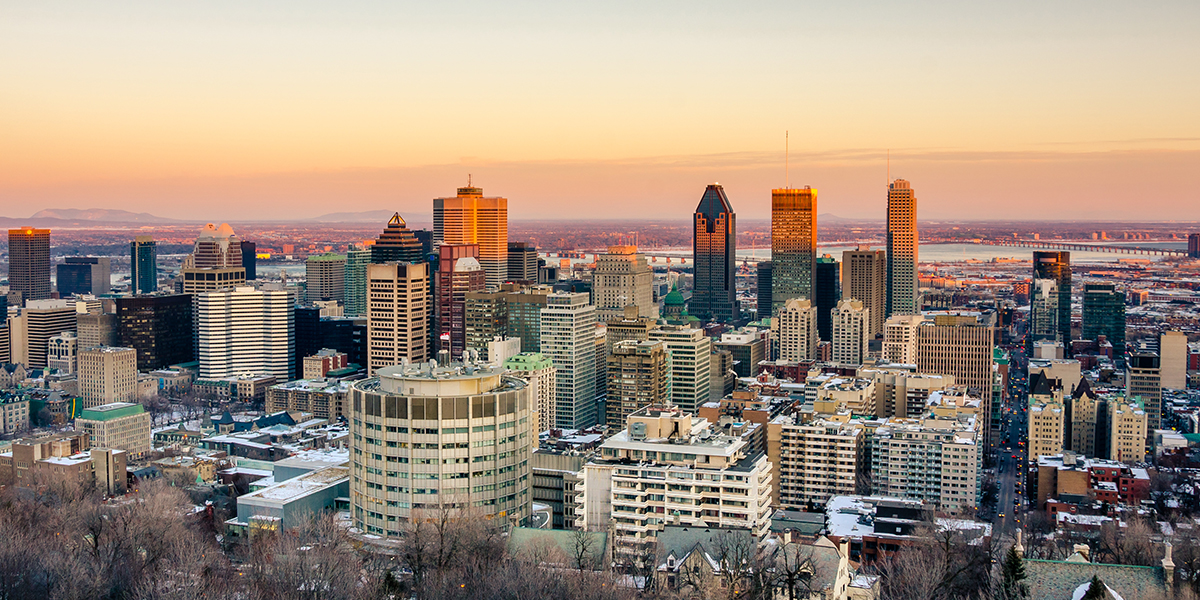 By Destination
The 10 Key Items to Pack for Montreal
When you need a fix of cobblestone cuteness and fantastique Francophone culture, there's no need to book a transatlantic flight. Montreal delivers on all this, plus cutting-edge architecture, a legendary music scene, and delicious cuisine. (Poutine, anyone?) But the city's diverse activities and fluctuating temperatures can make packing a challenge. Don't worry, we listed 10 essential items that'll make your packing très simple.
1
Walkable Booties
Idyllic strolling past Old Montreal's historic buildings, incredible museums, and cobblestoned streets can become a one-way road to blisters and aches. Thankfully, Blondo Villa shoes offers a footwear holy grail: They're walkable shoes that aren't hideous and aren't sneakers—and they're waterproof to boot. Memory-foam insoles make these sleek boots cushy enough to spend all day exploring. Yet they're still dressy enough for a nighttime crawl of Montreal's trendy natural wine bars.
$149.95 at Zappos
2
Thermal Layers
Here's the key to surviving Montreal's cold snaps: Sneak in a thermal base layer under your clothes. Don't fret—it doesn't have to be frumpy! Thermal has come a long way from your granny's itchy long underwear. Uniqlo's is soft, lightweight, moisture-wicking, and still sleek. Somehow, it magically keeps you warm in a chill without being too much when the sun suddenly pops out.
$24.90 at Uniqlo
3
Lightweight Puffer
How can you pack warmth without added bulk? Solution: This ultra-light and sleek coat that adds next to nothing to your luggage weight. Its innovative insulation has all the warmth of a traditional quilted down coat without the puffiness. And between the waterproof exterior and the proper hood, you'll be set for just about anything a Montreal winter can throw at you. Plus just picture how cute you'll look with that removable faux-fur ruff framing your face.
$349.99 at Eddie Bauer
4
Perfect Ski Pants
Snowbunnies rejoice! The excellent ski-resort Mont-Tremblant is an hour outside of the city, and there's a ski and snowboard hill in the town, too, just a subway-hop away. Wherever you go, these Topshop pants will serve you well. They have all the on-slope essentials, like removable stirrups and moisture-wicking fabric, but their sleek fit and urban style makes them great for those who would rather skip straight to après-ski cocktails.
5
Cozy Cashmere Wrap
Don't be fooled. A warm spring afternoon in Montreal can pull a fast one and change into a goose-bump-inducing chilly evening the second the sun starts to go down. Come prepared for shifting temps with a plush cashmere wrap like this one from White and Warren. Its large size and thin weave means you can drape it around your shoulders for some French flair or tie it close to your neck to maximize the warmth. Snuggling up doesn't get any more chic. 
$298 at Saks Fifth Avenue
6
Pretty Dinner Dress
While Montreal is fairly laid-back, you'll want to dial up the glamor if you score a dinner reservation at Joe Beef or Toque. This Everlane dress captures the city's effortless, relaxed-yet-chic je ne sais quoi. And it's always presentable, since the triacetate fabric means it's both wrinkle-resistant and machine washable—a traveler's dream. The breezy style is perfect for warmer summers but can be paired with a cardigan on chillier days.
$100 at Everlane
7
Stylish Panama Hat
In summer, Montreal takes it to the streets for festival season. The most famous one is the Montreal Jazz Fest, but there are nearly 100 other festivals and outdoor events yearly, like the indie-music fest Osheaga, or the Montreal Beer Fest. While you're soaking up all that culture (and beer!), be sure to protect yourself from the summer rays with a cute hat. This wide-brimmed one from Rag and Bone doesn't just shade your face, it helps elevate a jeans-and-a-T-shirt outfit to a full-on VIP look.
$230 at Bloomingdale's
8
Portable Charger
Montreal is a town that will keep you—and your Instagram—going all day. (Hey, those Montreal bagels deserve to be documented!) Make sure you bring enough juice to power through those snaps with this portable-battery. Knomo's sleek, slim design slips easily into a pocket or bag, but it's powerful enough to charge multiple devices.
$61.99 at eBags
9
One-Piece Swimsuit
OK, swimwear isn't the first thing you'd think to pack for Montreal—or even the fourth. But you'll be grateful you brought a bathing suit along so you can visit the city's legendary spas. Get your soak on at Bota Bota's floating spa offering a magical view of the city sights. Or, take a quick taxi to Strøm Spa where you'll steam under moonlight in the middle of nature. Lululemon's Shoreline is a great choice for spa-ing. It looks fab and dries quickly, so you can toss it in your carry-on without concern.
10
Handy Antacids
Who comes to Montreal and doesn't overindulge? We are talking about the world capital of poutine, after all. And if you're doing it right, you'll also scarf down smoked meats in the Mile End neighborhood and incredible pastries in every corner bakery. Because it's impossible to resist the city's gastronomical charms, plan ahead by tucking a few Rolaids in your suitcase. With a few of these, you'll live to stuff yourself another day.
$5.49 at Target
Related Stories
All products have been hand-picked by our writers and editors. Items purchased through links may earn us a commission.