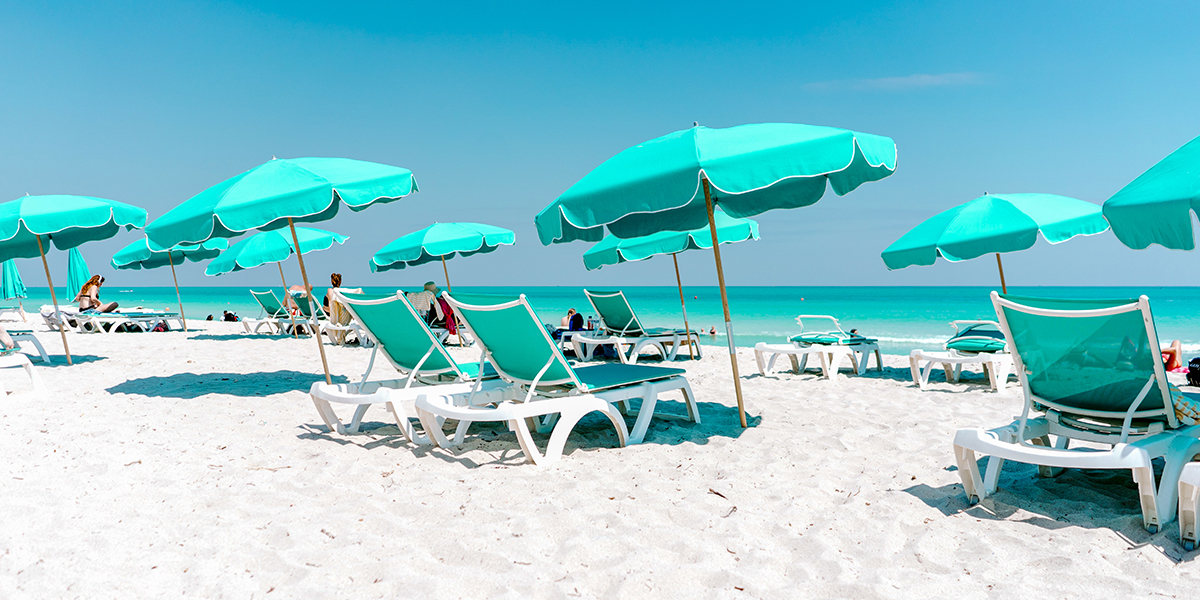 By Destination
The Ultimate Miami Packing List
Heading to Miami? Throw on those shades and crank that playlist. Whether you're looking to rage like Pitbull at LIV nightclub or soak in some rays at South Beach, this is a city that's pure fun in the sun. Miami is stuffed full of Art Deco hotels, happening pool parties, and crazy-delicious food (don't even think about skipping Little Havana), so boredom is almost impossible. In terms of packing, there are two things to keep in mind: Summer can get wet, and winter temperatures rarely dip below 45 degrees. That means ditching your puffer coat but keeping that umbrella handy, and throwing in a hoodie and your flashiest swimsuit, too. Read on for our tips on how to dress like a local—especially at the clubs—and how to prep for the hottest, most humid of days.
Your suitcase packing checklist
Click items to view travel editor-approved options
THE PERFECT LUGGAGE
Double-check that luggage before you head over to Miami to make sure you have the right bag for the job. If you're heading over for a long weekend, you should skip baggage claim and stick to a stylish weekender, whereas you'll want a full-size suitcase for a two-week-long beach extravaganza. Our pick for a long weekend is the gorgeous Everlane twill weekender. At $98, it's inexpensive given its excellent quality, and its 100 percent water-resistant cotton twill exterior keeps it looking polished. It fits perfectly in any overhead compartment, which means you can grab your bag and head straight to the beach when you land. If you're staying for a full week, we'd recommend Nordstrom's 18-inch carry-on spinner bag, especially if you opt for the Miami-appropriate light pink colored one. Thanks to a hard shell exterior and its built-in locking mechanism, your swimsuit will be safe on the way there and the rum you had to buy will make it home, too. If you're going for a long two-week trip, it's hard to beat Away's large checked bag. The interior compression system and removable laundry bag can handle a big trip, especially if you're the type that has to bring multiple swimsuits to switch up your beachside look. (No judgment!)
THE 3 PAIRS OF SHOES YOU'LL NEED FOR EXPLORING MIAMI
Women's Shoes
Men's Shoes
Miami locals like to kick back and keep it casual, and that applies to their footwear, too. The one exception to this rule is if you decide to go clubbing, in which case women should bring along some statement heels and men should be ready with a set of stylish loafers. For walking across the Miami Beach Boardwalk or going shopping around town, have some comfy sneakers, like the Nike Cortez, or ankle strap sandals at the ready.

MIAMI FASHION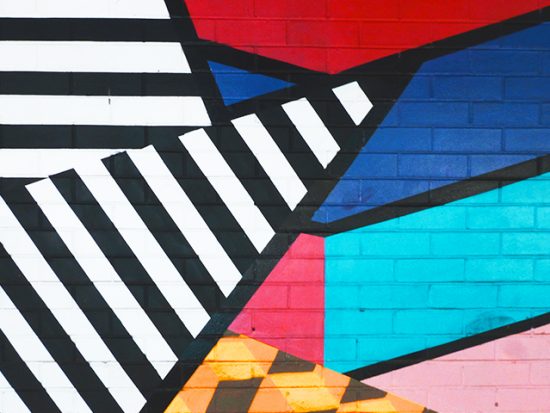 That chic all-black outfit you'd wear in New York City will not cut it in Miami. A defining aspect of the fashion scene is vibrant, live-out-loud colors. Locals also champion originality, so there's no better place than Miami to test out a new look. The line between swimwear and streetwear is also blurred, so don't limit your suit to just the water. Pair your bikini with a pair of high-waisted shorts, or throw a graphic T-shirt on top of board shorts and hit the town. The only time you'll need to dress up is when you hit the city's world-famous clubs. For men, make sure to pack dress shoes and a blazer, although you can get away with a T-shirt underneath it in most places. For women, this is the time to bust out that bodycon dress and the highest pair of heels you own. Don't worry, you can swap them out for your sandals the next day.
Miami Street Style for Women
Women's Street Style Outfit for Miami
Miami Street Style for Men
Men's Street Style Outfit for Miami
FIVE FOOLPROOF OUTFITS FOR MIAMI
1. WHAT TO WEAR TO GO CLUBBING IN MIAMI
For club kids, Miami is worth booking a flight just to experience the thrills of legendary nightclubs like LIV and hip joints like Basement (which has bowling). Clubbing is the only time where you can expect a consistent dress code, so women should come prepped in their best heels and men should at the very least wear a blazer.
Women's Clubbing Outfit for Miami
Men's Clubbing Outfit for Miami
2. WHAT TO WEAR TO WATCH A GAME OF THE MIAMI DOLPHINS OR THE MIAMI HEAT
Unlike the club, attending a sports event in Miami is far from a runway moment. Keep it casual with a T-shirt or a jersey and match it with a nice pair of shorts if you're outside for a football game or jeans if you're inside for a Heat game. Don't forget a cap; this multi-purpose item both shows off your team spirit and keeps the Florida sun out of your face.
Women's Game Day Outfit in Miami
Men's Game Day Outfit in Miami
3. WHAT TO WEAR TO MIAMI BEACH OR SOUTH BEACH
South Beach is not the place to be shy; everyone—models and grannies alike—are showing off their bod. This is the place to show off a barely-there bikini or the results of a pushup challenge. Although, if you want to cover up, no one will give you a second glance. There are no rules for the beach in Miami. Just don't forget the sunscreen!
Women's Beach in Miami Outfit
Men's Beach in Miami Outfit
4. WHAT TO WEAR TO GO SHOPPING IN MIAMI
From Sawgrass Mall to Bayside Marketplace, Miami is a shopping paradise. If you don't want to look like an obvious tourist, read up on our style guide above. As a man, you can't go wrong with a hip graphic T-shirt and shorts; as a woman, a cute floral dress or blouse is always a good choice.
Women's Shopping in Miami Outfit
Men's Shopping in Miami Outfit
5. WHAT TO WEAR TO DO WATER SPORTS IN MIAMI OR GO OUT ON A BOAT
Miami's fun-in-the-sun scene isn't limited to the beach—jet skiing, parasailing and living it up at a boat party are all part of the action. (Cue Lonely Island!) For the former two, your beachwear will work just fine. If you're not sure what to wear for a boat party, think about blending preppy staples with resort wear. That means chino shorts for men paired with a crisp short-sleeve button up and cropped everything for women. (A note to the ladies: Heels are a no-go for boats as they can damage the deck.)
Women's Miami Boating Outfit
Men's Miami Boating Outfit
WHAT NOT TO PACK FOR MIAMI
Never forget that Miami equals southern Florida. Think: balmy and relaxed. That means you should leave your starched shirts, three-piece suits, pencil skirts, ties, and heavy boots at home. Don't even think about packing a jacket heavier than a bomber; not only would you look like a total tourist, but you'd be taking up precious suitcase room better used for stowing souvenirs. (Guayaberas! Little Havana coffee beans! Key lime everything!) If you're having trouble deciding between outfits, channel your inner Latin pop star and opt for colorful, bright pieces—you can leave that all-black attire at home. As with any other city, you shouldn't feel the need to pack every little thing, since your hotel will have essential toiletries. Since it's a beach destination, your trip pack some swimwear that can do a little multitasking. For example, a basic pair of swim trunks can function as any pair of shorts would (on the boardwalk, out to lunch, shopping). A woman's one-piece swimsuit can double as a tank top, too. It's 100 percent acceptable to travel around the entire city in a bikini if you're into that, so feel free to keep your daywear to a minimum.
THE *ONE THING* WTP EDITORS ALWAYS BRING TO MIAMI

Like Will Smith sang back in the '90s, "Miami's the city that keeps the roof blazin'," and that's still true. If we're heading to South Florida, we're coming to play, with a frosty drink in one hand and our sandals in the other. These earrings bump up the fun factor to 11, giving off full tropical vibes. When we're headed to the beach, all we need is a candy-colored one-piece and these baubles, and we're completely dressed. —WTP Editors
MIAMI'S WEATHER AND SEASONS

Here's one big reason Miami is popular—its outstanding weather. Travelers can expect a mellow, warm climate all year. That said, summers can get pretty hot, with heatwaves hitting as late as September, and they also tend to get a bit wet, so if you're traveling during that time, don't forget your umbrella, preferably one that doubles as shade from the sun's baking rays. Winters in Miami do cool down, but highs in January are still warm enough to keep the beaches open for business. The coldest it dips down in winter is around 46 degrees, but that's late at night, and most of the time any chill can be tackled with a light jacket. In general, you can rock a T-shirt and beachwear at any point on the calendar.
Note: Below is a packing forecast, not a traditional forecast. A packing forecast focuses on how cold it's likely to be in the early mornings and evenings based on historical data. We recommend using this together with a traditional forecast as you get closer to your departure date. This data comes from our friends at Weather Underground.
JANUARY
Plan for day temps between 56° F and 68° F
Temps will drop near 46° F at night and into the early mornings
Expect 0.07 inches of precipitation in January
What to Wear in Miami in January: Miami doesn't experience a true winter, but you may run into some nice breezes in January. This is a good time to put away the swimsuit and wear some stylish joggers or a hoodie while shopping at Lincoln Road.
Recommendations: Men's fleece hoodie, men's Converse sneaker, women's joggers
FEBRUARY
Plan for day temps between 69° F and 77° F
Temps will drop near 58° F at night and into the early mornings
Expect 0.02 inches of precipitation in February
What to Wear in Miami in February: Miami doesn't give you many opportunities to show off your sweater collection, but it's cool enough now to throw one on, especially if you plan on going out at night. Wear it with a pleated skirt for a stylish look or blend in with the locals with a pair of cut-off shorts.
Recommendations: Loafer mules, women's off-the-shoulder sweater, pleated satin skirt
MARCH
Plan for day temps between 63° F and 71° F
Temps will drop near 51° F at night and into the early mornings
Expect 0.01 inches of precipitation in March
What to Wear in Miami in March: Things start to warm up in March, so you can swap out that sweater with a long-sleeve T-shirt instead. Complete your streetwear look with cool sneakers, such as Vans Old Skools.
Recommendations: Men's Adidas Tourney track jacket, Vans sneakers, women's long-sleeve T-shirt
APRIL
Plan for day temps between 70° F and 77° F
Temps will drop near 60° F at night and into the early mornings
Expect 0.14 inches of precipitation in April
What to Wear in Miami in April: In April, jackets are officially out of place so stick to trendy items, like a snakeskin mini. If you match it correctly, you may be able to skip the line at LIV.
Recommendations: Miniskirt, vegan leather satchel, women's button-back top
MAY
Plan for day temps between 75° F and 79° F
Temps will drop near 69° F at night and into the early mornings
Expect 0.61 inches of precipitation in May
What to Wear in Miami in May: May is a great time to mix stylish skinny jeans with an off-the-shoulder top. It's the perfect combo of casual and club-ready.
Recommendations: High-wasted Levi's jeans, women's off-the-shoulder top, beach towel
JUNE
Plan for day temps between 79° F and 83° F
Temps will drop near 71° F at night and into the early mornings
Expect 0.30 inches of precipitation in June
What to Wear in Miami in June: Although the beach is great year-round, June is prime season for hitting the sand. Stay flexible with your wardrobe and your plans: Guys can wear board shorts; they'll look great both in and out of the water. Women should wear a one-piece as a base layer to stay surf-ready.
Recommendations: Throwback T-shirt, Men's board shorts, women's one-piece swimsuit
JULY
Plan for day temps between 80° F and 84° F
Temps will drop near 72° F at night and into the early mornings
Expect 0.30 inches of precipitation in July
What to Wear in Miami in July: July may be the best time to go clubbing, but it's also when you should start expecting rain. Make sure to keep an umbrella at the ready just in case.
Recommendations: Rainbow stripe umbrella, women's one-piece swimsuit, satin clutch
AUGUST
Plan for day temps between 81° F and 84° F
Temps will drop near 73° F at night and into the early mornings
Expect 0.40 inches of precipitation in August
What to Wear in Miami in August: In August, Miami shifts into overdrive when it comes to summer temps. Definitely pack a hat and/or some shades to keep the sun off your eyes. You can thank us later.
Recommendations: Women's sunglasses, men's canvas bucket hat, men's fleece shorts
SEPTEMBER
Plan for day temps between 78° F and 84° F
Temps will drop near 73° F at night and into the early mornings
Expect 0.32 inches of precipitation in September
What to Wear in Miami in September: Swap out your flats for a comfy pair of sandals in September. With summer temps still in effect, you'll want to stay light and ready to head to the nearest beach.
Recommendations: Cutout mini dress, crossbody purse, sandals
OCTOBER
Plan for day temps between 74° F and 82° F
Temps will drop near 65° F at night and into the early mornings
Expect 0.08 inches of precipitation in October
What to Wear in Miami in October: Get ready for some large temperature swings, from a nice 65 degrees to a steamy 85 degrees. It wouldn't hurt to have a light jacket if you plan on staying out when the sun goes down, although it's not mandatory yet.
Recommendations: Men's polo sweater, Men's flight jacket, Men's tapered-leg jogger chinos
NOVEMBER
Plan for day temps between 58° F and 76° F
Temps will drop near 50° F at night and into the early mornings
Expect 0.13 inches of precipitation in November
What to Wear in Miami in November: November in Miami gets cool enough to bust out cardigans and long-sleeve dresses. If you're planning on going clubbing, we'd recommend bringing out a jacket that's light enough to wrap around your waist.
Recommendations: Women's wrap top, wrap minidress, women's long-line cardigan
DECEMBER
Plan for day temps between 60° F and 72° F
Temps will drop near 52° F at night and into the early mornings
Expect 0.06 inches of precipitation in December
What to Wear in Miami in December: Don't expect anything resembling a white Christmas. Still, the weather dips down enough to get away with dressier outfits, which is helpful if you're planning on heading to dinner at a swanky spot over the holidays.
Recommendations: Men's wingtip Oxfords, men's slim-fit shirt, men's slim chinos
FREQUENTLY ASKED QUESTIONS ABOUT PACKING FOR MIAMI

I'm planning on going out to some Miami clubs; are there dress codes and how should I dress to fit in with locals in the nightclub scene?

Naturally, it depends on what club you decide to go to, but to be safe, leave your sneakers and flats back at the hotel. The rule of thumb in Miami is dress to impress. That means women should come through in sharp heels, and men need to throw on a button-up shirt. If you're concerned your outfit, check the venues website since they usually list the dress code there.
Does it get cold in Miami in the winter? Do I need to bring a jacket?
Winter is practically non-existent in Miami. You should expect mid-60s during winter days, which means that, if anything, a light jacket will do you just fine. Beach culture is year-long in Miami, so don't forget your swimsuit just because it's December.
What should I wear out to dinner in Miami?
Unless you're opting for a fancy steakhouse, like Stripsteak by Michael Mina, restaurants have casual dress codes, as you'd expect for a city with beaches on beaches. If you want to be safe, stick to smart casual, but most restaurants are fine with a crisp pair of shorts.
I heard summer in Miami gets really hot and humid—what material should I wear to stay cool?
The easiest way to stay cool in Miami is to tool around town in your swimsuit, which would actually make you blend right in with the locals. If you're feeling a bit modest, you can stick to breathable fabrics like cotton, linen, and rayon.
Related Stories