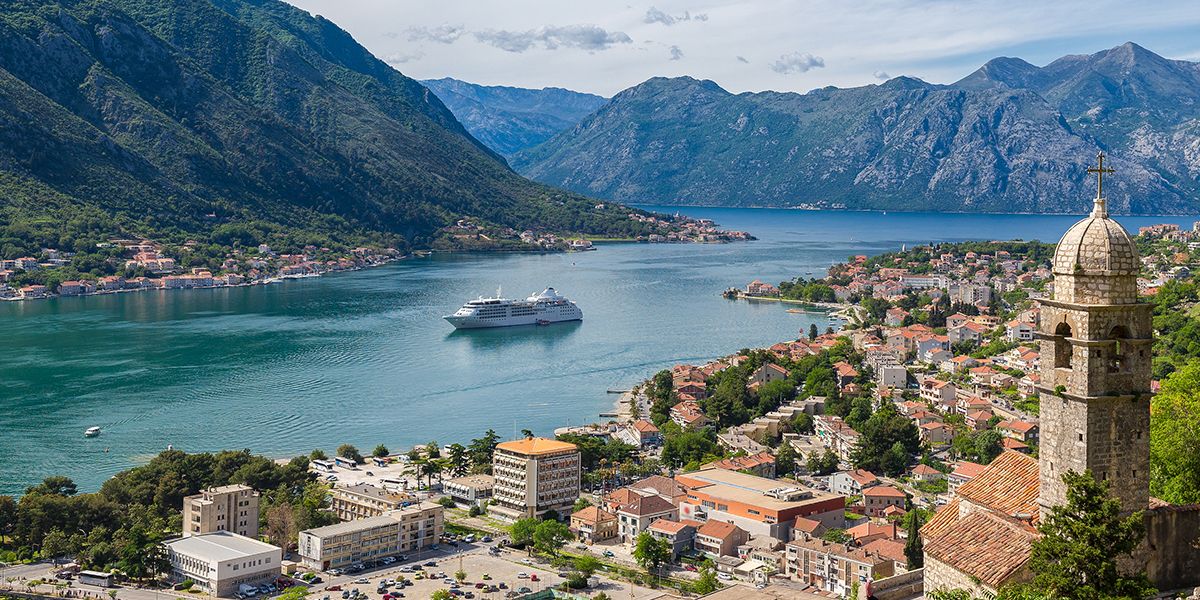 By Trip Type
Every Cruise Outfit You'll Need for Alaskan, Caribbean, and European Sailings
Cruise ship vacations offer the perfect excuse to dress with a little more glamour and attention to detail than you usually might on vacation. But deciding exactly which outfits (and accessories) to bring on a cruise is a challenge. You're not just packing for the cruise's ports of call excursions and nightlife, but you also need outfits for daily life at sea and the ship's pool or spa. Cruising to the Caribbean, Alaska, or Europe will garner different packing lists and dress codes. Don't worry, we've got your outfits covered for every occasion. Just thinking about it makes us want to book our next cruise—and pack the perfect cruise outfits.
Caribbean Cruise

WHAT TO WEAR ON A CARIBBEAN CRUISE DURING THE DAY (SEA DAY)
Breezy, casual apparel is key for Caribbean cruise sea days, where you're likely to divide your time between indoor and outdoor activities as you explore the decks. For women, this Messenger Midi Dress is super-wearable one-stop ensemble that looks just as beautiful in the dining room as it does on the pool deck. For men, a pastel-striped tee and subtle tie-dyed shorts offer a playful fun-in-the-sun vibe. Add fun-ctional accessories, like hats, classic Birkenstocks, and bags for carrying essentials like your sea pass and sunscreen. Bon-voyage!
WHAT TO WEAR ON A CARIBBEAN CRUISE TO LOUNGE BY THE POOL
Let's get real. The pool is where it's at on a Caribbean cruise. For a pool day (or days), men and women alike will do well with a boldly printed swimsuit and cover-up attire for slipping over to the bar without baring it all. Slider sandals are also a great pool-day option as they're easy to slip on for a quick trip to the ice cream machine (no judgment from us on how many times you make that trip). This bikini from Target is a flattering, budget-friendly pick for women of all shapes, featuring an island-ready print and a supportive underwire top and trendy high-waist bottoms. It pairs perfectly with this easy open-back tunic from Cuyana. For men, a simple, loose-fitting white button-down is the perfect foil for playfully patterned swim trunks, while Ray-Ban sunglasses and a white baseball hat add sun-ready style.
WHAT TO WEAR ON A CARIBBEAN CRUISE SHIP EXCURSION
Your particular shore excursion should dictate your outfit, but for the standard Caribbean land adventure, start with easy-to-wear staples. Men and women can pair versatile denim shorts with classic canvas kicks (it's hard to go wrong with Keds or Vans) and then get a little playful on top. For women, this button-up top from Asos features fashion-forward details—a front-tie, back pleats, big buttons—and is also made from breathable, 100% cotton—to keep you cool in the tropical sun. This soft jersey-knit shirt with a fun tropical pocket detail is a functional and photo-ready option for men. Complete each look with stylish sunnies and a backpack or fanny pack from the best-selling bag and tote company Baggu. Don't let the wrong outfit keep you from exploring a new locale.
WHAT TO WEAR ON A CARIBBEAN CRUISE IN THE EVENING
These outfits are versatile, smart-casual evening options that will take you from the main-stage entertainment to the piano bar, disco dance floor, or a late-night karaoke session—come prepared with a killer outfit and all the words to a musical pop hit on lock. For women, a tropical-inspired floral jumpsuit is a trendy and laidback alternative to a dress. This one looks great with playful accessories like metallic sandals, a structured purse, and an unexpected fruit-themed layered necklace. Men can't go wrong with a lightweight, seersucker button-down and classic chinos. Complete the men's look with a slim leather belt and easy canvas slip-ons for the perfect balance between dressed-up and laidback. What's more Caribbean nights than that?
WHAT TO WEAR ON A CARIBBEAN CRUISE FOR FORMAL NIGHT
While cruise lines vary on their expectations for formal nights, there's often some leeway. Some cruisers go all-out with evening gowns and tuxes, and others wear sundresses or trousers and button-down shirts. Our formal night outfit picks are smack dab in the middle. For women, a brightly colored slip-dress from Anthropologie is the backdrop for lux accessories like rhinestone-studded strappy sandals, shimmering drop earrings, and a metallic envelope clutch. (Plus, we recommend a wrap, in case of AC chills.) For men, linen trousers and a cotton button-down are easy, breathable options. Add a two-button blazer and Tommy Bahama Loafers for true dressed-up style. Formal night? Nailed it.
Alaskan Cruise

WHAT TO WEAR ON AN ALASKAN CRUISE DURING THE DAY (SEA DAY)
Even if you're boarding an Alaskan cruise in the height of summer, you're likely looking at outdoor temps in the mid-60s—and don't forget about that pesky wind chill while you're sailing. Easy mix-and-match layers make your wardrobe versatile and ready for a range of weather and sea day activities. Men and women can follow this formula: trendy denim + a long-sleeve crewneck + outerwear (like this puffy hooded vest or bomber jacket from Gap). The finishing touch? Comfortable kicks and breathable, lightweight hiker socks, which will also multitask for shore excursions. Be ready for anything Alaska can throw at you on and off the cruise ship. Take that, wind chill.
WHAT TO WEAR ON AN ALASKAN CRUISE SHIP EXCURSION
For popular Alaskan cruise ship shore excursions, like hiking and kayaking, you'll want functional outdoor attire that can stand up to sweat, sun, and rain. Start with a solid foundation of a sweat-wicking long-sleeve base and water-repellant hiking pants—our picks are from outdoor apparel all-stars Eddie Bauer and L.L. Bean. Add waterproof hiking boots from Columbia, hats for sun protection (the women's version is designed for a ponytail), and a packable external layer, like this Ultra-Light Down Vest and UV Cut Parka from Uniqlo, which are water-repellant and fend off cold temperatures. The comfier you are, the more you'll enjoy getting to know Alaska's gorgeous wilderness.
WHAT TO WEAR ON AN ALASKAN CRUISE IN THE EVENING
While "smart casual" is the name of the game for evening events on most mainstream cruises, Alaskan cruise dress codes are even more relaxed, as cruisers search for that perfect balance between cute and cozy. For women, a practical base layer won't look like athletic apparel when paired with fashionable wide-leg chinos, a chunky cardigan sweater from the famously cozy Pendleton line, easy slip-ons from Ugg, and a coordinating crossbody purse. For men, it's hard to go wrong with chinos, a classic cable-knit, and dapper Cole Haan boat shoes. A leather belt and a smart waterproof jacket finish the look. Consider this your "Alaska chic" look.
WHAT TO WEAR ON AN ALASKAN CRUISE FOR FORMAL NIGHT
Formal nights can be hard to manage on a cold-weather cruise, but we've got you covered (seriously, we're talking layers). With the climate in mind, many cruisers take a slightly more relaxed approach to formalwear than they might when sailing to warmer destinations. For women, a long-sleeve printed dress and cardigan look stylish paired with Uniqlo's cozy Heattech Leggings and leather ballet flats, while turquoise drop-earrings add an elegant dash of color. For men, chinos, a polo shirt, Sperry boat shoes, and a laid-back sport coat will do just the trick. You're formal, but you're warm and comfortable too.
WHAT TO WEAR ON AN ALASKAN CRUISE TO THE INDOOR POOL OR SAUNA/SPA
Packing for onboard water activities on an Alaskan cruise can be tricky, but we're up to the challenge of dressing for getting wet and staying warm. We've worked some warmth into this woman's ensemble with a cute one-piece swimsuit, a groovy tie dye cover-up, and fuzzy thong sandals. Essentials—like your sea pass and hair coils that won't break your cold, damp hair—stay dry in this clutch from Logan + Lenora, which gets high marks for being both waterproof and adorable. Men can pair their swim trunks with super-soft sweats, a quarter-zip pullover, cozy Nordic Slippers, and—if you're chilling in an outdoor hot tub with a front-row seat to a glacier—a ribbed beanie.
European Cruise

WHAT TO WEAR ON A EUROPEAN CRUISE DURING THE DAY (SEA DAY)
On European cruises, you're often sailing with an international guest list. While casual attire is entirely appropriate on sea days, the dress code tends to be slightly more polished than on your standard Caribbean cruise. A maxi dress is a great option, because it's comfortable, easy, and chic. This floral pick from Anthropologie pairs well with casual-cute espadrille sandals. We finished the look with a crossbody bag, stud earrings, and a scarf for your ponytail—a stylish upgrade from the standard hair tie. For men, a fresh white polo shirt and matching Vans look sharp with skinny-fit checked trousers and a straw fedora. Be prepared for your fellow passengers to speak to you in French.
WHAT TO WEAR ON A EUROPEAN CRUISE SHIP EXCURSION
European shore excursions often include lots of walking with city tours, shopping, and visits to historic sights. Layers, sun-protection, and comfortable shoes are always a good bet, and keep in mind that some sights, like cathedrals, may require you to cover up the shoulders and knees. For a fashionably practical look, women should pair a breathable athletic tank with trendy Lululemon joggers and a denim jacket. Complete the outfit with casual standards, like Chuck Taylors and a baseball cap, which look chic in an all-white color palette. Men can accomplish a similar European-friendly style with linen pants, an easy Henley, a denim Trucker Jacket from Levi's, and all-black Nike sneakers. Exploration + comfort + style = a European excursion win.
WHAT TO WEAR ON A EUROPEAN CRUISE TO LOUNGE BY THE POOL/SAUNA/SPA
Nailing European cruise ship poolside sophistication is all in the details and layers. Pair a solid-colored hibiscus pink bikini with a simple sandal, then throw on a matching striped maxi skirt and crop-top for an ensemble that doubles as a cover-up. For men, color-blocked swim shorts make enough of a fun statement that you can pair them with an all-black tank top and coordinating all-black accessories, like a baseball cap, flip-flops, and a tote for poolside side necessities, like books and sunscreen. We suggest wearing the bathrobe in your cabin to really lean into the spa feeling.
WHAT TO WEAR ON A EUROPEAN CRUISE IN THE EVENING
On European cruises, it's customary to get dressed up in the evenings for meals in the main dining room, shows, or a gin and tonic at your favorite onboard bar. We love this knit maxi dress, it's an affordable and versatile base that's easy to dress up or down. To transform it into an evening ensemble, we paired it with a patterned silky kimono, a delicate pendant necklace, and huarache sandals that are comfortable beyond belief. For men, the standard chinos and dress shirt combo gets an upgrade with statement boat shoes and a dapper straw hat. Be sure to tip it to any ladies in your presence.
WHAT TO WEAR ON A EUROPEAN CRUISE FOR FORMAL NIGHT
Formal nights on European cruises tend to be less about full-on evening gowns and tuxes, and more about sophisticated, fashion-forward looks. This white midi dress features a fun fringe detail, but is subtle enough that you can get playful with the accessories. We added metallic stilettos, a cuff bracelet, Celestial Drop Earrings from Baublebar, and a shimmering envelope clutch. Men can sport a classic dressed-up look with a handsome linen suit, a champagne-colored tie, and a coordinating dress shirt and shiny leather loafers. You'll feel like European royalty in these stylish outfits.
Related Stories