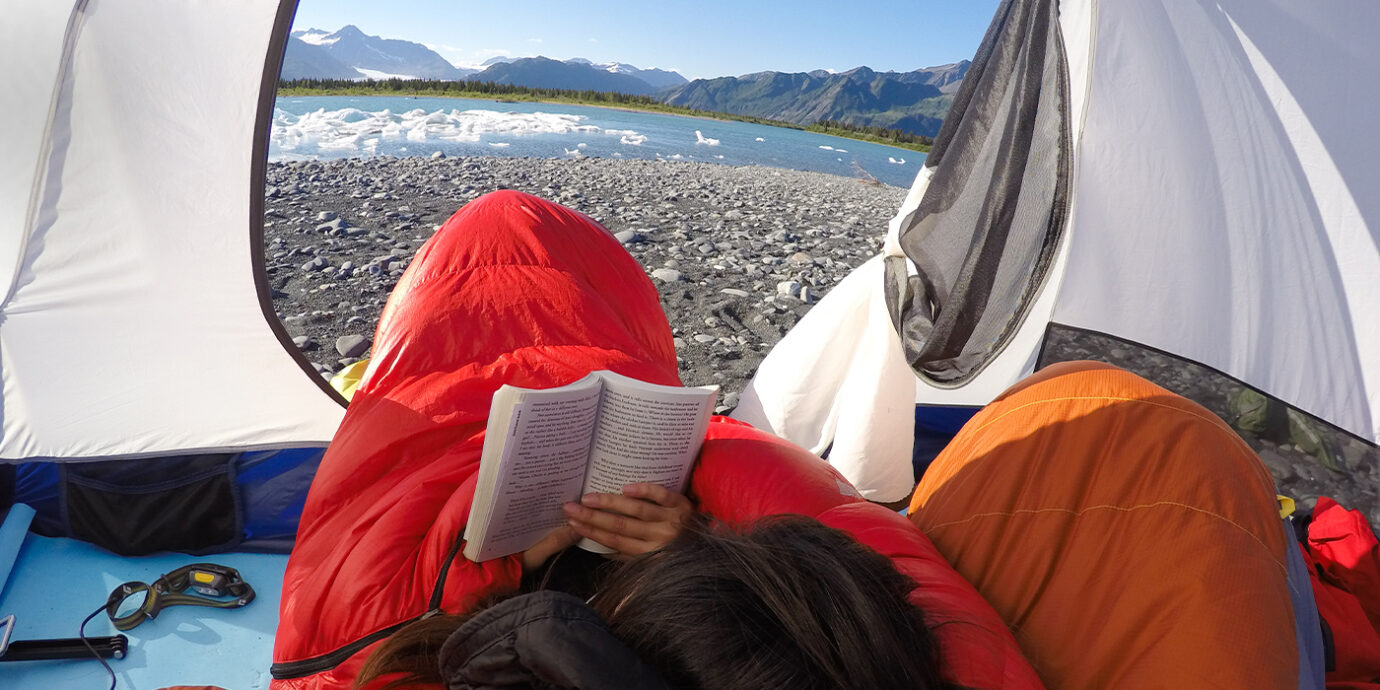 Shop
Best Sleeping Bags for an Amazing (and Toasty!) Night's Rest
For those traveling rough, the right sleeping bag can make all the difference between morning glory and hours of tossing on the cold, hard ground. But don't be fooled by the simple name of this essential camping item. When it comes to a good night's rest on the road or off the trail, there's more to it than "a bag to sleep in." Down or synthetic filling? Rectangle or mummy-shaped? And what's this about a temperature rating? You've come to the right place. We've found the best sleeping bags for all budgets, temps, and trips, from couch-surfing around Paris to trekking through Patagonia.
1
Best Sleeping Bag Overall

Kelty's Cosmic 20 is a multipurpose bag on a budget—a true jack-of-all-trades that's warm enough for most places. The Cosmic wins high marks for its use of "hydrophobic" 600-fill down, a natural down insulation whose feather filling is coated with a water-repellant solution so it works on damp ground. The 20 in the name refers to the Cosmic's 20-degree Fahrenheit temperature rating (an approximate "lowest temp" that the bag stays warm to). From the tailgate to the treeline, the Cosmic is a foolproof pick.
Shop Now
2
Best Sleeping Bag for Camping

Inspired by retro camp roll mats, The North Face's Dolomite is a plush, rectangular down bag that's more mattress than mummy wrapping. Think of it like an old-school town car: there's room to move and a lot of creature comforts, but maneuverability is not the best. No surprise, then, that the Dolomite is great for lounging around. Insulation for temps down to 20 degrees Fahrenheit makes sure you stay as toasty as your s'mores.
Shop Now
3
Best Sleeping Bag for Cold Weather

The Phantom by Mountain Hardwear: a sleeping bag so hot, it inspired a jacket line. Mountain Hardwear's Phantom (just, Phantom) is a super-light 800-fill goose down bag lined with Windstopper technology that does to breeze what Gore-tex does to water: keeps it out. Not only is this bag warm and windproof, but it weighs under three pounds. The Phantom series is available in warmth ratings from -40 degrees up to a balmy 30 degrees Fahrenheit. This zero-degree Fahrenheit model gets two frozen thumbs up.
Shop Now
4
Best Lightweight Sleeping Bag

Named after one of the lightest elements in the universe, Marmot's fully featured down Helium sleeping bag weighs just two pounds. The Helium is part of Marmot's "Ultralight" range, a hard-core gear line that's made the brand a favorite among the through-hiking crowd. A treated outer keeps all of the bag's 800-fill goose down high and dry, for a package that can withstand temps as low as -15 degrees Fahrenheit.
Shop Now
5
Best Sleeping Bag Under $100

The Binghamton, New York-based Eureka is all about affordable gear. Their Lone Pine 30 (sticker price: $99.95) is an entry-level synthetic bag, the sort you get as a child and use well into adulthood because it just works. Synthetic insulation provides the same warming benefits as down, just at a lower price in exchange for more weight. In addition to its affordability, a highlight of the Lone Pine is its hybrid shape that's a cross between a mummy and a rectangle.
Shop Now
6
Best Sleeping Bag Splurge

Rab's Andes 800 is a lot. Named for the icy South American mountain range, the Andes is an uber-quality expedition bag stuffed with hydrophobic 800-fill European goose down that keeps the inside luxurious, even if its below freezing millimeters beyond. (The bag is designed for -8 degrees Fahrenheit and above.) This pricy mummy bag is packed with technology. Past the draft collars, fancy internal baffling, and a built-in odor control system, however, one feature stands apart to make this a true splurge: a zippered internal stash pocket—the perfect spot to stash a midnight snack. Traveler, treat yourself!
Shop Now
7
Best Sleeping Bag for Indoor Use

The Sea to Summit Traveller TrI is exactly what it sounds like: a sleeping bag designed for travel, not expedition. With a temperature rating of 50 degrees Fahrenheit and the ability to attach to other Traveller bags, Sea to Summit's midweight rollout is a couch-surfer's dream. Pack it down in its included compression bag. Hook it to your backpack. Then convince your backpacking buddies to buy one, too. The Traveller is a reasonably-priced indoor option for those to whom backpacking means Paris, not Chamonix. It certainly beats the mattress at the hostel.
Shop Now
8
Best Sleeping Bag for Backpacking

While some bags may be warmer or bigger, Western Mountaineering's MegaLite is the perfect combination of light weight and high heat. This is arguably the best backpacking option on the market. Tipping the scales at just 1.5 pounds, this water-resistant 850-fill down bag does it all while packing down to a footprint just bigger than a water bottle. Is it worth the $450 price tag? If you're spending more than two days in a row on the trail, absolutely.
Shop Now
9
Best Sleeping Bag for Kids

From the first name in family outdoors gear comes a sleeper perfect for little ones: the L.L. Bean Flannel-Lined Camp Bag. A cozy cotton flannel lining makes it a hit for sleepovers, backyard campouts, scout trips, or family camping vacations. A 30 degrees Fahrenheit rating earns it a place around the campfire. Plus, it can be tossed into your washer/dryer at home.
Shop Now
Related Stories
All products have been hand-picked by our writers and editors. Items purchased through links may earn us a commission.