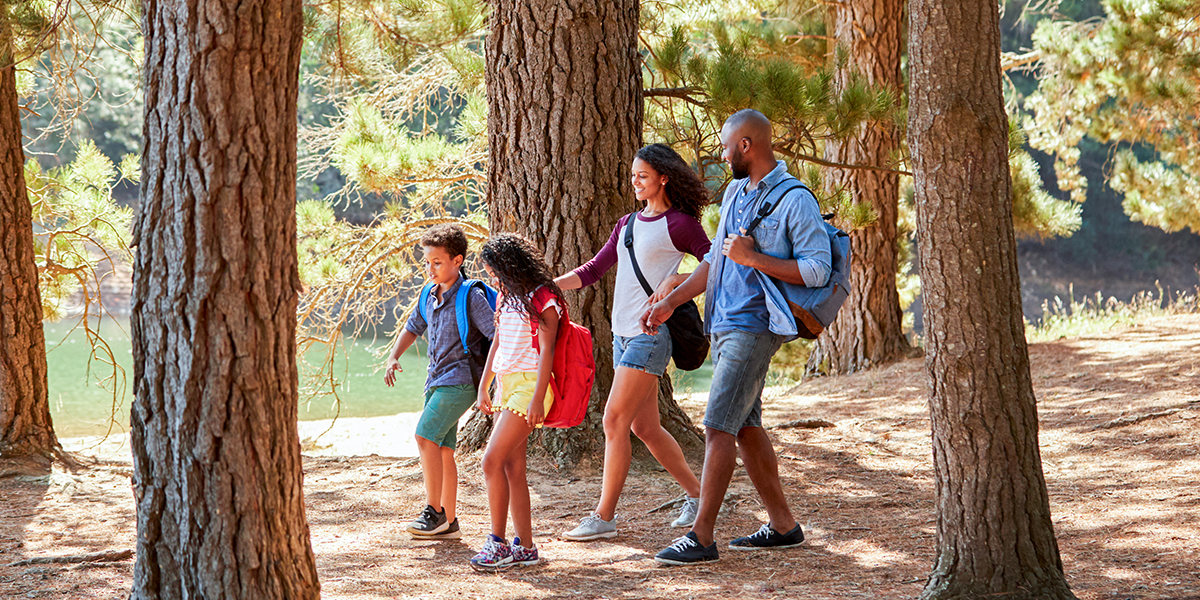 By Trip Type
Traveling with Kids: Packing Lists and Tips
Kids make wonderful traveling companions. Their curiosity and energy know no bounds and they're almost always up for anything, as long as you explain it the right way or turn it into a game. (Stuck in traffic or waiting in the TSA line? Prime time to hype up a destination with fun factoids and weird history.) Another way to guarantee happy little travelers? Ensuring you have the right gear for your trip. Read on for tips, tricks, product picks, and packing lists so that you and your kids have an all-out (and well-equipped) blast.
Master Packing List for Kids
Mini suitcase. Nothing gets kids more excited about travel than the chance to fill up their own bag with everything they think they might need for the trip. (Though you might have to step in for the editing process.)
Casual clothes. T-shirts, shorts, leggings/pants, skirts/dresses, and hoodies all fall under this category. Don't forget socks, underwear, and pajamas, and a dressier outfit, if the trip calls for it.
Footwear. Sandals, water shoes, and sneakers are all good contenders for most trips. Just make sure they're easy to put on and take off.
Swimwear. We recommend a rash guard shirt on top of regular swim bottoms, as an extra measure for protecting your little one's delicate skin from the sun.
Sunscreen, sunscreen, and more sunscreen. Squirm as they might, kids simply must endure frequent sunscreen application (has any child ever, in the history of the world, liked having sunscreen put on?). Sunblock in stick or spray form take the pain out of the process.
Sun hat. Pick a sun hat with adjustable straps and a broad brim.
Sunglasses. Pro tip: buy sunglasses in bulk to eliminate tears and tantrums when one pair gets lost. (And they will get lost.)
Training pants. Hey, accidents happen! Get ahead of them with training pants if your kid is working on his or her bathroom confidence.
Portable potty. This folding potty trainer collapses for easy transport and comes with bags for easy waste collection.
Travel high-chair/booster seat. Because when it comes to feeding your kids, not all chairs are created equal. Bring your own portable booster and chair.
Reusable water bottle. A BPA-free water bottle with a leak-proof lid will be your hero item on any trip. No judgment here if you get one for yourself and fill it with wine at the end of the day.
Books. We love this amazing fact book by "National Geographic." It's practically impossible to finish—even if your family trip is three weeks at the beach.
Stuffed animal. Bonus points if it doubles as a small blanket, like this plush panda.
Favorite toys. Don't leave home without them!
Deck of cards or card-based games. If your kid knows her colors and numbers, she can play Go Fish or Crazy Eights. Raise the stakes for bigger kids, or try more involved games like Memory.
Portable DVD player or iPad. In-lap entertainment, like an iPad pre-downloaded with favorite movies or a portable DVD player with a screen and lots of DVDs, is clutch on long road trips or flights.
Kid-friendly headphones. Headphones designed specifically for kids are hard to break and limit the volume, thus protecting your child's hearing. You'll want to double-check that any headphones are compatible with your gadgetry.
Kid-friendly toiletries. Pack tried-and-true shampoo, soap, bubbles, and lotion—the hotel freebies may be too harsh for your little one. And don't forget their toothpaste, toothbrush, and comb.
Bath toys. Some kids eagerly embrace the novelty of showering some place new; others might be more up for bathing if you pack some beloved toys.
Medicine and vitamins, if applicable, and a first-aid kit. Boo-boos are magically better once you breakout the Band-Aids sporting your kid's favorite character.
Antibacterial wipes. It's a good idea to wipe down tray tables, arm rests, window shades, and anything else your child might touch, lick, or interact with during travel.
Gallon-sized resealable baggies. Great for wet suits, leaky snacks, or gooey finds your child insists on bringing home. Plastic bags can also double as packing cubes.
Snacks. Bring more than you think you'll need. Preferably in spill-proof containers.
TBD. Nope, not a typo. You know your child best. If he absolutely, positively cannot sleep with a single speck of light, pack tape and aluminum foil for DIY blackout curtains. If your girl is gaga for a certain brand of cereal, stock up and leave room in your carry-on. Bottom line: your trip will be a lot more fun if you anticipate pain points, and do whatever you can to solve them before you leave.
Road Trip with Kids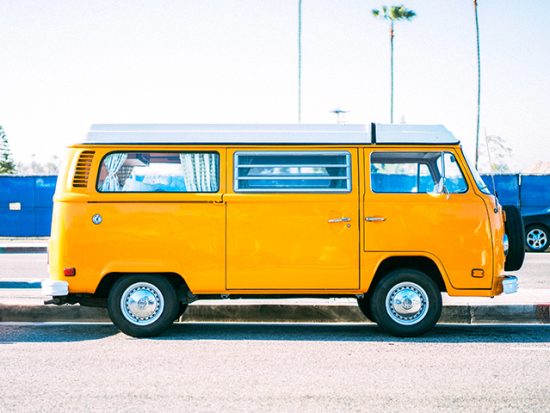 Tips
Have your car seat checked. Safe Kids Worldwide offers safety-related workshops, including the opportunity to have your car seat examined by an expert, around the country. Your local DMV might also run safety checks.
Build extra time into your schedule and plan on lots of pit stops—for bathroom breaks, to stock up on snacks, to save your sanity.
Create a family playlist full of sing-along-able songs. Might we suggest "Uptown Funk," "Let It Go," and that dance-y little ditty about a family of sharks, "Baby Shark"?
Extras to Bring
Plane Travel with Kids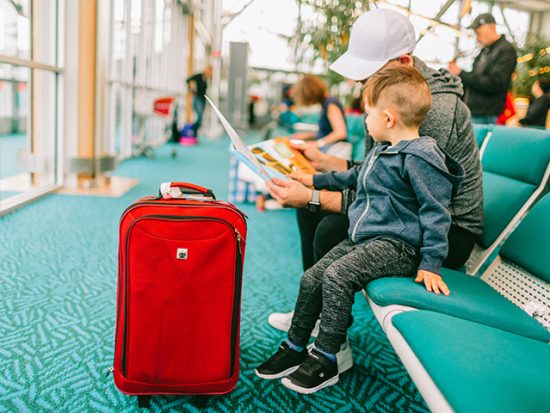 Tips
Arrive at the airport with tons of time to spare, and turn the wait into a teachable adventure. Little ones will delight in watching the ground crew, and bigger kids can get a lesson in thrust, drag, and gravity.
Board first (if possible), exit last. As much as you can, cultivate a 'why rush?' attitude.
Carry an extra supply of clothes for your kid (and maybe for you, too). And because checked bags sometimes get lost or delayed, your carry-on should also include necessary medication and must-have toys.
Extras to Bring
Triangular crayons. These crayons' shape means they won't roll under a seat two rows ahead of you when (not if, when) they fall.
Massive activity book. Toddlers will flip for a reusable sticker book, while older kids can stay busy with a book full of puzzles, word games, and more.
Emesis bags. Gone are the days when every seat pocket came with its very own "airsick bag." If your child is prone to airsickness, pack these emesis bags, which twist to close and lock in contents.
Going to the Beach with Kids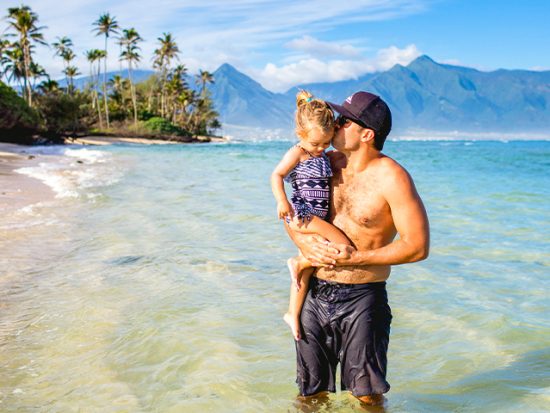 Tips
Find shade, especially if you'll be at the beach at midday. Rent a cabana or an umbrella, or pack your own.
Set a reminder on your phone to reapply sunscreen every two hours—more frequently if you and your family are active or splashing about.
Stay vigilant. Always keep an eye on kids around water, no matter their ages and no matter how well they swim. You might even consider investing in a life jacket/floatation system.
Extras to Bring
Camping with Kids
Tips
Research before you go to ensure you're packing the right bug spray.
Plan an age-appropriate scavenger hunt to help kids get familiar with the campsite and/or just being outside for an extended period of time.
Figure out the sleeping arrangements before arriving at the campsite. Will your kids be in the tent with you, or will they need their own? Same deal with sleeping bags.
Extras to Bring
Child carrier backpack. Good for toting kids up to age four, this hiking backpack with a built-in child carrier features padded straps and a hip belt. Bigger kids might like—or be asked—to carry their own backpacks.
Outdoor explorer kit. Complete with binoculars and a magnifying glass, this adventure set helps naturalists-in-the-making discover the insects, birds, and other wildlife in the world around them. Up to you to implement a "no pet fbugs in the tent" policy.
Camp chair. A cute foldable chair for kids is perfect for when it's time for songs and s'mores around the campfire.
Walkie-talkies. This family-friendly walkie-talkie set helps kids stay connected even when they're off exploring other parts of the campgrounds.
Outdoor games. An al fresco game set, complete with cones, bean bags, and rings, makes for fun entertainment at the campsite.
Going On a Cruise with Kids
Tips
Look for ships that offer the right mix of activities and on-board programs for your family. For example, not all ships have nurseries, and some youth programs won't accept kids who aren't potty-trained.
Stick important documents, such as passports and copies of birth certificates, in your carry-on or day bag, and leave them there. Depending on where your excursions are, you might need to show such documents at checkpoints.
Decorate your stateroom door. Doing so not only helps your cabin feel more personal, but will help older kids (or you) find your room more quickly.
Extras to Bring
Staying In a Vacation Rental (Beach House, Mountain Cabin) with Kids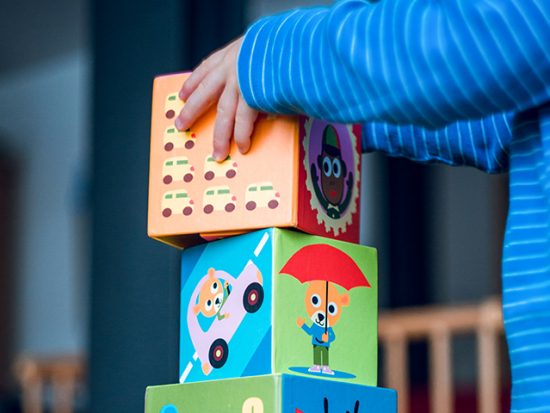 Tips
Use duct tape to baby- or kid-proof your vacation rental (bring baby oil, too, to help remove any residue). Alternatively, you can pack outlet covers and other protective gear. You might consider schlepping along or renting a childproof gate.
Take a favorite pillow (of course you'll want to check whether your rental comes with towels and linens). Staying in a strange house can be just that—strange. If you have the space, consider packing a little bit of home.
Do a last-minute walk-through before leaving, then do it again. Settling into your vacation rental is great, but it also increases the likelihood that you might leave something behind.
Extras to Bring
Related Stories
All products have been hand-picked by our writers and editors. Items purchased through links may earn us a commission.