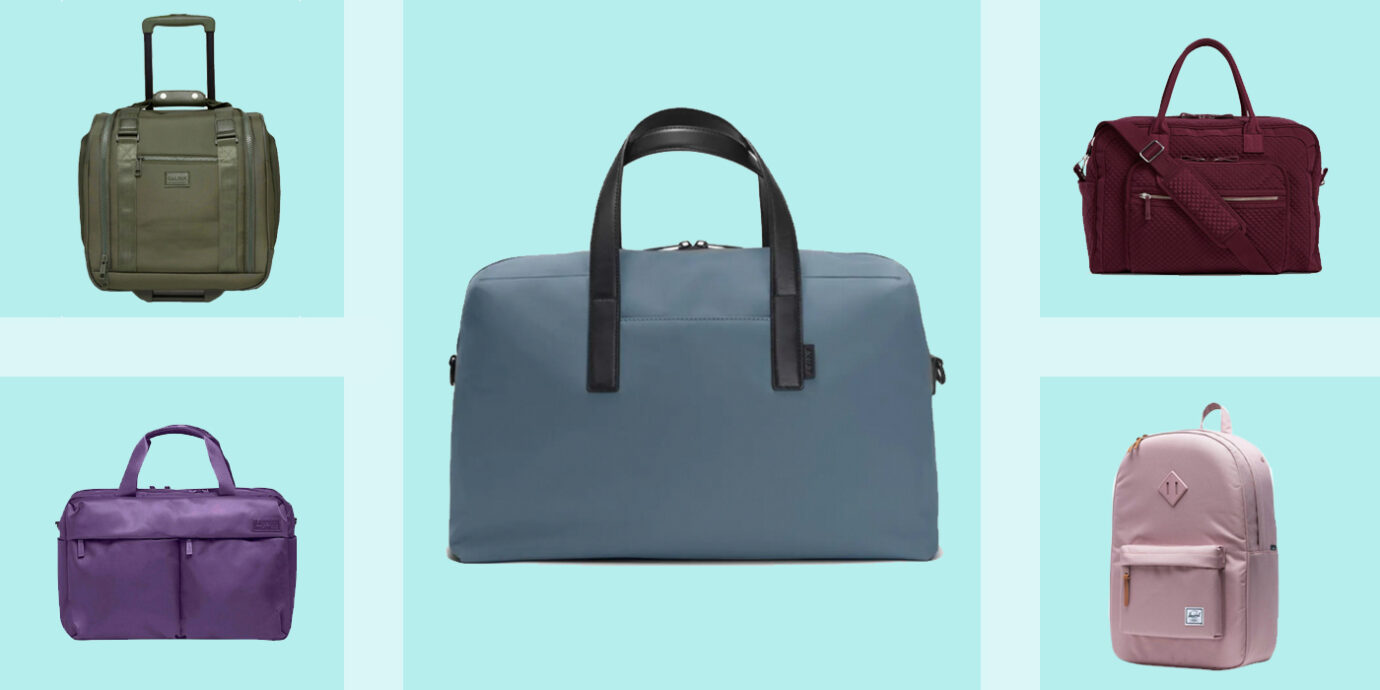 Luggage Expertise
The Best Bags to Use as Your Personal Item
Ah, the freedom of catching a flight without checking a bag! No worrying about your luggage making it to its destination, and no waiting at baggage claim hoping your luggage is next  in the parade of black rolling suitcases on the carousel. Usually, carrying on a suitcase is the way to go. But with many airlines now charging Basic Economy passengers a fee to store carry-ons in the overhead compartment, the art of packing everything you'll need for a weekend—or longer—into what airlines call a personal item has become a necessary money saving skill. You don't have to do it alone—these personal bags are here to help! Below, we've rounded up the absolute best personal item options for when you're ready to take to the skies with everything you need neatly under the seat (or occasionally in the overhead bin) in front of you.
What counts as a personal item?
Part of the reason choosing a personal item can be such a challenge is that airlines don't agree on a standard definition—anything bag-shaped counts! The key is that a personal item is smaller than a carry-on suitcase—unlike bigger bags that go in overhead compartments, a personal item should fit under the seat in front of you. Of course, different airlines have differently sized seats so it may be a matter of not overpacking your bag so it fits. Our choices for best personal bags usually fit under the seat, and all of them will fit in an overhead bin.

What size bag can fit under an airplane seat?
Different airlines have different size restrictions for personal items. American Airlines sets personal item dimensions at 18 (length) x 14 (height) x 8 (width) inches, while United's cutoff is a bag 17 inches x 10 inches x 9 inches. On JetBlue, you'll have space for a bag that tops out at 17 x 13 x 8 inches, while on budget airline Spirit, you get 18 x 14 x 8 inches worth of space. If you're flying Delta, you might have more room depending on what class of seat you're in—rather than offering exact dimensions, they ask only that a personal item fit neatly under the seat in front of you. Larger European airlines (think British Airways or Lufthansa) have similar definitions as the big American carriers, but if you're traveling on a budget airline like EasyJet, you'll want to pack light. It limits you to just one bag per person per flight, with a size limit of 56 x 45 x 25 centimeters.
Can a backpack count as a personal item?
Yes! Since you're not getting a ton of space, we'd stick to a regular size backpack versus a bulkier hiking pack, though. And if you're traveling with a baby or a toddler, you can bring their diaper bag in addition to another personal item.
1
Best Overall Personal Item Bag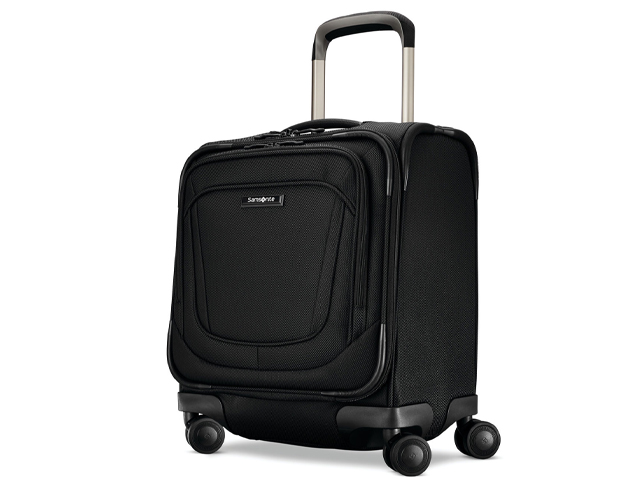 Samsonite has long been the go-to luggage of business travelers (and flight crews!), and it's no wonder—the brand has been around since 1910, so they've had plenty of time to perfect bags of all sizes. The Samsonite Silhouette 16 Underseat Carry-On Spinner truly has it all—a lightweight metal frame to keep packed items secure, a handle and wheels so you can move through the airport at top speed, and a clever strap that slides onto the handles of a bigger suitcase to keep you streamlined as you run to catch your next flight. We love that it unzips in a U-shape, too—no more digging through neatly folded clothes! This one is quite literally the little black dress of luggage—it'll never go out of style.  
$219.99 at Samsonite
2
Best Personal Item Bag for the Ultra Organized
Cool, calm, and collected aren't exactly words we usually associate with air travel—until we met the Catalina Deluxe Tote. Seriously, it's got storage for everything—from a key leash to a genius zippered compartment under the main space for shoes or dirty clothes. A wallet or passport fits right into a secure interior compartment, while a book or tablet stays handy in a bigger exterior pouch. In washed organic cotton or recycled polyester, this is a bag that says "I have it all together" even when you're running late. 
$96 at Lo & Sons
3
Best Personal Item Bag for the Over-Packer
You wouldn't dream of getting on a plane—even for a weekend trip—without rain boots. And a bathing suit. And a hair dryer. OK, you get the point: even on a short trip, you want to be prepared! Cuyana to the rescue with the Classic Weekender, which feels like a totally modern version of Mary Poppins's iconic hold-everything carpet bag. Crafted from sturdy canvas, it's finished with muted gold hardware and leather accents at the shoulder strap and handles. Depending on the airline (and how full the bag is), you may be able to get this under the seat in front of you, but it'll handily fit into an overhead compartment if you want to fill it up. Two sizable interior pockets will keep a tablet or a makeup bag secure, and like all Cuyana bags, it's monogramble! We especially like it in the versatile navy colorway. 
$185 at Cuyana
4
Best Personal Item Bag for the Parent With Kids
When traveling with kids, it's the Scout's motto all the way: be prepared! You'll want a bag that holds it all, from snacks to reusable water bottles to picture books to tablets , and this one is more than up to the task! It's got five inside pockets that make it easy to keep bottles and diapers separate from clothes and shoes, and three outside compartments to fill with Goldfish crackers, toys, and other child-sized essentials. Plus, it's a rendered in a soft microfiber polyester, which means it's easy to clean and incredibly light. If only your kids were the same way. 
$150 at Vera Bradley
5
Best Personal Item Bag for the Style-Conscious Traveler
It's hard to feel "French girl chic" when you're sleepily taking your shoes off to go through security on an early morning flight, but the classic Longchamp Le Pilage—updated in a delicate-but-cool floral print—might do the trick! Sturdy leather handles and the combo of a zipper and a snap-button closure will keep your Breton stripes secure, and the roomy interior will easily hold a weekend's worth of Parisian-inspired looks. We've got one word for this bag: oui!
$230 at Bloomingdale's
6
Best Personal Item Bag for the Budget Traveler
If you're going on a weekend trip, the chances are high you'll be doing a Target shop to stock up on toiletries, snacks, and a new swimsuit cover-up. Why not pick up this fabulous—and under $50!—bag while you're at it? The lightweight nylon is perfect for keeping the overall weight down (your shoulders will thank you!) and the organized interior makes packing a full weekend wardrobe effortless. It comes in a few colors, but we especially love the navy with geometric red accents. 
$39.99 at Target
7
Best Personal Item Bag for the Backpack Lovers
Backpacks are a great personal item—not only do they hold a ton of stuff, but a set of two padded straps is always going to be better for your back and shoulders than a single strap. If you've got a long day of travel ahead of you (think: multiple layovers), this is a huge plus! This Herschel backpack has all the practicality of your favorite high school backpack, with an interior big enough for a laptop and a tablet, plus an outside pocket to stash snacks. The suede zipper pulls and cheerful striped lining elevate it way beyond homeroom. In a variety of fun and sophisticated colors, this bag goes straight to the head of the class.
$59.99 at Backcountry
8
Best Personal Item Bag With Wheels
A hot tip about personal items is that unlike checked suitcases, they're not regulated by weight, which makes them a great option for traveling with heavier essentials like shoes, books, or even a bowling ball. Of course, you'll want wheels to glide all those heavy items across long airport terminals, and this Calpak bag is ready to roll. Dividers keep delicates neatly separated from everyday clothes, and a soft-sided exterior means no pushing and pulling to cram it under the seat.
$59.97 at Nordstrom Rack
9
Best Personal Item for the Tech Savvy
In the last few years, Away has totally changed the luggage game for the tech savvy traveler. The brand's already iconic suitcases were one of the first to offer charging ports—and we wouldn't expect any less from their personal bags. Away has thought of everything with the Everywhere bag—not only does it have compartments perfectly sized to store laptops, tablets, and phones, it even comes with a separate umbrella compartment so your electronics stay safe even on the rainiest of travel days. 
$195 at Away
10
Best Personal Item for Anti-Theft Properties
When you're traveling with valuable and hard-to-replace items, like a laptop or a passport, the peace of mind offered by an anti-theft bag can be extremely welcome, and nearly 1,500 Amazon reviewers rate this one as a five-star buy. In addition to a buckle and reinforced zippers to keep your stuff safe, it's also water resistant—this is the bag you'll want to take on a short outdoors-y adventure! In a backpack style, it's easy to carry, with pockets for electronics and reusable water bottles, and it's even set up to charge phones and tablets so you can stay powered up no matter where in the world you are.
$20.99 at Amazon
11
Best Personal Item With First-Class Cred
The first-class upgrade: free Champagne, ice cream sundaes, and a comfy seat that puts even at-home loungers to shame. If scoring an upgrade is on your must-do list, this is the bag to bring: Bric's is one of the most-spotted bags in first class cabins. The luxe leather-like material is buttery soft, and the interior compartments are big enough to store the first-class essentials: laptop, of course, but also a glam dress, a fabulous pair of shoes, and a makeup bag so you can go full Cinderella once you hit the ground.
$550 at Bric's Milano
12
Best Personal Item for Zooming Through the TSA Line
The key to making it through TSA at warp-speed is planning ahead—you'll want a bag with a sleeve you can easily pull your laptop or tablet out of, a zippered exterior pocket to stash your clear bag of toiletries, and you'll want to be 100% sure it'll fit on the scanner's belt with no issue. Sound impossible? Not with the City Plume 24 Hour Duffel Bag, which checks all the boxes! You'll be at the gate—or in the lounge—in no time. Bonus: the flexible nylon means it will almost certainly conform to the exact dimensions of your under-seat storage space once you board. A time-saver on all fronts. 
$115 at eBags
Related Stories
All products have been hand-picked by our writers and editors. Items purchased through links may earn us a commission.