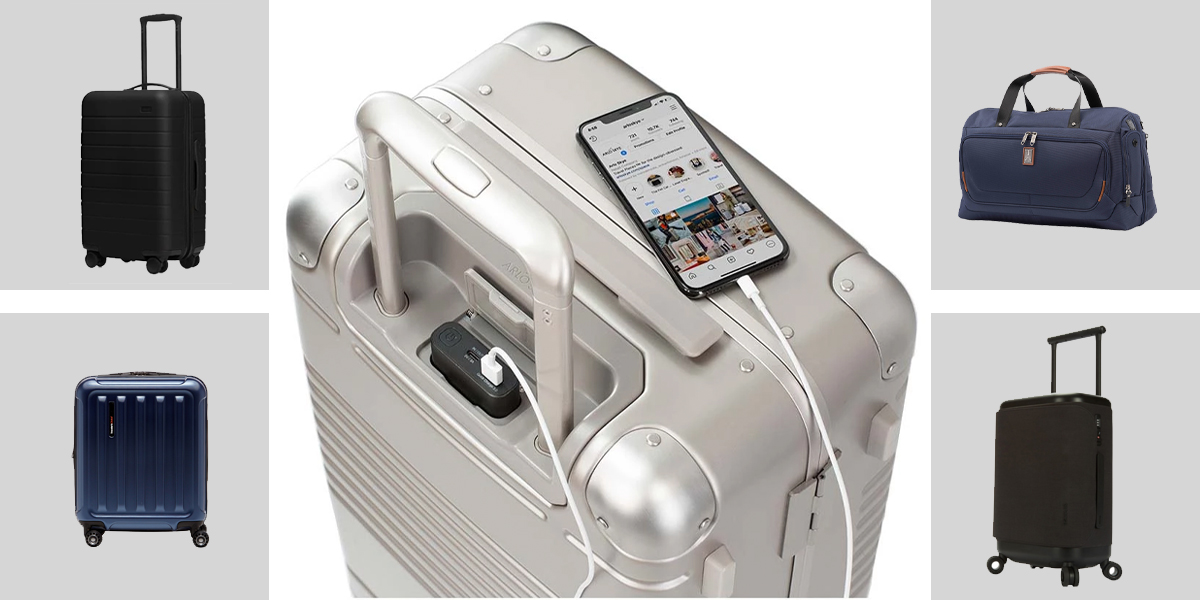 Luggage Expertise
The Best Smart Luggage on the Market, Plus What You Need to Know About Smart Bags
Remember the world before smartphones? Yeah, we can't really, either. And here's a bet: Eventually we're going to feel that way about our travel bags, too. We're talking about smart luggage. To the naked eye, smart bags look like your average rolling bag, but they harbor a secret superpower: a power source that can charge your phone and other devices. Smart bags are getting more and more popular (and affordable), but they're not without their own set of quirks. Read on for must-know details about how to use them without TSA delays, as well as the best models out there. Passengers, prepare for take-off.
What You Need To Know About Smart Luggage

What Is a Smart Bag?
Simple: It's a piece of luggage that contains a battery (or another source of energy) to power itself or charge devices. Most of the time, these batteries provide at least 10,000mAh of rechargeable power and plug into the bag itself; bags are designed so you can access the battery through a USB port and easily charge your phone. But batteries can cause issues for airlines, which is why you've likely started hearing desk agents request that you remove them before boarding a flight.
Most of the time when people refer to a "smart bag," they mean a bag that can charge their phone. But the bags do get even smarter. Some have additional features like solar panels and special biometric locks.
What Does mAh Stand For?
If the term "10,000mAh" means nothing to you, allow us to explain: mAh stands for milliampere-hours and denotes how much charge a battery can hold. Batteries with 10,000mAh are pretty standard and can charge a smartphone about four times over, but those with a higher mAh have an even longer battery life.
How Can a Smart Bag Make My Travels Easier?
First and foremost: a smart bag will help you keep your devices charged. We don't need to tell you how game-changing that is. And if you're already traveling with a power bank, then you know that they can lead to a mess of wires. Smart bags streamline this process and let you keep the battery in your bag, at least until you board the plane. If your battery is part of your luggage, you might also be willing to carry a bigger power bank—so you could, say, charge your laptop without having to lurk near the one overcrowded wall plug at Gate A9.

Is There a Smart Luggage Ban? How Can I Travel Safely With My Suitcase?
Sort of. Okay, here's the deal: Smart luggage can't be checked with the batteries intact, as the airlines consider lithium batteries a fire hazard. Carry-on smart luggage is still allowed, though airlines often request that batteries are removed from carry-ons before boarding. Luckily, most smart luggage companies have incorporated a battery design that's easy to remove; the batteries in Away's newer suitcases, for example, eject out once you press down on them. All you have to do is pop the battery out to check your bag. You can bring the battery with you in the cabin in your carry-on or personal item.
The Best Smart Luggage of 2019
1
Away The Carry On
You can't cover an inch of ground at the airport without seeing one of these Away bags rolling by, and it's no surprise why: They're sleek as hell and include a removable (and in newer models, ejectable) lithium-ion battery that lets you charge your phone up to five times. Two inner compartments and a built-in laundry bag make it easy to keep your contents tidy, while a TSA-approved combo lock keeps it all secure. Away's 100-day return-for-any-reason policy makes it easier to bite the bullet on the purchase. But you may want to spring for a bit of customization—or at least a big luggage tag—or you may end up with someone else's Away bag.
Exterior dimensions: 21.7 x 13.7 x 9 inches
Weight: 7.6 pounds
Primary material: Polycarbonate shell
Available colors: Black, Navy, Sky Blue, Green, Asphalt Grey, Coast Blue, White, Sand, Blush Pink, Brick Red, Waterfront (blue/white), Sandbar (white/sand)
$225 at Away
2
Arlo Skye The Polycarbonate Carry-On
Like the Away (and many bags on this list), the Arlo Skye has a 10,050 mAh battery pack that charges your devices several times over. But the battery is really just the first of many really cool features on this suitcase, including a zipper-free (and frankly gorgeous) exterior with two TSA-approved locks, anti-microbial lining, and built-in laundry and shoe bags. 
Exterior dimensions: 22 x 14 x 9 inches
Weight: 8.5 pounds
Primary material: Polycarbonate shell, aluminum frame and corners
Available colors: Black, Navy, Rose Gold, Silver, Champagne
$450 at Arlo Skye
3
Incase ProConnected 4 Wheel Hubless Roller
The battery pack in the Incase ProConnect Hubless Roller puts other smart suitcases to shame. It boasts a quick-release battery that's twice as powerful (20,100 mAh) as the Away or Arlo Skye, and can charge a new-gen MacBook laptop via USB-C. (Don't worry if your tech isn't fresh-from-the-Apple-store new: the battery also includes two additional USB-A ports for the old-timers among us.) The battery hub at the top of the case also makes a great storage area for other small items, like your headphones. The carry-on opens nice and wide, like an old-school trunk, with tie-down straps to keep your gear in place and easy-roll wheels that are fully removable if you're low on space. All this, and the bag comes with a lifetime warranty.
Exterior dimensions: 22 x 14 x 9 inches
Weight: 15.5 pounds
Primary materials: Polycarbonate and polyester
Available color: Graphite
$399.95 at Incase
4
Traveler's Choice Smart USB Port Spinner
For folks who are particular about their tech, the simple and affordable Traveler's Choice sets you up with an empty power bank compartment that leads to a USB port, letting your purchase the battery on your own with the capacity you prefer. The expandable bag features handles on the top, side, and front, so it's comfortable to grab from every direction, and garment straps that keep your wardrobe from moving too much in transit. This is a fit for someone who wants a sleek, smart pick but doesn't want to break the bank.
Exterior dimensions: 20.5 x 16 x 9.5 to 11.5 inches
Primary material: Polycarbonate and polyester
Available colors: Navy
$79.97 at Nordstrom Rack
5
U.S. Traveler USB Port Ez-Charge Carry-on Spinner
Consider this pick in direct competition with Traveler's Choice. Similarly priced, the two hardshell bags feature a dedicated compartment for a power bank that you buy separately (allowing you to pick the battery size you want). Both have a zip enclosure as well as a garment strap to keep items in place. The biggest difference between the two is the fact that the U.S. Traveler comes with a built-in TSA lock to keep your belongings extra secure. Oh, and it comes in more colors, so you can better coordinate with your other travel bags.
Exterior dimensions: 21.5 x 14 x 9.15 inches
Weight: 7.28 pounds
Available colors: Black, Navy, Teal
$89.99 at Amazon
6
Reyleo Hardside Spinner
Yes, this is another bag that offers space for a power bank but lets you use one you already have—or purchase the size you need. But the nice thing about the Reyleo is that it provides not one but two USB ports on its exterior. Plus, it's the least expensive hard-sided bag on the list yet, and you still get features like 360-degree wheels and a TSA lock. The Reyleo spinner is small enough to work as a carry-on, even with budget airline carriers, according to reviewers.
Exterior dimensions: 13.8 x 8.1 x 21.3 inches
Weight: 5.5 pounds
Primary material: ABS
Available color: Black
$49.99 at Amazon
7
Travelpro Crew 11 Duffel with USB Port
Lest you think that smart luggage must be hard-sided, this duffel is here to expand your horizons. With an external USB port, you can charge your gear on the go—provided that you buy and insert your own power bank. Other nifty perks include a built-in folding system for suits and outer zip pockets to help keep you organized. Rather than stuffing all of your clothes into a glorified sack, the bag itself unzips down the middle so that you can fill it like a suitcase. 
Exterior dimensions: 22 x 13 x 9 inches
Weight: 4 pounds
Primary material: Ballistic nylon
Available colors: Black, Patriot Blue, Mahogany Brown
$124.99 at Ebags
8
Planet Traveler USA Space Case Hardside Spinner Luggage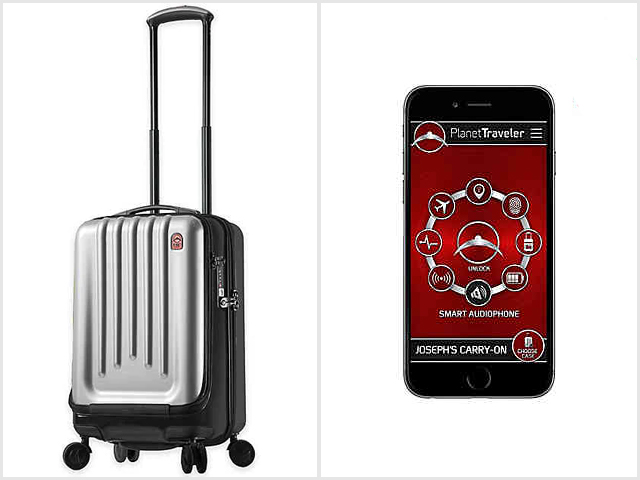 The price tag is eye-watering, but this bag has smart features in spades. A built-in battery lets you charge your phone up to seven times, with two USB ports to boot. There's also a built-in scale so you'll never again be unpleasantly surprised by overweight fees, plus a Bluetooth speaker (fun for staging your own "Say Anything" moment, suitcase edition), an anti-theft proximity sensor, and a fancy lock that can be accessed with a biometric scanner or a phone app. It's certainly not cheap, but it delivers.
Exterior dimensions: 10.5 x 14.25 x 22.5 inches
Weight: 10 pounds, 6 ounces
Primary material: Polycarbonate
Available colors: Black, Silver
$799.99 at Bed Bath & Beyond
9
G-Ro Carry-On Carbon Fiber
When you want a bag that looks like it came straight out of the Jetsons, the G-RO is your best bet. This carry-on's big wheels set it apart from others in both looks and functionality—their large diameter gives the bag a lower center of gravity, which makes it easier to pull over less consistent terrain (think cobblestones in Paris). While that's pretty smart on its own, the G-RO also includes a removable battery with two external USB ports and a top compartment for your small miscellaneous items, like headphones, a cell phone, or an eye mask.
Exterior dimensions: 14 x 22 x 9 inches
Weight: 9.3 pounds
Primary material: Carbon fiber
Available colors: Black/Black, Black/Silver, Black/Gold
$345 at G-Ro
10
Sunnybag Iconic Solar Backpack
While power banks are cool and everything, they're not nearly as cool as charging your devices from the sun. This solar backpack can charge your phone in two hours in the sunlight, so whether you're planning on desert hiking or just kicking around a sunny place with limited access to power, solar panels will do you good. For days when rain is in the forecast, the bag is water-resistant and comes with a waterproof rain cover. Its 20L of space provides more than enough room to use it as a day bag during travels or personal item on a plane. And yes, there's a laptop compartment.
Exterior dimensions: 6 x 6.7 x 18.9 inches
Weight: 2.47 pounds
Primary material: Cordura textile
Available colors: Olive Brown, Cool Gray
$79 at Amazon
11
Voltaic Systems Converter 5 Watt Solar Panel Backpack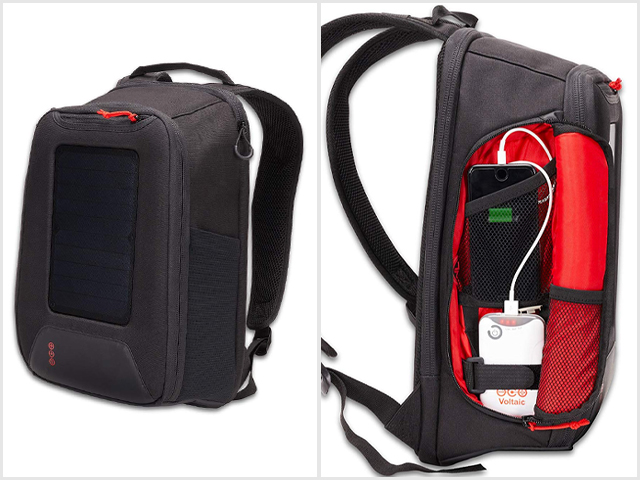 If you like the idea of a solar backpack, but find it too risky, then the Voltaic Systems backpack is a nice in-between. You still get solar power that will charge a phone in about three hours of sunlight, but the bag also has a 4,000mAh battery to use as a plan B. Another nice touch: It's designed with recycled PET fabric, aka recycled water bottles, so you get to pat yourself on the back for being even more eco-friendly. Otherwise, it has a nice rundown of backpack features: a dedicated and padded laptop compartment, interior organization, side pockets, and padded straps.
Exterior dimensions: 6 x 12 x 18 inches
Weight: 2.4 pounds
Primary material: Recycled PET
Available color: Black
$129 at Amazon
Related Stories
All products have been hand-picked by our writers and editors. Items purchased through links may earn us a commission.