Luggage Expertise
Which Calpak Luggage Should You Get?
With trendy colors (rose gold! glossy white!) and playful patterns (rainbow! glitter!), it's easy to see why Calpak luggage is a fashion-pack favorite. These bags are made for your airport #ootd—that's Outfit of the Day, for the uninitiated. Though the L.A.-based brand has been around for 30 years, it was its marble-patterned hard-shell suitcase that put it on the map. Since then, the brand has evolved to include other Instagram-ready travel bags, packing cubes, dopp kits, wallets—even hat boxes. (Swoon!) Unlike the more utilitarian styles that have become ubiquitous at airports, most of Calpak's designs are meant to be fun and delightful. They're also super affordable, making it easy to build a collection or switch to an of-the-moment print when the mood strikes. 
Pros of Calpak Luggage
Reasonably priced—the most expensive suitcase is under $400 (and that's for a full-on trunk), with carry-ons averaging under $200 and full sets ringing in at $540
On-trend colors and prints—mossy green, terrazzo, marble—turn heads and are easy to spot in baggage claim
Glides smoothly, thanks to 360-degree spinner wheels
Lightweight but roomy, with plenty of interior pockets and an expandable zipper
Cons of Calpak Luggage
Most of the hard-shell exteriors are a mix of ABS plastic and polycarbonate, which tends to scuff, scratch, and dent more easily than 100% polycarbonate
Not as durable as more expensive brands—some customers have had issues with the zipper, wheels, and handles breaking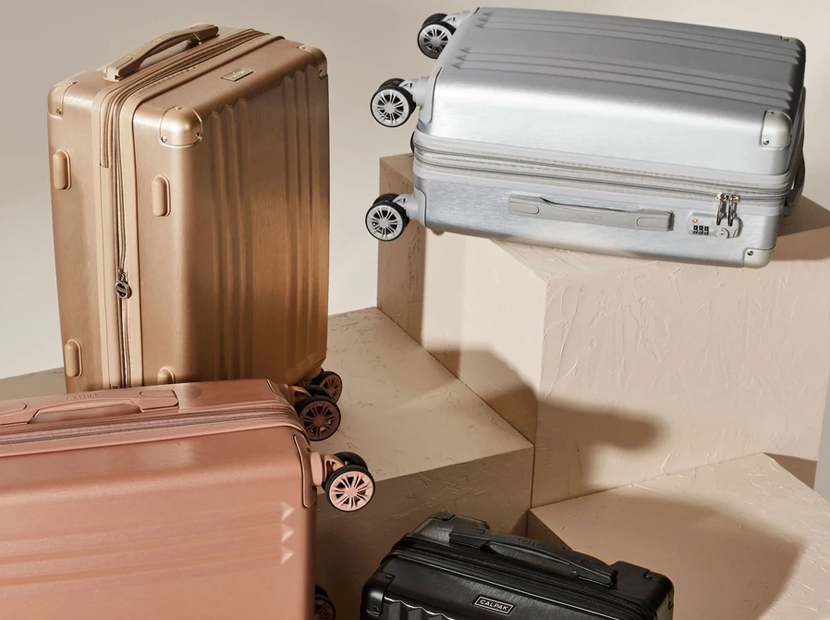 Calpak Luggage Style Overview
Calpak luggage is clearly designed with style in mind. Its signature product is the hard-shell rolly, which spans multiple collections and generally comes in three sizes (large, medium, and carry-on), though exact dimensions and features vary from line to line.
Choosing the right Calpak luggage mostly depends on your personal aesthetic. Minimalists will appreciate the new Hue line, which comes in muted colors like dusty pink, hazel, and mossy green, and features Calpak's first built-in laptop sleeve. Fashion-forward frequent flyers (say that three times fast) may be more drawn to Ambeur's shimmering metallics, Trnk's modern steamer trunk styles, or the famed Marble collection, which now includes a jazzy gold design and terrazzo patterns. Recent collaborations with celeb hairstylist Jen Atkin (luxe, zipperless aluminum luggage with cheeky stickers and Hinomoto wheels) and Joy Cho from Oh Joy! blog (confetti, floral, and ombre rollies and accessories) add even more personality to the mix.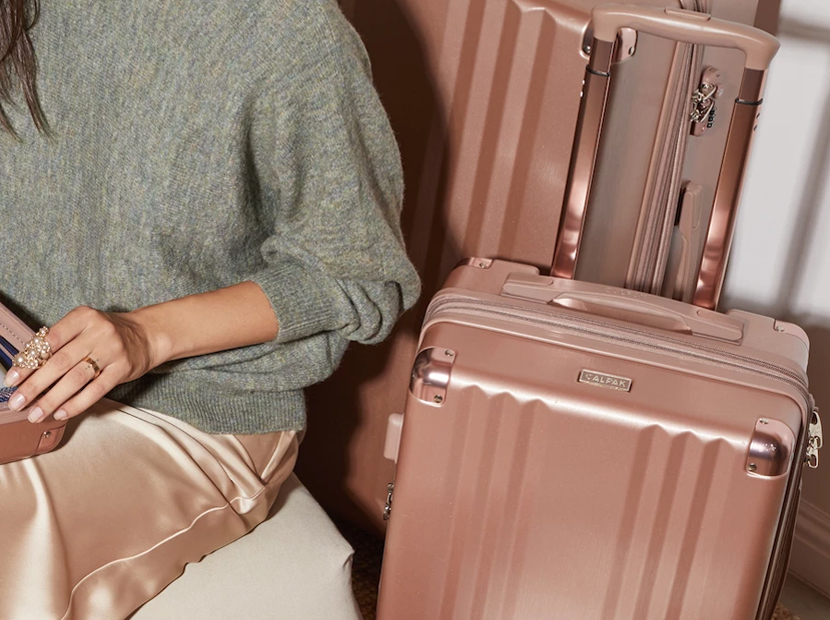 Where to Buy Calpak Luggage
If you want to shop Calpak's newest collections, your best bet is the brand's own website, where you'll find the latest suitcase styles, as well as bags, hat boxes, luggage tags, packing cubes, and more. Both Nordstrom and Shopbop also carry a pretty solid selection, and you can sometimes find Calpak luggage at Nordstrom Rack, eBags, and Amazon, as well.
Which Calpak Luggage Should I Get?
The Best Calpak Bags and Suitcases
1
Calpak Packing Cubes 5-Piece Set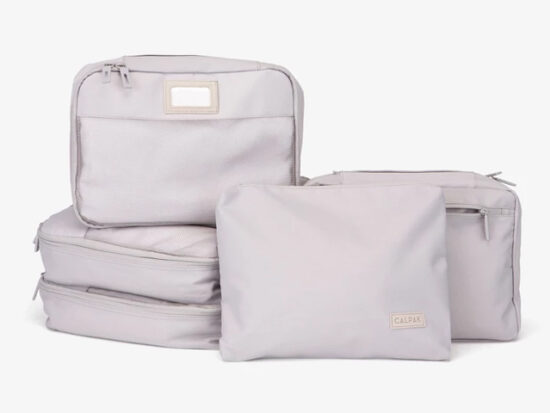 If you've never used packing cubes before, these will change your life. No rifling through your suitcase to find that one T-shirt you know you packed. No wrinkled clothes on day three from aforementioned rifling. Calpak's packing cubes keep everything in its rightful place, making easy work of staying organized and getting ready on the go. Whether you organize by type (shirts, underwear, accessories) or by day (jeans, tee, and a cardigan for museum-hopping on Tuesday), there's a Calpak pouch to fit the bill. The five-piece set comes with one large, one medium, two small, and a water-resistant "envelope." A mesh exterior lets clothes breathe, while a clear label provides visibility into what's inside. As with all things Calpak, they're not just functional, they're also stylish: The cubes come in cool colors and patterns (blush, olive, marble, leopard) that mix and match easily with Calpak luggage—but look equally great on their own. Though technically made for suitcases, they're also great for adding structure to a duffel or backpack.
Exterior dimensions: Envelope (13 x 10 x 1.5 inches), small (12 x 8.8 x 3 inches), medium (15 x 11 x 3 inches), large (17 x 12 x 3 inches)
Weight: 1.8 lbs.
Material: Polyester
Available colors: Nude, black, blush, cream, lavender, midnight marble (black background with white/gray marble print), milk marble (white background with gray marble print), stars (faded blue with white star print), olive, gold marble, leopard
Shop Now
2
Luka Carry-On Luggage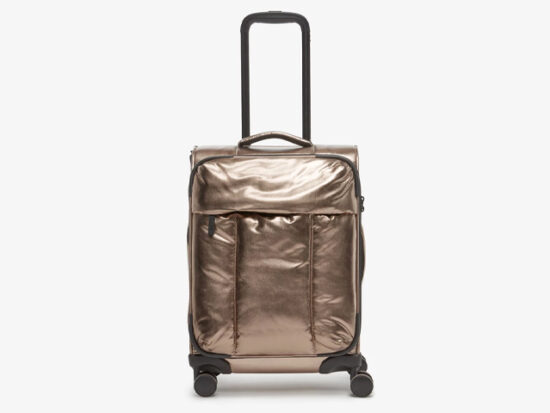 While Calpak is best known for its hard-side suitcases, its new Luka collection might just change that. The soft bags have been getting rave reviews from editors, bloggers, and even Oprah herself (the bags earned a coveted spot on the mogul's favorite things list in 2019). Not only does the squishy metallic carry-on stand out in a sea of hard-shell spinners, but you can fit more in it, thanks to its flexible exterior. The scratch-resistant polyester is also much less likely to get scuffed up. Just like Calpak's other rollies, it has 360-degree spinner wheels, a telescoping handle, and a TSA-approved lock, but with this collection, the brand added several handy exterior pockets, including a hidden one for your passport. The line only comes in three colors—black, bronze, and silver—but since each hue has a metallic sheen, they're anything but basic.
Exterior dimensions: 21 x 14 x 8.5 inches
Weight: 6.1 lbs.
Primary material: Polyester
Available colors: Black, silver, bronze
Shop Now
3
Ambeur Medium Luggage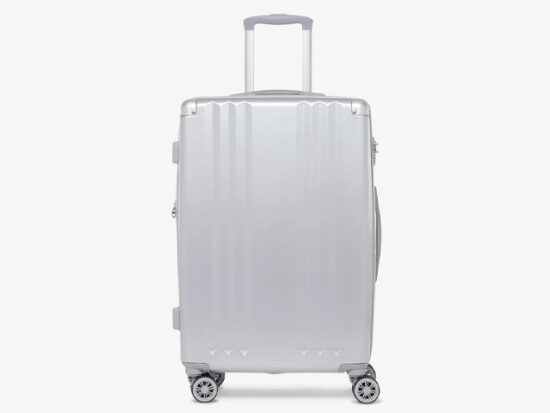 If you're a chronic overpacker, the medium-size luggage from Calpak's Ambeur collection is the next best thing to a carry-on. Compact enough to wheel through a busy city but roomy enough to fit that extra set of shoes you just can't leave behind, it's the "just right" of rolling suitcases. The ribbed exterior feels sleek and modern, and the color selection (black, gold, white, silver) is chic without being too trendy, so you can use it for years to come. Reviewers say it "rolls like it's on ice," thanks to Calpak's multidirectional spinner wheels. With compression straps, interior pockets, and an expandable zipper, this baby can fit a lot. The only downfall is that the polycarbonate-ABS plastic shell can get a little beat up in baggage claim. (If that's a dealbreaker, there's a clear luggage cover to the rescue.)
Exterior dimensions: 26 x 16 x 10.5 inches
Weight: 8.6 lbs.
Primary materials: Polycarbonate & ABS
Available colors: Rose gold, black, gold, silver, white
Shop Now
Related Stories
All products have been hand-picked by our writers and editors. Items purchased through links may earn us a commission.