Luggage Expertise
The Best Kids' Suitcases That Will Make Getting Them to Pack So Much Easier
Want a sure-fire way to get your children to carry some of the travel load? Get them their own luggage! Giving kids a special suitcase that's fun, lightweight, durable, and easy to pull around the airport terminal will help them get excited about upcoming trips, plus they'll learn early on how to become ace packers. Whether you're off for the weekend, a seven-day cruise, or a bucket-list family adventure, your pint-sized traveler needs a sturdy bag with easy-to-pull zippers and telescoping handles, smooth wheels, and a tough exterior that can withstand anything the baggage handler can throw at it. Here are our picks for the top kids' suitcases.
1
Best Suitcase for Kids Overall
Traveling with a super-active toddler or preschooler? You'll need their bag to be one thing: indestructible. That's why we love Travelpro's Minions Kid's Hardside Luggage. With high-performance, inline skate wheels that make rolling a cinch, a single-tube handle system that adjusts to kiddos of varying heights, and a 100-percent ABS shell, this 17-inch scratch-resistant bag is tough enough to be dragged down the stairs and along endless airport corridors during a way-too-long layover. Weighing just two pounds, the bag has a section inside to keep dirty clothes separate from clean ones, plus it's spacious and adorably festooned with minions, even on the inside!
Buy It Here
2
Best Disney Suitcase for Kids
If your child sings "Let It Go" on an endless loop, they'll love Disney's stylish new Frozen 2 Rolling Luggage, featuring vibrant graphics of Anna and Elsa along with silver faux leather trim. Four spinner wheels make toting this compact 18-inch vintage-style trunk bag effortless, and a retractable push-button handle is just the right size for small hands. A sturdy top-carry handle will help hoist it up to the overhead bin, and the bag's surface is easy to wipe clean. Inside, there's a zippered compartment and elastic cross straps to secure stuffed animals and clothing in place.
Buy It Here
3
Best Duffle Bag for Kids
Ideal for trips lasting one week or longer, the soft-sided and affordable Olympia 8 Pocket Rolling Duffel Bag has a U-shape top opening and enough exterior and interior compartments to keep clothing, toiletries, electronics and chargers, books, and toys organized and easy to find. Featuring a sturdy recessed in-line skate metal ball bearing wheel system and reinforced sides and bottom, this duffel won't tip over when you put it down (potentially taking your kid down with it). It's available in 19 colors and four sizes ranging from 22"-33". With a hideaway locking telescoping handle plus strong carrying straps, this roomy yet lightweight bag is also easy to stuff into an overhead bin.
Buy It Here
4
Best Ride-On Suitcase for Kids
If your flight is delayed or your child didn't nap on the plane, you'll be incredibly thankful you bought the Trunki Original Kids Ride-On Suitcase and Carry-On Luggage to fend off the inevitable tantrum. With four large in-line wheels and a comfy saddle on top, this boredom-busting bag doubles as a ride-on bumblebee, ladybug, tiger, or unicorn for young travelers weighing up to 110 pounds. There's plenty of storage space inside, too. Pull a tired child along using the sturdy strap—which doubles as a carrying handle—or let them happily scoot through the baggage claim area. Just be careful not to take sharp corners too quickly! Bonus: Kids will love the little key that latches the bag closed.
Buy It Here
5
Best Personalized Luggage for Kids
Several luggage brands offer personalized options for a fee, such as stamping initials onto an ID tag, but if you want to do something really cool for your child's bag, check out the Travelers Club Selfie Club 20-Inch Personalized Hardside Rolling Carry-On. It has a clear pocket in front that allows you to insert any 8.5"-x11" sheet of paper or photograph – change it up as your kid's tastes change from superheroes to pop stars. It's simple to swap out a beach photo for a skiing-inspired image, or a self-portrait drawn in the airport lounge. The 23" bag itself features a durable shell, telescopic handle, four 360-degree spinner wheels and expandability so you can tuck in souvenirs from your vacation.
Buy It Here
6
Best Cheap Luggage for Kids
For parents who love a two-for-one deal, the Goplus 2-piece Kid Luggage Set includes an upright 16-inch rolling suitcase and matching backpack. Crafted from sturdy ABS, polycarbonate and nylon with a protective layer that wards off scratches, this lightweight, waterproof duo can hold up to just about any abuse. Four spinner wheels on the suitcase make it easy for small children to yank it around, and adjustable wide-shoulder straps on the backpack are comfy on kids' shoulders, too. Super cute patterns include monsters, elephants, and owls. The fully lined interior has several compartments to keep items organized, and the two-way zippers are durable and smooth so tiny fingers can manipulate them with ease.
Buy It Here
7
Best Rolling Suitcase for Toddlers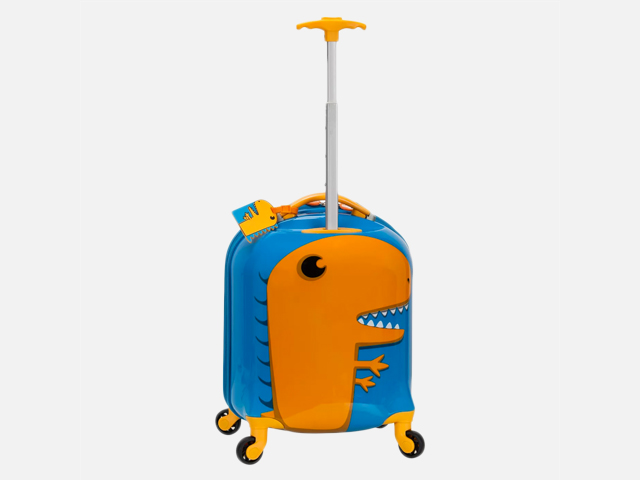 Rockland's 17" Kids My First Suitcase features a bright orange dinosaur and other adorable patterns that will put a smile on any tot's face. The hard-sided bag is lightweight yet strong enough to survive anything, and the rubberized zipper pulls are simple for little hands to maneuver. Spinner wheels and an adjustable aluminum handle make this a great choice for toddlers traveling for a weekend with the grandparents. It slips right into the overhead bin or under an airplane seat. The suitcase also has a combination lock so your child doesn't accidentally spill out its contents at the gate.
Buy It Here
8
Best Luggage for Tweens
Because all parents need The Force to be with them when trying to get their tween packed up for vacation, the sleek and expandable American Tourister Star Wars 20" Spinner bag is a must-have. This hard-sided case has zipper pulls, a divider panel, interior mesh pocket, and cross straps making packing a snap. Spinner wheels offer a smooth glide, even when the bag is stuffed to capacity, and because both the top- and side-carry handles are retractable, your child can heave their own bag into the bin. Bonus: This comes with a Star Wars luggage tag and a 10-year warranty.
Buy It Here
9
Best Luggage for Teens
Forget the cartoony graphics—the Away Carry-On is sophisticated enough for your teen to use for many years, and its super sturdy polycarbonate hard shell makes it durable enough to last that long, too. Available in nine muted shades plus a couple of limited-edition options, the four-wheel spinner features a roomy interior with elasticized straps and zippered compartment, a hidden water-resistant laundry bag, TSA-approved combination lock, and best of all, a rechargeable and ejectable battery under the handle to charge the zillions of electronic devices that are practically glued to every teen's hand. And the carry-on can be personalized, perfect for young jetsetters that want to stand out.
Buy It Here
10
Best Kids' Suitcase on Amazon
Ideal for children who love animals, the Skip Hop Kids Luggage With Wheels features playful design options like giraffes, unicorns and butterflies with matching zipper pulls and a line of coordinating lunch boxes. An outside zippered front pocket stashes small toys and nibbles for the trip, and there's enough room inside to fit a long weekend's worth of clothing and essentials. The retractable handle pulls out to the perfect kid-sized height, and the hardwearing canvas fabric is BPA- and Phthalate-free. Bonus: The detachable strap lets you throw the bag over your shoulder when racing to the gate after a last-minute potty stop before boarding.
Buy It Here
11
Best Kids' Suitcase at Target
Got a Marvel fan in your brood? Pick up the FUL 21" Black Panther Hardside Suitcase so they can wave their Wakanda tribal colors. Easy to wheel around with dual 360-degree spinner wheels, this lightweight and expandable ABS bag has tons of storage plus a zippered wet/dry compartment and two small mesh pockets so ear buds and other easy-to-lose items can be corralled. The roller bag has an adjustable handle, plus top- and side-carrying handles for easy hoisting into the trunk of your car. Bonus: A built-in USB port allows your child to charge a phone or movie-laden tablet.
Buy It Here
12
Best Kids' Suitcase at Nordstrom
With its vibrant and playful rainbow or shark patterns that can instantly be spotted from across the baggage claim area, the 18-inch Stephen Joseph Rolling Suitcase works great for tots who love to travel. Exterior zippered and mesh pockets keep must-have items like sunglasses, water bottles and books handy, while the interior has a mesh pocket for socks and other small doodads. Moderately priced and compact enough to slip under an airplane seat, this bag works for school or vacations. Pro tip: Treat the fabric with a protective spray before you travel to keep it looking bright and clean.
Buy It Here
Related Stories
All products have been hand-picked by our writers and editors. Items purchased through links may earn us a commission.