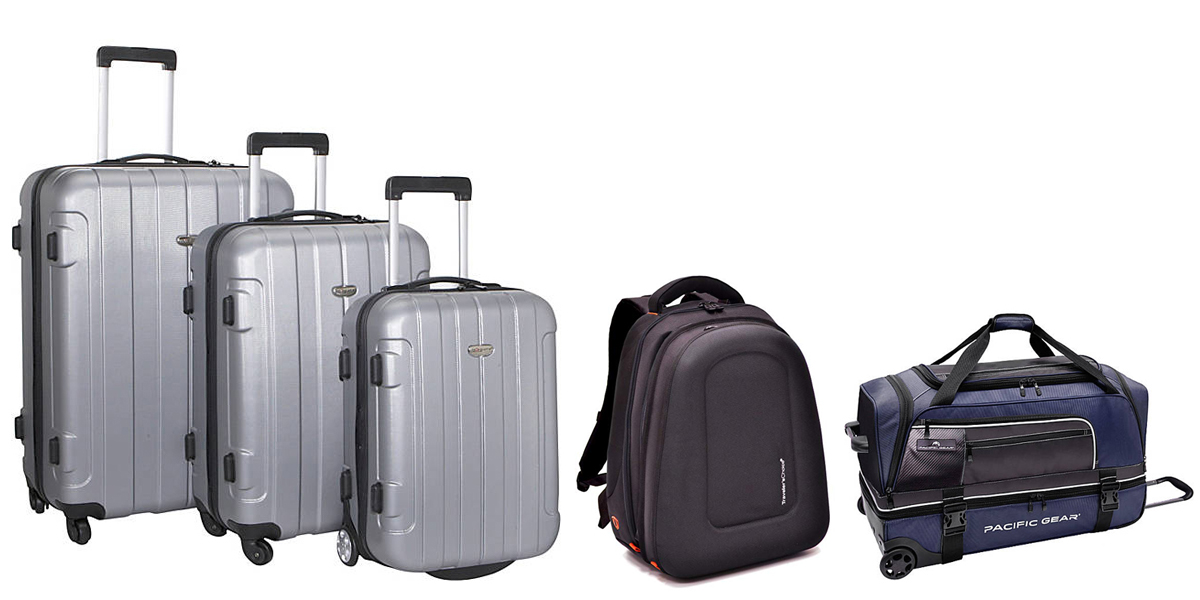 Luggage Expertise
Which Traveler's Choice Luggage Should You Get?
Dollar for dollar, Traveler's Choice luggage is some of the best in the biz. Sure, their styles skew more plain and practical than pretty, per se. But the brand offers unreal value (seriously—you can score a three-piece set for under $200). And while Traveler's Choice cases and backpacks look basic, the company has the option of adding prints, illustrations, logos, and even high-res personal photos to carry-on spinner cases. (A blown-up color portrait of your beloved kitty Boots is certainly one way to prevent future confusion at the baggage claim.) Before you go hunting for that beloved selfie to screen-print on your bag, let's break things down.
Pros of Traveler's Choice Luggage
Great value: The brand offers a three-piece spinner luggage set for under $200
Huge selection covers everything from locks to packing cubes
Brand is known for its stand-out customer service
Cons of Traveler's Choice Luggage
Not all cases have double compartments, meaning organizing can be a pain
Reports that the larger pieces don't hold up as well as smaller ones
Traveler's Choice Style Overview
Traveler's Choice keeps things pretty straightforward, though color options, including shocking lime green and bold orange, can add some flavor. There are no real bells and whistles from a styling standpoint, so if you're just look for basic hard cases, soft cases, and backpacks at a super-affordable price point, then this label is a good one to consider.
Where to Buy Traveler's Choice Luggage
If you're looking for Traveler's Choice Luggage, you won't have to look too far. It's of course available at the Traveler's Choice website, along with Amazon, eBags, Nordstrom Rack, Jet, Bed Bath & Beyond, and Target.
Which Traveler's Choice Luggage Should I Get?
The Three Best Traveler's Choice Suitcases
1
Midtown Molded Laptop Backpack Review
Made from sturdy fabrics and a molded shell for extra protection, this rucksack offers a solid mix of strength and comfort. The back panel, top handle, and shoulder straps are all padded with a high-density foam, and the base is reinforced to prevent the bag from tipping over—key when its primary use is for toting a laptop. Inside, things get even better. There are multiple pockets and a removable organizer with handy zip areas. But wait, there's more! The bag comes with an expandable compartment, 10-inch tablet sleeve, and removable laptop half-sleeve. In a nutshell? It's a dream bag for business travelers.
Exterior dimensions: 17 x 12 x 8 inches
Weight: 4.15 lbs.
Primary material: 1680D ballistic fabric
Available colors: Black 
$56 at Amazon
2
Pacific Gear Drop-Bottom Duffel
This duffel is a great call for weekend trips. Its made of a textured dobby fabric that can stand up to tight spaces or hard-on-their-gear owners. The roomy, U-shaped interior features multiple compartments and pockets, while a drop-bottom allows for extra storage, if needed. The bag is finished with large front pockets that are perfect for storing last-minute items and things you'll need to access quickly. The piece features double handles, so it's equally easy to roll around (quiet in-line skate wheels also help in this department) or grab off the conveyer belt.
Dimensions: 30 x 14 x 15.5 inches
Weight: 9.7 lbs.
Primary material: Polyester
Available colors: Black
$78.39 at eBags
3
Rome 3-Piece Hardshell Spinner/Rolling Luggage Set
If we're talking value for money, then this three-item set is your best bet. The affordable trio includes a 20-inch carry-on and 24- and 28-inch checked suitcases, all with ABS shells that protect against bumps and bangs. Spinner wheels on the two checked pieces make rolling a breeze, and there are top and side handles on all sizes for when you need to lift luggage from the conveyor belt or into a taxi trunk. 
20-Inch Carry-On Spinner:
Dimensions: 20 x 15 x 9 inches
Weight: 9.5 lbs.
Primary material: ABS
24-Inch Check-In Spinner:
Dimensions: 24 x 17.5 x 11
Weight: 12.5 lbs.
Primary material: ABS
28-Inch Check-In Spinner:
Dimensions: 28 x 21.5 x 12 inches 
Weight: 13.5 lbs.
Primary material: ABS
$149.19 at eBags
Related Stories
All products have been hand-picked by our writers and editors. Items purchased through links may earn us a commission.