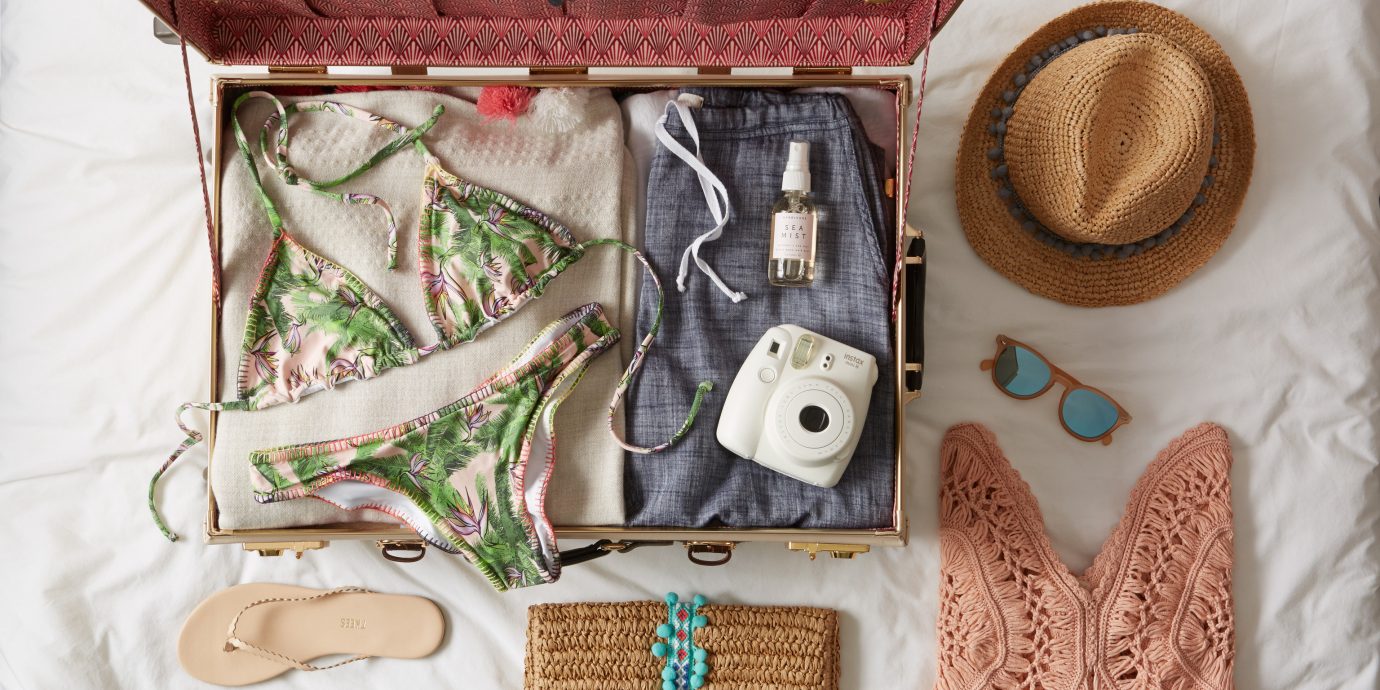 Packing Tips
8 Tips for Squeezing *Everything* Into Your Carry-On
Planning a vacation can be stressful; but packing for your well-deserved R&R shouldn't be. Here, eight easy tips for making the most of your carry-on's limited space.
Take Only What You Need
Plain and simple, right? But it doesn't always seem so. Try not to pack more than a week's worth of clothes. If you'll be gone a long time, it's more worthwhile to laundry there than it is to overpack. Go light on items like jeans (you can re-wear them!) and don't go overboard on shoes (aka more than three pairs)—they're bulky and add unnecessary weight. One last thing: leave the ultra-fashionable, hard-to-wear pieces at home. If you don't wear those sky-high stilettos or that fuchsia mini dress on the reg, then they're not worth bringing on the road.
Embrace Technology
We love dog-earring the pages of a paperback as much as the next person, but when we travel we trade bulky print books for an e-reader. Pack your Kindle or iPad (but keep it to one) for access to not only e-books, magazines, and online content, but streaming services like Netflix and HBOGo as seatback entertainment may soon be eliminated.
Make a Packing List
Last-second packers are more likely to overpack. Try to sidestep procrastinated packing the best you can by at least putting together a list in advance. This guarantees that you won't forget anything important, and that you're only bringing what's absolutely necessary.
Choose Your Personal Item Wisely
Most airlines allow for a carry-on and a personal item. If you're really hurting for extra space, opt for a backpack that can accommodate carry-on overflow.
Pack Versatile Pieces
If you read that more like "pack your most boring pieces," think again. They may not be as exciting as your bolder statement pieces, but basics are the key to versatile dressing on and off the road. So stock up on those simple tanks, cardigans, and tees and we promise you'll never have an "I have nothing to wear" moment again. One of our trusty go-tos? A cashmere wrap that can serve as a scarf, blanket, pillow, or hood.
Leave the (Bulk of Your) Toiletries at Home
Rather than packing everything on your vanity and in your shower, take advantage of the free products readily available at your hotel. Most properties provide shampoo, conditioner, body wash, and lotion, so there's no reason to waste half your carry-on space with stuff from home. As for cosmetics and must-have products like moisturizers and mousse, try to find travel-size versions. This will not only save space, but it'll also ensure you make it through TSA screening without a hitch.
Carefully Consider Roll vs. Fold
It seems like the two camps on this age old debate will never see eye to eye, but we see benefits to both. Consider rolling thinner, more wrinkle-prone items like blouses, while folding bulkier items like jeans and sweaters.
Utilize Extra (Hidden) Space
Be creative when it comes to fitting in as much as possible. Capitalize on otherwise wasted space—like the inside of your shoes—for storing smaller objects like socks or breakables like perfume.
Related Stories
All products have been hand-picked by our writers and editors. Items purchased through links may earn us a commission.