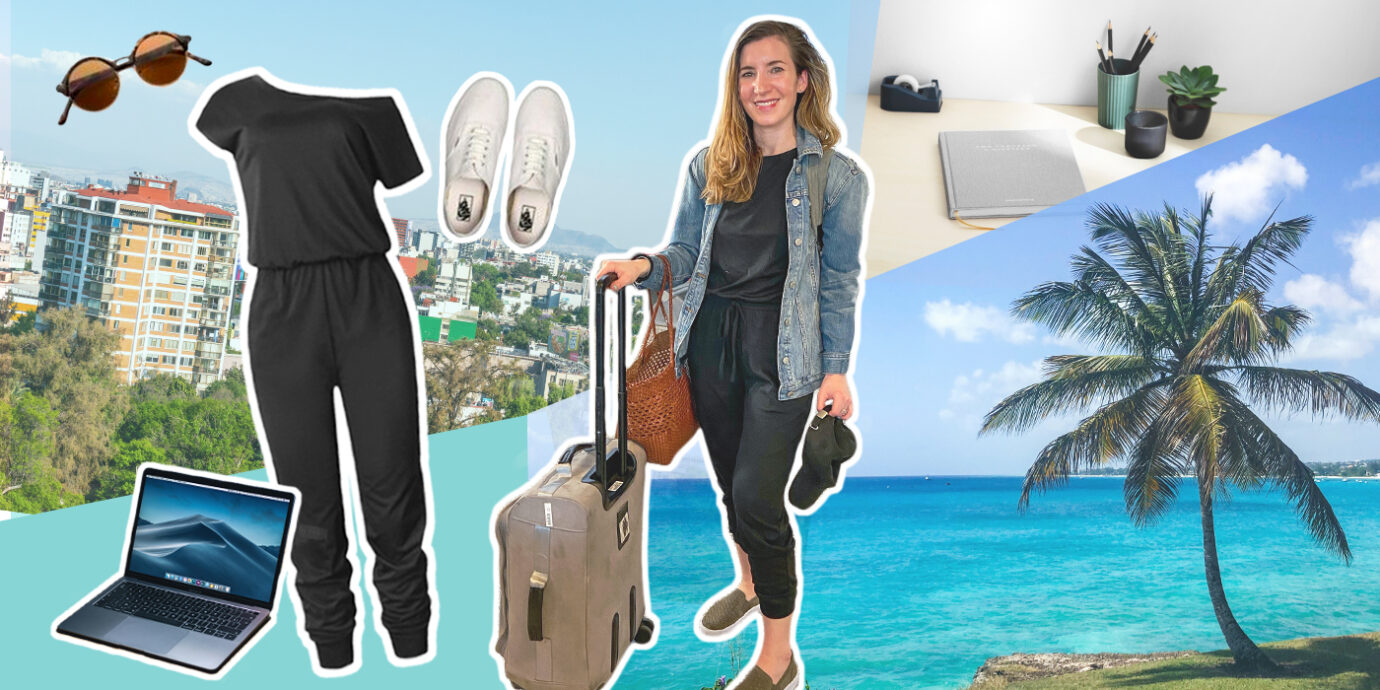 Shop
This Under-$30 Flight Attendant Jumpsuit From Amazon Is My Favorite WFH Outfit
Our travel editor puts Amazon's under-$30 jumpsuit—a cult fave among flight attendants—to the test on two trips and countless work-from-home days. Discover why this stretchy, soft one-piece is her new WFH uniform.
If there's one thing I've learned as a travel editor, it's this: Listen to flight attendants. Do as they say, and if you're lucky enough to get flight-attendant travel advice, follow it!
When I learned that flight attendants by the planeload were obsessed with a straightforward $25 jumpsuit on Amazon, I was instantly onboard, without question. A perfect, one-and-done travel outfit, beloved by women who travel for a living? I was so there. It helped that the jumpsuit cost less than my last brunch. I put it in my Amazon cart right away. I didn't bother with the glowing Amazon reviews or customer photos. No need. Flight attendants know their stuff. If they swear by this garment, then I would buy it, case closed.
The package arrived just before a trip to Barbados. (Though the item is marked as Amazon Prime, it has extended delivery time. Budget a week or two for it to arrive.) I rolled up the jumpsuit alongside more typical tropical-island fare, like my favorite Indian maxidress and linen beach pants.
The first thing I noticed is that it packed *super* well. Even though it had been stuffed in my suitcase a good 24 hours, the cotton/polyester fabric was barely creased. After a hearty shake and some hang time in the closet, it was wrinkle-free and ready for showtime. The fabric is actually mostly (65%) polyester, so it's very resistant to wrinkles. That polyester also gives it a hefty dose of stretch, making it super comfortable to wear all day, for any activity.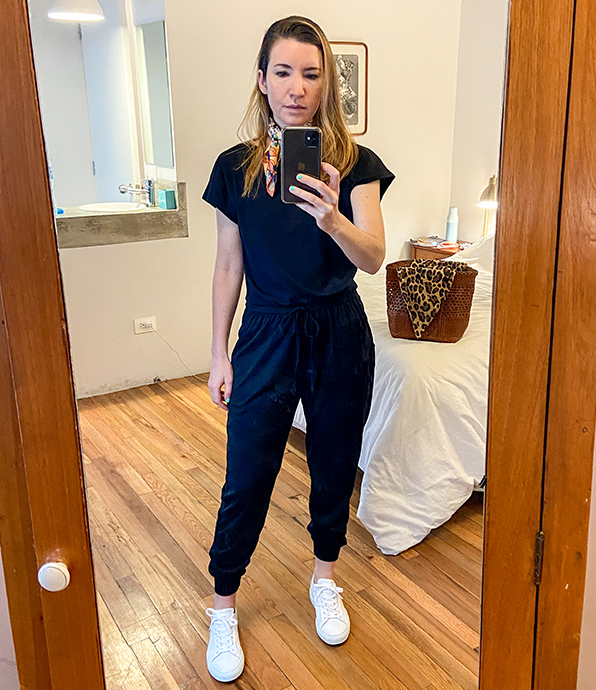 The jumpsuit made its official debut at sundowner drinks and a beachside dinner at Crystal Cove, where, like many Barbados hotels, there is a dress code. To make the jumpsuit a bit fancier, I wore the neckline off the shoulder (it can be worn off the shoulder or on, like a wide boatneck). The pant length is also customizable, thanks to the elastic cuffs. After testing out the pants at the ankle, mid-calf, and right below the knee in the hotel-room mirror, I decided wearing them at mid-calf felt perfectly beachy and dressy. The fabric isn't so thick as to feel too hot for the tropics, but it's thick enough to wear totally opaque—no panty peekaboos here. This is when I noticed that the drawstring—advertised as adjustable—is faux and can't actually tighten or loosen. Bummer. Also, there's a pesky little back button that my fingers can't manage to fasten without assistance, but I just left it open and it wasn't a problem. (If you're wondering, yes—you can still pull the jumpsuit down to pee, no problem.) The jumpsuit can get leveled up with shoes and accessories. I paired it with block heel sandals, big dangly earrings, and my go-to pink lipstick. I even plucked a pink frangipani found on the resort walkway on my way to the bar and tucked it behind my ear for a pre-dinner rum punch.
The jumpsuit was a hit with my fellow travelers, too. I got so many compliments that I sent its Amazon link around via WhatsApp, usually with the note "Best $30 ever! Palm tree emoji. Heart emoji." It's amazingly versatile, and deserves all the devotion it has earned from hundreds of flight attendants and thousands of Amazon shoppers. I've used it for anything from cocktails by the pool to a nice dinner to going out to sightseeing to airplane travel (as my four-hour flight back from Barbados proved). Really, it's the perfect canvas for whatever occasion.
Now that I'm staying home and social distancing, doing my part to slow the spread of Covid-19, you'd think my travel jumpsuit would be stuffed in back of my closet. After all, I'm hardly jet-setting these days. All I need is comfy clothes suitable for a full day of remote-working on the couch. But guess what? The Amazon jumpsuit is still in full rotation. The fabric feels like wearing pajamas, so I'm cozy in my couch/office, but it still looks totally sharp and professional on video meetings. And if I want to hop on a livestream yoga class at the end of the day, no need to change. This jumpsuit can stand up to a downward dog and then segue to a night of Hulu and Disney Plus. Turns out, my perfect travel outfit is my perfect work-from-home outfit, too.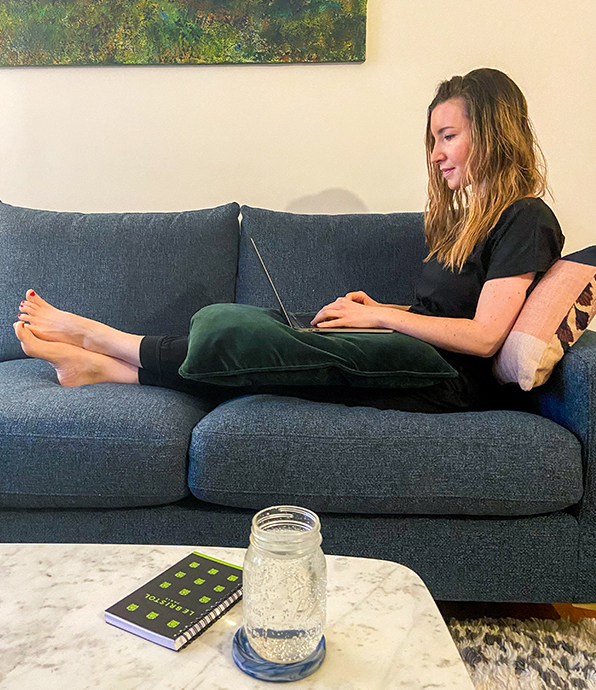 When the world gradually opens up to travel again, my jumpsuit will be waiting. Morocco and Cambodia remain high on my bucket list, and I know the first thing I'll pack when I can book my ticket…
TLDR: Amazon's PrettyGarden Jumpsuit with Pockets
Perfect one-and-down travel outfit, both for transit days and for in-destination sightseeing and going out
Amazingly versatile: can be worn for anything from WFH to a wedding
Under $30 on Amazon
Easy to pack and essentially wrinkle-proof
Totally opaque fabric; not flimsy or sheer
Can be worn on or off the shoulder
Pant hem can be worn at ankle, mid-calf, or even right below the knee
Handy pockets at the hip
Works nearly year round: spring, summer, and fall
Available in six colors: black, wine, brown, army green, forest green, and navy
Cons: Shipping takes a couple of weeks, drawstring isn't actually adjustable
Related Stories
All products have been hand-picked by our writers and editors. Items purchased through links may earn us a commission.