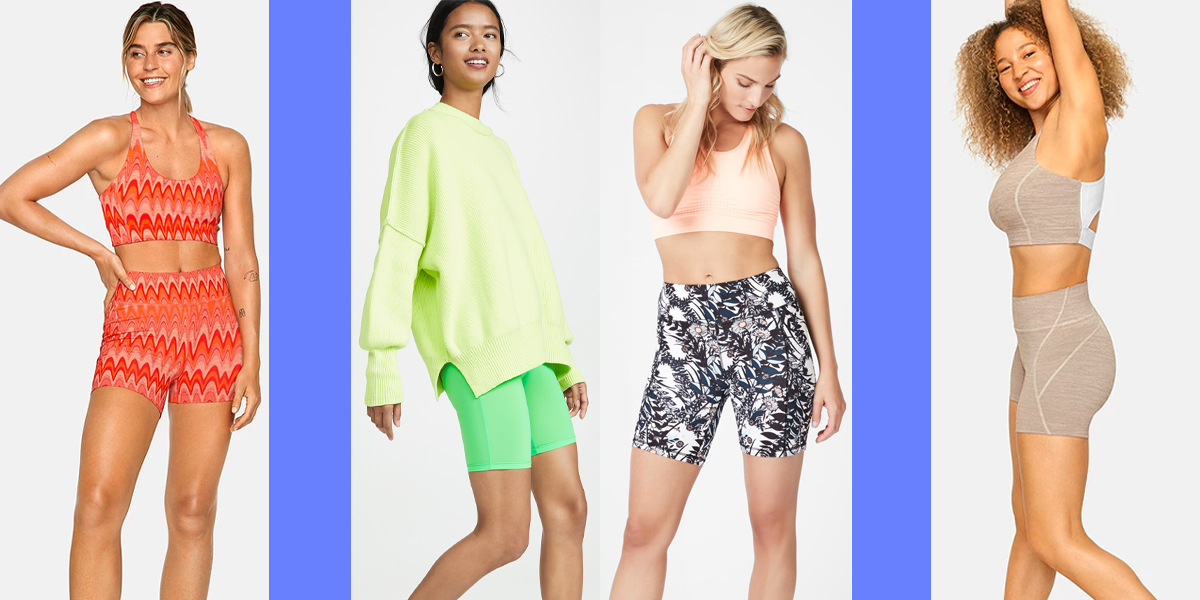 Shop
The Best Bike Shorts, Plus 3 Stylish Ways to Wear Them
Over the last couple of seasons, bike shorts—the clothing item beloved by hard-core cyclists (and, for a long time, no one else)—have had a fashion makeover. They've popped up on catwalks and on street wear looks served up by influencers like Kendall Jenner, Hailey Baldwin, and Bella Hadid. All of a sudden on par with leggings as an athleisure cult favorite, bike shorts are a multi-use summertime staple that more than earn their keep in your closet and suitcase. Wear them to hot yoga and evening runs or dress them up with sharp blazers and heels for the office and after-work drinks. Pack them for yoga retreats and hiking trips, music festivals and urban getaways. Yes, they're having a moment, but bike shorts are more practical and versatile than any mega-trend has a right to be—they're quite possibly the best thing to buy for all your summer travels. Did we mention they take up basically no room in your suitcase?
The Best Bike Shorts of 2019
Best Bike Shorts Overall
Outdoor Voices bike shorts take the crown because they're smart in all the right ways. Their flattering high-rise waistband shapes and supports, while their barely visible back pocket lets you bring your room key, bank card, and phone without the need for a bag.
Best Plus-Size Bike Shorts
With a touch of spandex, a ribbed construction that brings texture to the table, and a high waistband that doesn't cause constant worry over falling down, this bike short by Target brand Wild Fable serve up trendiness and comfort in equal parts. We're wearing these with big sunnies, even bigger hoops, and sport sandals.
Best Bike Shorts Set
Cute and affordable, this bike short/crop top set by Forever 21 is all you'll need to look on point wherever you're headed this summer: a club in Ibiza, the shores of Sardinia, the boardwalk of Venice Beach. The bandana-like paisley print needs minimal accessorizing, and the high elastic waist of the shorts offers support and freedom of movement.
Best High-Waisted Bike Shorts
Yellow and turquoise neon side stripes give this high-waisted style a hint of edge. Wear it with a tank for that early-morning spin class, or alternate between an anorak for a casual look and a tailored blazer when you're going out after work and need to look sharp.
Best Mid-Rise Bike Shorts
Two reasons we love this cycling style by Sweaty Betty: the flower print, which is cool and looks good with solid or graphic tees (good for easy packing) and the stretchy, sculpt-y, high-performance material the brand is known for. Perfect for a Pilates session by the pool or an errands run around town, the pair doubles up as going-out shorts too: just swap your kicks for some chunky, walkable heels.
Best Short Bike Shorts
Ultra-stretchy, breathable, and lightweight, this pair of shorter bike shorts by TSLA fits the bill for hiking, running, yoga, and any other activity you want to tackle in the heat. The side hidden pockets are a smart add-on and their budget-friendly price point means you can stock up—they come in a rainbow of solid colors.
Best Bike Shorts with Pocket
You know that tucked-away back pocket that changed the game for bike shorts? Free People's Kyoto Shorts raise the stakes with two patch pockets on either hip. Slide your bank card, ID, and cash into one and your phone in the other, and you're ready to set out for a full (hands-free!) day of sightseeing.
Best Neon Bike Shorts
Finally, festival style means something besides frayed denim and flower crowns! This year, the perennially bohemian aesthetic has been disrupted by eye-seizing neon. The electric hue of these lime green shorts adds a lot of oomph to your look with basically zero effort, energizing the way you look from morning to evening. Make sure to match them with comfy footwear—like a pair of Supergas or Vans—and boogie the day away.
Best Printed Bike Shorts
Whether you want to hit the trails or the club, these cool Nike shorts are a fantastic option. The loud print—a modern take on the flora motif by way of Miami—requires no additional styling (though, for a night out, we'd rock the shorts with a black moto jacket and big hoops).
Best Animal-Print Bike Shorts
We love a bit of leopard print in our vacation wardrobe, and Free People's tight shorts are spot on (literally). The pair works great with an oversized tee and trainers, or a dressier top and gold hoops for the evening. If you want to inject your look with an edge, these shorts are it.
Best Floral Bike Shorts
This pair of Onzie bikers give us major beach vibes, but they're ideal for the yoga studio, too: the L.A.-based brand, launched by a Bikram devotee, is all about athletic and breathable clothes that are also pretty. Your vinyasa flow is about to get a lot more fashionable.
Best Faux-Leather Bike Shorts
Is this faux-leather bike short 2019's answer to the classic LBD? We think yes. Featuring a contoured waistband and slick finish, the Spanx shorts serve up sass, sex appeal, and stretchiness in spades. Promise—this is the easiest shortcut to looking cool and feeling comfy. Our favorite way to wear them? By channeling Hailey Baldwin and letting them peek out from under an oversized windbreaker or baggy sweatshirt.
Best Bike Shorts for Actual Biking
If we've done our job, we've convinced that bike shorts are essential for stylish summer travel. But what about actual cycling, you ask? What is the absolute best pair to take on a mountain biking trip? Answer: this supportive, sweat-absorbing pair by Nike. The sports brand knows a thing or two about truly excellent workout apparel (unlike, say, a more fashion-oriented brand churning out the trend). Plus, the sporty print looks very cool.
Foolproof Bike Shorts Outfit Ideas
For a Summer Workout
Whether you're hitting your hotel gym, going for a run around a new 'hood, or doing sun salutations on the beach, this no-fail outfit will elevate your game without breaking a sweat.
For a Music Festival
Nailing festival style can be a tricky balancing act. Practicality and comfort are absolute essentials, but you've also got to look good! Like fun, fierce, rack-up-the-likes-on-Instagram good. This revel-ready outfit nails each entry. The shorts by Shein are the centerpiece here, on trend both for their neon lime hue and snakeskin print, and the black Vans mean you won't worry about stepping in mud on your way to the bar.
For Cocktail Hour
Give your favorite going-out dress the night off and mix it up with this cool look for after-work drinks. The sleek blazer/shorts combo delivers spa levels of comfort—you'll feel like you're wearing a swimsuit and bathrobe. The only thing missing is a glass of sparkling wine.
Related Stories