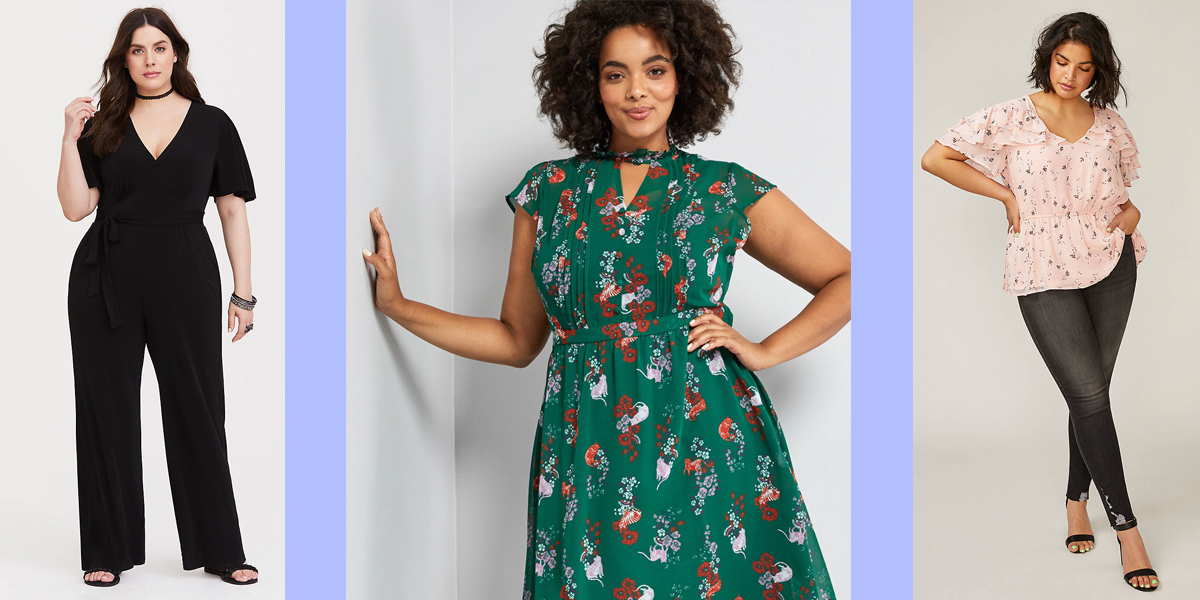 Shop
The 8 Clothing Brands All Plus-Size Women Should Pack
Here's our manifesto: We believe bodies of every shape and size should get out there and explore the world in comfort and style. (Yes, cute clothes are not a privilege, but a right!) But finding a suitable travel wardrobe can be challenging for globe-trotting plus-size women. Not to worry. We've pulled together our go-to clothing brands to help you build a capsule travel wardrobe worthy of all of your adventures.
1
Swimsuits For All
Is it even a vacation if there's no swimwear involved? Swimsuits For All makes it easy for bodies of all sizes to find a comfy and ultra-flattering bathing suit. We love that this brand offers everything from one pieces to bikinis so snorkelers, sunbathers, and après-ski hot-tubbers can choose a suit that fits both their body and the activity at hand. And these bathing suits won't leave you hanging—literally—since they offer lots of lift and support where curvy girls need it the most.
Our pick: We like mixing and matching from the separates collection to find tops and bottoms that offer the perfect customized fit for every beach body. This season, we are really feeling the Jia Flyaway Underwire Tankini Top because it's both luxe and easy-to-wear.
Shop Swimsuits For All
2
Lands' End
Most shoppers think of Lands' End as the maker of tried-and-true tote bags. But they also offer loads of dependable basics for a wide variety of body shapes, including petite and tall versions of their plus-size lines. And Lands' End really shines when it comes to outerwear.  If you need a rain jacket, fleece, trench, or cold weather jacket, Land's End has your back—and your shoulders and your arms, too—in lots of fun colors.
Our pick: We're crazy about the Land's End packable down coat. The long version has full coverage and keeps you toasty warm at even the lowest temps. It's also surprisingly lightweight and folds up into a small square for easy packing. Pro-tip: You can use it as a travel pillow when it's all packed up.
Shop Lands' End
3
Rothy's
Rothy's shoes have a cult following, and you can count us among their superfans. Made from recycled water bottles, they're both eco-friendly and crazy comfortable—a total win-win! They come in oodles of fun colors and patterns; they're easy to wash; and they take up minimal room in your suitcase. For plus-size travelers, it helps that they're mega soft and flexible, so they can stretch to your foot's width. We do recommend that if your feet are wide, size up a half size from your usual shoe size.
Our pick: We adore all of Rothy's styles, but their sneakers are exceptionally good for traveling. They're comfortable enough for a long day of sightseeing and stylish enough to pair with a more casual dress or jumpsuit for evening activities.  
Shop Rothy's
4
ModCloth
Bring on the bold colors and fun prints! (Dinosaurs, anyone?) ModCloth gives personality in spades. Their vintage vibe could be described as "Mad Men for the Instagram era." ModCloth stocks both straight and plus sizes, but unlike many brands that offer both size ranges, they don't skimp on their plus size inventory. While they offer all types of garments, ModCloth's best offerings are their dresses, which go heavy on the whimsy.
Our pick: The coach tour A-line dress is cute and comfy. (It's so soft.) It's a great piece for a travel capsule wardrobe that spans multiple seasons: Add a cardigan in cooler weather, or keep it sleeveless when the temps heat up. And it has pockets, which any girl about town has gotta appreciate.
Shop ModCloth
5
Eloquii
Headed to Milan, Paris, or another fashion capital? Then head to Eloquii's site first. This is high style at its best, and perfect for those trips where you want to feel modern, sophisticated, and most definitely not a tourist. Dresses here can hold their own against picks at Anthropologie and Madewell. Their Olivia Sculpting Skinny Jean is a travel staple we can't do without.
Our pick: We're currently swooning over Eloquii's very on-trend jumpsuits—and we are making room in our packing cubes for this wide leg jumpsuit, STAT. This piece can go from day-to-night in a snap, always keeping you looking super chic.
Shop Eloquii
6
Torrid
For fast-fashion basics with an edge, Torrid can't be beat. We love their jeans, dresses, tee shirts...OK, sort of everything they produce. Some Torrid pieces can feel too young or flashy, but we think their entire line of youthful Disney-inspired clothing is perfect for trips to the house of the mouse.
Our pick: Torrid's premium leggings are perfection. They are extremely comfortable and keep their shape all day long (read: they never sag.) These leggings work well as layering pieces under dresses, skirts, and tunics, saving you from chafing when you're sightseeing for hours.
Shop Torrid
7
Simply Be
From casual Levis T-shirts to vampy cut-out dresses, Simply Be throws a wide net when it comes to fashion, aiming to be all things to the curvy crowd. It's got a huge inventory of options and styles—though at times it can feel a bit hodgepodge—but we love that they offer the type of style range typically seen in straight sizes and at very good prices to boot.
Our pick: For fall and winter travel, Simply Be has a wonderful selection of wide width (and wide calf!) boots and booties, which can be hard to come by in regular shoe stores.
Shop Simply Be
8
Lane Bryant
Years ago, Lane Bryant was one of the only options for "full-figured" women, so it might not feel very exciting to see it on this list. That said, it's been a mainstay for a reason, and it's gotten trendier over the years. Lane Bryant does a lot of things really well, including well-fitting pants and jeans cut specifically for many different body types. But it's really on this list because we think it offers the best quality bras for the most reasonable prices in a wide range of plus sizes. Allow us to suggest packing at least one extra bra for your trip, because if that underwire snaps, it might be close to impossible to find a replacement when you're far from home.
Our pick: The comfort, support, and coverage the balconette bra provides makes it a must-buy in our book, and we think the no wire bra provides the ideal comfort for long plane rides.
Shop Lane Bryant
Related Stories
All products have been hand-picked by our writers and editors. Items purchased through links may earn us a commission.