Shop
The Best Deodorants and Antiperspirants That Can Handle Hardcore Travel Sweats
If there's one thing worse than sitting next to a stinky someone on a long-haul flight or a billion-hour bus ride, it's being that stinky someone. From hiking to sightseeing, dancing at a club to sunbathing seaside, vacation is prime time for missing showers and working up a sweat. Fire up that under-arm protection. This primarily comes in the form of deodorant (which keeps your sweat from stinking), antiperspirant (which prevents you from sweating in the first place), or some combo of the two. Here, we've rounded up the best deodorants and antiperspirants for travel—because BO-free is the way to be, especially when you're on the road!
1
Best All-Around Men's Antiperspirant
According to customers, the slogan "tough on sweat, not on skin" is spot on target for Dove Men Care Cool Fresh Dry Spray Antiperspirant Deodorant, which offers a rare combo of long-term, sweat-stopping power and a gentle, non-irritating formula. This no-fuss, spray-and-go antiperspirant dries almost instantly and really lasts, making it our go-to choice for trips. The smaller-sized container is easy to toss in beach bag or backpack, though if you're flying be sure to stow it in your checked bag—the bottle is a hair over the TSA guidelines for carry-ons.
Buy It Here
2
Best All-Around Women's Antiperspirant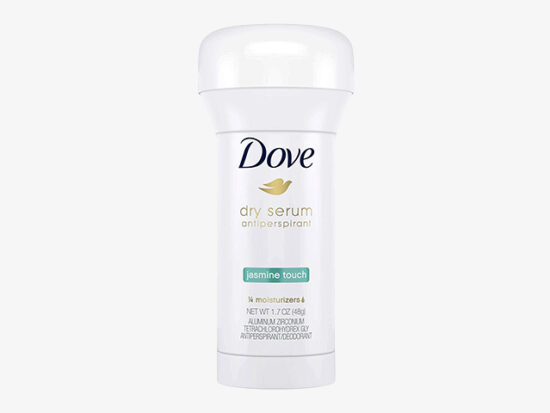 Like our pick above, Dove's Dry Serum Jasmine Touch Antiperspirant & Deodorant offers up to 48-hours of protection, yet it's gentle on skin. Reviewers rave about the scent and say it leaves underarms feeling moisturized. Because the formula dries almost instantly, it doesn't leave marks on clothes, either. At 1.7 oz, its small size is super-convenient for travel, as it's easy to stash in a luggage pocket or purse and won't get you in trouble with a TSA agent.
Buy It Here
3
Best Men's Antiperspirant for Excessive Sweating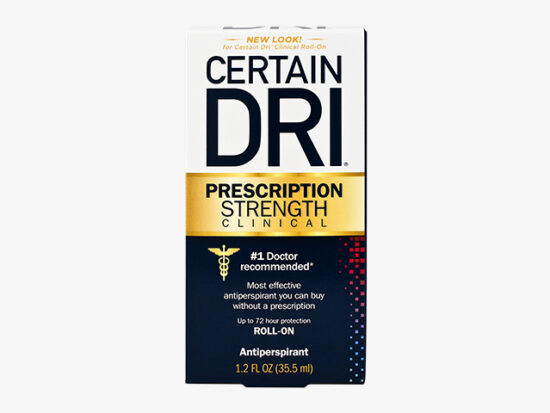 For super-serious sweaters, Certain Dri Prescription Strength Clinical Roll-On Antiperspirant is a fan favorite and doctor-recommended to boot. Reviewers say it's essential to follow the instructions—apply it at night, before you start sweating. But it's a great option for travel because it can work for up to 72 hours, with staying power through a shower. But beware: this is strong stuff. If you don't suffer from hyperhidrosis—that is, excessive sweating—or if you have sensitive skin, you might want to consider something gentler.
Buy It Here
4
Best Women's Antiperspirant for Excessive Sweating
Reviewers who suffer from seriously sweaty pits say that Secret's Clinical Strength Antiperspirant Deodorant is one of the only underarm options that really works, keeping underarms dry without over-drying. As with other antiperspirant designed for the super-sweaty, this stuff works best if applied at night, but it's protective powers can last up to 48 hours, which is awesome for trips where you might miss a shower, such as a red-eye flight. Like our men's pick above, this is an extra-strength formula, so if you have sensitive skin or are prone to razor burn, you'll want to consider a milder (and cheaper) option.
Buy It Here
5
Best Unscented Antiperspirant for Men
It can be difficult to find a good unscented deodorant or antiperspirant, in part because one of the duties of a deodorant is to hide bad smells. But for men with sensitive skin (or a sensitive nose), or those traveling in a small space with fragrance-sensitive folks, Speed Stick Power Unscented Antiperspirant Deodorant will stop stink without masking it in a cloud of perfume-y odor. Reviewers agree that even sans fragrance, this Speed Stick offers the brand's trademark 24-hour protection resulting in freshness and nothing else.
Buy It Here
6
Best Unscented Antiperspirant for Women
Those with sensitive skin know fragrance-free is the way to be. If you're in the blushing and flushing crowd—or you just don't want the smell to compete with your perfume—consider Ban Original Roll-On Antiperspirant Deodorant. Reviewers say this is a truly scent-free option that really works—it stops sweat and eliminates odor instead of just masking it. Plus, it dries on clear—which means if you're reapplying it on the go—say, in an airplane bathroom—you're not going to get white streaks all over your top.
Buy It Here
7
Best Smelling Deodorant for Men
Jack Black Pit Boss Antiperspirant & Deodorant is like a luxe Old Spice, with a subtle but well-loved scent that Amazon reviewers describe as "clean & manly," "just fresh out of the shower," and "like linen air fresheners." Reviewers hailing from sweaty locales like Las Vegas say that even in the 100-degree heat, it keeps their underarms feeling fresh. Though it's pricier than drugstore deodorants, users say it's worth it. If you're packing for a romantic getaway, consider it a worthy investment.
Buy It Here
8
Best Smelling Deodorant for Women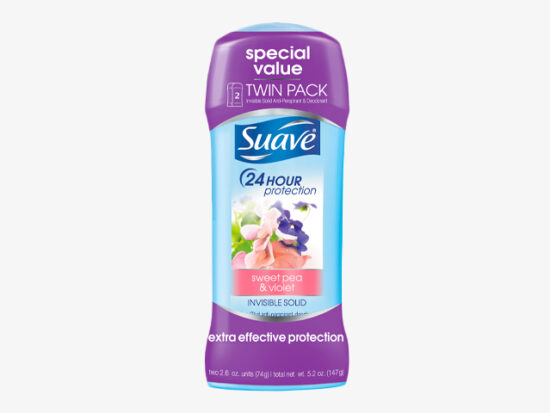 Suave Antiperspirant Deodorant in Sweet Pea is a classic drugstore pick that earns five stars from over 300 reviewers on Amazon.com, in parts thanks to its slightly floral, but not-too-strong scent of sweet pea and violet. It's the perfect pick for moderate sweaters, offering sufficient daily protection without being too harsh. Perhaps best of all, it's super-affordable—a single stick will cost you less than a latte. This means you can buy in bulk to stash in multiple locations, like your bathroom, your bedroom, your glove box, and your grab-and-go toiletry case for travel.
Buy It Here
9
Best Aluminum-Free Deodorant for Men
Cool fact: All deodorant is aluminum-free! Why? Because aluminum is the active ingredient in antiperspirant, which is designed to prevent you from sweating. Deodorant, on the other hand, is designed to prevent sweat from being smelly, and it doesn't need aluminum to do that. So why do people seek out aluminum-free stink-stoppers? While there's no conclusive evidence that aluminum is harmful, some worry that there could be a link with certain cancers. Many people also choose aluminum-free products simply to go "natural" in the medicine cabinet. Whatever your reason, Stank Stop Natural Deodorant from FATCO is a much-lauded choice with natural ingredients like baking soda, essential oils, and shea butter.
Buy It Here
10
Best Aluminum-Free Deodorant for Women
Aluminum-free, paraben-free, phthalate-free, cruelty-free, and stress-free, this up-and-coming natural deodorant option from Native is already a social-media star. Keep in mind that it's not an antiperspirant—you'll be protected against odor, but you'll still sweat (see the entry above for more deets). Even if keeping your deodorant natural isn't a priority, Native still gets rave reviews for those with sensitive skin or who are prone to razor burn. The deodorant is offered in a playful array of scents, including custom options and seasonal choices (pumpkin spice latte, anyone?). (If you're a connoisseur of natural deodorants, check out our full list of faves.)
Buy It Here
11
Best Deodorant According to Reddit Readers
Reddit users agree that this deodorant is the best all-around option for men and women. Okay, fine, Reddit users never agree, but there is some consensus across message boards that Old Spice Wofthorn offers great protection against stink, not to mention a delightful, slightly fruity, and surprisingly unisex scent. It's available as both a deodorant and a deodorant/antiperspirant, depending on your preference. While Old Spice is almost aggressively marketed towards men, this pick is also well-loved by the women of Reddit, who say it's stronger than deodorants geared toward the (supposedly) less smelly sex. Added bonus: It's super affordable.
Buy It Here
Related Stories
All products have been hand-picked by our writers and editors. Items purchased through links may earn us a commission.