Shop
Dollar Shave Club Review: The Ultimate Subscription Box for Men's Grooming Products and Razors
Does the thought of figuring out which grooming products and razors to pack and then having to remember to buy them before a trip fill you with anxiety and dread? Solve both problems in a few clicks by signing up for Dollar Shave Club—a subscription service that mails you a customizable box of everything you'll need to stay hygienic, groomed, and smelling nice on the road (and at home). Read on for our unbiased Dollar Shave Club review, complete with razors and toiletries road tested by three different men in real life, and information on how to cancel and what to expect in your box. Like what you read in our Dollar Shave Club review? Go ahead and sign up for a Dollar Shave Club box now. Your dopp kit, wallet, and face will thank you later.
Dollar Shave Club Review: What Are the Pros and Cons of Dollar Shave Club?

Dollar Shave Club Pros
Razors and toiletries regularly shipped to your home or office; no need to run to the store in a stubble-induced panic
High-quality razors come in twin, quadruple, or six blade configurations with weighted, refillable handles
Monthly, bi-monthly, or quarterly boxes are customizable to your razor refill and toiletry needs
Trial kits send affordable travel sizes of products, easy to try without a commitment
No hidden membership fees
Cancel online anytime without penalty—seriously
Large variety of toiletries, from toothpaste to deodorant to shave butter
Way more eco-friendly than buying disposable razors
Some of the best and most responsive customer service in the subscription box game
All products backed by a 100% money-back guarantee
Available to customers in the U.S., Canada, U.K., and Australia
Each box comes with a printed issue of MEL magazine
Dollar Shave Club Cons
Tiered pricing model for razors, so a great deal might be for a twin blade and there's an upsell to six blades
Some of the toiletry scents are unusual
Not everyone loves the quirky marketing campaigns
If you change razor blade sizes, you need a new handle (though the handle is free)
Frequently Asked Questions About Dollar Shave Club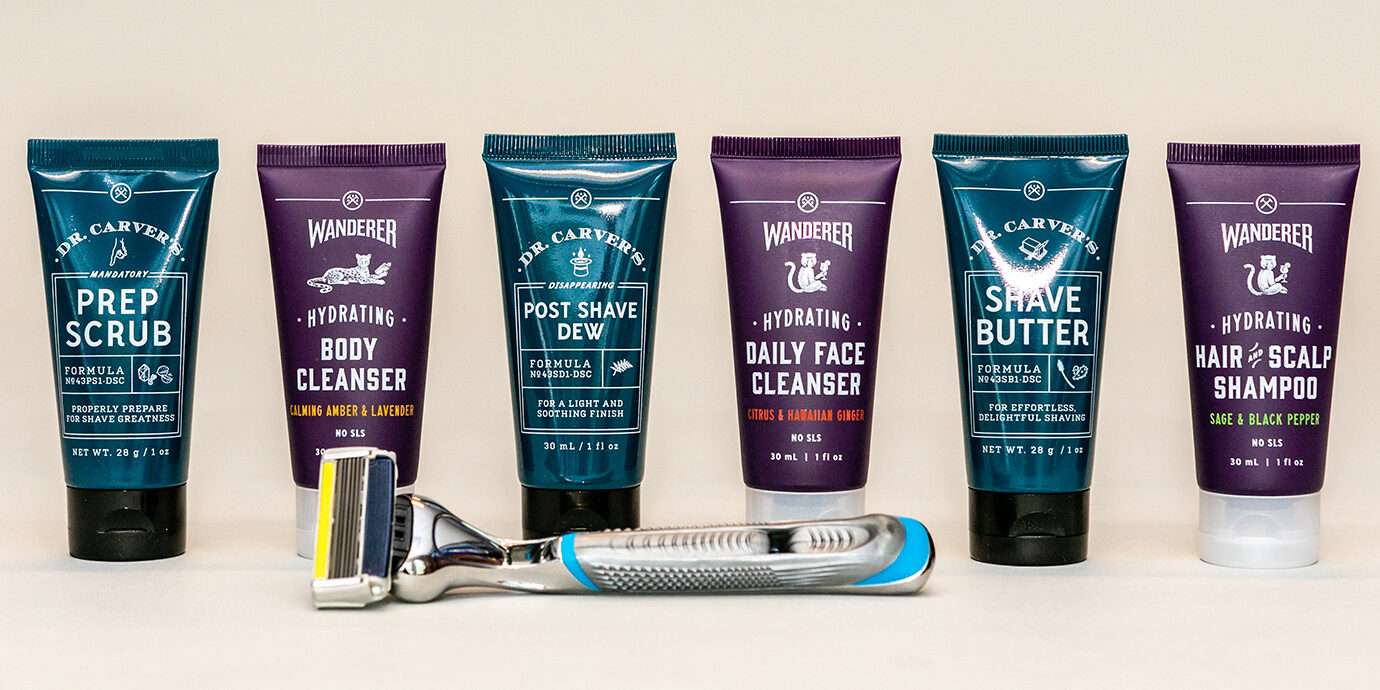 What Is Dollar Shave Club and How Does It Work?
Dollar Shave Club launched out of Venice, California in 2012 with a quirky video explainer that went viral so fast it temporarily shut down operations. Fortunately, things have been running along smoothly for DSC since. The idea behind Dollar Shave Club is that customers order a risk-free starter set (it can include any and all toiletries from a razor with cartridges to hair-care products to deodorant to oral care to shaving items to cologne). The travel-size (though razors are full-size) items are shipped to your home and you have two weeks to decide if you want to order full-sizes of some the products and razor refills. From there, DSC will automatically ship you refills to replenish those products every month. If that shipment frequency is too soon or too long, no worries. You've got total control of what ships and when, just log into your account and change the shipment to bi-monthly or quarterly. You can add and subtract toiletries as you need them, or just go on auto-pilot and not think about it. There's a Handsome Discount that incentivizes you to buy more items for greater savings. Overall, you drive and decide. Tired of it? It's easy to cancel online and there are no fees or penalties for doing so. Miss it? You can rejoin anytime without penalty.
What Comes in a Dollar Shave Club Monthly Box?
Whatever you want! Well, almost whatever you want if it's grooming-related. Customers can order stand-alone razor cartridges and/or trial kits with travel-size toiletries ranging from toothpaste to cologne to lip balm. If you fall in love with something in the trial-size kit, you can upgrade to a full-size product. Check out all the Dollar Shave Club products here. For the purposes of the Dollar Shave Club review, we ordered the Starter Set, which includes a mix of shaving, shower, and oral-care products.
Dollar Shave Club Pricing: How Much Is Dollar Shave Club?
It depends on what you order. Most people (both men and women—ladies shave too, you know) dip their hairy toe into DSC by ordering the $5 shaving trial kit. It includes a four-pack of razor cartridges (each razor has six blades), a razor handle, one-ounce of shave butter, one ounce of post-shave "dew" (DSC's cute term for their fast-absorbing hydrator), and one ounce of prep scrub. If you do nothing, you'll receive a refill box in about a month that includes two four-packs of razor cartridges, three ounces of shave butter, 3.4 ounces of post-shave dew, and 3 ounces of prep scrub. The refill box costs $44 and you can add or subtract products via your account at any time before the box ships.
Want to branch out to other grooming products? There's a trial kit for that. Not only are these one-ounce size products ideal for sampling products before you commit to a full-size bottle, but they're also perfect for travel and stocking your dopp kit. If you travel a lot and hate using generic hotel soap, do yourself a favor and order a bunch of these affordably priced trial kits. That way you'll always have a nice, portable tube of toothpaste, deodorant, shampoo, face wash, shave balm, and lip balm on hand. Don't have a dopp kit? Dollar Shave Club sells those, too.
If razors are the only grooming item you care about, there's a service for those as well. The Executive razor subscription is $10 per month and includes 4 six-blade cartridges sent every month. If you want to go cheaper, the 4X razor subscription offers four four-blade cartridges sent every month for $7. The most affordable option is the Humble Twin razor, with five twin-blade cartridges sent each month for $4. The initial, reusable handle is free in the first box and if you switch your subscription from say, the Humble Twin to the Executive, you'll get a free razor handle.
Is There a Sign-Up Fee for Dollar Shave Club?
It's completely free to sign up for Dollar Shave Club. You only pay the monthly subscription fee and for any additional products you order. Razor subscriptions start at $4 a month, and the trial kits range from $5 to $8. Shipping is also free. Pinkie swear, no gimmicks with these guys.
Can I Get Toiletries Other Than Razors?
Yes! Though DSC started as a razor subscription service, it has since branched out to other grooming products. You can order shower stuff, skin-care products, hair-care goop, cologne, oral care, lip balm, hand cream, a manicure kit—even a dopp kit for storing all your manly goodies. Essentially, almost every grooming product you'd want to get ready for work or a date is available with Dollar Shave Club.
Can I Order Women's Toiletries From Dollar Shave Club?
All of DSC's products are technically unisex. The razor handles and razors are especially popular with women—we've read many reports from women stating they signed up for their own subscription after borrowing a razor from their partner. As for the toiletries like body cleanser, deodorant, and scalp and hair wash—the scents are often quite masculine. There is a Lady Members' Favorites trial kit with five travel sizes of shave butter, face cleanser, body cleanser, prep scrub, and toothpaste. These are the same products men receive, but DSC states they're the most popular toiletries with women subscribers. If you're looking for a subscription box of women's products like makeup, haircare, and fragrances (but no razors), then sign up for a competitor subscription service, like Birchbox.
Does Dollar Shave Club Have Brick and Mortar Stores?
Nope. DSC has experimented with pop-up shops in the past, but the direct-to-consumer online model is what keeps prices on razors and grooming products low.
How Do I Get Free Stuff From Dollar Shave Club?
The Dollar Shave Club referral program lets you earn up to $15 in DSC credit for anyone signs up for a membership using your referral link.
What Happens Once the Box Is Delivered?
You start showering and shaving! If you ordered a trial kit, now is the time to test out your travel-size products so you can decide if you want to upgrade to a bigger bottle. If you really dislike something, you can send it back for a refund. If you really love something, sign up for a subscription-style refill box or order one-off full-size products. It's up to you! For the Dollar Shave Club review, we received a box a few weeks after it was ordered online.
How Often Do I Get a Dollar Shave Club Box?
You decide. DSC automatically ships you refills to replenish products every month. If that shipment frequency it too soon or too long, no worries. You've got total control of what ships and when, just log into your account to change the shipping to every two or four months. You can also add and subtract toiletries and grooming products as you need them, or just go on auto-pilot and know your box is coming. It's completely customizable to your specific desires and needs. Need razors more often than shaving balm? Not a problem, just make the change in your account.
Can I Change How Often I Get a Dollar Shave Club Box?
Absolutely. Just adjust the shipment date on your account before your next box ships.
What Is the "Handsome Discount"?
As an incentive to try and buy more full-size products, the Handsome Discount automatically drops prices as you add more items to your next box. Throw in two or three items, get 5% off, four to five items earns 10% off, and six or more items gets you a whopping 15% off the box total. Note that starter sets, product bundles, gift samples, and free razor handles do not count towards item totals.
What If I Don't Like Something? Will Dollar Shave Club Give Me My Money Back?
Dollar Shave Club wants you to be happy with your products. If you don't like something, for any reason, they'll refund your money—every last cent.
How Do You Cancel Dollar Shave Club?
Some subscription services have given subscription services a bad rap by making it way too difficult to cancel. Dollar Shave Club is the exception to the rule. Canceling is really only a matter of logging into your account and clicking on the cancel button once, and then the quit button after that. Voila, you're unsubscribed.
Can You Re-Join Dollar Shave Club After You Quit?
Dollar Shave Club makes it simple to re-join after you quit. Simply log back into your account, and reactivate it with one click. You're good to start ordering razors and grooming products again, without a penalty or additional fee. Easy peasy.
Our Dollar Shave Club Review for Travel
What We Received In Our Dollar Shave Club Box

We were more than intrigued about DSC, thanks to the viral videos, fun Instagram account, and rock bottom prices on razors and toiletries delivered via a subscription service. To try it out and write the Dollar Shave Club Review, we ordered The Starter Set, which comes with trials-sizes of shampoo, face wash, body wash, toothpaste, shave butter, prep scrub, post-shave dew, a full toothbrush, two six-blade razor cartridges, and a weighted razor handle. There were lots of other trial kits to choose from, but this option seemed like the best way to sample popular products and stock a dopp kit. Plus, the price point of $15 (free shipping) was a crazy good deal. We divvied the goodies up among three men and asked for their honest feedback on the products. This is their Dollar Shave Club review. Ready, set, shower and shave!
Hydrating Hair & Scalp Shampoo (Sage & Black Pepper)

"Though it sounds like a spice combo for roasted potatoes, it's actually a mish-mash of natural scents including lemon balm, nettle, and black walnut with some other fragrances. It's vaguely masculine like a well-ventilated woodshop on a spring day—a little musk, a little fresh, and mildly foody. The shampoo itself works fine, and doesn't leave a feeling of the hair being stripped or overly processed."—David Hart, Media Producer
Hydrating Daily Face Cleanser (Citrus & Hawaiian Ginger)

"The strong aroma of citrus and the zing of ginger makes for a mildly overwhelming effect. There's a good amount of lather with a bite, maybe from the smell. It didn't seem to overly dry or hydrate, and maybe after a few days you'd get used to the scent."—David Hart, Media Producer
Hydrating Body Cleanser (Calming Amber & lavender)

"A slightly floral smell without being sickly sweet (maybe from the coconut and other more solid ingredients), the cleanser suds up well and seems to not fully rinse away, leaving some sense of hydration."—David Hart, Media Producer
Superba Peppermint Kick Toothpaste and Black Toothbrush

"The bristles are angled and densely packed, so they give a much more thorough cleaning than your average manual toothbrush. Plus the neck contours in a way that makes it easier to reach the kind of areas usually reserved for dental hygienists. The little cover that comes with the toothbrush makes it great for traveling—you can throw it in your bag or leave it on a hotel bathroom countertop and not worry about it getting all grubby. The toothpaste is perfectly fine for leaving in my dopp kit, but it didn't leave a lasting impression. The taste is fresh and minty but it seems fairly basic."—Brandon Phillips, Web Developer
"In recent years, I've always been just content with my routine shaving experience. Not that I ever loved my shave, but in my mind, my razor was the best of the best, so how could a shave get better? I'd heard a lot about Dollar Shave Club through surfing popular men's websites and eyeing countless YouTube videos, but I was never convinced. I think the word "dollar" turned me off because I coincided the word with cheap and off brand—but I couldn't have been more wrong. Reader, I had the best shave of my entire life thanks to Dollar Shave Club. The starter set
included a three-step process in the box for a pre-, during, and after-shave experience. I'd never used before- or after-shave products, so initially I was skeptical. I feared my already lengthy head and neck shaving process would become longer. But in order to give a full review, I lathered my head in Prep Scrub nonetheless and began my shaving process. I was pleasantly surprised. The scrub smelled great and was super exfoliating. I'm a huge fan of scrubs in general, so I might be biased, but this left my head feeling soft and ready to go prior to my shave.
Next up was the shave itself. The razor, to my surprise, was sturdy and ready for the job—not a single part of it felt at all junky or cheap. I assumed the Shave Butter would smell as refreshing as the Prep Scrub but it was definitely an average scent, which I didn't mind. Since these were trial sizes, I was worried that the amount in the bottle wouldn't be enough for my whole head. I used a light coating overall and hoped for the best. The razor glided right over my scalp to the point that I thought it didn't work, but to my surprise—my hair was fully gone in one go—no need to swipe over the area twice. The shave was a breeze, even with the minimal use of the Shave Butter. I finished my entire head in five minutes—the fastest I've shaved my head in my life.
I was nervous about the Post Shave Dew. I didn't want my head to stay all wet or look gleamingly shiny, so I was skeptical, but for me it really did neither. The second I applied it on my head it instantly dried, leaving my head feeling fresh and soft.
In conclusion, I want to be honest: I threw out my other razor. Dollar Shave Club's shaving products and razors really got me. Every YouTuber I'd been ignoring for the past year was right. The shaving products and razors are more than worth the price and blew my expectations out of the water. I definitely WILL buy razors and shaving products from DSC again. And again. And again."—Tyler Schoeber, Production Specialist at Jetsetter
How We Canceled Our Dollar Shave Club Membership
For the purposes of research and writing the Dollar Shave Club review, I had to cancel (though I'll be signing up again). Canceling Dollar Shave Club was honestly effortless. I logged into my account, clicked "Manage Your Membership" and was immediately brought to an obvious large box labeled, "Cancel Your Membership." I clicked that and was brought to a page asking if I wanted to talk to a Club Pro instead of canceling (probably to offer incentives to stay if I agreed to chat with a customer rep) but I clicked on the "Quit" response instead and my account was immediately canceled. I received an instant email confirmation of my cancelation as well. Honestly, it's taken me longer to decide whether I want to order oat or almond milk with my coffee. Easy doesn't begin to describe how simple it is to quit Dollar Shave Club membership.
Finally: Is Dollar Shave Club Worth It?

For sure. After going through all the steps to research for the Dollar Shave Club review, we're absolutely sold on the razors and shaving products. As for the rest? Sign up for an affordable trial kit and see if you like the fragrances and lather. You've really got nothing to lose and a whole bathroom of affordable and high quality shaving and grooming products to gain.
Related Stories
All products have been hand-picked by our writers and editors. Items purchased through links may earn us a commission.