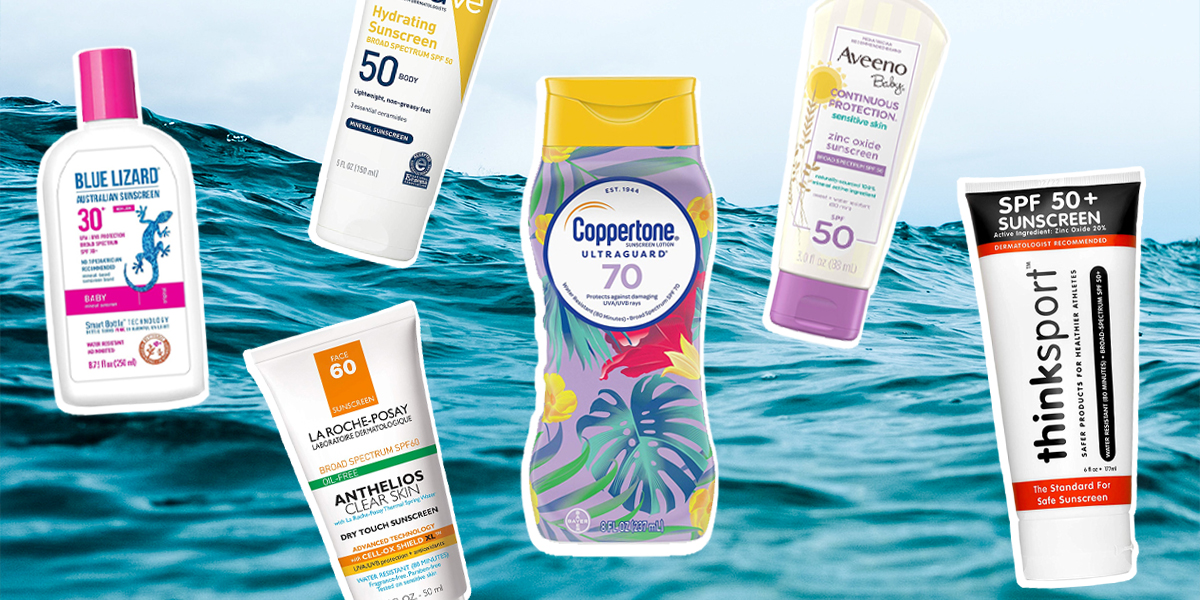 Amazon
The Best Drugstore Sunscreens To Add To Your Amazon Cart Right Now
Typing "sunscreen" into Amazon and scrolling through the results is no less daunting than staring down the mile-long skin-care aisle at a Super Target. Where to begin? Cost is an easy starting point, so we whittled our Amazon search down to sunscreens from brands you'd typically find in a drugstore (rather than more upmarket ones sold at a department store or a Sephora). Another big determining factor for sunscreen—apart from the obvious: effectiveness—is texture. Will it feel thick and slimy on my skin? Do I have to spend an hour rubbing it in? Is this going to make my skin go haywire?
In the past, many sunscreens tended to be clumpy, white, or leave users prone to shininess or breakouts, whereas higher-end sunscreens were better blended, says Dr. Anna Guanche, a dermatologist at the Bella Skin Institute in Calabasas, California. But that's all changing. "Over-the-counter sunscreens are upping their game," she told What to Pack. "Lately there are some really nice formulations that are also cosmetically elegant." Whether you're looking for a mineral sunscreen that's safe for coral reefs or just something that won't give you clown face, we've got you (and your skin!) covered.
1
Best Overall Drugstore Sunscreen on Amazon

Thinksport Sunscreen SPF 50+
Safe enough for sensitive skin but strong enough to protect you from 80 minutes of swimming and sweating, Thinksport's chemical-free sunscreen is a solid and affordable sun protector that goes on much smoother than many other mineral formulas, which can feel too chalky or thick. If you're only packing one sunscreen for an entire family's trip to the beach, this is your best overall bet. 
Shop Now ($22.39)
2
Best Drugstore Sunscreen for Face on Amazon

Biore UV Aqua Rich Sunscreen SPF 50+
This stuff flies off the drugstore shelves in Japan, and it's easy to see why. Biore's cool, refreshing gel-like formula feels nothing—and we mean nothing—like sunscreen. It spreads easily and sinks in instantly (no ashy cast here). Instead of leaving a greasy feel behind, it dries quickly to a smooth matte finish that works brilliantly under makeup. 
Shop Now ($16.20)
3
Best Drugstore Face Sunscreen for Oily/Acne-Prone Skin on Amazon

La Roche-Posay Anthelios Clear Skin Sunscreen SPF 60
No one wants to worry about their face looking like an oil slick. Enter: this mattifying SPF 60 that's free of common breakout triggers like parabens, fragrances, and oil, as well as oxybenzone and octinoxate, two chemicals commonly found in sunscreen. In addition to protective antioxidants and soothing thermal spring water, the product also contains perlite and silica, which work overtime to absorb extra oils and guarantee a shine-free finish.
Shop Now ($16.99)
4
Best Drugstore Face/Body Sunscreen for Sensitive Skin on Amazon

Aveeno Baby Continuous Protection Zinc Oxide Mineral Sunscreen SPF 50
Attention sunscreen shoppers with sensitive skin: head to the kids' aisle. Sunscreen for small sunbathers is specifically designed for sensitive skin, and its formulas are often free of common irritants or super-harsh chemicals. The best one out there? Aveeno Baby Continuous Protection. In addition to a water-resistant mineral formula without parabens, phthalates, or fragrances, it also includes a gentle oat extract (an anti-irritant and anti-inflammatory) to soothe sun-kissed skin without causing breakouts or dryness. 
Shop Now ($9.47)
5
Best Drugstore Sunscreen for Body on Amazon

Coppertone ULTRA GUARD Sunscreen Lotion Broad Spectrum SPF 70
For a super-affordable sunscreen that you can slather on and rub in easily, grab this SPF 70 from Coppertone. The water-resistant lotion protects again UVA and UVB rays with none of the white residue often left behind by zinc-based formulas. Soothing aloe, hydrating jojoba oil, and free-radical-damage-fighting Vitamin E are added to help keep the sun from wearing out your skin.
Shop Now ($7.57)
6
Best Drugstore Sunscreen for Eczema on Amazon

CeraVe 100% Mineral Sunscreen SPF 30
The National Eczema Association has a shortlist of 11 drugstore sunscreens that meet its criteria for approval. On that list, we're especially partial to CeraVe's body sunscreen (the brand's face sunscreen and baby sunscreen also made the cut) for its fully natural formula—no chemicals, no parabens, and no fragrances. What sets CeraVe's formula apart from other NEA-approved sunscreens (such as Neutrogena Pure & Free Liquid Sunscreen) is the presence of hyaluronic acid and ceramides, which hydrate and strengthen the skin, respectively. 
Shop Now ($34.18 for two)
7
Best Drugstore Sunscreen for Kids on Amazon

Blue Lizard Australian Sunscreen - Baby Sunscreen SPF 30+ Broad Spectrum UVA/UVB Protection
A physical sunscreen made from zinc oxide and titanium dioxide (versus a chemical formula) is preferable for kids and babies. This physical formula from mineral sunscreen pioneer Blue Lizard is totally free of chemicals and parabens (including octinoxate, which some companies sneak into what they call "mineral-based" formulas), making it a safe protectant for kids, even those with super-sensitive skin. Reviewers note that it goes on a little thick at first, but a little white residue in the short term is worth it in the sun protection long run.
Shop Now ($28.99)
8
Best Drugstore Brush-On Sunscreen on Amazon

Derma-E Sun Protection Mineral Powder SPF 30
As much as we love brush-on sunscreens, we're going to start with this: do not to rely on them for your sole application. Brush-on sunscreen's powdered mineral formulas simply aren't thick enough to build up an entire layer of protection. However, the nifty little sticks are absolutely genius for added protection and on-the-move touch-ups throughout the day. This brush-on SPF powder by Derma-E has a 100% vegan and natural formula that's packed with vitamin C and green tea (both powerful antioxidants) and inflammation-reducing chamomile extract. Like all brush-on sunscreens, Derma-E's mineral powder is portable enough to tuck away even into tiny bags.
Shop Now ($17.01)
9
Best Natural Drugstore Sunscreen on Amazon

All Good Sport Sunscreen Lotion UVA/UVB Broad Spectrum SPF 30
With the recent rise of mineral formulas, it's now easier than ever to find natural sunscreen. But to go the extra natural mile, reach for reef-friendly sunscreen from All Good. The company goes above and beyond to make formulas that don't harm the ocean's coral, and to source organic ingredients like rose hips, green tea. and buriti oil (all natural antioxidants). Note that with the slightly lower SPF and organic ingredients, you may have to re-apply this one more frequently, especially if you have fair skin. 
Shop Now ($28.49 for two)
10
Best Drugstore Sunscreen on Amazon for People Who HATE Sunscreen

Neutrogena Hydro Boost Water Gel Lotion Broad Spectrum SPF 30
Look. Nobody loves sunscreen. But if you really can't stand the stuff, Neutrogena makes a sunscreen gel just for you. Similar to our Biore pick above, this lightweight, cool-to-the-touch formula is free of oils and feels like a super-hydrating moisturizer as opposed to a sticky, greasy, or chalky sun protectant. We've read reviews that it's a little runny, but even sunscreen haters swear its their go-to. 
Shop Now ($22.99)
Sun-Care Accessories on Amazon
Related Stories
All products have been hand-picked by our writers and editors. Items purchased through links may earn us a commission.